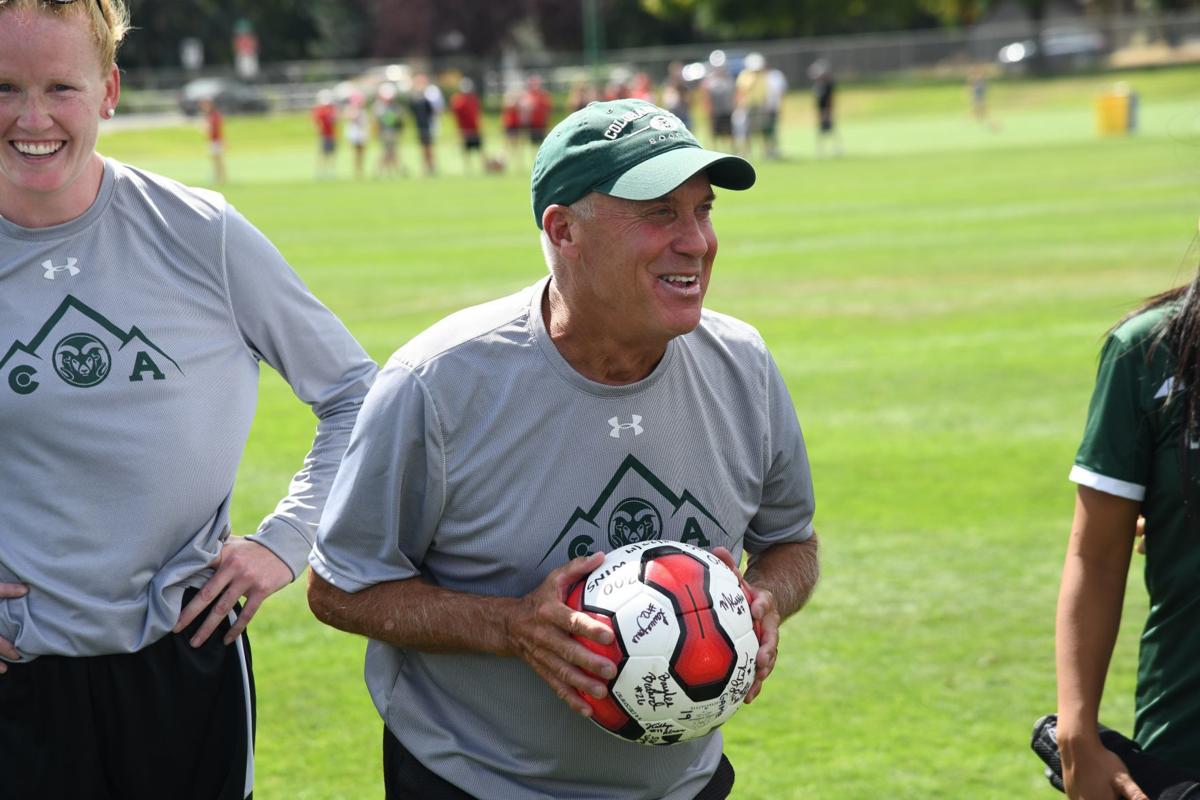 Early this season, Colorado State rallied to defeat visiting Southern Illinois University Edwardsville 3-2 in women's soccer.
It was the 300th career victory for Rams coach Bill Hempen, who played at Bishop DuBourg High and at Meramec Community College before going on to the University of Evansville. Hempen started the women's program at Duke — the Blue Devils lost to archrival North Carolina and Mia Hamm in the 1992 NCAA title game — and also coached at Colorado before starting the program at Colorado State.
Hempen, 61, is one of the winningest Division I coaches in America, ranking 28th nationally.
"It's kind of crazy that such a big win would come against SIUE, a school from my hometown," said Hempen, whose team is off to the program's best start at 4-1-1. "But our ladies responded well after giving up an early goal."
The Colorado State roster includes a pair of St. Louis freshmen — starter Liv Layton (Incarnate Word) and reserve Sarah Hogankamp (St. Joe's).
Hempen credits St. Louisans Pat McBride, his coach at Meramec, and Fred Schmalz, his coach at Evansville, with leading him into coaching as a career.
"I didn't set out to be a soccer coach, it just happened. But it's worked out well," he kidded. "I didn't realize it at the time, but I learned so much playing for Pat and for Fred. Way back, I was set to take a teaching position, I think it was in St. Ann, when Fred called and let me know about what turned out to be my first coaching job, in Louisiana."
Hempen also has ties to the U.S. women's program, serving as a scout and player development coach since 2011. He was an assistant coach under John Rennie for men's soccer when Duke won the NCAA title in 1986. Two years later, Hempen was head coach of the new Blue Devils women's program.
"Over the years, I've met and worked with an awful lot of great people in this job," he said. "And I hope to keep doing it for several more years."
Hempen hasn't lived here for some time but still considers himself a St. Louisan. In fact, this summer, after the Blues won the Stanley Cup, he and his son Lucas drove back for the weekend to attend the parade downtown.
Senior goalkeeper Mary Niehaus (Nerinx Hall) has been named Atlantic 10 Conference defensive player of the week for the sixth time in her career. Niehaus, who sat out last year due to injury, posted shutouts three, four and five in recent wins over Purdue, Iowa State and Missouri State. She leads the A-10 in shutouts, goals-against average (0.37) and save percentage (.897) this season.
• The Great Lakes Valley Conference volleyball players of the week are UMSL outside hitter Selena Nolte, who averaged 4.15 kills per set, and Missouri S&T senior Corinne Stulce (Duchesne), who has helped the Miners to a 7-1 start, best in program history. Stulce averaged six digs per set with no errors.
• Mizzou's Jenna Schwartz (Waterloo) was named SEC cross country freshman of the week after finishing second among freshmen and 23rd overall at Vanderbilt's Commodore Classic.
• The men's soccer team at Maryville (4-0) continued its climb in the national rankings, moving to No. 9. It's the highest ranking in program history. Saints junior Iwan Webster was named GLVC defender of the week.
• For the second time in as many weeks, Truman State has the special teams player of the week in the GLVC. Following up on Lawrence Woods (McCluer South-Berkeley) as the honoree last week, Bulldogs senior Jordan Siegel (Affton) scored his third career TD after stripping the ball and returning it 28 yards for a TD on an opponent's kickoff return.
• McKendree freshman libero Amanda Tippett (St. Dominic) was named to the all-tournament team at the Parkside Hampton Inn Invitational in Kenosha, Wis.
• For the second time this season and the sixth time in her career, Webster junior Kristen Farrah (Francis Howell) has been named SLIAC volleyball defensive player of the week. She averaged 10.46 digs per match, including a 55-dig effort in a four-set win at Wartburg.
• The GLVC men's soccer offensive honors for the week went to Lindenwood sophomore midfielder Luke McBeth, who had a hat trick in a 3-2 win over UMSL, the Lions' first-ever victory in league play.
• Webster junior Kalleigh Linthicum (Timberland) was named SLIAC runner of the week for the second time in three weeks. She placed fifth at the Les Duke XC Invitational in Iowa.
• UMSL tennis seniors Marina Predinger and Ben-Hur Kasprzak won the A flight singles titles at the UIS Tournament in Springfield, Ill. In his final, Kasprzak defeated UMSL junior Karl Heinrichs 6-1, 6-0.
• Maryville senior Carmen Villaverde was named GLVC golfer of the week for the second time in her career after earning medalist honors at the Dan Salisbury Memorial in Springfield, Ill. Villaverde topped the 28-player field with a two-day score of 155. Saints freshman Maxine Nesemeier was tournament runner-up.
• Four Washington U. women were named University Athletic Association athletes of the week: Sam Haubenstock earned golf medalist honors and moved into second all-time with nine career victories after winning at PGA National-Palmer Course in Florida; Taylor Cohen became just the sixth player in Bears women's soccer history to top the 100-point mark, finishing with two goals and three assists in a pair of wins at the DePauw Challenge Cup; Leila King and Kirby Knapp excelled in volleyball action. King was named to the East to West Battle All-Tournament team after posting 38 kills and a team-leading 14 blocks, while Knapp registered 159 assists. Knapp ranks fourth in NCAA DIII with 500 assists this season.
• For the third time in as many weeks, No. 1-ranked Missouri Baptist has the American Midwest Conference attacker of the week. The honor this week goes to junior outside hitter Isidora Stojovic, who had 13 kills, eight digs, a service ace and a block in a three-set win at Lincoln College.