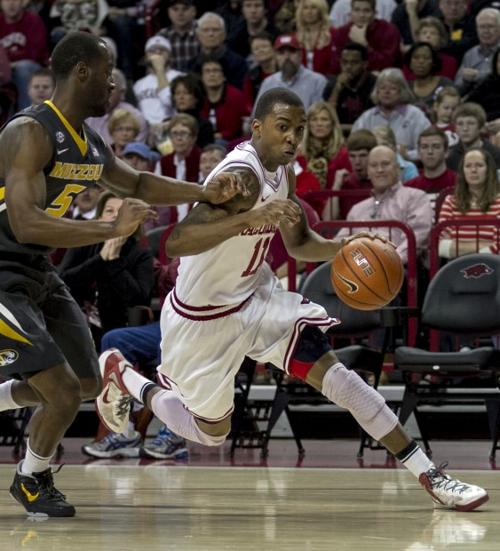 For a fleeting moment, BJ Young was entered in the 2012 NBA draft and considering the possibility of joining longtime acquaintance and adversary Brad Beal as a teenager in professional basketball.
Beal went on to become the No. 3 pick, but Young pulled out of the draft, opting for another season at Arkansas. He'll find out next month how that decision might have impacted his status.
Young (McCluer North High) is one of 63 players scheduled to participate in the NBA combine starting today in Chicago. The event hasn't reached the level of the NFL's annual event, but it will be televised by ESPN as players attempt to seize on a late opportunity to impress NBA coaches and executives.
The list of players expected to appear includes former Wellston star Ben McLemore, who is projected by some as the overall No. 1 pick, Mizzou guard Phil Pressey, Illinois guard Brandon Paul and Georgetown's Otto Porter, a projected top-five pick from southeast Missouri.
Young is slotted in most mock drafts as an early to middle second-round pick after averaging 15.1 points as a sophomore for coach Mike Anderson's Razorbacks. But McCluer North coach Randy Reed suspects the 6-foot-3 guard can sneak into the first round after he had a 90-minute conversation with Phoenix Suns scout John Shumate.
Reed's impression was that the Suns are considering Young with the 30th and final pick in the first round. And he knows not to count out a player who led the Stars to a state championship.
"He had a little bit of a sophomore jinx and I think sometimes he thinks things are easier than what they are," Reed said. "Maybe he lost a little of his edge. But he's better when he has to prove himself. He was overshadowed going into his senior year and won a state championship. He loves to be counted out."
Although Young's scoring was virtually the same as a freshman and sophomore, his shooting tailed off dramatically. After making 50 percent of his field goals and 41.3 percent of his 3-pointers as a freshman, he dropped to 45 percent and 23.4 percent last season.
But Young's game is largely about his ability in the open floor and scoring in transition. He was one of the most dangerous players in college in that respect the last two years.
Reed has kept in close contact with Young since he left high school and watched virtually every game he played at Arkansas.
"His game is built for the NBA," he said. "He was probably never going to be a great player in college, where the lane is always clogged. It slowed him down."
The field for the combine is determined by a vote of NBA executives, who are sent a list of about 150 players and asked to select the 60 they would like to see in Chicago. The top 60 receive invitations.
"That gives you at least a good feel of the 60 guys the NBA is looking at and who the 60 best prospects are," said ESPN draft analyst Chad Ford.
This year's draft holds significant potential for area players, and McLemore is at the top of the list. After playing one season at Kansas, he could become the first player from St. Louis to be selected No. 1. By all accounts, it will come down to McLemore and Kentucky's Nerlens Noel, who is recovering from a torn ACL in his left knee.
Porter gained significant attention over the second half of his sophomore year at Georgetown and is likely to go in the top five. Ford's latest mock draft has McLemore going second and Porter third.
Because of their lofty status, it remains to be seen whether they will participate in full workouts at the combine.
Pressey, meanwhile, remains an enigma. He opted to leave Mizzou with a year of eligibility remaining but some in the world of mock drafts have left open the possibility that he won't be selected.