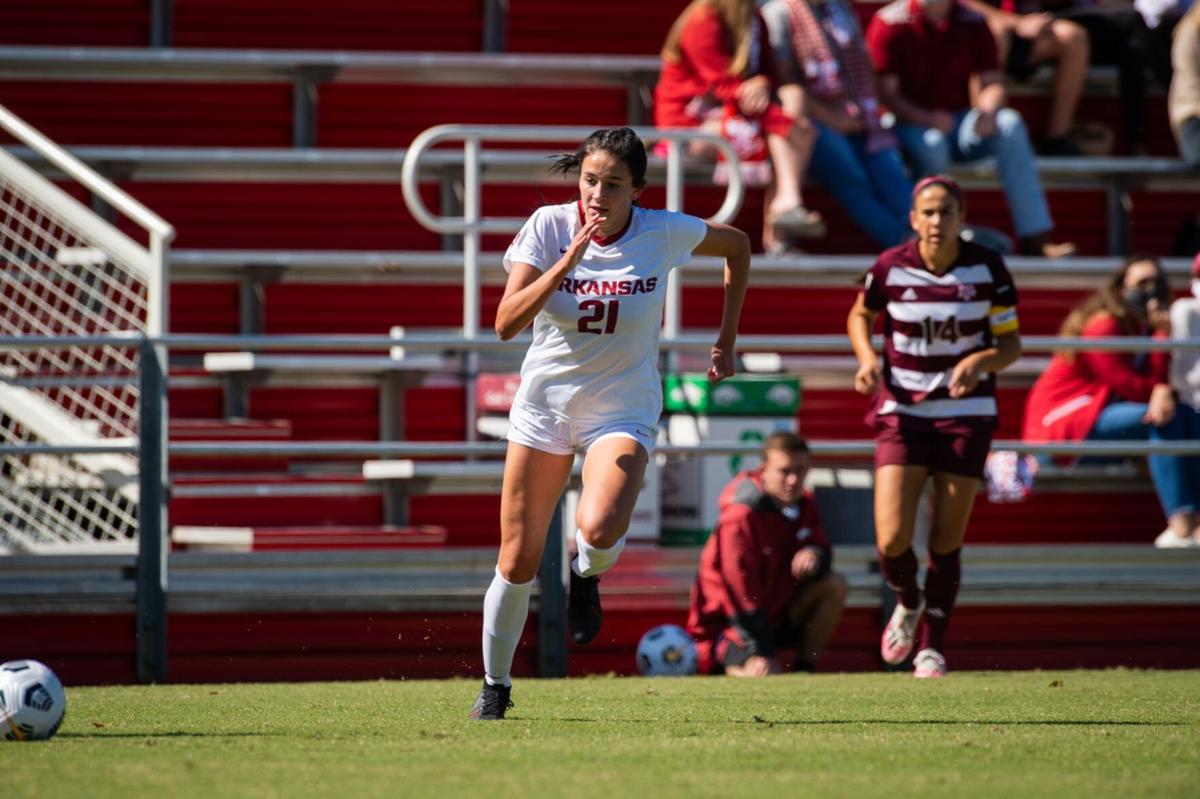 Ava Tankersley admits to being a bit nervous as she made her way to Fayetteville, Arkansas, late this summer to begin her career as a freshman on the University of Arkansas soccer team.
"I didn't know any of the girls on the team," said Tankersley, 18, who starred at Fort Zumwalt South High and with the St. Louis Scott Gallagher program. "This is a team with a lot of talented upperclassmen, so I wasn't sure how I'd fit in."
But that uneasiness faded after a few weeks of preseason training and some time around her new teammates. Tankersley, a 5-foot-11 forward, excelled as a first-year player at Arkansas, finishing fourth on the squad with three goals and two assists. Two of her goals, in overtime at Alabama and at Mississippi State, were game-winners.
"The goal in the first minute of overtime at Alabama, that was pretty special," she recalled. "I don't even have words to describe how special that one felt."
It turned out to be a pretty special season for the seventh-ranked Razorbacks, who finished the fall at 9-2 overall and 6-0 atop the Southeastern Conference. Going 7-1 in one-goal games, Arkansas earned the No. 1 seed in the SEC Tournament and reached the title game before being upset 3-1 by seventh-seeded Vanderbilt in the championship match.
Arkansas has played in the SEC title game in five straight seasons — with no wins.
"It was a tough loss, obviously, and I felt so bad for the older players because they've gotten so close so often," said Tankersley, who was named to the league's All-Freshman Team. "It's definitely something we'll remember and hopefully learn from."
Tankersley credits her coaches at Scott Gallagher — Ralph Richards, Scott McDoniel and Sterling Westcott — in helping prepare her for the relatively smooth transition to soccer in the highly competitive SEC.
"I made the switch to Gallagher in eighth grade and it definitely worked in my favor," she said. "Honestly, I didn't really know how to head the ball correctly until I got to Gallagher. As a group, the coaches there are so soccer smart; they know the game inside and out and their focus is working to make sure their players learn and improve.
"Getting a chance to play in national events around the country definitely helped get me the exposure I needed to get the opportunity I did at Arkansas."
Tankersley also enjoyed playing for coach Jim Layne at Fort Zumwalt South.
"Playing for my school was so much fun," she said. "I really enjoyed getting a chance to play against my friends on other teams and playing without all the pressure."
Tankersley scored 32 goals and assisted on nine others in her final two seasons as a Bulldog, earning Class 3 all-state honors in 2019.
Tankersley originally committed to Indiana but reconsidered after the Hoosiers made a coaching change. She switched to Arkansas after an on-campus visit there.
"Right away, I just knew it was the right place for me," she recalled. "I fell in love with the campus and the coaching staff was incredible. Right away, I felt a connection with the girls on the team."
She continued: "Once I committed, I also started working on improving. The SEC's a top conference and I knew I had to start lifting and making sure I was ready. The game at the college level is so much faster and that takes some getting used to. Luckily, our preseason was longer this year, which helped. But the freshmen also missed out because there were no preseason games. Every game we played this fall was against an SEC opponent."
And Tankersley's freshman season with the Razorbacks also featured COVID-19. She, like most of her teammates, took online classes this fall and also took the words of Arkansas head coach Colby Hale to heart.
"Early on, he talked about making sacrifices for the good of the team and stressed that this experience would help make us stronger people and stronger players," she recalled. "If I'm not at the soccer field, I'm at my apartment. It's been a challenge at times, knowing my parents were in the stands at games and that I couldn't visit with them, but the last thing you want to do in a situation like this is put your team or your teammates in a bad position.
"This is our new normal, I guess. It's not the college experience I expected, but it'll have to do for now."
Tankersley is the daughter of Dennis Tankersley, who starred in a number of sports at St. Charles High and went on to pitch in three seasons with the San Diego Padres.
"Every once in a while, he'll get a baseball card in the mail from somebody looking for an autograph," Ava said. "I've heard he was a very good athlete. Growing up, he was always out in the yard with us, helping us in any way he could. And his experience really helped me when I was going through the recruiting process.
"My parents and my coaches, they helped make sure that I was ready for this level. I came into the season knowing it wouldn't be easy and from Day One here, I've worked hard to prove myself. I feel good about our fall season, but I also know that I have to keep working and improving if I'm going to be successful."