We're one week away from the unofficial first pitch of the 2023 Cardinals season.
Busch Stadium and Ballpark Village will spring to life next Saturday as the 26th annual Winter Warm-Up tries on its new digs following last year's cancellation. The previous downtown hotel setting has been swapped out for the ballpark's backyard, a location that strengthens an annual realization. Baseball's almost back.
Before the caravans roll out and the autographs get inked, here are the topics that will bring some sizzle to this year's Warm-Up.
(Sorry, Fredbird, you did not make the cut.)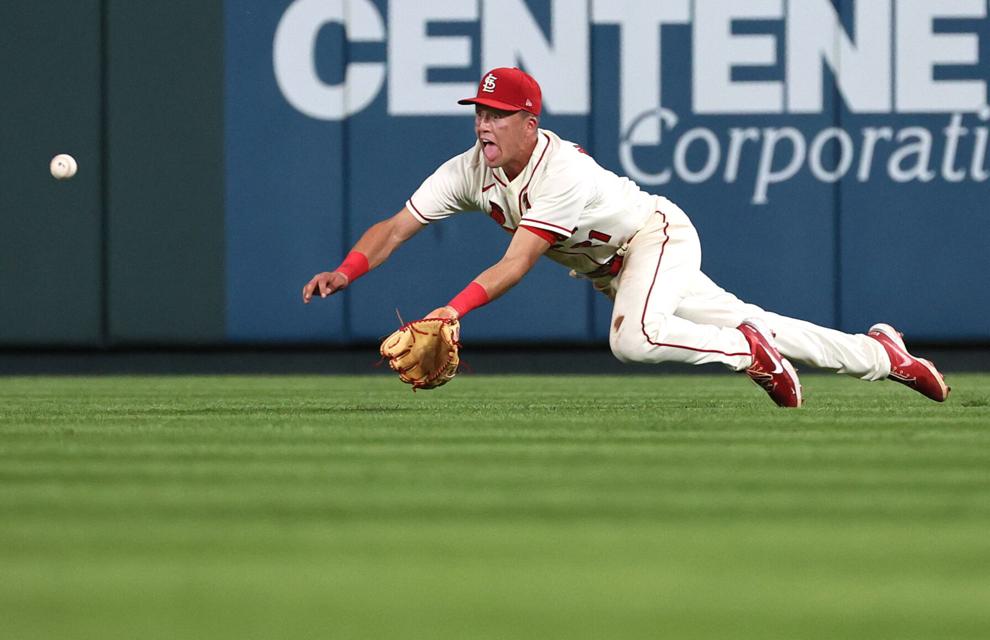 President of baseball operations John Mozeliak's annual fan Q&A: Some of Mo's more candid moments over the years have come while fielding WWU questions from fans. The interaction gives those who like to gripe about reporters' questions a chance to try their own approach. Most play it safe. A few throw fastballs. Mozeliak isn't afraid to swing away. It's always worth a watch.
Chairman Bill DeWitt Jr.'s media availability: Bring on the payroll talk. When Mozeliak stressed entering the offseason that the Cards' payroll was going up, fans started expecting more than the addition of a starting catcher. And that was before National League powers started spending like mad. What the Cardinals can still add through free agency but perhaps more importantly trade(s) could hinge on how much payroll space Mozeliak and his lieutenants can use. It's a DeWitt question, and it will be asked.
Willson Contreras' Second First Impression: Before he digs in behind the plate at spring training or Busch Stadium, the Cardinals' new catcher will meet his new fans in person. Expect Contreras to steal the show, just like he did at his introductory press conference. He's fired up to be a Cardinal, and it shows.
Health Check: Updates on the status of Jack Flaherty (shoulder), Dylan Carlson (wrist) Steven Matz (shoulder, knee) and Tyler O'Neill (everything) will be provided. Optimism is expected, but it's always better than the alternative.
Time Check: Hearing how Cardinals rotation hopeful Dakota Hudson and key reliever Giovanny Gallegos have been preparing to adjust to life with a strictly enforced pitch clock should be compelling. Both tend to work at a plodding place. That's no longer an option, due to the rule changes that arrive in the majors this season.
Extension Watch: The Cardinals have expressed concern about the number of pitching contracts that are barreling toward expiration all at once. Two-time All-Star Miles Mikolas and trade-deadline addition Jordan Montgomery could be targets for new deals. Warm-Up weekend offers a chance for players and the team to discuss such things, if both sides are interested.
Adam Wainwright's Address: I imagine the 41-year-old right-hander has heard some of the fretting about how his 18th season on the mound could go following his September struggles. Wainwright loves to convert doubts into motivation, and his fuel tank should be plenty full. Extra points if the budding singer/songwriter breaks out his guitar on BPV's big stage.
Nolan Arenado's Audit: Considering the money that was thrown around this offseason, the All-Star third baseman probably left some decent dough on the table by dropping his opt-out after he finished third in NL MVP voting behind teammate Paul Goldschmidt and Padres star Manny Machado. No one could blame Arenado for wanting to see the Cardinals inject some of the cash he did not leverage the team for back into the roster through upgrades. Will he take a chance to publicly nudge the team for more help?
Lars The Star: Between the incredibly optimistic opinions shared by both Mozeliak and manager Oli Marmol about Lars Nootbaar during Winter Meetings in San Diego, and the viral spread of a recent video showing the outfielder setting personal-best metrics in a swing-training session, Cardinal Nation has developed a wildly contagious case of Nootmania. Nootbaar is expected to be an every-day outfielder, and perhaps the center-field starter. Considering his larger than life personality, he won't mind the newfound attention. (Free advice for the Cardinals: Let fans trade in Harrison Bader jerseys for Nootbaar ones.)
Jordan Walker Buzz: The talented prospect who could play his way into National League Rookie of the Year conversation in 2023 has sold out his Warm-Up autograph session. The cost this year was $30. Here's betting that ask will look like a bargain compared to the 2024 price.
The 63rd Annual St. Louis Baseball Writers' Dinner: Want to see Goldschmidt with his MVP hardware? How about Arenado with his latest Gold Glove? On the evening of Sunday the 15th, the St. Louis BBWAA chapter will resume hosting our annual dinner. If you're interested in joining us at the downtown Missouri Athletic Club to honor Mike Shannon, Rick Hummel and raise money for journalism scholarships, we would love to have you. Grab a ticket at stlouisbbwaa.com before they are gone. We hope to see you there.