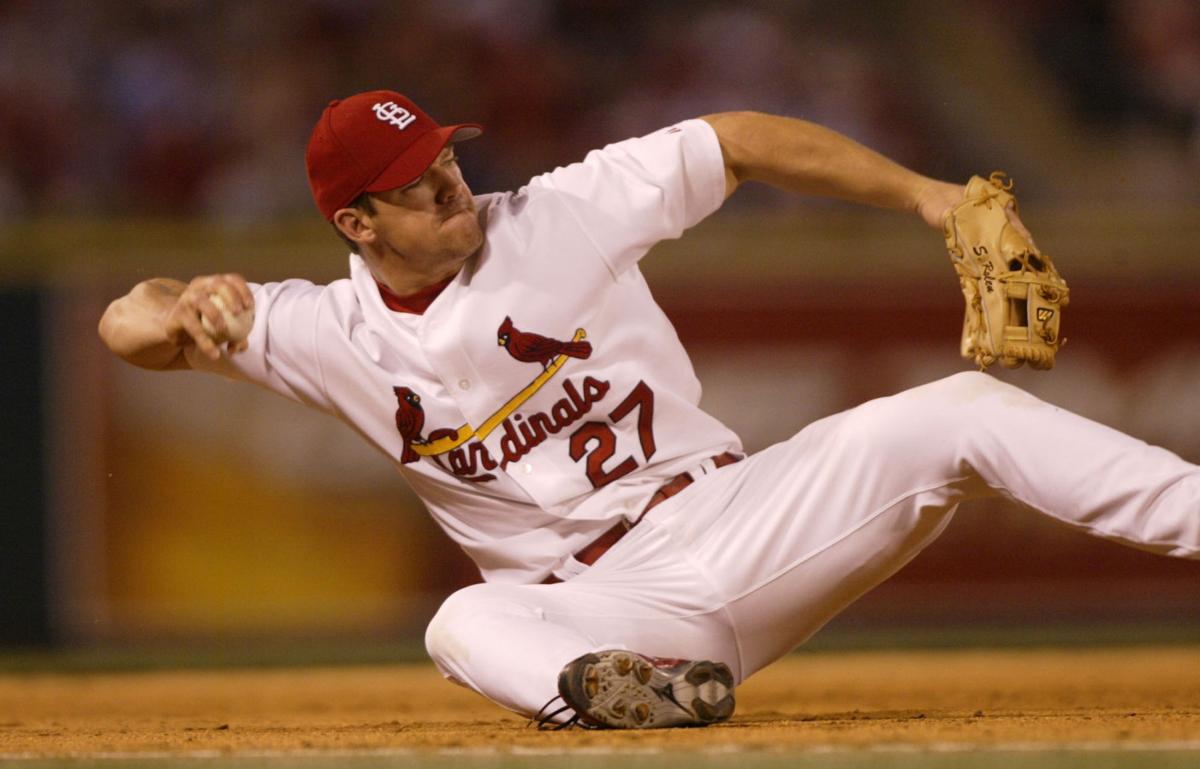 Back in 2018, Scott Rolen and his son Finn listened to the Hall of Fame results roll in on the radio.
Their goal was at least 5 percent. That would keep Rolen on the ballot moving forward. It would give his Cooperstown case a chance to grow to that coveted 75 percent.
Rolen got 10.2 percent that first time. He had a chance. Back then, it was if. Now? When.
Similar to how one of the game's greats at third base played during a 17-year career that started with the 1997 NL rookie of the year award and went on to include eight Gold Gloves, seven All-Star appearances, two World Series appearances and one ring, Rolen's candidacy has kept its head down and charged hard. He got overlooked until, all of a sudden, look who's on deck. Writers beginning to lean into analytics have helped his cause. More than anything, the analytics have helped voters better understand Rolen's impact.
Rolen has become an example of a Hall-worthy player benefiting from time on the ballot. Every year, it becomes more clear to more voters he belongs. Every year, he moves closer to getting in. If it doesn't happen this year, next year should be the one.
According to the data compiled by Hall of Fame Tracker creator Ryan Thibodaux, Rolen's name has been checked on nearly 69 percent of nearly 40 percent of the known ballots submitted so far leading into the grand reveal later this month. If that holds, Rolen will have to go through the ringer again next season, but an encouraging trend will continue, and combine with more room on the ballot.
Rolen went from 10.2 percent in 2018, to 17.2 percent in 2019, to 35.3 percent in 2020, to 52.9 percent last year, when the only players on the ballot to receive more votes were Curt Schilling, Barry Bonds and Roger Clemens, whom some will recall Rolen homering against in the 2004 NLCS.
Thibodaux's Tracker shows Rolen is gaining new votes from returning voters who did not vote for him in the past. It also shows he's winning over first-time voters. I would be in that group, but I think Rolen will be in before I get to cast my first ballot. Next year would make a lot of sense based on Rolen's trend line. And honestly, it might be better. This year will go down as one of the most polarizing sorting sagas, thanks to the steroid era and how voters decide to draw their lines. Next year would appropriately distance Rolen from that drama, and let more attention focus on a player who has come into clearer focus.
Rolen averaged .281 and topped out at 2,077 hits and 316 home runs. He finished inside the top-five of MVP voting once. Injuries cut into his career often toward the end and hurt his chase of milestones. Each of these things can and have been used against him in various ways. But more and more voters are seeing other evidence. For good reason.
• Rolen is one of the best, no worse than top-five, of the defensive players ever at a position that is underrepresented in Cooperstown. A couple Gold Gloves can mislead. Eight don't. Hall of Famers Brooks Robinson and Mike Schmidt, along with current Cardinals third baseman Nolan Arenado, are the only third basemen with more.
• Rolen spent the better part of a decade putting up a body of work offensively that suggests he was one of the best all-around players in the game during his time. Among third basemen who have matched Rolen in number of career at-bats (nearly 7,400) while playing 75 percent of their defensive reps at the hot corner, only four posted a higher on-base plus slugging percentage than his .855. The four in front of him — Chipper Jones, Mike Schmidt, Eddie Mathews and Wade Boggs — are in Cooperstown. And don't forget, Rolen ran the bases like a beast.
• Sprinkle in some clutch points for Rolen hitting .421 with a homer, three doubles and two RBIs against Detroit in the Cardinals' World Series romp in 2006. He went from being banged up and benched, to leading the charge.
• On the topic of injuries, remember that two of Rolen's impressive seven All-Star appearances came despite those issues, both with Cincinnati when he was 35 and 36 years old, a point in time that prompted Joey Votto to tell MLB.com this: "You watch a great player with a fantastic track record perform in front of your own eyes, you think, 'Whoa, this guy is really darn good.' Then you get to play with him and watch how he works and his demeanor and, all of a sudden, it changes your perspective. You say, 'Wow, I want to be more like that.'"
• The Hall of Fame needs more third basemen. The count is at 17. There are 26 shortstops, 25 first basemen and and 20 second basemen. There are 40 executives, 23 managers and 10 umpires!
• Then there is the WAR. What is it good for? In Rolen's case, a lot. The value stat paints one powerful picture. Rolen's career Wins Above Replacement of 70.1 is not just the highest of any third baseman eligible for the Hall who is not yet in. It ranks 10th all-time among third basemen, and ahead of the average career WAR (68.4) among Hall of Fame third basemen. Against his peers during the course of his career (1996-2012), Rolen's WAR trailed only these players: Alex Rodriguez, Albert Pujols, Barry Bonds, Chipper Jones and Derek Jeter. For a span of eight seasons (1997-2004), Rolen's WAR of 46.2 was higher than any other player in the majors not named Bonds or A-Rod. Yes, higher than Hall of Famers Jeff Bagwell, Chipper Jones, Larry Walker and Derek Jeter. During that surge Rolen ranked first among third basemen in defensive WAR while ranking eighth in the majors in doubles, 14th in RBIs, 14th in extra-base hits, 21st in walks and 23rd in home runs.
A Hall of Famer can get overlooked. It's happened here, but it's getting fixed. It's when, not if. If not this year, next.