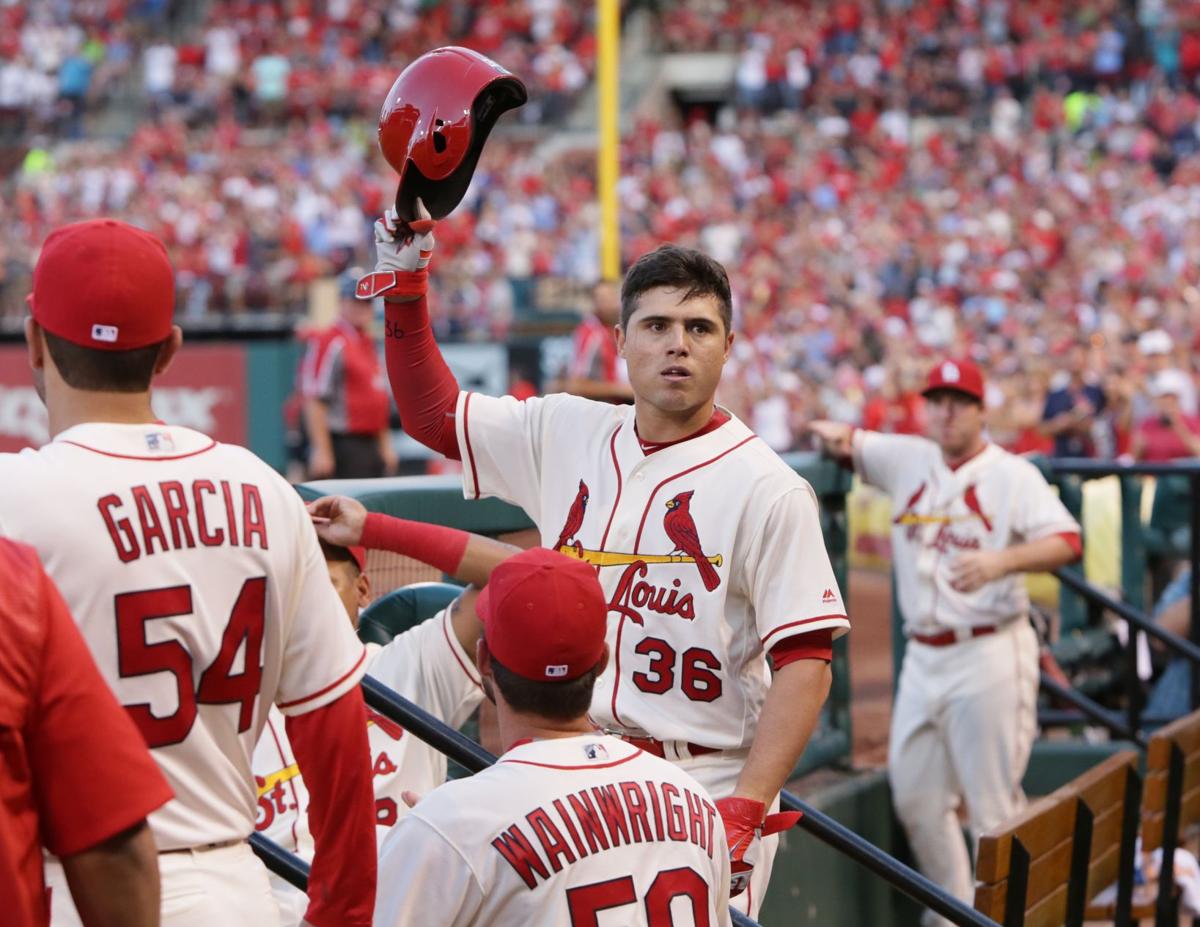 We are in the thick of baseball's silly season. General managers are making moves. Fans, of course, have had the right ones figured out for months.
Your team — most likely the Cardinals, if you happen to be reading this — should either make a blockbuster trade for Mike Trout, win the race for the services of Yoenis Cespedes, back up the Brink's truck to sign Aroldis Chapman, or (insert your favorite water cooler theory here).
We will spend much of the offseason hypothetically spending Bill DeWitt Jr.'s money. How would sports talk radio exist without free agency? What would we argue about at work without trade rumors?
It's fun. It's a tradition. It's mostly harmless — until it crosses the bridge into Bizarro World.
That's where the suggestion that the Cardinals need a new starting shortstop belongs.
General manager John Mozeliak was asked during the recent GM meetings in Arizona what his club plans to do at shortstop moving forward. The answer was obvious. The Cardinals will continue to roll with Aledmys Diaz, their 26-year-old All-Star who might have given Dodgers rookie shortstop sensation Corey Seager a run for National League Rookie of the Year had he not broken a thumb at the end of July.
"We're going to require a strategy to allow (Diaz) to improve," Mozeliak told reporters, including Derrick Goold of the Post-Dispatch. "If he does that, he could be average, to maybe a plus-defender at short who has an impact bat. We definitely would like to see that happen."
That doesn't sound like a general manager who is in the market for a starting shortstop. Why would he be?
Seager was announced as the unanimous pick for NL Rookie of the Year Monday night. Hard-hitting Rockies shortstop Trevor Story finished fourth. Diaz came in fifth, and received one second-place vote and 11 third-place votes despite missing more than a month while his thumb healed.
Yet you can still find those who are yearning for Andrelton Simmons of the Angels. Why?
The Cardinals said they need to improve their defense this offseason. Some folks focused on the player who became synonymous with errors early on. They overlooked how much Diaz improved after that. They forgot he averaged .300 and slugged .510 despite an injury that threatened his powerful swing. Diaz's bat can play anywhere, goes the argument, and he would commit fewer errors at second base or third. Never mind that the shift would either displace Kolten Wong, or add a third option to a third-base timeshare that already includes Jhonny Peralta on a contract year and Jedd Gyorko, last season's home-run leader.
Perhaps the hypothetical trade includes Peralta. That would be something, to find a team that would be willing to part with a shortstop who is better than Diaz in exchange for the 34-year-old Peralta, the guy who shifted to third after Diaz emerged. Peralta also has a no-trade clause in his contract. It just doesn't add up.
Let's unpack this a bit more.
Diaz's defense needs to be presented in the proper context. Yes, his 16 errors led the club and ranked seventh-most among major league shortstops. Yes, he finished 23rd at the position in Fielding Bible's runs saved, checking in at four runs below average. But 12 of Diaz's errors occurred during his first two months in the majors. He committed two errors in his final 45 starts, and one in his final 20. We watched him settle in, then improve. Imagine how much more comfortable he will be next season.
Diaz's infield jitters faded. His head-turning power didn't. He hit upon arrival. He hit with a healing thumb. The guy just hits and hits and hits. He averaged .300 with a .369 on-base percentage and a .510 slugging percentage. Among shortstops with 400-plus at-bats, he ranked sixth in average and trailed only Seager in both on-base percentage and slugging percentage. Diaz averaged one home run every 23.76 at-bats (ninth-most among shortstops) and one RBI every 6.22 at-bats (seventh-most). Per Bill James Online's team win shares, Diaz's combination of hitting and fielding created 18 wins for the Cardinals. Stephen Piscotty (22), Yadier Molina (21) and Matt Carpenter (21) were the only players with more.
There is a decent chance Diaz winds up somewhere else in the Cardinals infield, eventually. But it should be because one of the Cardinals' climbing prospects makes it happen. Delvin Perez, the club's first-round pick in 2016, could force a shortstop shakeup eventually. MLB.com ranks him fifth among Cardinals prospects. And don't overlook Edmundo Sosa ( ranked seventh) and Allen Cordoboa (20th).
This isn't a call for the Cardinals to be cheap. They have needs that will costs dollars and prospects. They are prioritizing a defensive upgrade in the outfield. They have plenty of pitchers, but lack sure things in the rotation and need lefties in the bullpen. What they don't need is a shortstop. They already have a special one under team control in Diaz, along with intriguing options on the horizon.
Diaz made it from Cuba to America. He made it to the majors despite a shoulder injury that threatened his career. He made it to St. Louis after he was designated for assignment in 2015 and left off the roster at the end of last season's spring training. He's risen, from Peralta's fill-in to full-time starter, to All-Star.
You would think we would learn to stop underestimating him.