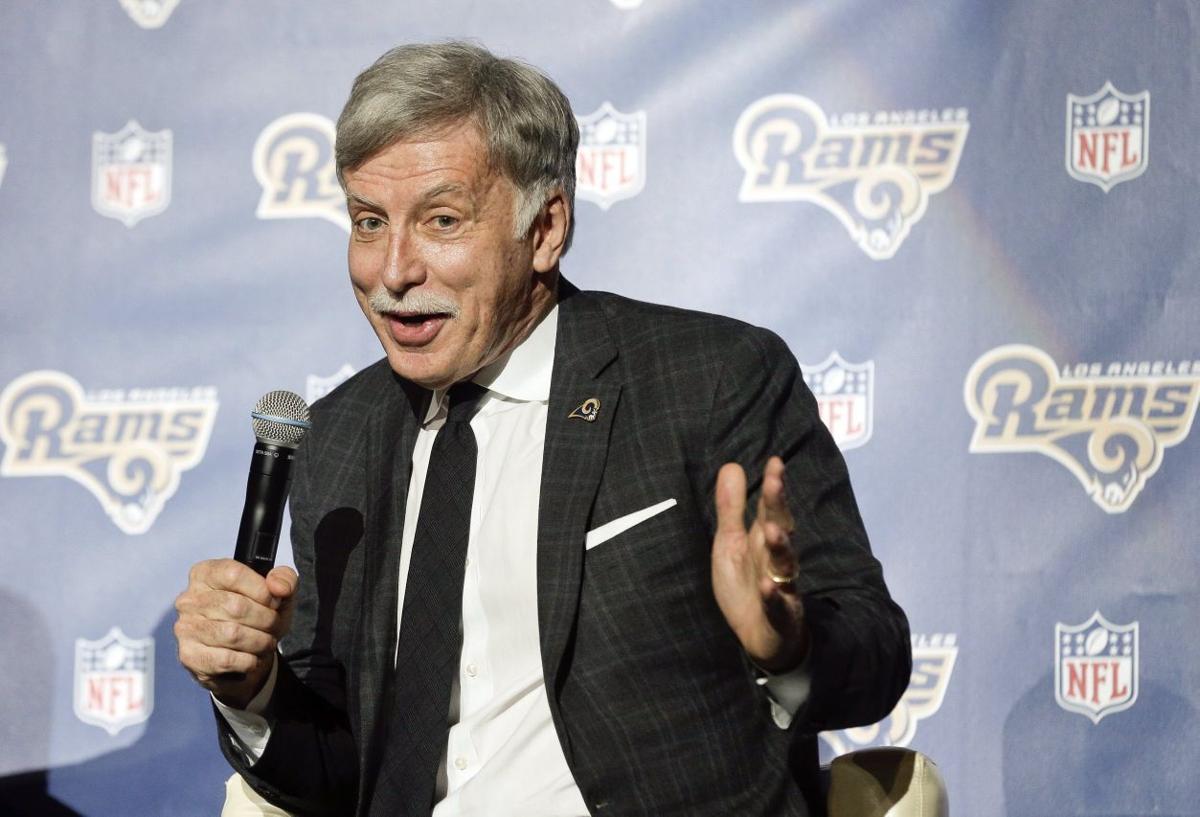 The sentiment resonates from more than 4,000 miles away.
London, St. Louis feels you.
Different sport, yes. Different culture, sure. Same general takeaway: Stan Kroenke's the worst.
Fans of London's storied Arsenal Football Club are not as easy to please as former Rams fans. Most football folks around here just wanted a real chance at keeping their mediocre team. The people across the pond actually want their team to be great. Good luck.
Arsenal fans' hopes for an English Premier League title have collapsed once again. They have accurately connected this downward trend with billionaire Kroenke, who bought into team ownership in 2007 and became the club's controlling owner in 2011.
Kroenke keeps penny-pinching in a league that requires big spending on expensive player transfers. His spending in other areas — most notably a multi-billion dollar NFL stadium in Inglewood and a $725 million ranch in Texas — hasn't gone unnoticed. Adding to the agony is that Kroenke in the past has taken millions out of the club for "strategic and advisory services."
So, the fans who pay the highest season-ticket price in the Premier League are making their opinions known. Loudly.
A not-safe-for-work "Get out of our club!" chant popped up at a game last month. A more-organized approach will come during a home game Saturday, according to the London Evening Standard. Multiple Arsenal supporters' groups have asked fans to hold up a banner — "Time for Change. Arsenal is stale — fresh approach needed" — in the 12th and 78th minute of the game against Norwich City. That's to mark the 12-year wait since Arsenal's last Premier League title.
"Whether it's the manager (Arsene Wenger), whether Stan Kroenke has to go and whether the board needs shaking up and reminding that we're a FOOTBALL club, change is needed at Arsenal," The Black Scarf Movement said in a statement. "A fresh approach to bring some excitement back to this great club of ours.
"We are seeing the same failures year after year, and amid rumors that Arsene Wenger may be given a new three-year contract there really seems to be no light at the end of the tunnel. Kroenke and the board are seemingly content with Champions League cash, so outside of finishing fourth in the league there is no pressure at all on the manager. This isn't good enough."
You have to admire their spunk. Really. But a quick review of every team Kroenke's tentacles touch offers little hope their cries will be heard. In fact, things will probably get worse.
Kroenke transitioned from minority to majority owner of the Rams in 2010. Moving the team back to Los Angeles became a bigger priority than making the playoffs. The Rams haven't been since 2004. Coach Jeff Fisher has gone 27-36-1 headed into an unprecedented fifth season. Fisher, proud owner of the Teflon Trophy, makes Wenger look like soccer's Vince Lombardi.
Kroenke became full owner of both the Denver Nuggets and the Colorado Avalanche in 2000. NFL cross ownership rules have since required him to pass the control of those teams off — to his wife. His son handles the operations, which means the teams are still under the Kroenke black cloud. And it shows.
The Nuggets have missed the last three playoffs and only made it beyond the first round once since Kroenke took over. A great beginning with the Avalanche — a Stanley Cup in 2001 and a conference finals loss the following season — quickly turned Kroenke. The team missed the playoffs for the second consecutive time this season and has not won a playoff series since 2008.
Then there is Kroenke's other soccer team, the Colorado Rapids of Major League Soccer. Kroenke became the owner before the 2004 season. The Rapids have gone 133-153-102 since. The high point was a championship in 2010. Then came the slide. The Rapids haven't been past the quarterfinals since 2011, and missed the playoffs entirely the past two single-digit win seasons.
Kroenke's lacrosse team, the Colorado Mammoth, followed a similar trend. He took over in 2002. A championship came in 2006. It hasn't made it past the division semifinals since. And its last winning season came in 2012.
Until Kroenke purchases a cricket team to drive into the ground, these are the only examples to draw from.
Arsenal fans have been conditioned to expect excellence. Their team has claimed 13 Premier League titles since 1930. Eight times, they cheered the runner-up. Since Kroenke showed up in any capacity, every team has finished in third or fourth place. Not bad. But history says it will get worse.
There is a way out. It's painful. But consider it ripping off a Band-Aid compared to years of agony.
While it hurt to lose the Rams, St. Louisans have felt the freedom that comes with not having to pull for a team they want to see win more than that team's owner.
No one is doubting your allegiance, Arsenal fans. But your signs and chants won't change a thing. Realize you don't have to stay. You didn't sign up for this.
Some advice from a city scorned: Find another club.
Be the first to know
Get local news delivered to your inbox!