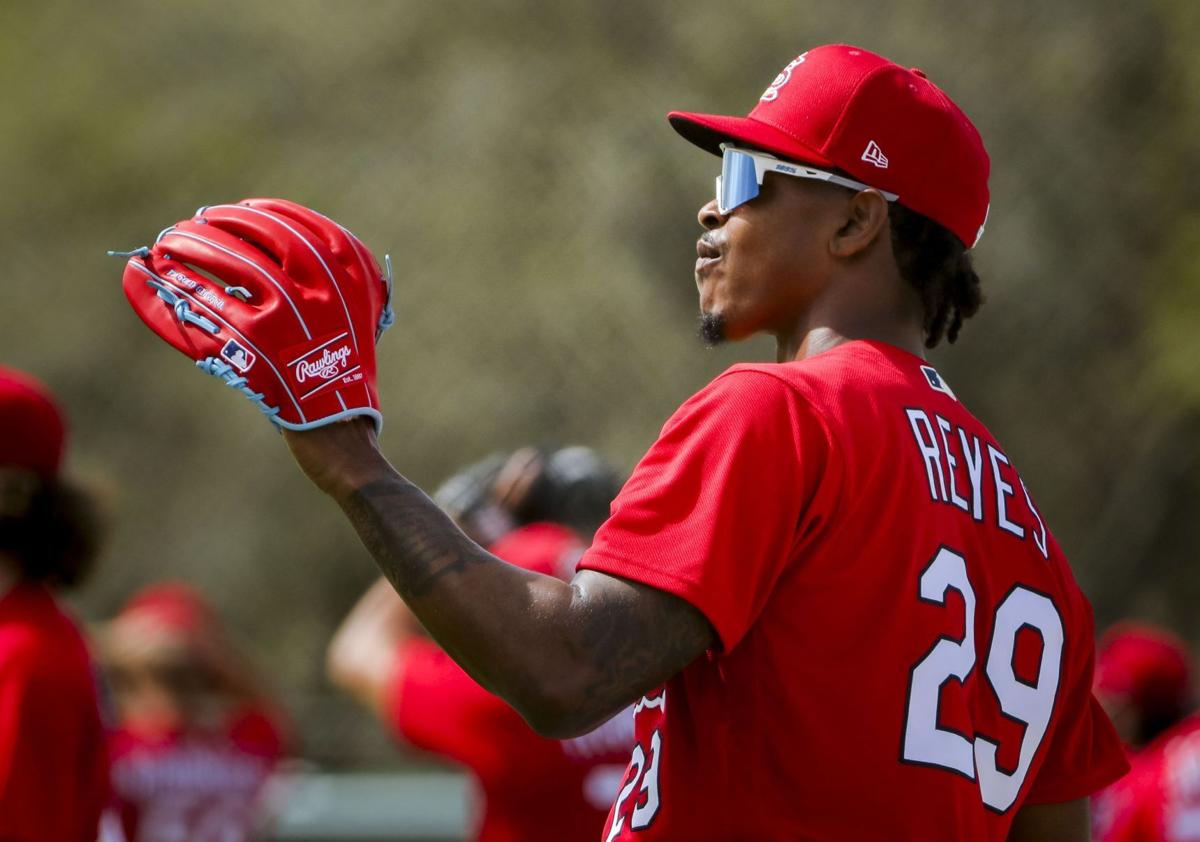 JUPITER, Fla. — John Mozeliak said it.
Of all the arms in Camp Cardinal, one is at least tied for first when it comes to eyebrows raised and jaws dropped.
"How do you best optimize someone who may look as good as anybody in this camp?" the Cardinals president of baseball operations said this week while discussing the team's decision to stick the reliever tag on Alex Reyes for the 2021.
"He's throwing the ball extremely well," Mozeliak said. "That's something we are going to have to work through."
Why not just let him start?
Especially after the latest hit to the rotation sustained Saturday.
The walk to Roger Dean Stadium for Saturday night's Grapefruit League game against the Marlins offered a reminder of what the Cardinals' rotation might have looked like this season.
Standing there on the outfield grass of a back field talking to a trainer was rehabbing righthander Dakota Hudson.
It has been about seven months since Hudson was shut down for Tommy John surgery eight starts into the 2020 regular season. The best case scenario is that he might be able to help the bullpen in 2021. But no one back in St. Louis is worried about the Cardinals' bullpen. It's loaded. So much so that the Cardinals should consider rethinking this Reyes situation.
The hits to manager Mike Shildt's starting five have not stopped since Hudson got hurt.
Carlos Martinez's chaotic 2020 season ended with a trip to the injured list for a strained left oblique, his sixth non-COVID injured list appearance since 2015.
Miles Mikolas is not going to be ready for the start of the regular season due to a shoulder issue that popped up this spring, after a forearm injury robbed his 2020 season.
Kwang Hyun Kim, the starter who was supposed to face the Marlins on Saturday, was announced as a scratch hours before the start due to back tightness that developed after his last bullpen session. He's never experienced this problem before, according to Shildt. I'm not sure if that should make folks feel better, or worse.
The Cardinals know Mikolas, 32, won't be ready for what would have been his first start that counted. They are acknowledging the possibility that Kim, 32, could miss some regular-season time as well. Two injury unknowns hovering over the heads of two older-than-30 starters? Far from ideal.
The Cardinals insist they are fine. They are hopeful about Mikolas and Kim. They are pointing to the potential of John Gant, Daniel Ponce de Leon, Jake Woodford and Johan Oviedo.
The 28-year-old Gant has an ERA of 3.99 as a starter with six quality starts in 28 tries. He's been a very effective and reliable reliever for the Cardinals recently. It's more than fair to wonder if he's more valuable in that role.
The 29-year-old Ponce de Leon has an ERA of 4.17 as a starter with five quality starts in 20 tries. He has seemed to hover on the edge of a breakthrough that has not yet arrived.
The 24-year-old Woodford (one) and the 23-year-old Oviedo (five) just barely got their feet wet as major league spot-starters last season.
Trying to prove they should be added to the list are talented southpaw pitching prospects Matthew Liberatore and Zack Thompson. Both have sparked at times this spring. Both have looked like prospects at time this spring.
"It's not just having depth," Shildt said. "It's having some quality of depth. You can have as much depth as you want. It doesn't mean it's quality. But we happen to have both."
Don't get me wrong. Lots of teams would love to have those options after two starters experienced spring-training setbacks. But let's not simply gloss over how much the starting pitching picture had changed by the time Ponce de Leon stepped in for Kim to deliver the first pitch of the Cardinals' 11th Grapefruit League game.
Before they departed St. Louis for Jupiter, the Cardinals knew Hudson was not going to be a part of the rotation conversation, but they had a starting four of Jack Flaherty, Adam Wainwright, Kim and Mikolas. The front office had publicly challenged Martinez to re-earn the fifth spot. Martinez was invited to prove he could beat out a fully healthy and finally ready Reyes, not to mention Gant, Ponce de Leon, Woodford, Oviedo and fast-rising prospects like Matthew Liberatore and Zack Thompson. The competition was supposed to be one of spring's most compelling stories.
Compare that plan to now, where the pre-camp list of sure-thing starters has been trimmed to Flaherty, Wainwright, and that's it.
Martinez's spot has been secured through the process of elimination more than competition. The remaining competitors could be asked to fill two spots instead of one. And for who knows how long.
Mikolas will miss at least the first regular-season turn of the rotation. The same could be the case for Kim. Shildt declined to put a timeline on the southpaw's projected return.
"We are not going to push it just to push it," Shildt said. "We have other candidates."
The list has grown shorter.
Liberatore and Thompson are on track to start their seasons in the minors. No surprise there.
The surprise has been the Cardinals' decision to eliminate 26-year-old Reyes from rotation consideration. He feels healthy enough to start. He has expressed a desire to try. His stuff checks out. He's been making hitters look silly down here. He's allowed two hits in four scoreless Grapefruit League innings, striking out six and walking none.
But for now he's headed to the Cardinals' stacked bullpen with a projected ceiling of 80 to 100 innings, one that is going to be challenging to hit as a reliever who does not pitch in low-leverage spots, spots that would waste Reyes' elite pitches.
The Cardinals seem confident they can create an X-factor role for Reyes that sets him up to start in 2022. Why not schedule out those 100 innings as a starter in 2021? Why not let him start a few games early in the season, while the rotation heals up, then shift him to the bullpen to slow down his innings count? At least consider letting him continue to compete.
The starting five has taken too many hits to not think twice about reconsidering a reversal of self-inflected damage.
This X-factor relief role for Reyes sounds unnecessarily hard to pull off.
A Cardinals reliever has not pitched 100 innings since Todd Worrell in 1986. Do you know the last time a Cardinals reliever pitched 90-plus innings out of the pen? It was Manny Aybar in 1999. For context, Reyes was born in 1994.