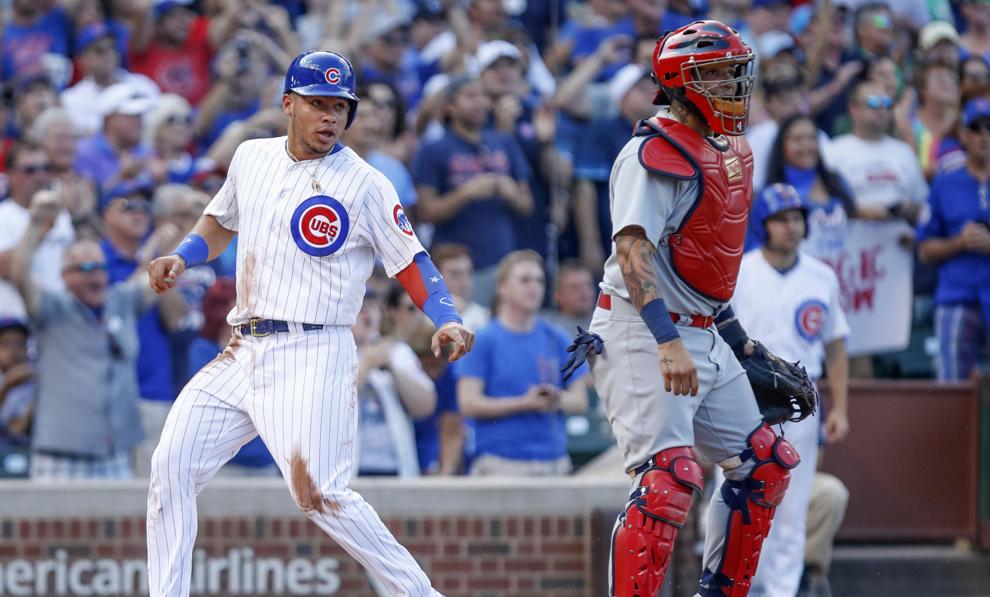 SAN DIEGO — Great job, Cardinals.
President of baseball operations John Mozeliak and his team of decision-makers checked their biggest box here at Winter Meetings.
The catcher, not a catcher, is on his way to St. Louis.
Willson Contreras is a successful physical away from the official announcement of his five-year, $87.5 million deal with the Cardinals. Mozeliak doesn't talk publicly until the deals are all the way done. He didn't need to say anything Wednesday as he headed for the airport, wheeling his bag through the Hyatt's lobby. The message had been delivered.
Oakland's waiting game with a potential Sean Murphy trade was not something the Cardinals needed to keep playing. The ask was too high, and it would have robbed the Cardinals of two important young players for next season's team, in addition to a promising prospect. Post-Dispatch lead Cardinals beat writer Derrick Goold reported the A's wanted Lars Nootbaar, Brendan Donovan and a power-pitching prospect. No, thanks. Another problem? Oakland is moving at the pace of a Dakota Hudson start, pre-pitch clock.
Contreras, as I have been hollering about since early October, was available for nothing but money, of which the Cardinals have plenty, plus the draft-pick punishment required by his declining of the Cubs' qualifying offer. For those fretting about that last part, get over it. It costs stuff to get good players.
I like Contreras better than Murphy for what the Cardinals need, which is a primary catcher solid enough — the Cubs started him in five of their World Series games in 2016 — and a hitter threatening enough, and a person determined enough to step into the very demanding and challenging role of leading the Cardinals forward from a position that was dominated for decades by future Hall of Famer Yadier Molina.
Contreras is not Molina, doesn't need to try to be Molina, and should not be compared to Molina.
What he is, though, is a 30-year-old three-time All-Star who respects the heck out Molina, understands what the role means to this organization, and will arrive determined to prove he is up to the task and motivated by the honor of being handed it.
The Cardinals, who have had conversations with Molina about the catching options available this offseason, left interactions with Contreras impressed with his desire to win and his determination to improve. If there were any lingering doubts about his potential fit in the clubhouse, they cleared during a sit-down in Florida before Winter Meetings. For all the talk about why teams should hesitate on Contreras because the Astros balked on adding him at the trade deadline before their World Series push, hear this. The Cardinals' biggest competitor for Contreras this week was Houston.
"We have interest in him," Astros manager Dusty Baker said Monday. "And if the numbers are right, and the years are right, and the situation is right, then, right for both of us."
The Cardinals pushed harder, cutting the check that got the job done, allowing them to now focus on bigger needs.
There is so much more to dig into about Contreras. How helpful his bat will be in a lineup that needed more protection for Paul Goldschmidt and Nolan Arenado. How overblown some of the takedowns of his defense have become. How much more nuanced he is than a big-hitting catcher who plays with a sizzling swagger, something ex-Cards starter Jon Lester spoke to the Cardinals about while praising his old Cubs teammate. Lester made two of those Cubs World Series starts Contreras didn't, because his personal catcher then was now Cubs manager David Ross. But when Ross retired, Lester threw specifically to Contreras, and the two grew close enough Lester's endorsement carried weight with the Cards.
We'll dig in more over the coming days. Contreras will be officially introduced soon, and the Cardinals' employees who have been sworn to secrecy until the deal is finalized, officially, will be able to share more. But for now, the Cardinals can't stop with celebrating their impressive Contreras win. Happy flight home. Then, more work to do.
As Oakland's ask for Murphy indicated, left-handed bats are in demand across baseball. The Cardinals share that interest. But by protecting Nootbaar, Donovan and also left-handed hitting option Alec Burleson, the Cardinals are not as desperate for a new southpaw swinger as they could have been if they traded some of these guys away. I'm not against signing a veteran bat for proven depth, but perfect fits at realistic prices are not the easiest thing to find at the moment.
The Cardinals' potential interest in a shortstop was very much tied to a potential trade for a catcher. They didn't trade for a catcher. So, Mozeliak's pledge about seeing Tommy Edman as the starting shortstop now seems quite legitimate, and the Dansby Swanson chatter likely fades.
Here's what makes the most sense to me: With the starting catcher in the bag, go bag a proven starting pitcher who can throw to him. A reliable one. Not just for depth. For damage.
The Cardinals have a lot of arms, but still too many question marks in this current rotation. Who is returning after a fully healthy and wire-to-wire strong season? Miles Mikolas, Jordan Montgomery, and that's it. Adam Wainwright's mechanics came undone late. Dakota Hudson slogged through that first season back from Tommy John surgery and saw his spot in the rotation slip away. Steven Matz and Jack Flaherty got hurt again. There's additional depth beyond that, but proven production is a little too thin.
It's why a monster ace like Justin Verlander would have looked great joining this group. Some Cardinals fans just wanted Jose Quintana back after he excelled as a short-time Cardinal, but he's gone now too, joining Verlander with the Mets on a two-year, $26 million deal.
Carlos Rodon is still out there for a sky-high price. Unrealistic, right? Japanese pitcher Kodai Senga is up for grabs, along with other international options coming or returning to MLB. Here's one. How about Chris Bassitt?
The free-agent right-hander enters his age-34 season having produced back-to-back 27-plus start seasons that both included more than 155 innings pitched and ERAs of 3.15 with the A's in 2021, and 3.42 with the Mets last season. Since the start of Bassitt's age-30 season in 2019, his 3.34 ERA ranks 19th among qualified starters during that span. Sort that list for starters with both lower ERAs than Bassitt AND more innings pitched, and the number drops to just six: Max Scherzer, Shane Bieber, Gerrit Cole, Sandy Alcantara, Max Fried and Zach Wheeler. Good company.
The late-blooming Bassitt would be expensive, but not the most expensive. This offseason, who isn't expensive? He's not the strikeout-gobbling arm this rotation could use most, but he's a lot better than just a guy.
The Cardinals leaving here without a catcher would have been a mistake. They checked their big box by cutting a big Astros-beating check for Contreras.
Great job. Don't stop. Keep going.