Maybe Nolan Arenado did the Cardinals a favor.
Yes, the daydream of watching baseball's best third baseman making magic beneath The Arch has disappeared, fading into the air like one of those special Colorado clouds that float from Coors Field. Arenado is a Rockie through at least the 2026 season — unless he exercises his opt-out, or agrees to be traded.
And that seems unlikely, considering his eight-year extension worth $260 million has the four-time All-Star and six-time Gold Glove winner telling folks he wants to wear black and purple forever. But maybe Arenado could go down in the Redbirds' record book as providing one unofficial assist.
No Arenado in next season's free-agent market spares the heartbreak of Cardinals fans who would have gotten their hopes up that the front office would sign the best free agent available.
The Cardinals did not do this with Albert Pujols, the superstar they developed and adored, and yet we keep wondering if they will do it for a player they did not groom.
By pursuing neither Bryce Harper nor Manny Machado, the Cardinals proved it's not really about the age, either. It's about their fear of putting too many eggs in one basket, and the history that suggests that fear is financially sound.
No Arenado in next season's free-agent market also means the Cardinals must extend Paul Goldschmidt beyond his one-and-done season.
Unless Goldschmidt is entirely unreasonable, the Cardinals can't take no for an answer now. The Cardinals want to extend him. They would not have traded for him if they didn't.
Goldschmidt is playing his cards close, for now, but the extension talks that will eventually come can no longer occur with the notion of the Cardinals pivoting to Arenado if talks stall. If the Cardinals are not going to chase the Harpers and Machados of the world, they must convince the Goldschmidts to stay. It appears to be their only realistic shot at having elite players they do not develop.
And then there is the big one.
No Arenado in next season's free-agent market forces pending free agents, like Goldschmidt, to think long and hard about accepting a generous extension before entering a free-agency gauntlet that has never been more stacked against players who are on the wrong side of age 30. Arenado's extension means Goldschmidt is likely the best position player in his free-agent class. He was already going to be a fascinating case study because his massive list of accomplishments and remarkable durability will be weighed against his pause-worthy age.
A 27-year-old Arenado wanted no piece of free agency. Goldschmidt would dive into the uneasy waters at age 32.
Add it all up, and it means the Cardinals and their new starting first baseman should both be seeing the advantages of a one-year date becoming a multi-season marriage. And Arenado's agreement could be used as a blueprint.
Arenado's average salary of $32.5 million is the highest point (yet) for a position player. He agreed to accept more money over fewer years, compared to the decade-long deal waited out by Machado, and the 13-year commitment achieved by Harper.
Because of his age and his impeccable two-way talent, Arenado was one of the few players who could have entered the current state of free agency with a good chance of making even more money than he just received. Yet, he passed.
At least part of his decision traced to the grueling free agencies weathered by Harper and Machado. Both waited, waited, waited, then won. But neither appeared to get their first pick of landing spots. Harper's circus ended after more than 100 days that left fans in Philadelphia cursing him for taking so long. He got three more years and $30 million more than the Nationals once offered, though he settled for a smaller annual average. Worth it, to him. Not to all.
"Obviously it sits in your head," Arenado told reporters when asked how the hard market factored into his decision to accept the extension.
Players will push to reclaim leverage in free agency while working on the new collective bargaining agreement that will, hopefully, restore peace between owners and players after the 2021 season. That timeline is too long to help 31-year-old Dallas Keuchel, 30-year-old Craig Kimbrel and other headliners on the wrong side of the 30-year-old wall that has popped up as the use of analytics has replaced the use of steroids.
Goldschmidt never has been a free agent. He probably surrendered millions by accepting a team-friendly deal in Arizona, which later traded him. There should be no assumption he's willing to take any sort of extension discount. He is one of the best all-around players in the National League. He's also in his age-31 season. He would represent a fascinating test case for free agency, if he gets there. The Cardinals should not let him.
Post-Dispatch colleague Derrick Goold has reported five years and $150 million could be a template that leads to serious talks. It's not all that different from the deal Arenado just accepted, once you factor in the age difference and length of commitment. If the Cardinals are convinced Goldschmidt is going to be an outlier in terms of age, paying him $30 million per season, or even more if necessary, is good business. Pour on the money. Scale back the years. That's the move here.
Goldschmidt should enter conversations with the Cardinals knowing another corner infielder they loved to watch from afar has exited the realm of possibility. He should also understand why Arenado removed himself from the free-agent pool before he ever entered.
The Cardinals have never needed Goldschmidt more than they do right now. They should make an offer that reflects that. Offer him what free agency might not, because there's no longer a guarantee it will treat him better.
---
WHO'S FIRST AMONG ALL THE GREATS?
Paul Goldschmidt figures to be the latest star in the pantheon of Cardinals first basemen. That position, which probably has had more standout players than any other position in club history, encompasses the likes of Pujols, Musial, Bottomley, McGwire, Hernandez, Mize, Clark, Cepeda and White. Then add on Collins, Torre, Guerrero and Allen.
Ranking them is a challenge but, when in doubt, I will err on the side of longevity at the position while those players wore Cardinals red.
Spoiler alert: Neither Tino Martinez nor Bob Horner nor Joe Hague made the cut. Not even Matty Alou. Here are the 15 best:
15. ALLEN CRAIG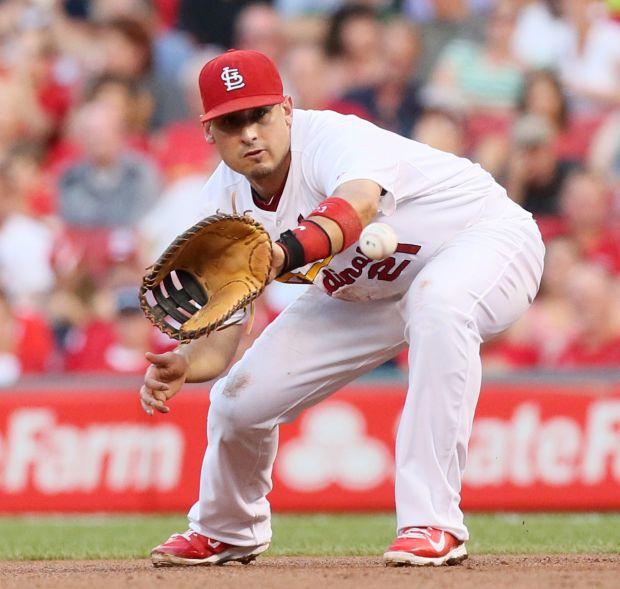 COMMISH ON CRAIG: In 2012 and 2013, Craig played mostly first base for the Cardinals and unequivocally was the best clutch hitter in baseball, hitting .400 with runners in scoring position in 2012 and .454 in their World Series season of 2013, driving in more than 90 runs both years and hitting .307 and .315, respectively. But his career took a left turn after a late-season foot injury as he tried to avoid an umpire at first base in 2013. He was traded to Boston, struggled there and now is a San Diego minor leaguer.  
14. DICK ALLEN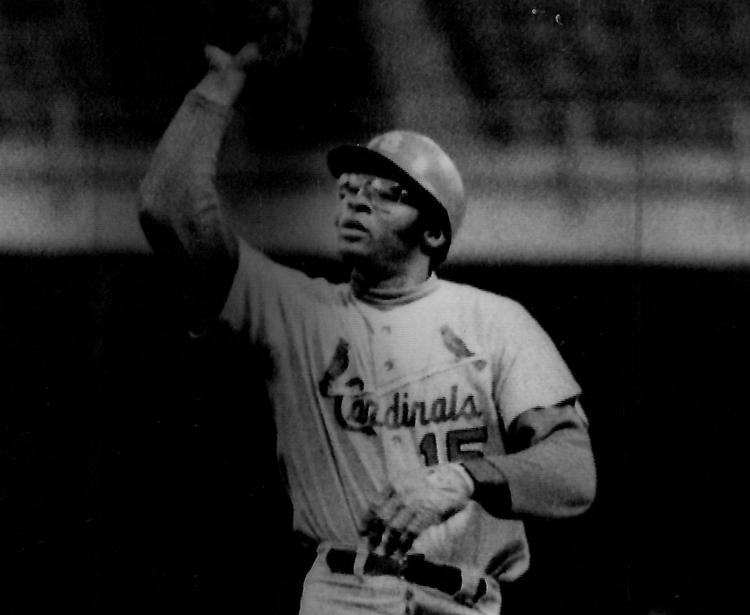 COMMISH ON ALLEN: Just one season here, punctuated by injuries which cost him 40 games. But when fairly new Busch Stadium II was at its biggest, he was McGwire before McGwire, hitting 17 homers at home, besides the 17 on the road. He was traded by the Phillies to the Cardinals after the 1970 season in a deal which sent four players to Philadelphia, including Curt Flood, who famously didn't report and ultimately sued baseball over the reserve clause. 
13. PEDRO GUERRERO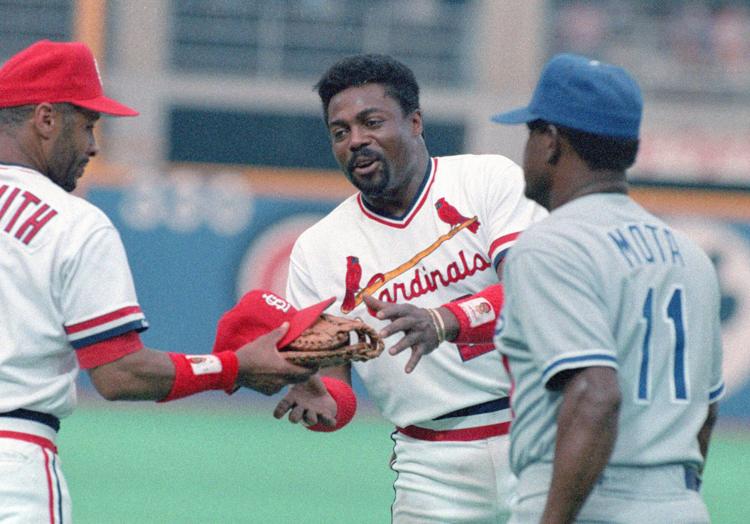 COMMISH ON GUERRERO: The Cardinals' regular first baseman from 1988-92, Guerrero's best was his 1989 season, when he coaxed 117 RBIs out of 17 home runs although he had a league-leading 42 doubles. Guerrero, a potential free agent after the 1991 season, was offered salary arbitration, with the Cardinals assuming he would reject it and they would get a draft pick for him if he signed elsewhere. But Guerrero surprised them, accepted it and became a Cardinal again in 1992 but played only 43 games because of a shoulder injury. He wanted to pinch hit here on the final day, but didn't want to if an out would put his career below .300. Guerrero flied out but his final average rounded up to .300. 
12. GREGG JEFFERIES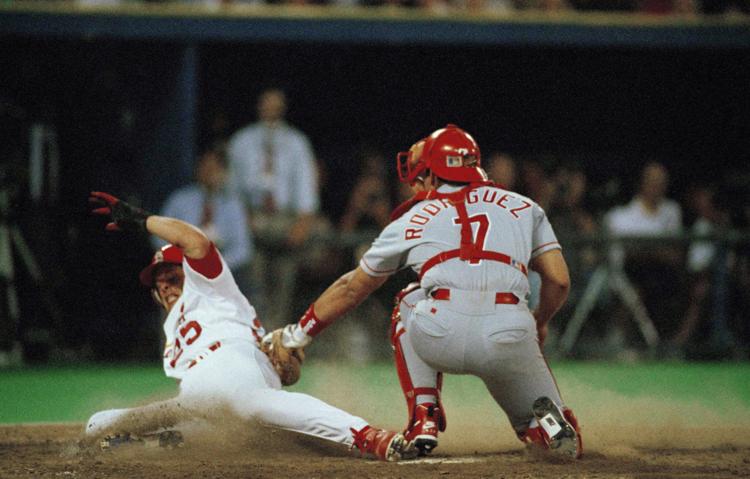 COMMISH ON JEFFERIES: A sneaky entry here. Hardly a glove man _ that's why he was at first base rather than his accustomed second or third _ Jefferies could hit. And run. His .342 season with 46 stolen bases, 83 RBIs and just 32 strikeouts in 544 at-bats in 1993 was one of the most efficient offensive seasons in the last 25 years by a Cardinals hitter. Then, he hit .325 in an abbreviated strike season in 1994 before signing with the Philadelphia Phillies. He never had another season rivaling his two here. 
11. JACK CLARK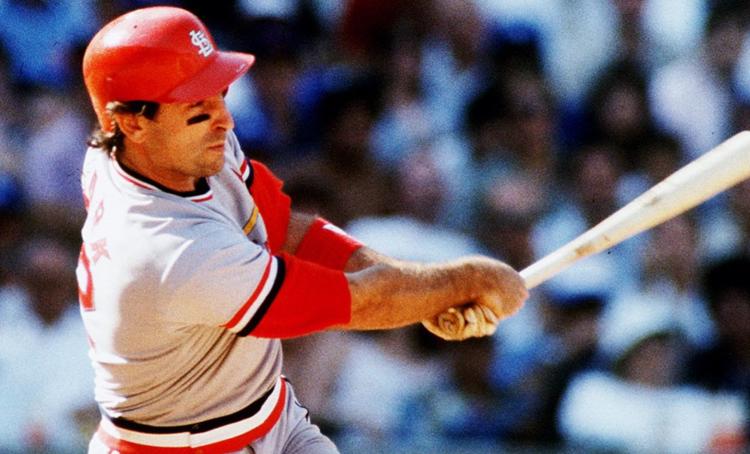 COMMISH ON CLARK: What if Clark hadn't injured himself awkwardly sliding into first base in a one-sided September, 1987 game in Montreal? He would have been able to play in the World Series, that's what. And he would have had some 20 plate appearances in the cozy Metrodome in Minnesota, where the Cardinals lost four games in a seven-game Series. Surely one or two would have been home runs. As it was, this "Ripper" hit 35 home runs and drove in 106 that year while missing 31 games. 
10. RIPPER COLLINS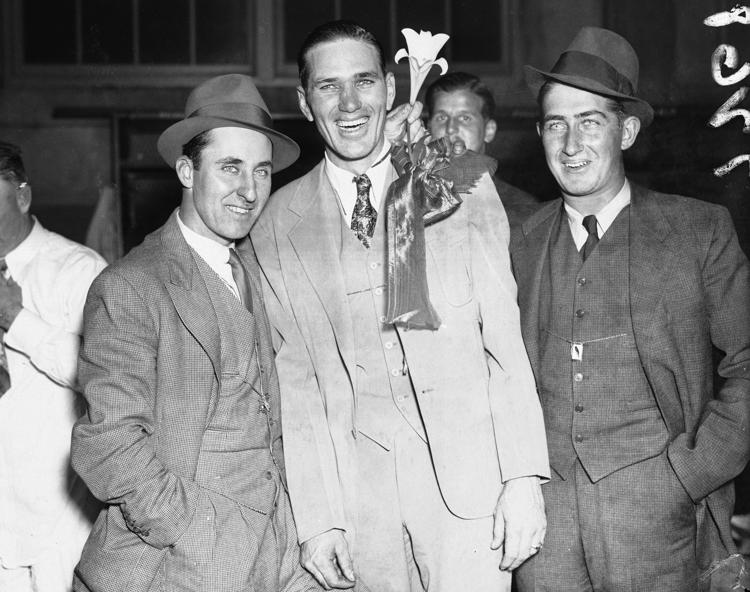 COMMISH ON COLLINS: James "Ripper" Collins was one of the prime power sources for the 1934 "Gas House Gang" World Series champions with 35 homers, 12 triples, 40 doubles, a .333 batting average, 128 RBIs and a 1.008 OPS. In six seasons with the Cardinals as Bottomley's successor, Collins batted .306. Collins, a 5-foot-9, 165-pounder, is the only first baseman to twice go an entire nine-inning game without a putout.
9. ORLANDO CEPEDA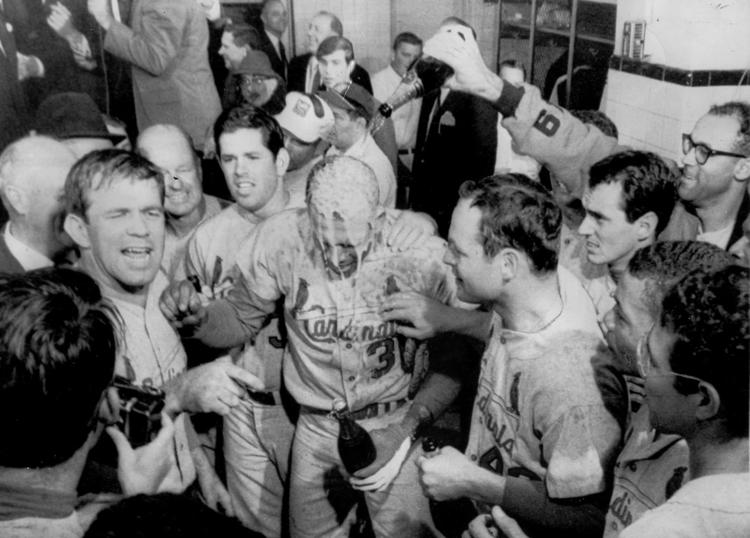 COMMISH ON "CHA-CHA": Also known as "Baby Bull," Cepeda was here for only two full seasons and part of another, but the two full seasons resulted in two National League pennants, one World Series title and an MVP selection in 1967 when he hit .325 and drove in 111 runs. He was the epitome of "El Birdos" until he was traded after the 1968 season to Atlanta for future MVP and fellow Hall of Famer Torre. 
8. JOE TORRE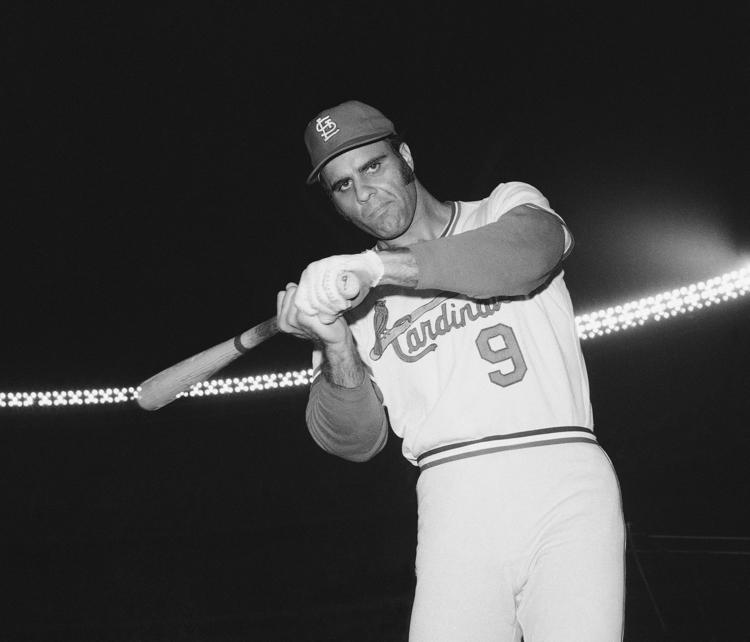 COMMISH ON TORRE: Also the club's regular catcher and third baseman at times during his seven-season playing career with the Cardinals. Torre actually enjoyed his top season while playing third in 1971 when he won the league batting title at .363 and the MVP award. Torre was traded to the New York Mets, clearing the way for Hernandez in 1975. Later, Torre, a future Hall of Famer, returned to manage the Cardinals from 1990-95 but didn't win a championship as a player or manager with the Cardinals, although he won four World Series as Yankees manager.
7. BILL WHITE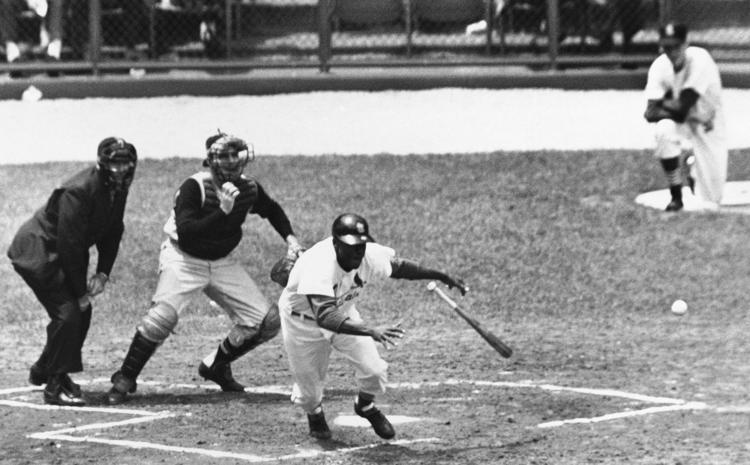 COMMISH ON WHITE: The Cardinals' first baseman for seven years, including the 1964 World Series champions, White also six Gold Gloves as a Cardinal and drove in more than 100 runs three times here while averaging .298. One of the most durable players of his time, White missed just 15 games in a four-season stretch from 1961-64.  He broadcast the New York Yankees for 18 seasons and then became NL president in 1989, becoming the first African-American to hold that high an office in pro sports.
6. KEITH HERNANDEZ
COMMISH ON HERNANDEZ: He didn't have the power numbers of the first basemen ranked ahead of him, but he did win the batting title (.344) and shared the Most Valuable Player award with Willie Stargell in 1979. He also drove in the tying runs in the Cardinals' seventh-game World Series win over Milwaukee in 1982. Defensively, might have been the best in this group, winning six of his 11 Gold Gloves as a Cardinal. 
5. MARK MCGWIRE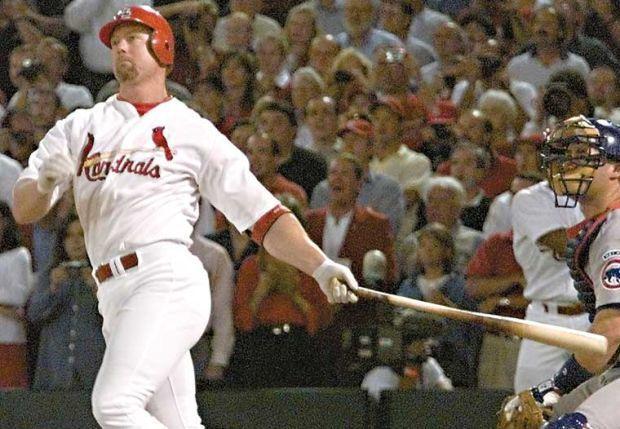 COMMISH ON BIG MAC: Only four full seasons here but what an impact he made. After hitting 24 home runs in 51 games after coming in trade from Oakland, McGwire exploded for a then-record 70 and then 65 in the next two seasons. Even in his final two years, this fan favorite  banged a total of 61 although he played in only 186 games in that span. Left $30 million on the table when he retired after 2001 season. 
4. JOHNNY MIZE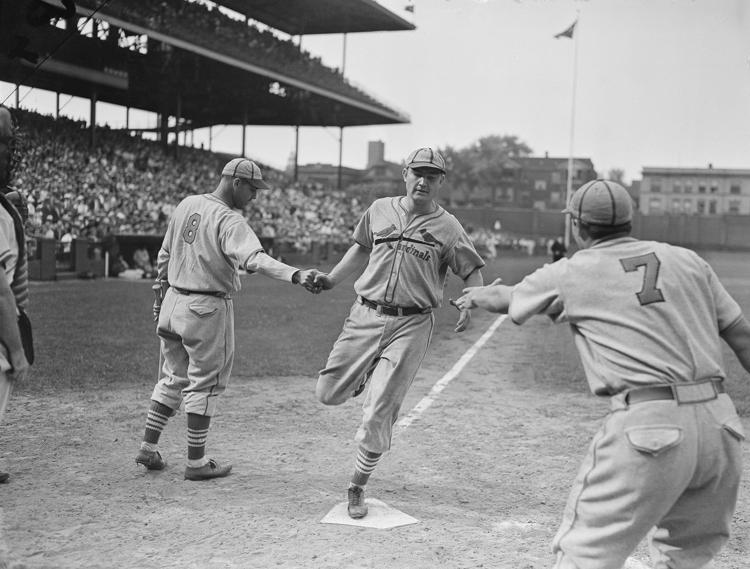 COMMISH ON MIZE: In six seasons with the Cardinals, "The Big Cat" hit 158 home runs, averaged.336 and had a whopping 1.018 OPS, going over 1.000 in four seasons, the final three leading the league. In his best year, 1940, the future Hall of Famer topped the NL with 43 homers and 137 RBIs. Mize was dealt to the New York Giants for three players and, more importantly, $50,000, before the 1942 season, so he missed the Cardinals winning four pennants in five years. 
3. JIM BOTTOMLEY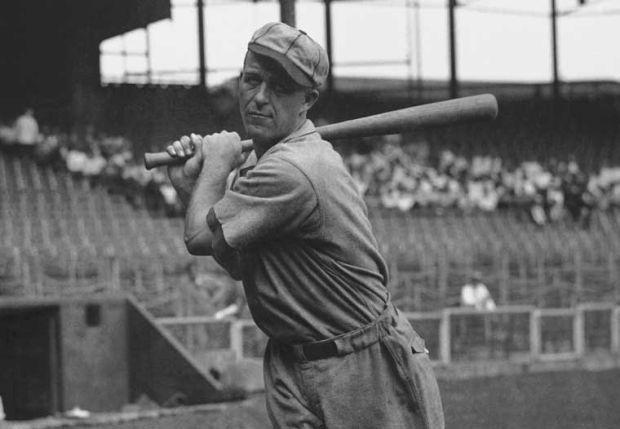 COMMISH ON "SUNNY JIM": Except for three innings at second base in 1924, first base was all this Hall of Famer played for the Cardinals from 1922-32, a period when he was on two World Series champions. Bottomley's best season was his MVP season of 1928 when he hit .325 and led the league in triples (20), homers (31) and RBIs (136). Did you know that he finished his career with the Browns in 1936-37 and, at age 36 in 1936 he had 11 triples and drove in 95 runs? As you might suspect, he was so nicknamed because of his cheerful disposition. 
2. STAN MUSIAL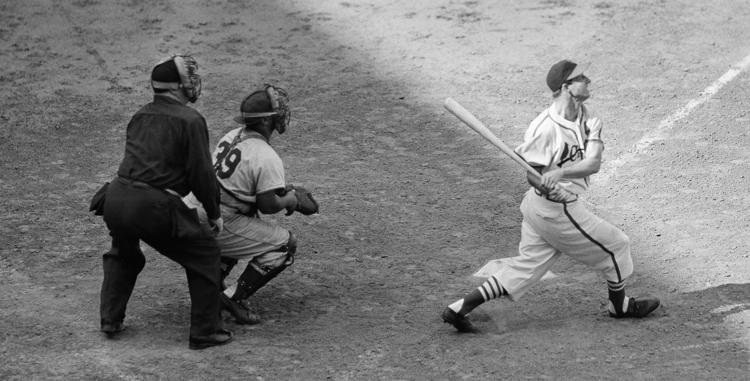 COMMISH ON THE MAN: This may be the only category Musial will rank second to anyone in Cardinals history but he played more games in the outfield than at first at 1,890 to 1,016.  Musial's best season as a first baseman came in 1946 when he led the league in batting average (.365), runs (124), hits (228), doubles (50), triples (20), slugging (.557) and OPS at 1.021. He also was the league MVP that year, one of three such awards The Man would won on his way to the Hall of Fame.
1. ALBERT PUJOLS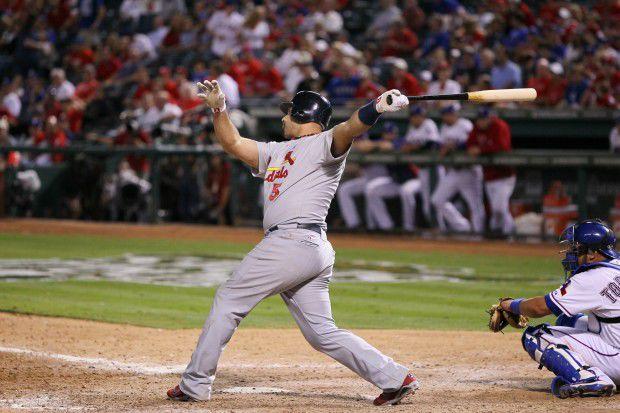 COMMISH ON PUJOLS: First base was his primary position from 2004-11 with the Cardinals. Included in that time were Most Valuable Player awards in 2005, 2008 and 2009 with the 2009 season his all-round best at .327 with 47 homers, 135 RBIs and a 1.101 OPS.  Pujols also bagged Gold Gloves in 2006 and 2010 and gets the nod over Stan Musial because Pujols played 300-plus more games than Musial at that position here.