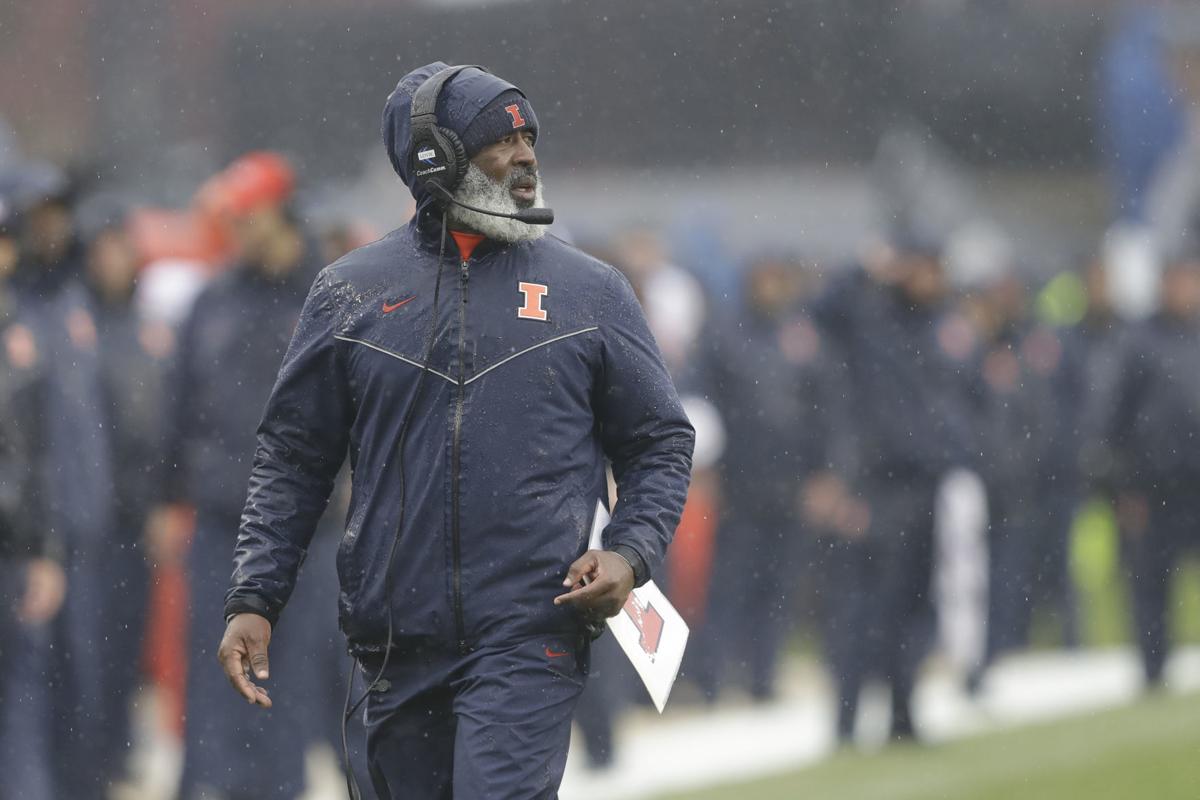 It's dressed in orange and white. It wears No. 13. It rolls, just like Smith's team since mid-October.
Illinois football is going bowling, and its coach was so sure the final pin would fall, he showed up in East Lansing, Mich., with the ball.
"You have to have confidence in your team," Smith said during the bye week. "I kind of like to plan things out in advance."
Held high above the elation in Spartan Stadium's visiting locker room last Saturday was a bowling ball with a backstory. It represented Smith's belief in his players. It represented Illini athletics director Josh Whitman's belief in Smith.
Whitman and Smith agreed to a plan when Smith was hired in 2016. Illinois would pour money into a downtrodden program that had not celebrated a winning season since 2011. Smith, the longtime NFL coach who held the head job for the Chicago Bears (2004-12) and the Tampa Bay Buccaneers (2014-15) after working as the St. Louis Rams defensive coordinator (2001-03),  would spearhead the Illini's return to relevancy and beyond. Smith took the Bears to the Super Bowl. He could revive Illinois. But patience, the most important ingredient, would be required.
Lots and lots of patience.
"There will be a team that will come from nowhere that has an outstanding year," Smith pledged at Big Ten media days before his fourth season started. "We plan on that being us."
But a promising 2-0 start stalled.
A chorus of critics that grew in size as Smith's teams totaled three times as many losses (27) as wins (nine) from 2016-18 reached a crescendo when the Illini face-planted with a home loss to Eastern Michigan in game three, the first of four consecutive defeats.
Smith still liked his team. He's got a blend of veterans, guys like East St. Louis defensive back Stanley Green, who are sick and tired of losing, and desperate to take it out on opponents. He's got a batch of transfers, guys like quarterback Brandon Peters, who are oblivious to the program's baggage, but eager to help eliminate it. He's got reasons — the biggest being a large group of juniors — to believe next season will be his best yet.
Whitman still liked his coach. He supported Smith, securing him a two-year contract extension after season three. He swatted away any notion of wavering confidence as he focused on finding Smith more of the recruiting upgrades he had promised, like a new, $80 million football facility that included, of all things, a bowling alley. Remember that perk. It's important.
Smith swears something clicked in that fourth loss, a 42-25 home defeat to Michigan. Illinois outscored the Wolverines, now ranked No. 14, by four after halftime.
"Most of the people who wanted to jump off the bandwagon jumped off of it then," Smith said. "Except for a few people who believed. The guys said, 'We can do this.'"
It's the kind of moment that becomes meaningless unless there is a next one. There was a next one. A big one.
Illinois stunned No. 6 Wisconsin the following week. It's the kind of win that can buy a coach time even if the bottom drops out after it. The bottom didn't drop out.
Illinois went on the road and beat a Purdue team that embarrassed the Illini in their 2018 homecoming. Then Illinois blitzed Rutgers at home. Then Illinois went back on the road and erased a 25-point Michigan State lead to stun the Spartans along with everyone else.
The Illini outscored Michigan State 27-3 in the fourth quarter. They forced four turnovers in the game, improving their turnover margin to a nation-best plus-14. ESPN's win probability gave Michigan State a 99.6 percent chance to win after the third quarter ended. The Illini became the .4 percent.
The biggest comeback in program history ended with the guarantee of the program's first bowl game since 2014. A nine-win season is in play. That hasn't happened since Ron Zook's team reached the Rose Bowl 12 years ago.
"Our guys have answered the bell a few times in moments when we are 'supposed' to let down," Smith said. "They are just not believing in what they are 'supposed' to do. We choose to believe what we want to believe."
Smith's breakthrough has coincided with college football's annual breakups. It's firing season. Willie Taggart is out at Florida State. Chad Morris is out at Arkansas. Plenty more are wondering if they will receive a pink slip or a Christmas card from their AD.
Smith is proud to be the bearded, smiling face on the billboard for the alternative. He's the spokesman for the rarest trait in college football — patience.
"It takes time," Smith said. "If you made a change, you have acknowledged that something is wrong. You just can't flip a switch and things work out. You have to have a plan. And you have to be patient.
"Most of the time, if you are trying to find a place, and you are lost, most people, if they would go one more block, they would be at their destination. But they stop early. You don't complete the job. That's not the University of Illinois. That's now how we have done it."
Smith's leadership is hard to doubt now. Whitman's belief looks brilliant, and the AD was awarded a three-year extension on Thursday because of it. The plan is working, down to the luggage the Illini carried to East Lansing.
It's best to let Smith take it from here.
He's the one who made sure the bowling ball was packed.
"I felt good about our chances to win the game," Smith said. "And I knew if we win, we're going bowling. We just moved into a brand-new facility. We have a bowling alley in our building. We just went down and picked up one of the balls."
Not just any ball. The orange and white one labeled with No. 13. A bowl game is the 13th game of the season.
"Special moment," Smith said.
Thanks to time given, more should come.