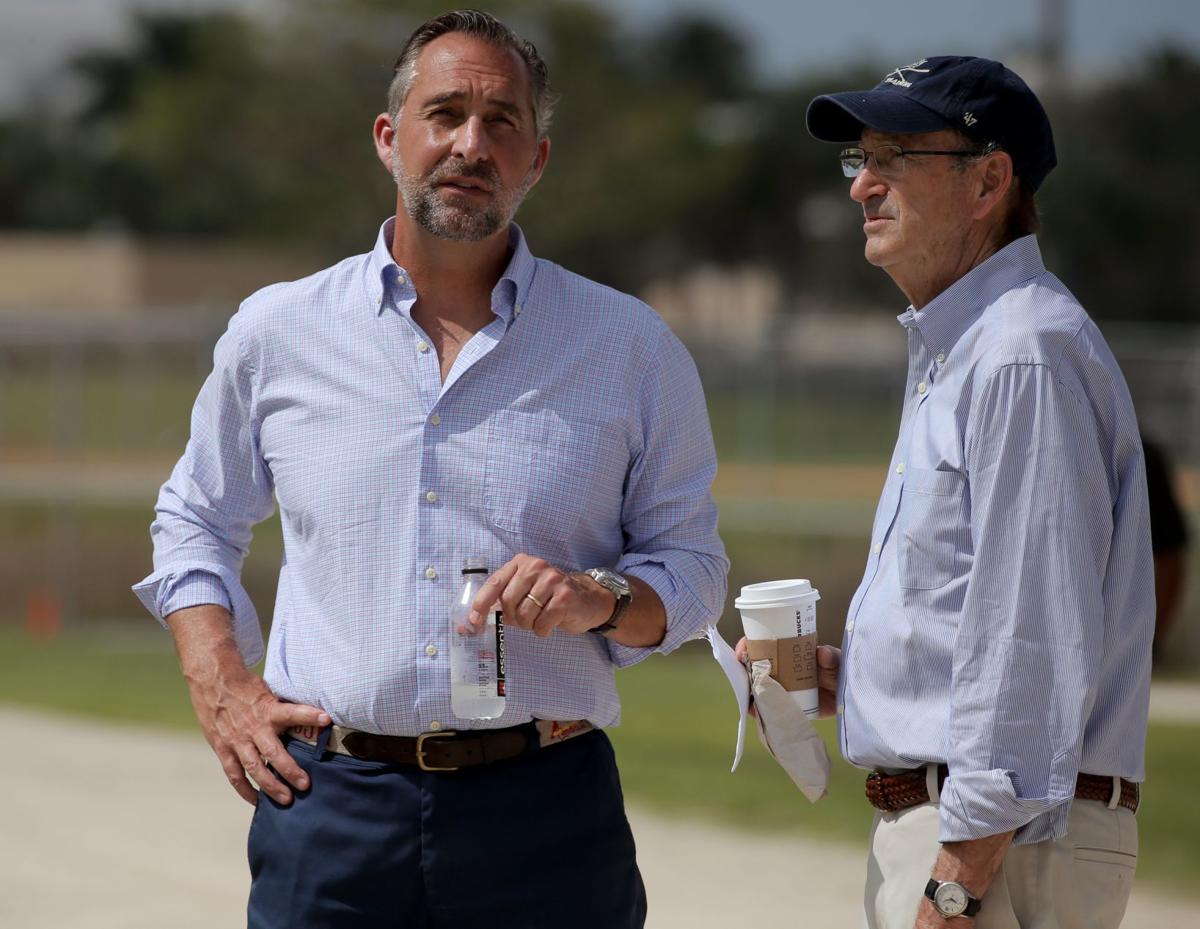 The front office receded.
There is no other way to frame it, phrase it, spin it, sell it or say it.
Cardinals' decision-makers set this whole thing up, dropping bread crumbs that led their fans (and more importantly their players and their manager) to ... a punch in the gut, an empty pat on the back, a reward offered but not received.
2019 matters, but not more than any other season down the line.
It's not nearly as catchy of a phrase, but it's the truth. The lack of action proved it.
The Cardinals traded for Paul Goldschmidt because, as president of baseball operations John Mozeliak said, "2019 matters." The Cardinals were tired of coming down to the wild-card wire, so this team was built to win the division, chairman Bill DeWitt Jr. said during Winter Warm-Up. But we were wrong to expect that hopeful division-winner to be meaningfully reinforced along the way by the kind of in-season moves that have helped produce every recent World Series winner. Having a hard time making sense of that? Same here.
Actions always speak louder than words, and a front office that asked its players and manager to prove it was worthy of being treated like a contender left hanging a group in need of rotation help that had secured the second-most wins in baseball since the All-Star break.
Sorry, Yadier Molina and Adam Wainwright, improving your shot at a deep postseason run and ring was not as important as what Nolan Gorman, Dylan Carlson and others might turn into one day.
The Cardinals got worse on Wednesday.
They made no significant moves while their division opponents found ways to find help.
They left a team and its manager blowing in the wind.
More day-after thoughts after the dust settled on a trade-deadline loss:
• How did Cardinals' decision-makers not pledge to do something, anything, to guarantee help for this rotation? How did DeWitt not demand it? This team lost Carlos Martinez and John Gant to the bullpen, lost Alex Reyes to what is looking for now like another lost season, lost Austin Gomber to injuries unless he can come up with some sort of late rebound. The depth has been racing toward desperation mode for a while now. Innings are going to become an issue. And yet, nothing of substance was done about it.
Earlier this season, when Dallas Keuchel was no longer attached to draft-pick compensation, the Cardinals refused to move, refused to beat out an offer from the Braves that brought Keuchel aboard for one season at $13 million. Better pitchers than Keuchel were available at the deadline, but the Cardinals could not stomach the prospect cost.
See the rub? The Cardinals didn't want to spend money on Keuchel. They didn't want to spend prospects on better pitching help at the deadline. They didn't want to trade from their MLB roster. They didn't want to deal their top-two prospects, at least not together. They didn't want to deal Harrison Bader or Tyler O'Neill in a package for a rental.
That last part is perhaps the hardest to digest. I was not convinced Mets starter Zack Wheeler was the answer for this rotation, but the Cardinals' were interested in him. That means they thought he could help. And that idea stalled because the Mets wanted Bader or O'Neill in the package for the rental starter. Can't trade Carlson. Can't trade Bader or O'Neill. Dexter Fowler is under contract through 2021. Lane Thomas, Randy Arozarena, Adolis Garcia and other outfield prospects exist. Free agency exists as a way to sign outfielders. Trades in the future exist as a way to add outfielders. But Wheeler as a rental was not worth losing Bader or O'Neill?
The front office was not determined to help the 2019 Cardinals. It was willing to help the 2019 Cardinals if it was convenient. It rarely is. It does not seem that the Cardinals want to win a World Series as much as they want to win a World Series with a roster full of homegrown prospects on affordable contracts. It's nearly impossible to do that if you don't tank. The Cardinals don't want to tank. See the rub? The Cardinals seem trapped and unwilling to escape their self-imposed prison, in part because business is good.
• The Cardinals, like a lot of teams in baseball, seem more interested in winning trades than winning division titles. This is the fourth deadline in a row defined by a lack of significant additions, and this was the year to snap that trend, due to the Cardinals' place in the standings along with the new-look, drop-dead deadline's finality. Didn't happen. The deal between the Cardinals and National League rival Dodgers said a lot. The Dodgers get a power threat for their bench in Jedd Gyorko, plus luxury tax relief. The Cardinals cut payroll and added two pitchers. One is injured and might never pitch for the Cardinals, because he's a free agent at the end of the season. The other is 19, and might never pitch for the Cardinals, because he's 19.
The 2019 Cardinals did not get better on Wednesday, but they might have helped the 2019 Dodgers get better. Bad optics.
• One more thing: Enough with the blame-the-media blabber. The Cardinals' trade-deadline needs were well-documented. There was no lack of hard questions. What was lacking was action by the front office after Mike Shildt and his players did more than what was asked of them.
Check out what Braves star Freddie Freeman told reporters after Atlanta's front office secured reinforcements.
"I think everyone knows this team has a chance to win this thing," Freeman said. "So when you play good and you get rewarded by your front office, it just fires everyone up in this clubhouse."
The Cardinals front office handed its 2019 team the exact opposite feeling at 3 p.m. on Wednesday. Future Cardinals teams might be better because of moves not made at this deadline. This team, though, got worse. That's what happens when you remain the same while those around you improve. The Cardinals have become so comfortable with that, it's as if they don't even see it anymore.
For the fourth consecutive July, the Cardinals failed to complete a substantive move to strengthen their roster for a run at a division title, and the consequences could be severe. They chased all sorts of deals for a starter because an innings deficit looms, and they aren't sure how to fill it.
---