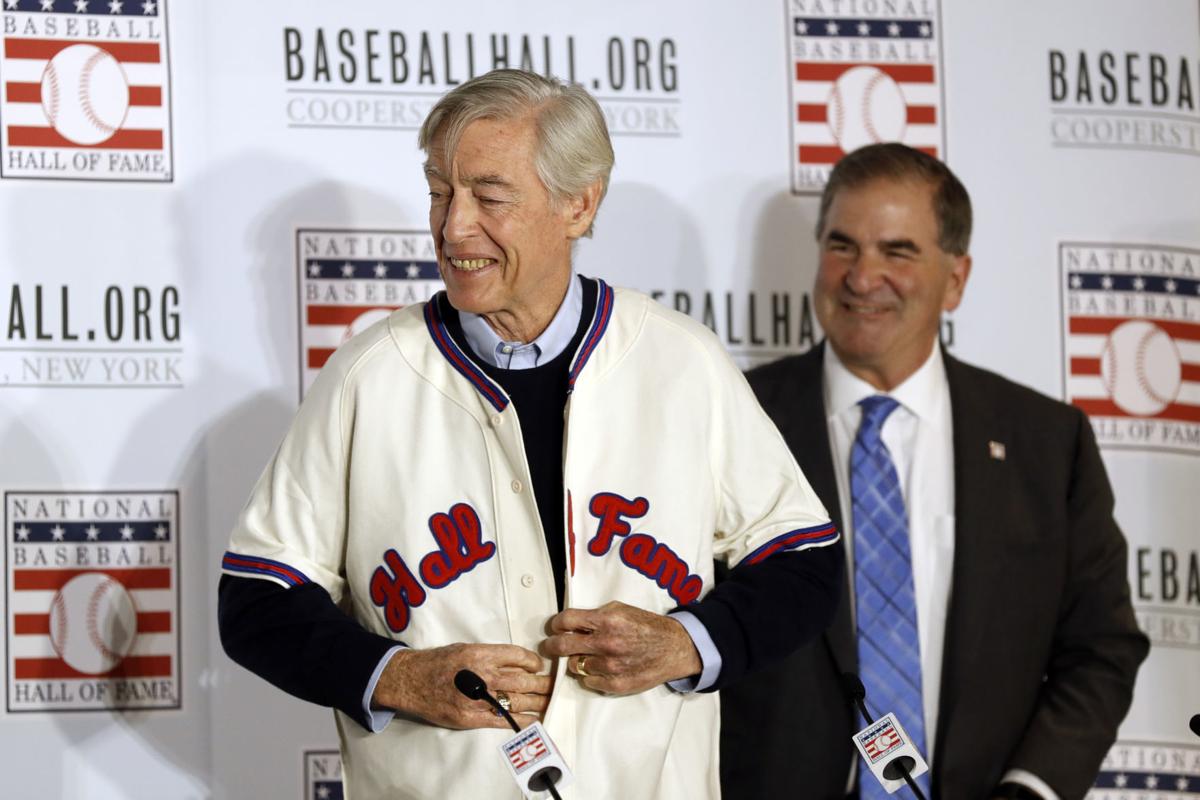 SAN DIEGO —  Ted Simmons said time and time again here Monday that he could not begin to adequately describe this feeling.
Honestly, he came pretty close.
With his ticket finally punched for the National Baseball Hall of Fame, Simba let us walk alongside him as he retraced his long and winding path to Cooperstown.
There was that dead end that finally dissolved. There was disappointment, quadrupled. And then, finally, there was … well, let him say it.
"It's like Niagara Falls," Simmons said. "The weight of the world has just lifted. And you just go, 'I can't believe it.' Relief. Complete and total relief."
Simmons' 25-year wait will end in glorious fashion when he gives his Cooperstown acceptance speech in July. If Monday was any indication, it's going to be something. Simmons captured a Winter Meetings crowd with a simple Q&A.
You could not help but toss and turn as he described the wrestling match he had been trapped in as he reversed between complete satisfaction with his stellar 21-year playing career, and this impossible-to-ignore longing for baseball's highest honor.
You ached as he retraced the stories of the painful rejections. Simmons went one-and-done on the ballot voted upon by the Baseball Writers' Association of America Hall of Fame. As in, one appearance, then done with appearances. He received just 3.7 percent support in 1994, dropping him from future consideration from the writers. Three times after that, different veterans' elections took a pass. He missed baseball immortality by a single veterans' committee vote in 2017.
"When you're waiting it out, it's just plain excruciating," Simmons said. "Until the call comes, it's painful. You keep saying to yourself, 'I can't really want that this bad. I just can't really want it this bad, can I?' And you keep answering the question in the affirmative: 'Yes, I can want it this bad.'"
As Simmons described the Sunday night phone call that informed him the veterans' committee had voted in his favor, you came about as close as possible to feeling that sensation he has been trying to put into words ever since. The news he desired for two and a half decades was immediately shared in two calls of his own. To both of his sons. He soon had family celebrating in St. Louis, San Francisco and Sydney, Australia.
"Everything that's gone on in the past is all part of it," Simmons said. "It's all a good part of it. It was supposed to happen just like this, and it happened just like this. I couldn't be happier and wouldn't change. I wouldn't change anything. Not one thing."
Every person who took a moment Monday to walk in Simmons' shoes should be thrilled for a 70-year-old Cardinals Hall of Famer and his family.
The news should delight anyone who, like both Simmons and his accomplishments, has advanced along with America's pastime.
Those complaining about Simmons' induction — and there are some, somehow – should stand down.
The argument they are clinging to is a flawed.
Simmons becoming the first Hall of Famer to recover from falling off the first writers' ballot he appeared on is not an example of big-hall politics spoiling the standard. It's about fixing an error. The correction was overdue.
"We know there are anomaly years, and things can happen, and things can fall between the cracks," Jane Forbes Clark, chair of the board of directors of the National Baseball Hall of Fame and Museum said Monday, with Simmons seated to her left. "That's what we are looking for. We're always looking for the player that has fallen between the cracks."
Simmons doesn't just fit the definition. His picture is next to it in the dictionary.
The forgettable Cardinals teams he carried during the 1970s limited his national exposure and kept him from the postseason spotlight. He was punished because he was born not long after Johnny Bench and Carlton Fisk, and not too much before Gary Carter. This, of course, was wrong. That became clearer by the day, as so many days went by without catchers like Bench, Fisk, Simmons and Carter.
Simmons, who has been a part of Major League Baseball in some capacity since he debuted as an 18-year-old Cardinal in 1968, has grown with the game, updating his view of it as he transitioned from playing fields to various front-office roles.
He adapted, modernized, advanced.
His case for Cooperstown, strengthened as more emphasis was put on important statistics like on-base percentage and Wins Above Replacement, did the exact same thing. A once-dormant discussion found new life. It then became impossible to ignore.
The eight-time All-Star switch-hitter for the Cardinals, Brewers and Braves averaged over .300 in seven of his seasons.
He hit 20-plus home runs six times and drove in 90-plus runs eight times.
Simmons' 50.3 career Wins Above Replacement makes him one of nine at the position with a 50-plus WAR. The other eight are in the Hall of Fame, along with 10 who have WAR totals that can't match Simmons'.
Between his first All-Star season in 1972 and his eighth in 1983, here's where Simmons' numbers ranked among all major leaguers during that span: 1,888 hits (fifth), 373 doubles (fourth), 212 home runs (22nd), 1,091 RBIs (tied with Reggie Jackson for first).
Between 1972 and 1980, Simmons was the only catcher who cracked the top-three among his position-playing peers in the following three categories: average (.300, first), on-base percentage (.369, second) and slugging percentage (.471, third). His on-base plus slugging percentage of .840 tied Bench's for best at their position during that eight-year stretch.
He accomplished these things while ranking fifth among catchers during his career in games started (1,687) and innings spent behind the plate (15,092.1).
"People looked at his body of work, what he accomplished as a player," said special assistant to the Reds and former Cardinals general manager Walt Jocketty, a member of the veterans' committed that voted in Simmons. "Start with his offensive numbers. He played one of the toughest positions. Good defensive catcher. Good with handling pitching staffs. That was all discussed. There are a couple of guys that spoke up for him that knew him well. That helped a lot. In my mind, going into it, I thought he was definitely worthy."
Another committee member familiar with the scorching Midwest heat pointed out something others often overlooked. Simmons spent the bulk of his career playing a punishing position in often punishing weather on the punishing turf of Busch Stadium II.
"It would be 130 (degrees) on the turf in a day game, and he's catching," George Brett exclaimed. "If I went three-for-four, I would lose nine pounds. You never stop sweating. Teddy Simmons could go oh-for-four, catching, and lose 12."
You get the point, but it's worth remembering how rarely Simmons finished a game without reaching base.
"He's a switch-hitter who didn't strike out," Brett said. "A couple of years he had more walks than strikeouts."
It was actually nine seasons with more walks than strikeouts, including a stretch of eight consecutive between 1973 and 1980. Simmons finished his career with 161 more walks (855) than strikeouts (694). He never struck out more than 57 times in a season.
Simmons, now a scout for Atlanta, can speak to how rare that has become in today's game. It's a big reason Simmons gets much more appreciation these days. Funny how that works.
"Natural evolution," Cardinals president of baseball operations John Mozeliak called it. "He (Simmons) grew up in a game that maybe isn't looked at in the same way today. The set of lenses he sees it through now, he obviously appreciates what he did as a player. And he should."
Simmons had told himself time and time again that his story would not be defined by missing or making Cooperstown. But as the vote neared, so did a familiar and uncomfortable dread.
"The anxiety, you know, begins about a month ago, and then it just starts building," Simmons admitted. "Before long it's preoccupied every thought you've got."
It took Niagara Falls to wash the worry away. Ecstasy took its place.
Up there on the stage, Simmons took his new navy cap and curled the bill twice before pulling it over his now silver hair.
He tucked one shoulder into the cream-colored uniform, then the other, savoring each button.
"How does it look?" he asked the room.