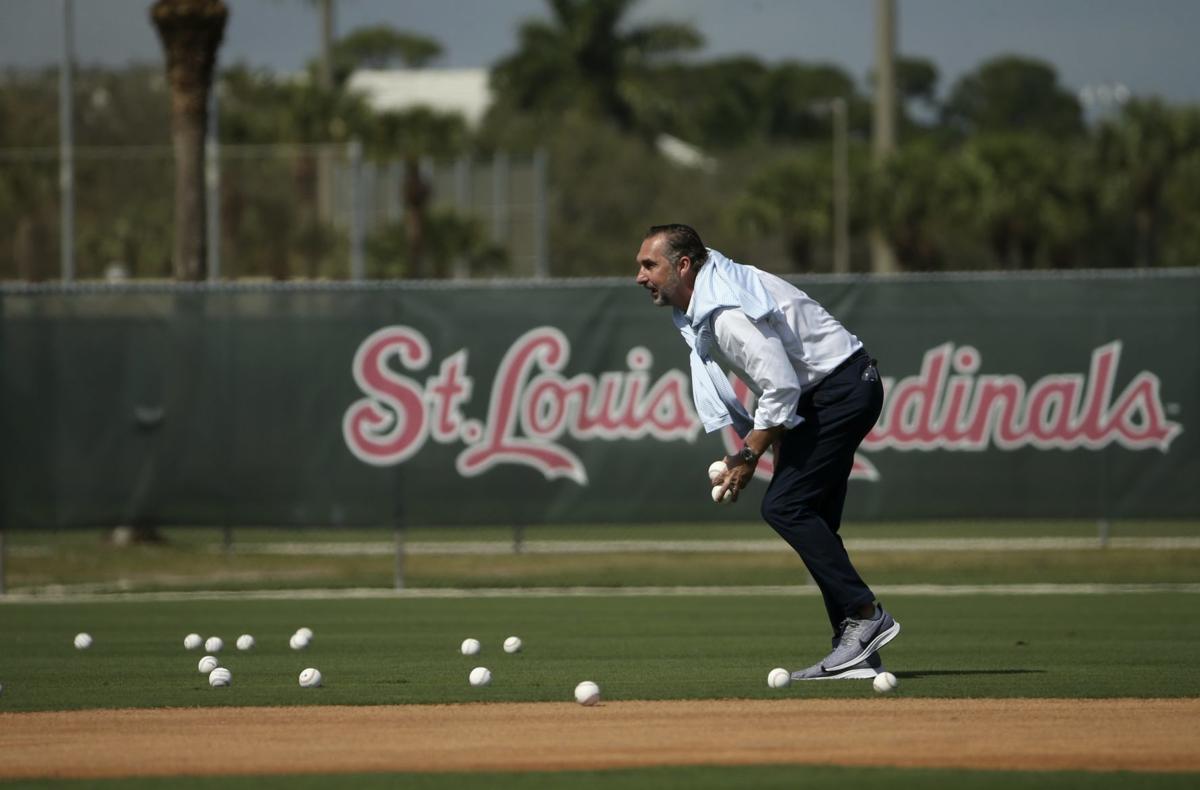 At a time when optimism can be harder to find than toilet paper, John Mozeliak is asking for it, and hoping it rolls.
That doesn't mean he's ignoring the coronavirus unknown.
"It's going to be a huge part of our healing process," the Cardinals president of baseball operations said Thursday afternoon. "Creating that hope is what baseball and other sports have done forever. To have that going, not only is that part of your economic engine, but it's also part of the mental side of what people are dealing with. Giving people faith in something. That's something all of us involved in the game hope we can be involved in, that process."
Here came the reality check, rounding third.
"But again," Mozeliak added. "You have to prioritize everybody's health in that type of discussion. That's always going to be the quick balance of getting going too soon, versus waiting for that appropriate time."
Imagining the ways baseball will bring us back together when we beat back coronavirus sure beats thinking long and hard about when that glorious ballpark reunion will arrive.
It is when, not if. No one seems to disagree there. But every time you poke and prod that when, it runs the wrong way on the calendar.
This was the unintended yet impossible-to-ignore takeaway from the 45-minute conversation between Mozeliak and media members during a video conference call that would have normally taken place in the Cardinals dugout before Busch Stadium's home opener.
Mozeliak did his best to lift the spirit of Cardinal Nation during its postponed civic holiday.
Every five minutes or so, reality rudely interrupted.
There was the news of another team employee, in addition to broadcaster and former center fielder Jim Edmonds, who has tested positive for coronavirus. The interactions of both Edmonds and the unnamed St. Louis-based employee had to be mapped out by the organization to determine who must be monitored moving forward.
There was an update on pitcher Kwang Hyun Kim, whom the Cardinals are contemplating attempting to send back to South Korea to see his wife and two children, a risk that must be balanced with in-flux rules about international travel.
There was the explanation of how the Cardinals are still attempting to get minor leaguers from Venezuela home from a Dominican Republic training site, a significant challenge considering the difficulty in securing those kind of flights at this time.
There was the reminder the London Series between the Cardinals and Cubs is canceled, with no makeup date determined.
There was a discussion about if the Cardinals' Roger Dean Chevrolet Stadium spring training headquarters could be turned into a makeshift Jupiter hospital if needed.
There was the reluctant acknowledgement that while Mozeliak is pro-positivity, he has had conversations about what a canceled 2020 season would mean to his team.
And then there was a sit-up-in-your-chair moment, when Mozeliak said that even the best-case scenario of a sooner-than-expected return to action could encounter a problem as significant as it is likely.
What happens if baseball rushes into its comeback, and then a player tests positive for coronavirus?
"Clearly, if that were to happen, that's a disaster," Mozeliak said. "In a lot of ways, that's what happened in the NBA. The moment that happens, you are in a very bad spot. Especially if, moving forward, it's still going to be a 14-day quarantine for anyone who came into contact. That's where you can get into those dangerous hypotheticals, trying to speculate."
From the beginning, Mozeliak has reminded everyone who will listen that this is bigger than baseball.
President Donald Trump, Dr. Anthony Fauci, the CDC and a long list of politicians are going to have more influence on baseball's green light than MLB commissioner Rob Manfred, or anyone who works beneath him, including those who decided blocking media from clubhouses was going to stop a pandemic from postponing the season.
Some sports media "experts" are no better. Without games to occupy airwaves, they have dedicated their energy to guessing. The season could start then and there. Or here, and here's how.
Until our divided nation comes together enough to get a grip on a virus that has infected more than 235,000 and killed more than 5,600, we would be better off guessing who will win the next World Series than predicting when and where that series will be played.
Playing baseball games with limited crowds sounds great until you read the virus can stay on surfaces — seats, bathroom sinks, turnstiles — for days.
Playing baseball games without crowds sounds great until you remember the amount of people it takes to make one baseball team tick, let alone all 30 of them. Players, coaches, managers, front office members, trainers, team chefs, pilots, clubhouse attendants. They all have families to go home to at night. Or are they not supposed to see their families for a season's worth of nights?
Are players supposed to stop spitting sunflower seeds in the dugout, considering that's a contamination risk? Are they supposed to avoid a hard slide at second base because an out could end in infection? If a player shows up for batting practice with a fever, is he sent home for two weeks?
Is his entire team, considering you can be contagious before you have a fever?
Asking is easy. Answering with any sense of certainty is impossible. Optimism is encouraged, but reality is rather rude right now.