BOSTON — Scribbled on the crumpled pages of the notebook, here are some of the moments that I will never forget, and some I want to share before I forget, from covering the Blues winning their first Stanley Cup.
Conn Smythe Trophy winner Ryan O'Reilly and his family wrapping their arms around one another in a big group hug on the TD Garden ice , hopping up and down while chanting, "Snook! Snook! Snook!"
"Him and his brother would be playing in the kitchen," O'Reilly's father, Brian, said. "They rehearsed winning the Stanley Cup thousands of times. Thousands of times. You pinch yourself."
Snook? It's O'Reilly's nickname, handed down from his Irish grandmother.
"Because he had so much energy and was so mischievous," Brian said. "The name just stuck. The teachers all called him Snook. It's an Irish term. It means . . . trouble-maker."
Vladimir Tarasenko's grin. It was planted on his face during the morning skate, and it never left. He didn't score in Game 7, but he sparked a goal with a blocked shot and created another with an assist. He was all over this game, all over this postseason. And who else would get a post-game congratulatory FaceTime from Cardinals catcher Yadier Molina?
Carl Gunnarsson joking — I think — that he was going to cut the infamous urinal out of the visitors' dressing room at the Garden and take it home as his own personal Stanley Cup. Remember, it was at that urinal where Gunnarsson predicted to Blues coach Craig Berube that he would score the overtime game-winner against the Bruins in Game 2 of the Stanley Cup Final. Gunnarsson said it might not be sanitary to follow through. It was pointed out to him that it might be more sanitary than touching the Cup he and his teammates had been kissing.
"That might be true, actually," Gunnarsson said.
I asked him what defines this team.
"What defines it is, we went down, but got back up every time," Gunnarsson said. "We were down in every series. Got back up. Bounced back."
Alex Pietrangelo dropping a rare in-interview F-bomb. "Heck of a story, isn't it?" he told me on the ice. "It's (bleeping) unbelievable. Hell of a story to tell. Binner coming up. Proud to be part of this group. Proud to be wearing this letter. It wasn't easy, but there is not a better group of guys. It's unbelievable. Unbelievable. You can't write it up any better. There's nothing left to say other than I'm so damn proud of everybody here. It's going to be a fun couple of weeks, I'll tell you that much."
Alexander Steen skating around the ice shouting one line over and over again. "The champ! The champ! The champ!" I did not know the usually stone-faced veteran could smile so big.
Zach Sanford racing over to hug his uncle at the edge of the ice, looking down at his uncle's shoes, and saying, "We need to get you some skates."
Blues general manager Doug Armstrong, who made it clear in the last round that the Blues are going to extend Berube, deadpanning a response about that same topic. "No," Armstrong said. "I think we are going to let him go." (A Berube extension will be coming soon.)
Thanking Blues owner Tom Stillman for letting the Post-Dispatch off the hook for our accidental leak of ads congratulating the Blues on winning the Cup. He looked at me with a straight face. "A little bit?" I adjusted. "A little bit," he said, breaking into a grin.
Bernie Federko, Stanley Cup above his head, screaming, "Thank you, guys!" to every Blues player he made eye contact with.
Bob Plager passing out Bud Lights to anyone and everyone.
The "Let's Go Blues!" chant that was still pounding through the Garden at 11:11 p.m.
A little boy — I'm not sure who he belonged to — flat on his back. He was making snow angels on the ice.
Blues fans continuing to press their hands on the glass at 11:35 p.m. They didn't stop until security started dragging them out.
Outside now. A Blues fan on a street corner outside of the Garden is pretending his Stanley Cup bag from the gift shop is the Stanley Cup. He's holding it above his head, jumping up and down.
On the way home now. A pack of Blues fans is dancing while singing "Ole, Ole, Ole" at Boston Logan International Airport at 5:14 a.m.
Home now. The flight from Boston just landed at Lambert. What's that noise? It's 8:35 a.m., and man in the terminal is shouting. "Stanley Cup, baby! Stanley Cup, baby! It feels good to wake up a champion, doesn't it?"
Perhaps the best part is realizing it was not a dream.
The Cup comes home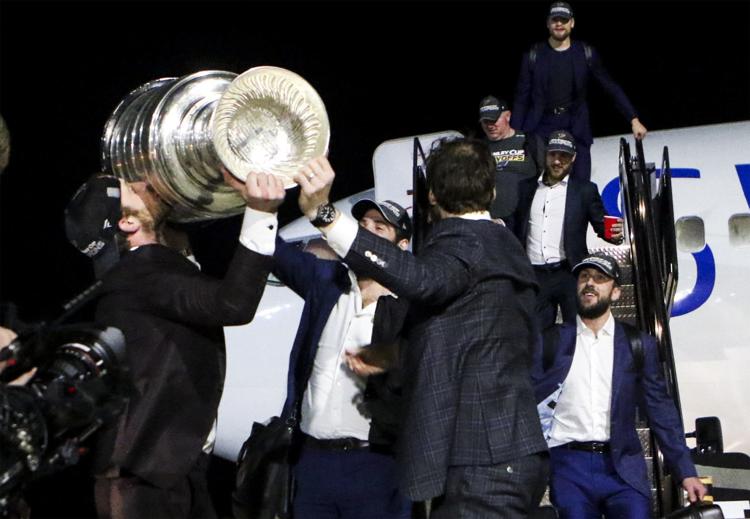 The Cup comes home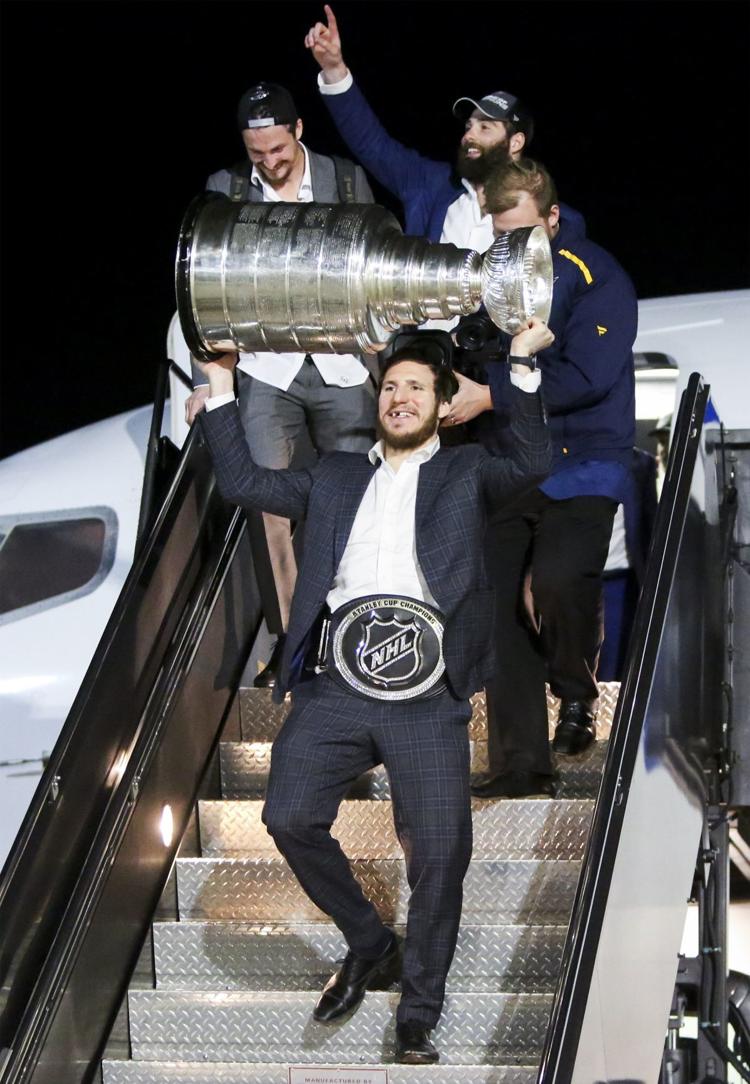 The Cup comes home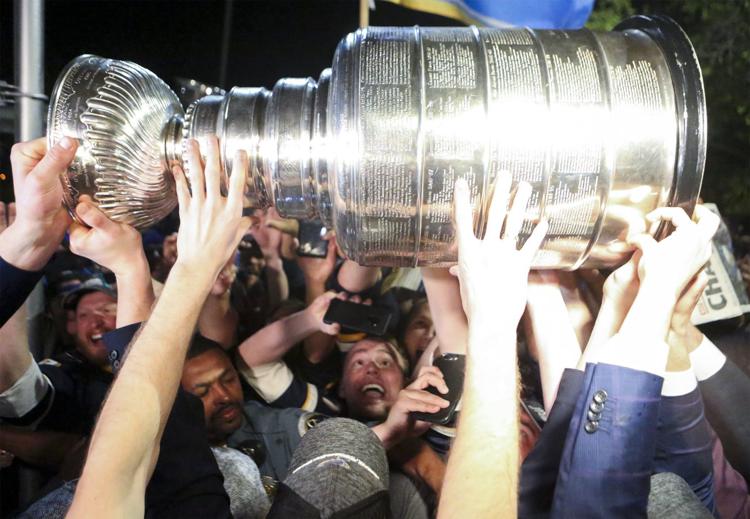 The Cup comes home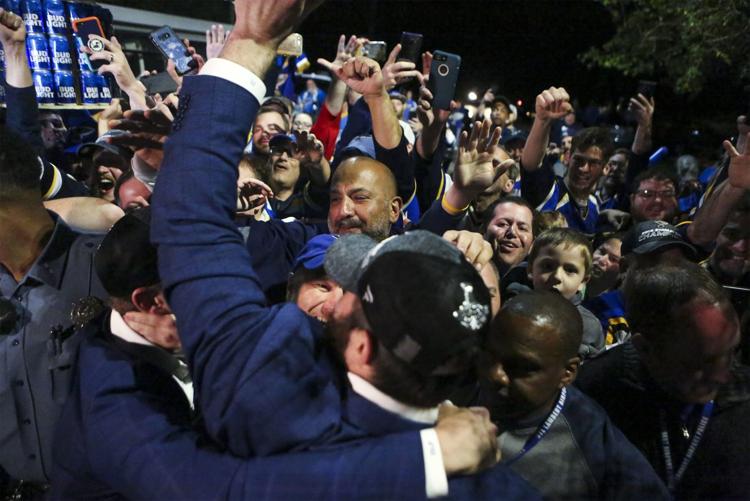 The Cup comes home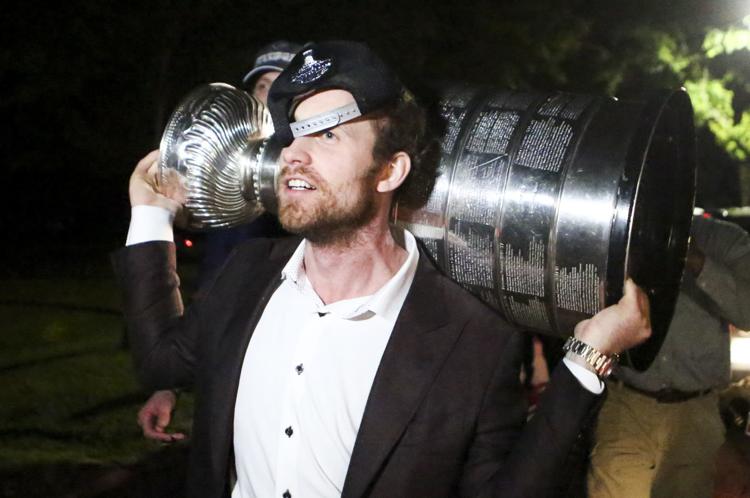 The Cup comes home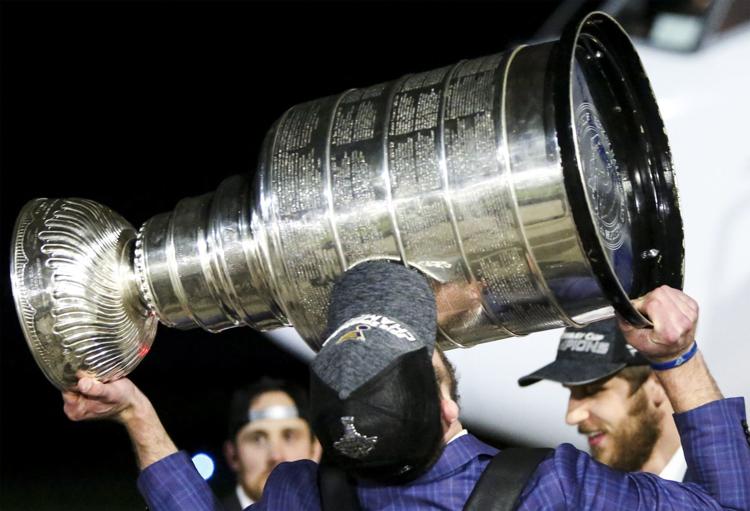 The Cup comes home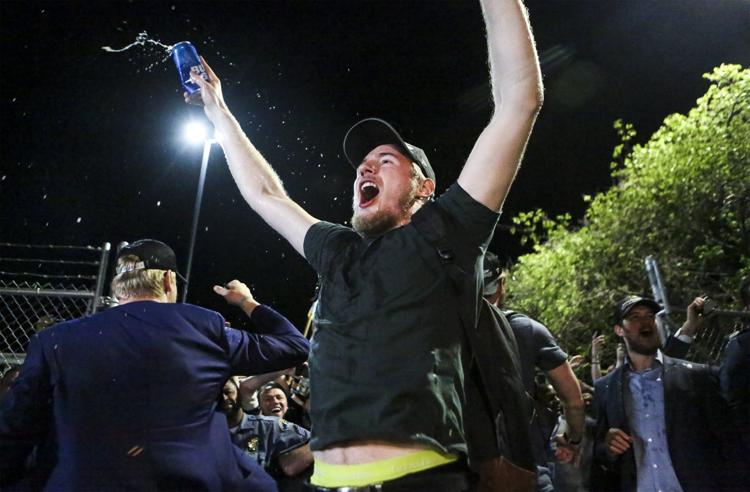 The Cup comes home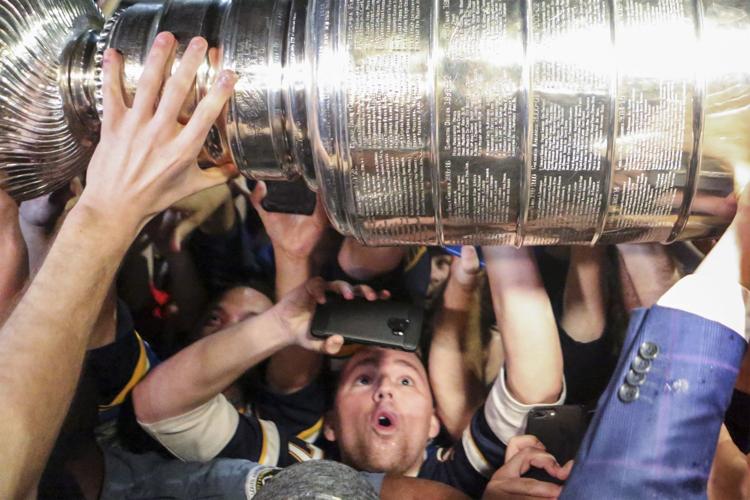 The Cup comes home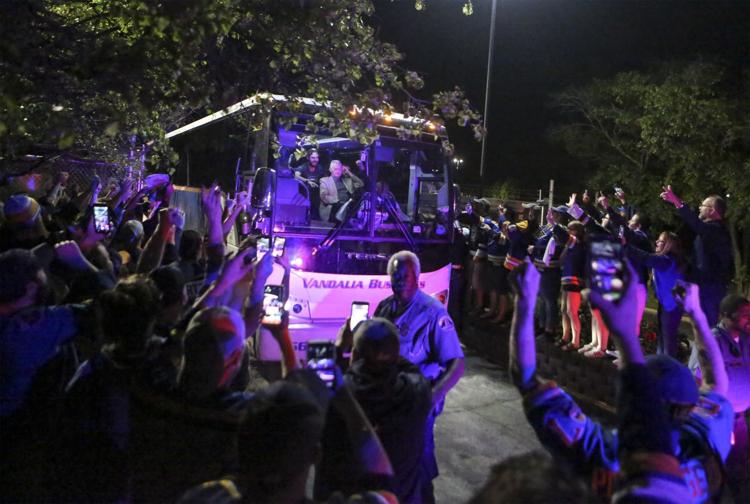 The Cup comes home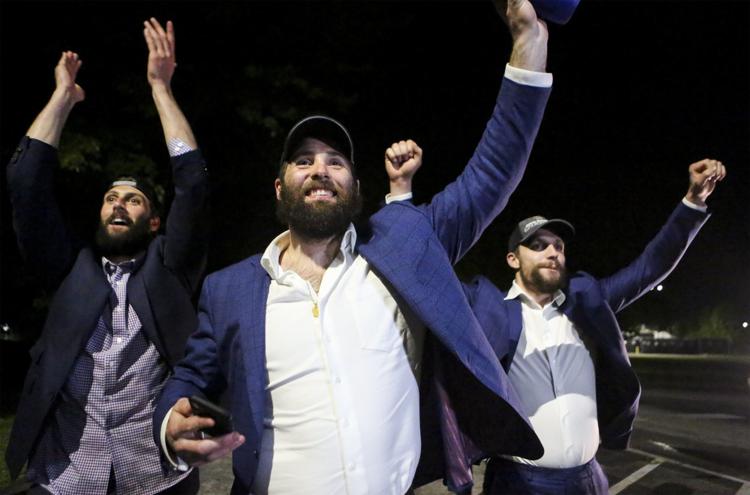 The Cup comes home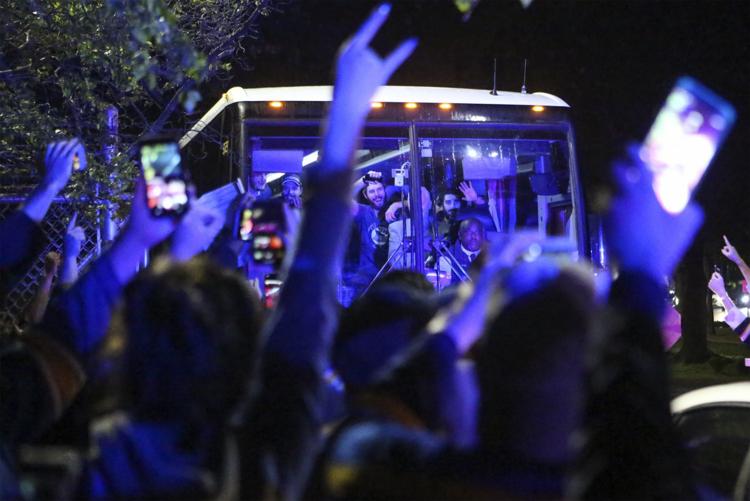 The Cup comes home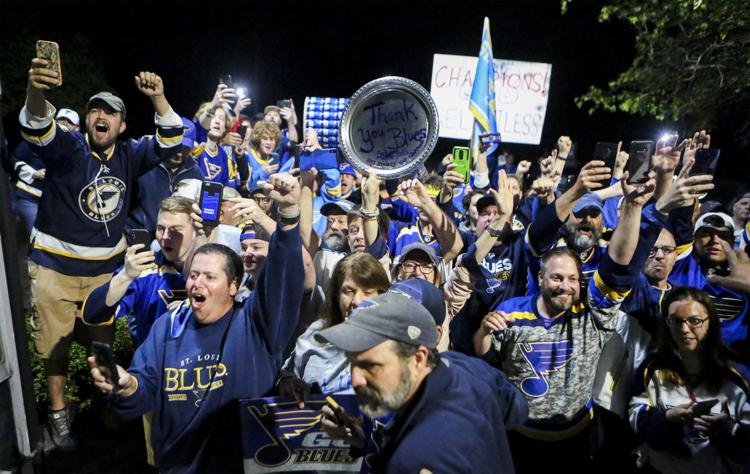 The Cup comes home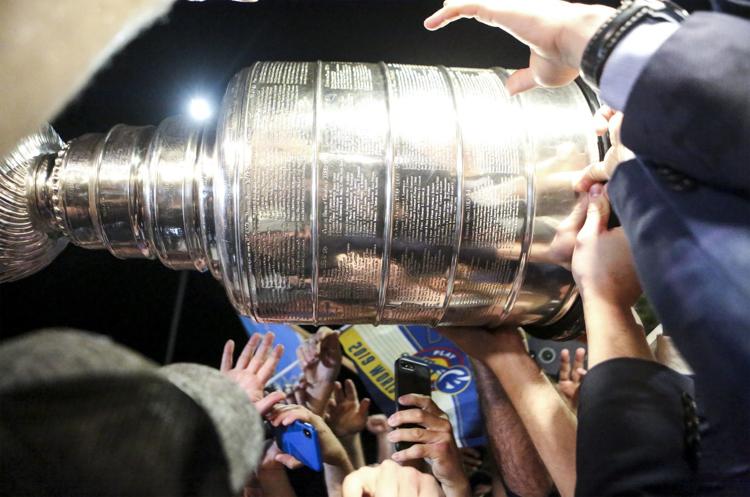 The Cup comes home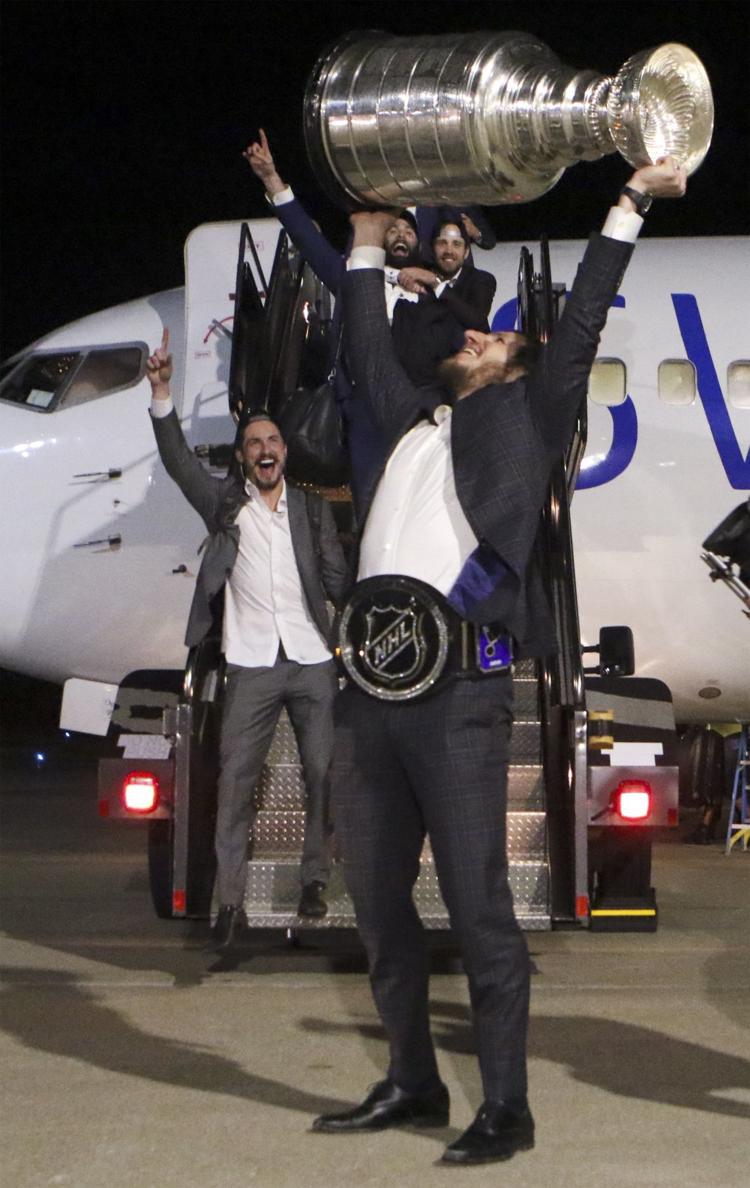 The Cup comes home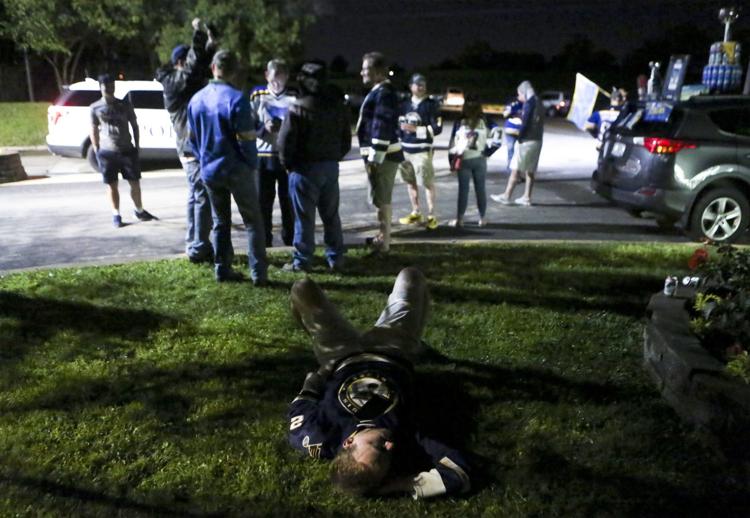 The Cup comes home