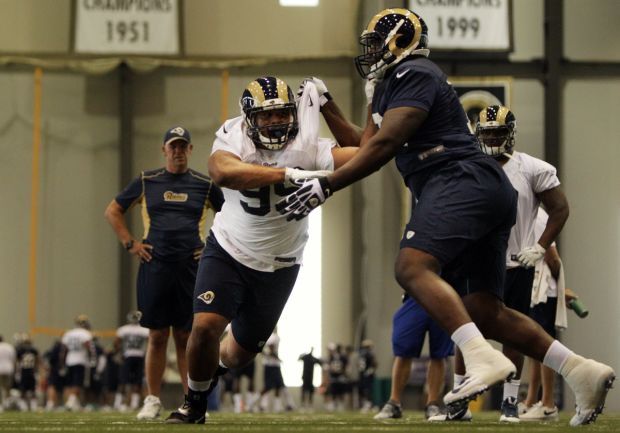 Jeff Fisher has been studying a lot of Seattle film as he prepares his Rams for Sunday's season opener.
One player in particular demanded his attention when he revisited last October's 28-26 win against the NFC West rival.
It wasn't a Seahawk. It was Aaron Donald.
Before the 24-year-old out of Pittsburgh was named 2014 NFL defensive rookie of the year, before he became the first rookie Ram to make the Pro Bowl since Hall of Famer Jerome Bettis in 1993, Donald made his second NFL start at defensive tackle in week 7.
The former three-star college football prospect turned No. 13 draft pick made Seahawks quarterback Russell Wilson pull the trigger on an incomplete pass. It was a preview of the five-yard sack that would follow.
Seattle's workhorse running back Marshawn Lynch, arguably the hardest man to tackle in the league, lost the same amount of turf when he met Donald on a second-and-goal from 12 yards out. It was one of Donald's three tackles out of six that forced the Seahawks backward.
"Going back and watching our first Seattle game last year, watching him play, he was very, very disruptive," Fisher said Tuesday. "Obviously I've watched a lot of Seattle. He really stood out ..."
Here comes the scary part for Seattle and every other offense the Rams will see this season.
"... And we expect him to play better," Fisher concluded.
There's only one logical question here. How?
Donald's nine sacks last season led all NFL rookies. He ranked second, behind Buffalo's Marcell Dareus (10), for sacks by a defensive tackle. He's had a sack in six of his past seven games, eight of his past 11.
Donald also led the Rams in tackles for loss (17) and totaled 32 quarterback pressures and 12 quarterback hits.
That's a lot of production for Donald to improve upon in his first full season as a starter. Fisher isn't the only one watching film. No. 99 was recently ranked No. 92 on the NFL's player-ranked list of top talent. Pro Bowlers don't sneak up on people.
Still, everyone at 1 Rams Way makes it sound like 2014 was just the start for the undersized (6-foot-1, 285 pounds) yet seemingly un-blockable man.
"I really believe he just scratched the surface last year," Rams defensive coordinator Gregg Williams said recently. "His understanding of the pro game, his understanding of how we want things done, and some of the freedoms that we allow him to do, to play around him. He's a rare person instinctive-wise. He's a rare person intelligence-wise about that position. And he's a rare person leverage-wise. He plays with great leverage all of the time."
Rams nose tackle Michael Brockers might get the closest view of Donald in action.
"When you let him go, and don't really give him any restrictions, he can let it fly, and he can make plays," Brockers said Tuesday. "As long as we don't make him a robot and give him a bunch of rules, where he has to stay in his gap or whatever, man, just let him go. He's a playmaker. Let him do what he does."
Brockers also says Donald will be better this season. I asked for specifics.
"He just works on different stuff, you know?" Brockers said. "If he has a move down that he feels very confident with, he won't work on that move all week. He will work on something he struggles with, or something he feels he got beat on last week. He will work on that all week, strengthen his weaknesses. That's what he does. That's what I learn from him. And I'm a veteran. Work on your weaknesses. And he's gotten better. It's going to be scary."
Donald is soft-spoken compared to some of the talented defensive linemen he shares a locker row with. Guys like defensive ends Chris Long and Robert Quinn can easily take the attention off someone who doesn't seek it.
He lights up when you ask him about his new restaurant on Pitt's campus. If you're going to AD's Pittsburgh Cafe, you've gotta try the Panther Burger. It comes with bacon and an egg. On the topic of expectations for his second season, he sticks to vanilla.
Don't mistake Donald's lack of bravado for a lack of confidence, though. He says his ridiculously-fast first step has gotten faster. He says he is stronger, his technique polished.
"The sky is the limit," Donald said Tuesday. "I worked my butt off in the offseason. I feel a lot more comfortable, a lot more prepared. I know what's going on. I know the concepts of the defense. As a unit, we can do some special things."
Brockers is a better quote.
"He can be as good as he wants to be," Brockers said. "I've seen him improve his game so far, which is crazy, because he's done so much last year. And he's getting better. That's very scary for this season."
There's that word again. Scary.
The Rams are giving away a Donald rally towel before Sunday's game. Late Tuesday afternoon, Long was stopped in a hallway outside of the locker room to film a promotion for the promotion.
"You can cheer for the best player on the field," Long said into the camera. "That's Aaron Donald."
The way the Rams tell it, the best has gotten better.