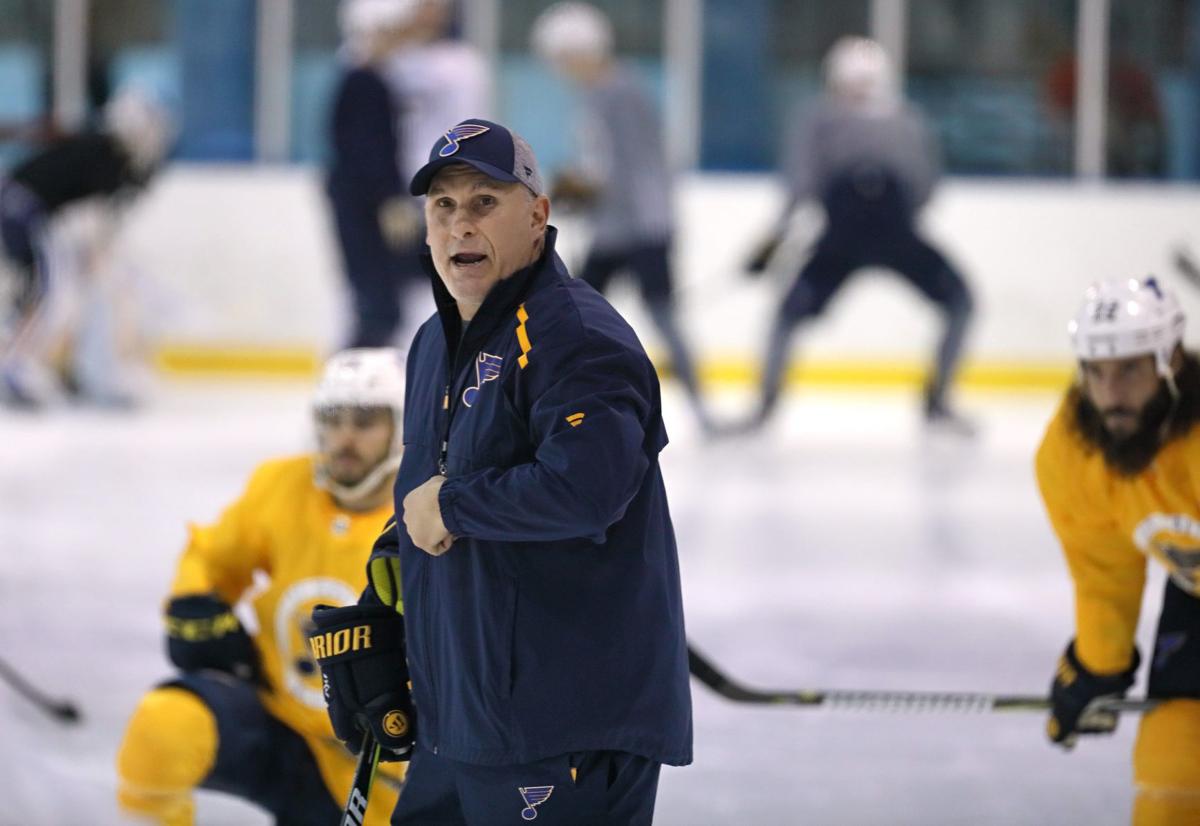 WINNIPEG, MANITOBA • The exact target of the outburst remains tricky to pin down.
The words picked can't be printed here.
The message came through loud and clear.
With Wednesday night's Game 1 win in hand, Blues interim coach (for now) Craig Berube balled his fists and stormed across the ice, leaving a trail of curse words as he walked.
A day's worth of interviews and video replays could not determine Chief's exact target. It could have been Winnipeg's Mark Scheifele, who had swatted at Jordan Binnington with his stick as time expired, then threw a jab at Alexander Steen after Steen arrived to defend his goalie. It could have been the officials, who did not stop the scrap. There is a decent chance it was both.
"It was nothing," Berube said Thursday afternoon in a way that landed somewhere on the spectrum between sheepish and coy.
"Just, things happen," he said. "I'm emotional, too, at times."
His players are better because of it.
Example infinity came in the form of the players' responses to Berube plowing onto the ice like a Zamboni and stirring it up in his suit and tie after the clock hit zeros at MTS Bell Place. Some chuckled. Some grinned. Captain Alex Pietrangelo beamed like the proud son of a dad who just beat another dad's, um, tail in a parking lot brawl.
"We know he's got our back," Pietrangelo said.
And then No. 27 told a story that was hilarious to picture. Since Berube started making a declarative case that he needs to be the head coach of this team for good, there have been times when his players have gathered around and watched old highlights of Berube's hockey fights on YouTube. Seriously. And the best part? It's almost as if they watch them in secret, making sure he's not around to catch them.
"He'd probably take us all on if we put it on when he's in the room," Pietrangelo said in what I'm 85 percent sure was a joke.
It's silly, but also serious. The blood boiling inside Berube during a 17-season NHL playing career that featured more fights than he can remember still runs hot as a coach. Almost by osmosis, a team that climbed from a coma to one game up on Winnipeg in a Western Conference quarterfinal now runs on that same brand of fuel.
They don't — I think — really think their coach is going to fight them when he gets mad. They do feel compelled to fight for him, whether that means Steen rushing Scheifele for prodding Binnington, or a soul-searching second intermission that inspired Wednesday's 2-1 comeback win.
"He's aggressive in the way he coaches," Pietrangelo said. "He was aggressive, obviously, like that as a player, too. And I think that's kind of carried over to our game. We're good when we're on our toes and we're aggressive. He's got emotion. When we play with emotion, we're good as well. So, you're right. It probably has carried over."
Berube felt the need to remind his players of their strengths after the Blues entered the dressing room trailing Winnipeg 1-0 after Wednesday's first two periods. A power play that is at its best when it attacks in relentless waves had started to meander, mustering just two shots on goal in three chances. Pucks had been taken away too easily. The Jets had nearly doubled the Blues' hit total.
Berube wanted to send a message. The coach, per defenseman Jay Bouwmeester, "knows when to kind of crack the whip." Wednesday night sounded like one of those times. Asked if Berube was more calm or chaos before the third period, Pietrangelo thought for a moment and answered, "both."
"We can be better," Berube said he told his guys. "Push more. Get more aggressive than we were. We just talked about our team game, our depth. I thought we had more to give."
The Blues outshot the Jets 10-7 in the third period. The hits evened out. After David Perron tied the game, Tyler Bozak scored on a beautiful play by Pat Maroon that illustrated Berube's point about staying strong on the puck. Maroon, refusing to be misdirected, drove it hard and deep into the Jets zone, dragging every person in Manitoba with him, then passed a gem to Bozak for an unstoppable score.
"We're a pretty honest group in our locker room," Pietrangelo said. "We know when we need to be better. We had that conversation. Chief reiterated that when he came in. And we played the way we wanted to in the third."
You better bet Berube approved of Steen sticking up for Binnington after Scheifele gave the goalie the business.
Steen's comment about the jab he ate from Scheifele sounded an awful lot like Berube's explanation of his defense of Steen.
"Competitive players," Steen said. "Nothing big. Playoffs."
And, of course, Steen stuck up for Berube, downplaying the furnace blast of the coach's fire that escaped as he stormed onto the ice.
"We have to go on the ice to get off the ice," Steen said, explaining the exit route to the dressing room. "He's got to walk there."
This twinkle-in-his-eye attempt to downplay the drama underscored a truth about Berube's Blues.
A little bit of him is always on the ice.