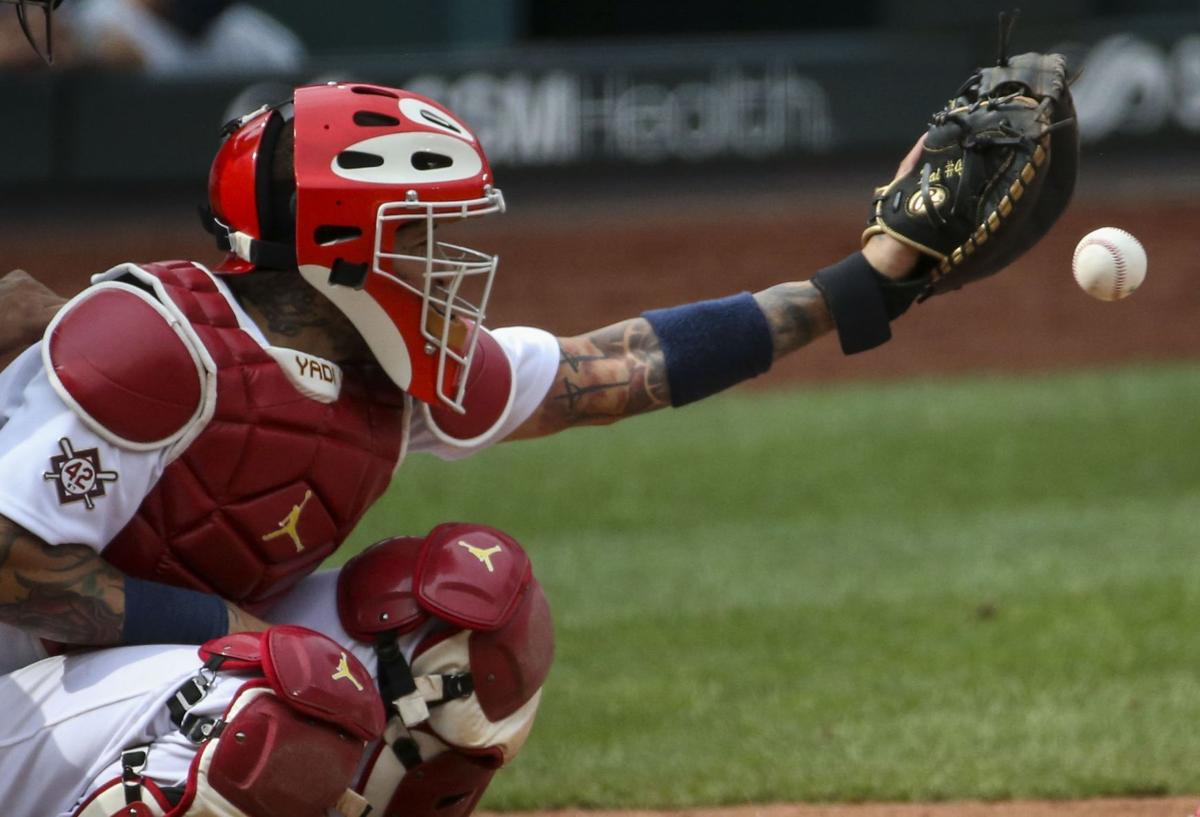 One of the most important questions facing the Cardinals this offseason is if and when they will strike an extension with catcher and future Hall of Famer Yadier Molina.
As long as that question lacks clarity, a hypothetical conversation will run along a parallel track.
If the 38-year-old Molina's career is going to finish with a team not named the Cardinals, which club would it be?
Recent news that multiple teams have joined the Cardinals in conversations with Molina's camp have stoked the guessing game. Some what-ifs seem easier to dismiss than others.
The persistence of Albert Pujols, who is preparing for season No. 21, produced theories that Molina could wind up reuniting with his dear friend and former Cardinals teammate in Anaheim. Angels manager Joe Maddon is tight with the Molina family. Bengie Molina, Yadier's brother and current Cardinals Spanish radio commentator, won two Gold Gloves and a World Series ring during his run with the Angels. Anaheim could be in need of catching depending on how Max Stassi rebounds from a hip operation.
Now, the potential downsides for Molina in the Anaheim thought experiment include a few things worth mentioning. The Angels have not said for sure they're shopping at the position. There is no guarantee Pujols is a primary player for the Angels next season, and his contract is up after next season ends; Molina has made it clear he hopes to land a two-year deal. And as talented as the lineup is for the Angels, the rotation and bullpen are equally sketchy. If likelihood of postseason success is going to be a factor for Molina, the pitching-poor Angels and their one postseason appearance in more than a decade must be considered.
Before going too far down the dark and scary road of envisioning Molina and battery mate Adam Wainwright suiting up together for the Braves, remember that the notion of package deals usually are easier to suggest than secure. And remember that Tyler Flowers, the Braves' secondary catcher, is the one who is a free agent now, not top Braves catching option Travis d'Arnaud. The latter, a Silver Slugger in 2020, is on the Braves' books for $8 million next season. Molina is not looking for a back-up role.
The recent hiring of manager Tony La Russa by the White Sox led some to imagine a TLR-Molina reunion on Chicago's South Side. Yasmani Grandal, the White Sox catcher who is owed $18.25 million over each of the next three seasons, likely punctures that hypothetical. Grandal split catching reps with James McCann last season. McCann, a 2019 All-Star, now is a free agent along with Molina. Again, Molina does not view himself a part-time player. And Grandal does not view himself a full-time designated hitter.
If there is one team to worry about right now, pick that other American League one that wears black and white. Black and white pinstripes, specifically.
Recent headlines out of New York City should not be overlooked here.
"Yankees open to Gary Sanchez trade as they mull other options," read a recent New York Post headline.
"Both New York teams need a new catcher," reads another at the New York Daily News.
There's a catcher conundrum in the Big Apple. You don't have to squint hard to see how it could possibly wind up impacting Molina's free agency. Especially if a quick and easy two-year extension with the Cardinals cannot be reached. One of those teams that has contacted Molina's camp, Post-Dispatch colleague Derrick Goold has reported, is the Yankees.
Sanchez is the Yankees catcher who has thinned the patience of his front office. His normally productive offense crashed in 2020 and his predictably problematic defense was present again. He lost his starting job during the playoffs. The Yankees can hope Sanchez bounces back, trade him or non-tender him to send him to free agency.
Steve Cohen is the brand new owner of the Mets, a self-described big spender who was not tagged by the losses other owners experienced in the pandemic-challenged 2020. His new team could use a catcher as well. How he pursues that need, and how he views it as a competition against the Yankees, could change the landscape of the catching market this offseason.
J.T. Realmuto is the top free agent catcher in this class, the one most likely to be immune from a pandemic-impacted contract, the player who will set the market whether he returns to the Phillies, goes to New York City or somewhere else entirely.
Where does Molina fit into all of this?
But if Cohen walks the talk, the Mets are going to be coming for the Yankees. And if both those teams are determined to be contenders, and both are shopping for catchers, then it's not hard to imagine a non-Cardinals market for Molina intensifying. Only one team can land Realmuto, after all.
Cohen says he wants the Mets to win the World Series sooner rather than later. What 38-year-old catcher would not like the sound of that?
The Yankees are the only team that can stack up their World Series rings taller than the Cardinals.
It's early. No reason to panic. But there seems to be a reason for the Cardinals to expedite their talks with their catcher before the NYC catching carousel gathers speed.