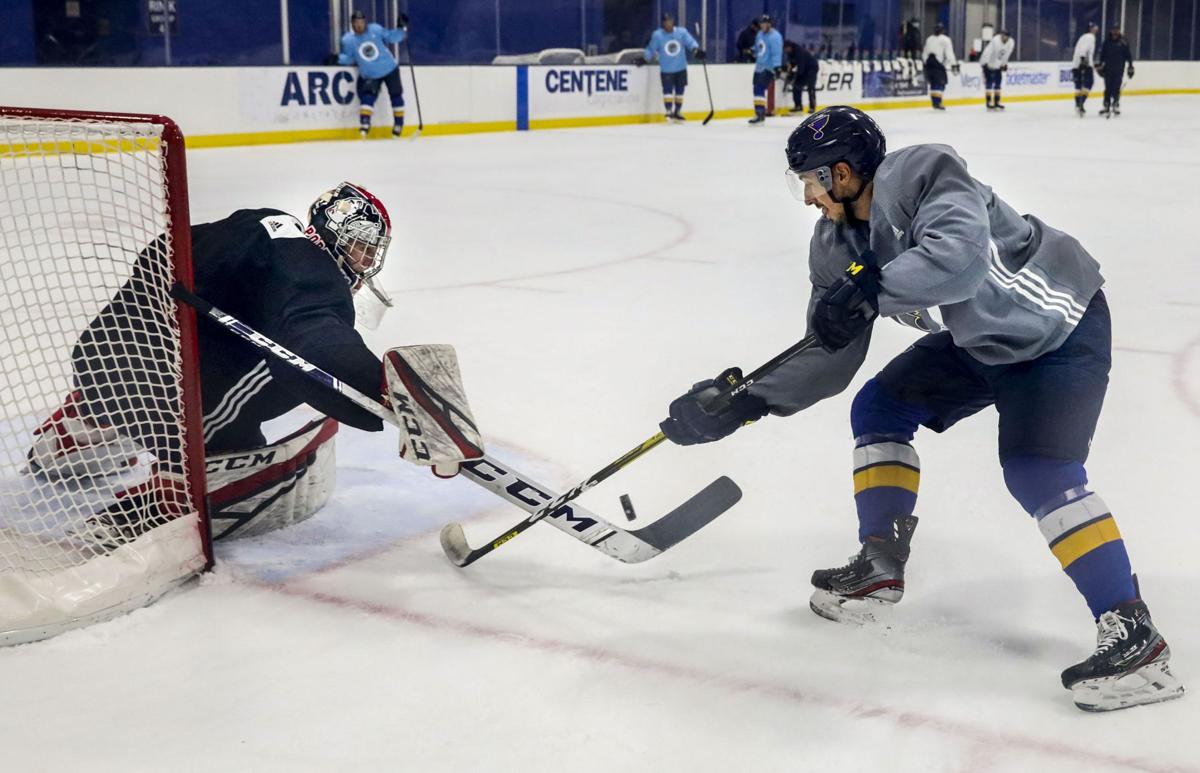 There have been moments from each of the three during the past two seasons, some more than others, that called for an opportunity like the one being offered now.
Robert Thomas would perform his wizardry with his stick, dropping jaws and forcing minds to race. Just imagine if he gets a little bit better, every year.
Jordan Kyrou's speed would flash, making everyone else look like their skates had not been sharpened.
Then came Klim Kostin, who managed to cram a goal and six hits into his first four NHL games. Holy tease.
It's been wondered up and down press row. It's been hollered at TV screens across the region. When are these young Blues forwards going to really break through?
When Blues general manager Doug Armstrong felt the window of opportunity closing on his hopes to keep captain Alex Pietrangelo from free agency, he had another decision to make, immediately. Which direction should he pivot?
Armstrong made three calls on the first day of free agency. Two were to defenseman, one of which — free agent Torey Krug — he signed. The other was to a mystery forward. Armstrong wouldn't share the name. A deal did not happen, and he sounds like he's done looking.
A case could have been made for Armstrong to add offense after defenseman Pietrangelo's departure, considering the latest shoulder operation for 30-goal scorer Vladimir Tarasenko has raised questions about his ability to get back to an All-Star level.
Combine that unpleasant development with the fact the Blues averaged a middle-of-the-pack 2.44 goals per playoff game last season, and uncertainty grows.
Taking the money Pietrangelo freed up and throwing it at a free-agent scorer would have been celebrated by some.
Armstrong instead moved to fill the Pietrangelo hole with the best defensive replacement he could afford, and he seems to have secured a good one. Over the last seven seasons, Krug has been in Pietrangelo's realm or better in both goals (0.13 per game compared to Pietrangelo's 0.15) and assists (0.52 per game compared to Pietrangelo's 0.47). During that span, Krug established himself as one of the league's top-five point-producing power-play defenseman (159 points in 520 games played).
But there are areas in which Krug's numbers can't compare to Pietrangelo's. The workmanlike shifts and staggering minutes played. The knack for blocking shots. The experience on the penalty kill. The even-strength goals.
Pietrangelo has scored 58 even-strength goals since the 2013-14 season, and Krug has 42 in the same span for Boston. There's that question about offense again. It keeps finding ways to pop up. It's going to be a theme until Tarasenko proves he can shrug off another shoulder setback. Or until another reliable scorer emerges. Why not two, or maybe even three?
"I think there is a real excitement to see what Robert Thomas and Kyrou can do and if you plug those guys in," Armstrong said the same night the Blues signed Krug.
"We have a lot of players now, and I do want to see what a guy like Kyrou can do, given the opportunity," he continued. "And we do need to get Robert Thomas — and he needs to earn that — but I would love to see him play a more prominent role in our offense."
For a recent example of how a turn toward internal options can leave a team lacking in offense, just look at the city's other lineup.
The Cardinals scratched and clawed for runs all season after dedicating their outfield innings toward up-and-comers.
Results were mixed, and the promise of Dylan Carlson is encouraging, but ultimately the experiment was not successful.
It's up to Thomas, Kyrou and even Kostin to make sure things work out differently for the Blues.
There are reasons to be encouraged.
Thomas, 21, is more ready than his age suggests. The only other player not named Thomas from the 2017 draft class to score 75 or more points and play in 136 or more games is fellow center and Canucks sensation Elias Pettersson (132 points, 139 games). Pettersson has averaged nearly five more minutes of playing time per game than Thomas. That has to change now. Thomas could start the season centering the Blues' first line. It would not be his first taste of that responsibility. He's ready.
Kyrou, 22, did not have a true breakthrough last season, but he had the kind of season that could suggest one is coming. He chipped away at earning coach Craig Berube's trust in a 28-game sample size that produced four even-strength goals and five assists. More important to Berube is what Kyrou does (and sometimes doesn't do) away from the puck. In order to become the scorer the Blues hope he can be, Kyrou can't overlook the little things. The addition of former Stars coach Jim Montgomery, who will work specifically with the team's young forwards, could really help Kyrou. This season will be a disappointing one for him if he can't become a reliable presence on the right side of the third or fourth line.
Kostin, 21, is the wild card. He crammed six hits and a goal into four games (34 minutes) during last season's brief rookie debut. Certainly makes you want to see more. After three seasons in the American Hockey League, the guessing game ends now.
"I do want to see if Kostin can come in here and push his way onto our team," Armstrong said.
Thomas, Kyrou and Kostin have each had moments in recent seasons that made everyone watching envision bright futures with the Blues. The path has been cleared. They're in the spotlight, needed to help light the goal light.
The latest STL Blues hockey news, NHL headlines, scores, standings and rosters.