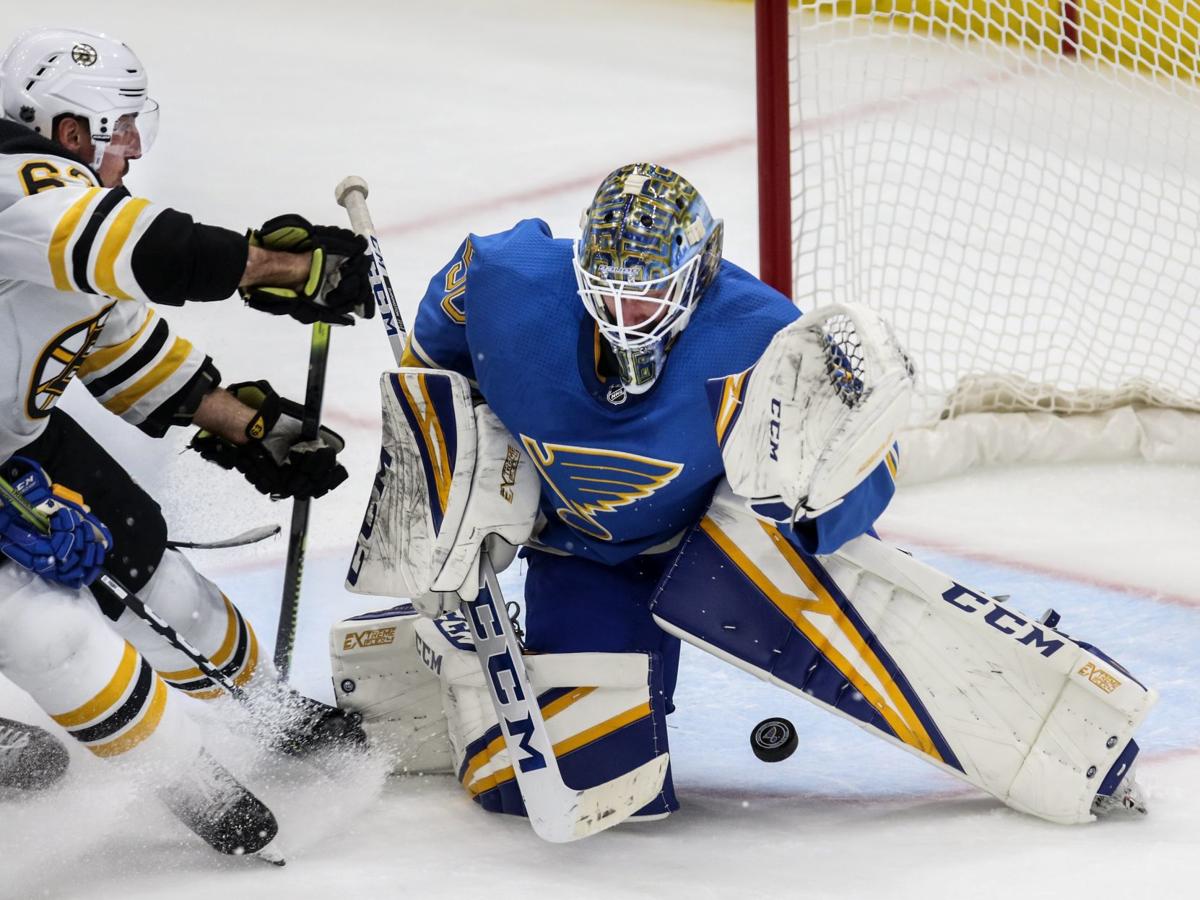 A quick cruise through the Boston Bruins' initial thoughts on their Stanley Cup finals date with the Blues revealed an interesting theory.
Blues goalie Jordan Binnington needs more motivation like I need more cookies from the press box buffet, but here were the Bruins, serving some up in their first comments about facing the Blues.
A story line that will get a lot of play in this series, for good reason, is the rise of Binnington, the 25-year-old rookie who helped the Blues go from worst to no worse than second when all is said and done. Binnington's climb from fourth on the Blues' organizational depth chart to cornerstone in the crease is a remarkable story, one the national media will learn now that Joe Thornton is golfing.
One particular stop on Binnington's long, winding road to prominence is going to get a lot of play: Providence. Last season, before the Blues realized what they had in Binnington, and because their American Hockey League affiliate was in a time of transition, Binnington was loaned to the Bruins' AHL affiliate in Providence. Wait. What?
"When you go into a year, you want to have four or five goaltenders in your group, just for injuries," Blues general manager Doug Armstrong told Jim Thomas of the Post-Dispatch earlier this season. "It was a perfect storm in a negative way for Jordan quite honestly. We didn't have our own American League affiliate. So we had (Ville) Husso as our primary (prospect) goaltender at that time. We wanted to put (Husso) in with the core of our players that we were sending to San Antonio. And we had to, for (lack of) a better term, farm Jordan out to a place where we thought he'd get some games. And that was in Boston's organization — in Providence."
Binnington got a start or two a week in Providence. He became that team's best goalie. He made headlines when he flashed his fire in a goalie scrap. (Are you sensing a theme?)
A few of the temporary teammates Binnington had in Providence are now with the Bruins. The coaches in Boston's system are more familiar with Binnington than most. Could this be a disadvantage for the Blues?
"I'd like to think that'll help," Bruins coach Bruce Cassidy told reporters Wednesday. "There is a little extra there. I don't think it will affect Binnington much. He's playing well. I'm sure he's going to be on his game — even though it might be a little more inside information we will have than maybe a San Jose did. At the end of the day, it can't hurt, right, to have a little experience with him (Binnington) on some little details?"
Cassidy added that Bruins goalie coach Bob Essensa might have a specific advantage because of Binnington's brief history with the organization.
"Bob has done a good job evaluating goalies for us," Cassidy said. "I'm sure he'll get us dialed in, without the guys over-thinking. Hopefully we can expose him."
Knowing Binnington a little bit, comments like these are quickly turned into fuel for a tank that is always full.
• Here are former Blues captain David Backes' first comments about facing his old friends in the Stanley Cup finals:
"There are going to be heightened emotions," Backes told reporters on Wednesday. "It's a binary decision now. It's us, or them. There is no third party. No ties. None of that stuff. One of us is going to win the Cup, either the St. Louis Blues, or the Boston Bruins. That's the position you want to be in at the beginning of the year. We're in that position. Wish those guys well up to this point, but now it's all about us winning this thing."
Backes shared what he told Blues captain Alex Pietrangelo, one of his best friends.
"I told him I love him now, and I'm going to love him afterwards, but I'm going to hate him for the next three weeks here," Backes said. "And I think that's a mutual decision. We're going to battle our butts off for this ultimate prize, and we'll patch up whatever needs to be patched up afterwards."
Added Bruins coach Cassidy: "He's got good friendships in that room, but that will all go out the window. Where he is at the stage of his career, and anybody's really, but particularly him, who has been through it. He doesn't know when he's going to get another kick at the cat here. I think that will be the biggest motivating factor for him, to get his name on the Stanley Cup."
In fact, it's quite similar to what Vladimir Tarasenko said about Backes after the Blues dismissed the Sharks.
"On ice, there's no friends," Tarasenko said. "We're not friends. It's going to be hard finals. That's what we need to focus on."
• There is some angst in Beantown regarding The Wait. By the time Game 1 of the Stanley Cup finals arrives at TD Garden on Monday, the Bruins will have gone 10 days without a game. Recent history suggests teams that sit become teams that lose. The Bruins are scrimmaging on Thursday to stay fresh. They are even selling tickets for the glorified practice. Cassidy has also called up the New England Patriots to see how they manage their downtime during the long wait for a Super Bowl. So, the Blues should be sure to sweep the visiting dressing room for cameras.
• Cassidy sees a lot of similarities between the Bruins and the Blues. "They are a forechecking team," he said. "They play pretty North-South. They use all four lines. Their fourth line, particularly, gets a lot of assignments, like ours. Goaltenders are both playing excellent. Their D is bigger than ours, but both can move the puck. I expect the games will be lower scoring, more physical. I think they are a bit of our twin, so to speak, the way they balance their minutes."
Season 3, Episode 37: In this edition of the Net Front Presence podcast, the Post-Dispatch coverage crew that will be on the road for the Stan…
10 times St. Louis and Boston have played for a title
1946: Cardinals 4, Boston Red Sox 3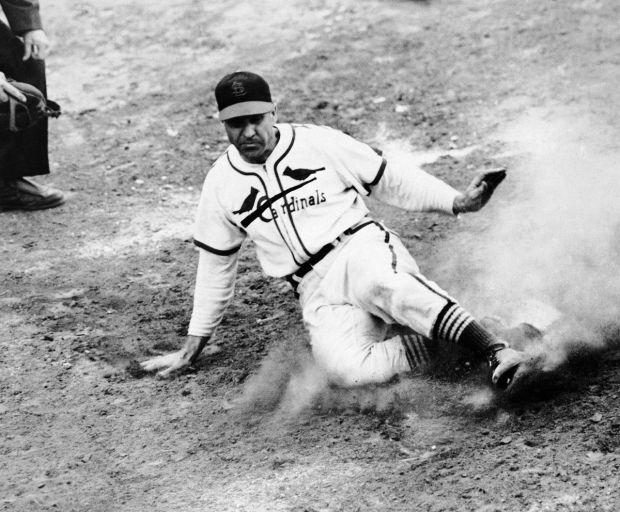 This is one of the classic Fall Classic games. In the top of the eighth of Game 7, Boston's Dom DiMaggio tied the game with a two-run double. But in the bottom of the eighth, Cardinals outfielder Enos Slaughter just kept running. Harry Walker hit a ball to the outfield and Slaughter, on first, dashed to second … and third … and through the stop sign to home. He was safe, Red Sox infielder Johnny Pesky became somewhat of a goat (for hesitating on the relay throw home) and the Cardinals won 4-3.
1957 NBA Finals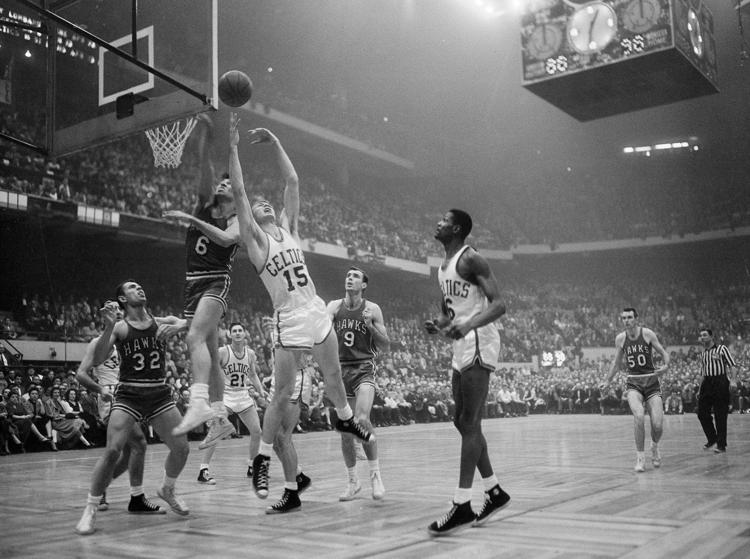 The Celtics prevailed 125-123 in what is still the only Game 7 in NBA history to reach double overtime.
With the Hawks down by two with one second left in the second overtime, coach Alex Hannum, forced into playing after four of his players fouled out, launched a miraculous full-court pass off the backboard to Bob Pettit, who missed the tip in at the buzzer.
Bill Russell, who the Hawks drafted a year earlier then traded, led the Celtics with 32 points. It was the start of a Celtics dynasty in which they captured nine of the next 10 titles, interrupted only by the Hawks the following year.
1958 NBA Finals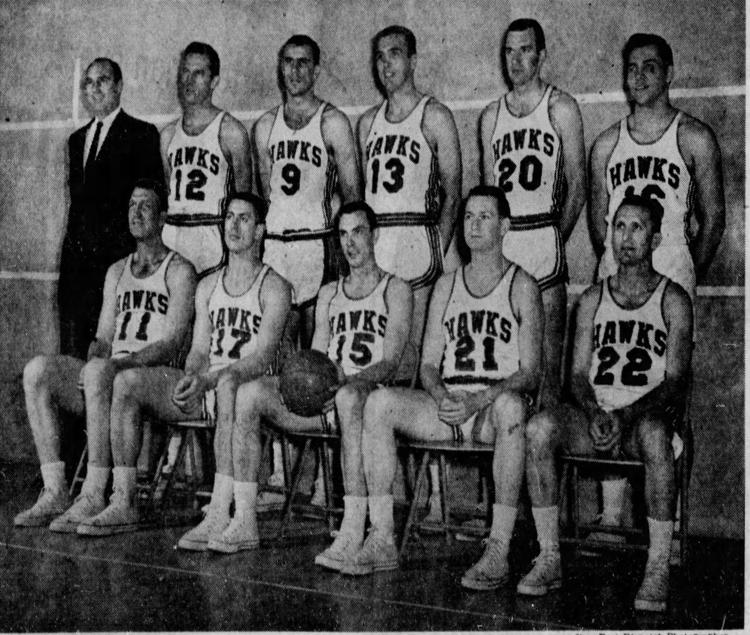 The Hawks won a critical Game 5 at Boston to take a 3-2 series lead and come back to St. Louis with a chance to clinch. With 10,218 excited hoop heads at Kiel, Pettit produced an extraordinary performance.
Although he was being double- and triple-teamed, the 6-foot-9 Pettit drained shot after shot, keeping the Hawks solvent. With a little more than 20 seconds to play, Pettit drove the lane, stopped and scored over the outstretched hand of Bill Russell, giving the Hawks a 108-105 lead.
Two Tom Heinsohn free throws made it a one-point game and the Celtics swarmed the Hawks to get the ball back. Sure enough, Slater Martin fired a shot off the mark, but Pettit fought his way to the basket and tapped in the rebound, rendering a final Boston basket irrelevant.
Pettit finished with 50 points, including 18 of his team's final 21, as the Hawks defeated the Celtics 110-109 and captured the NBA title. 
1960 NBA Finals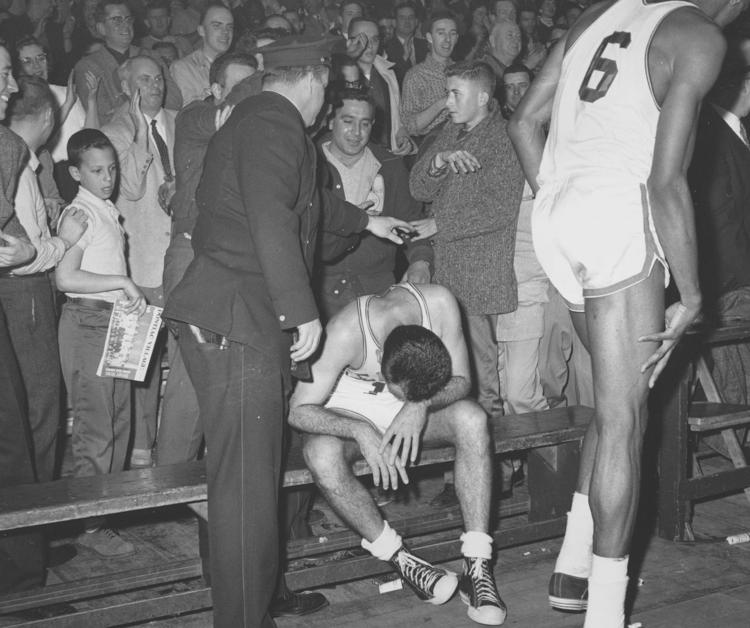 Meeting in their third finals in four years, the Celtics and Hawks were bitter rivals. But the Celtics' depth was too much for St. Louis, who were without quick guard Slater Martin, injured in the previous series. Bill Russell led the Celtics in a 122-103 Game 7 win with 22 points and 35 rebounds.
1961 NBA Finals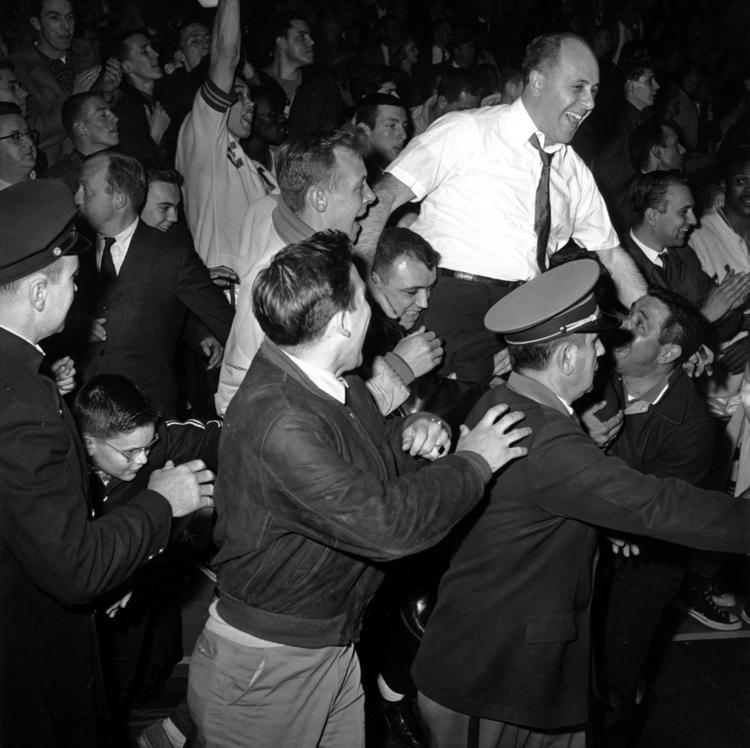 Celtics center Bill Russell was everywhere as the Hawks dropped the series four games to one.
In the final game, he had 30 points and 38 rebounds - as many as all five Hawks starters combined.
Hawks coach Phil Seymour said, "When the Celtics get around to splitting up their $43,000 prize money they ought to vote Russell three shares."
1967: Cardinals 7, Boston Red Sox 2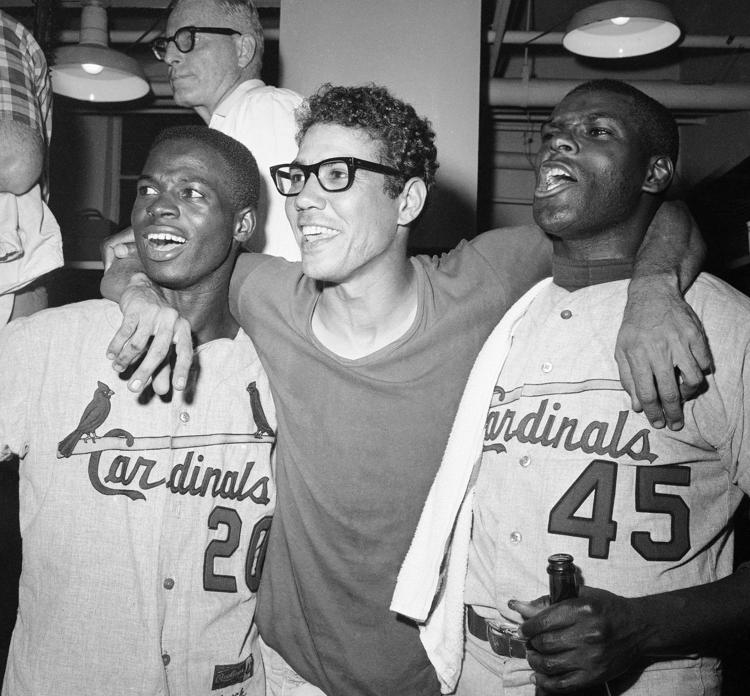 Boston's "impossible dream" died in Game 7 at Fenway, when Bob Gibson outdueled Jim Lonborg, famously pitching on two-days rest and the Cardinals won 7-2. Lou Brock set a World Series record with seven stolen bases, including two in Game 7. After 1967 and 1946, it seemed like Boston was forever cursed against the Cardinals in the World Series.
1970 Stanley Cup Finals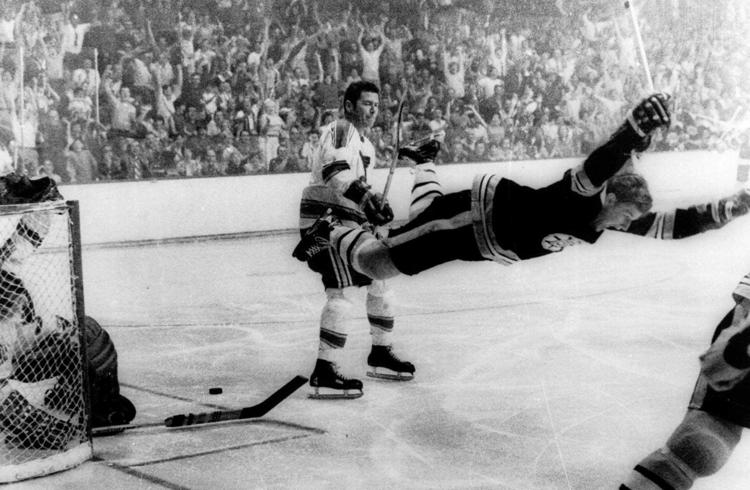 In the final for the third consecutive year, the Blues are outscored 16-4 by Boston in the first three games. The Note puts up a fight during Game 4 in Boston, taking a 3-2 lead in the third period. But the Bruins tie it and 40 seconds into overtime Bobby Orr scores on Glenn Hall to end the series. Frustrated Noel Picard pitchforks Orr through the air for one of hockey's iconic snapshots.
2002 Super Bowl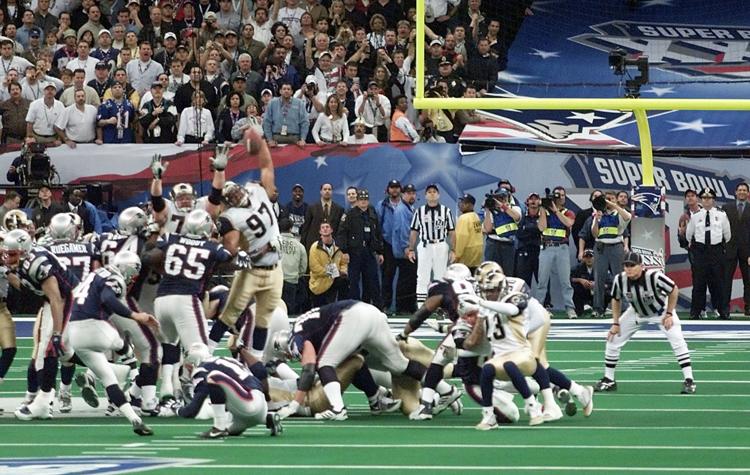 The St. Louis team was again there for the start of a Boston dynasty. Tom Brady, 24, started the season as a backup and Bill Belichick had more losing seasons than winning. 'The Greatest Show on Turf' racked up yards, but only managed 3 first-half points. The Rams tied it late, but Adam Vinatieri's final-play field goal gave the Patriots a win.
2004 World Series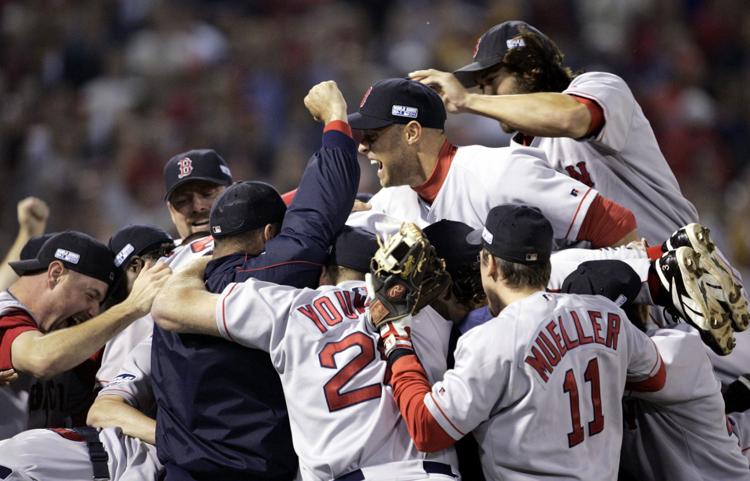 Manny Ramirez and the Sox, fresh off a comeback from a three games to none deficit in the ALCS, were too much for the Cardinals. Boston's pitchers limited the Cardinals to three runs over the series' final three games, and Ramirez hit .412 as the Red Sox powered their way to a sweep that ended an 86-year curse.
2013 World Series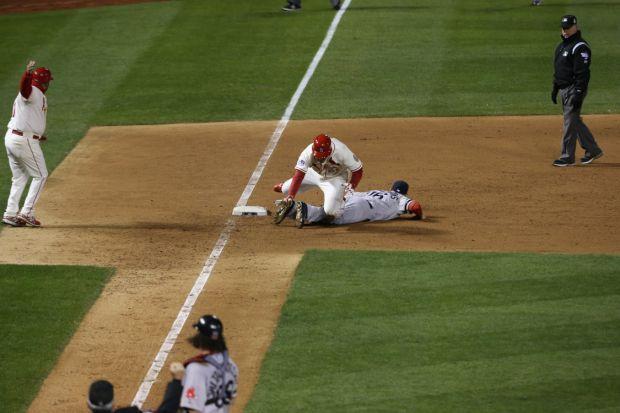 The Red Sox win in Game 6 clinched a World Series at Fenway for the first time since 1918.
The series was marked by a couple of bizarre plays. In Game 3, Allen Craig scored the winning run when umpires ruled Boston third baseman Will Middlebrooks interfered with him on an overthrow.
Game 4 ended when pinch-runner Kolten Wong was picked off first base, the only World Series game ever to end with a pickoff.
The latest STL Blues hockey news, NHL headlines, scores, standings and rosters.