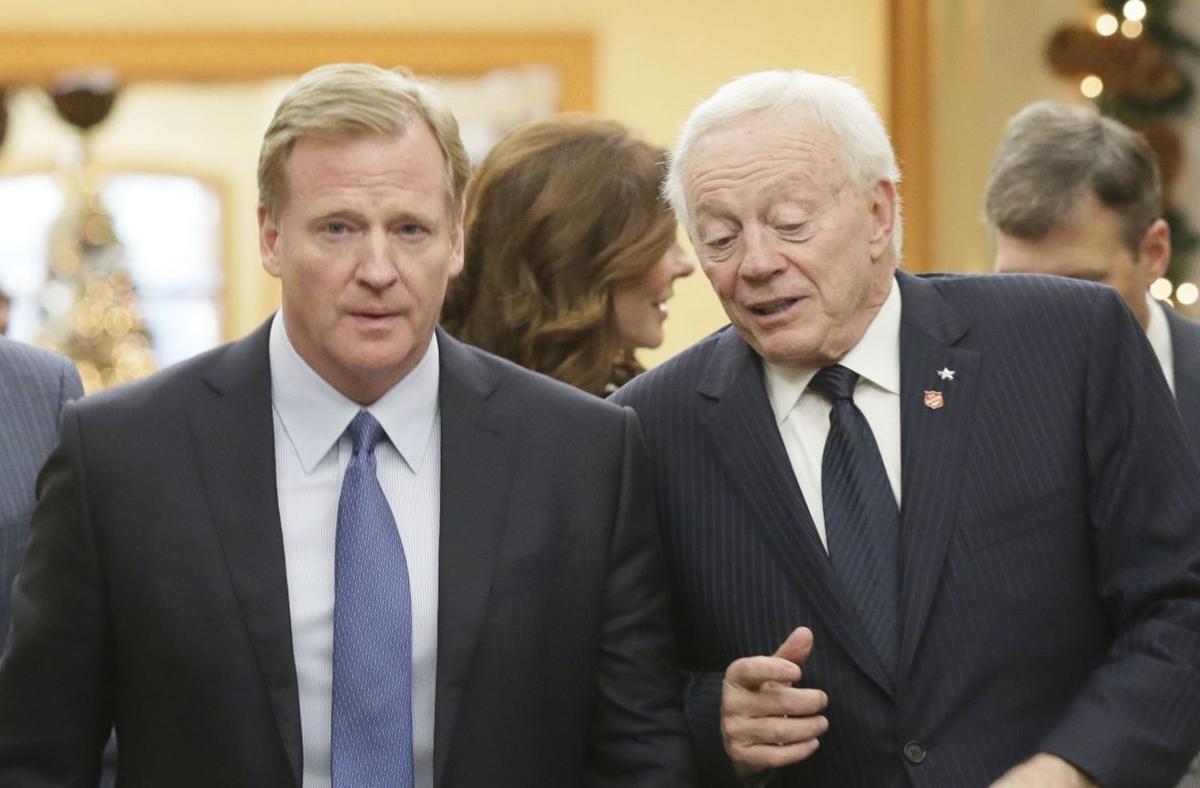 Buffalo, are you paying attention to what's happening here in St. Louis?
I imagine Bills fans were plenty interested in NFL commissioner Roger Goodell's latest comments about the relocation drama bubbling beneath their team.
I imagine comments made in a St. Louis courtroom Wednesday by lawyers representing Goodell's league didn't move northern needles nearly as much.
They should have been jolted.
Bills owners Kim and Terry Pegula want at least $1 billion of public funding to build a new stadium in Buffalo. Their lease at the current stadium expires in 2023. Austin, Texas is being floated as a relocation option if the cash doesn't arrive. "The city of Buffalo and the state are going to have to decide if they want a team," Pegula Sports & Entertainment spokesperson Jim Wilkinson has said. But comments made by Goodell this week have been treated by some as an encouraging development for Bills fans. It seems the commissioner is on the side of keeping the Bills where they are.
"It's time to get a new stadium done so that we can make sure the Bills are here and successful for many, many decades going forward," Goodell told reporters Monday in Buffalo.
"We're focused on keeping the Bills [in Buffalo] in a new stadium in a public, private partnership. That's what this is all about and that's where we're focusing."
What transpired two days later in the latest chapter of the civil suit that seeks big money from The Shield for the Rams relocation rip-job shows just how far the NFL will go toward erasing as irrelevant comments like the one Goodell just made about Buffalo — even if it winds up making the commissioner look like a clown.
During Wednesday's hours-long hearing regarding Team Kroenke's request for summary judgment, lawyers for Team Kroenke — the ones representing Rams owner Silent Stan, the Rams and the NFL — turned their latest attempt to get the case tossed out or trimmed down significantly into a presentation of the same points they have repeated from the start. Team Kroenke lawyers tried to convince St. Louis Circuit Court Judge Christopher McGraugh to strike the case's claims of breach of contract, unjust enrichment, fraudulent misrepresentation and tortious interference with business expectancy. Judge McGraugh was not expected to make a ruling from the bench on the request, and did not. So, stay tuned.
But while we wait for his decision, let's send up a flare to our friends in Buffalo. There is a theme developing here that politicians, taxpayers and football fans should be following. The NFL is saying the quiet part out loud. Often.
The relocation guidelines once pointed to by the league as something akin to the Ten Commandments, Team Kroenke lawyers argued Wednesday, are nothing more than mere suggestions that can be considered (or not) as the league weighs the financial benefits of moving a team. They certainly can't be, according to Team Kroenke's lawyers, used to let a city left behind build a legal case against the league. Team Kroenke pointed repeatedly to the league's win against Oakland in a similar relocation-related case as its evidence.
"Your position is the relocation guidelines are not a contractual arrangement whatsoever?" Judge McGraugh asked Team Kroenke lawyer John Hall.
"There is nothing sufficiently definite in the content of the relocation policy that would support a legal claim," Hall answered.
"Then thereby it's not a contract," Judge McGraugh responded.
"In order to have a contract you've got to have a promise that is sufficiently definite to be able to be enforced," Hall said. "And there is nothing like that here."
"Your honor," Hall concluded, "this is not a document to create rights that are enforceable in court in front of a judge and a jury."
Team STL disagrees and thinks a jury will, too. But what struck me is what the NFL is claiming, and how those claims should be heard by any city the league tries to threaten with relocation-related leverage.
So much for former NFL executive Eric Grubman's statements about the NFL being a league of rules. So much for Goodell saying St. Louis not fulfilling The Dome upgrades did not free the Rams from good-faith negotiations about a new stadium plan. And, apparently, so much for Goodell saying during a deposition with Team STL — the lawyers representing Rams owner Silent Stan, the Rams and the NFL — that the relocation guidelines say, "quite clearly," that the NFL has an obligation to engage in good-faith negotiations, especially when it comes to cities currently hosting a team.
For those in Buffalo just tuning in, here's the condensed backstory. The Rams' lease at their old stadium, The Dome, called for upgrades that had to be made to keep the Rams from converting the lease to a year-to-year model. The upgrades weren't made and the lease went year-to-year, opening the door for the threat of relocation. It was a bad lease, and the Rams exploited it as Kroenke became more interested in moving his team to Los Angeles than he was in winning games. This case has produced evidence Kroenke was quietly planning the move long before his 2015 purchase of land for a California stadium site. He registered the Rams as a California company in 2010, Team STL lawyers revealed in a previous hearing.
But whether it was Goodell, Grubman or other league owners, St. Louis was encouraged to attempt to keep its team with plans for a new stadium during the race for Los Angeles. More than $18 million was spent on the effort. St. Louis' plan offered up significant public money. The league ignored its Los Angeles committee's recommendation of another plan and when push came to shove repeated a relocation vote until it got the outcome its power players wanted, which was a Kroenke plan for Los Angeles relocation that included zero public money.
This years-long lawsuit, filed in 2017, is based off of years worth of lies and deceit manufactured by the Rams and the NFL. It has dodged every attempted derailment. The latest example was an appeal of the court's decision to force Kroenke and a handful of owners from the Los Angeles committee to hand over detailed financial information for potential punitive damages that could be coming. Team Kroenke's appeal was denied immediately. A trial is set for January unless Wednesday's request for summary judgment works, or a settlement arrives.
With a big-money lawsuit on the line, the NFL is making it clear in the courtroom that it believes it can do whatever it wants, whenever it wants, when it comes to relocation. It does not believe its relocation guidelines, which were established in 1984 in response to a court recommendation to the NFL to avoid antitrust liability, mean anything at all to the cities the league leaves behind. Goodell's own words, even when given under oath, are nothing but noise to his league's lawyers.
Buffalo and any other city that finds itself getting leveraged by the NFL for stadium upgrades, new stadiums or public dollars can and should learn from this lawsuit. There is no amount of public money or positive quotes from Goodell that will save you — if the league ultimately decides to go. And it will be this way unless something changes, like a lawsuit holding the league accountable for its corruption.
If you needed a reminder of why this case matters, just look at what is happening in Buffalo.
Hopefully Buffalo is looking back.