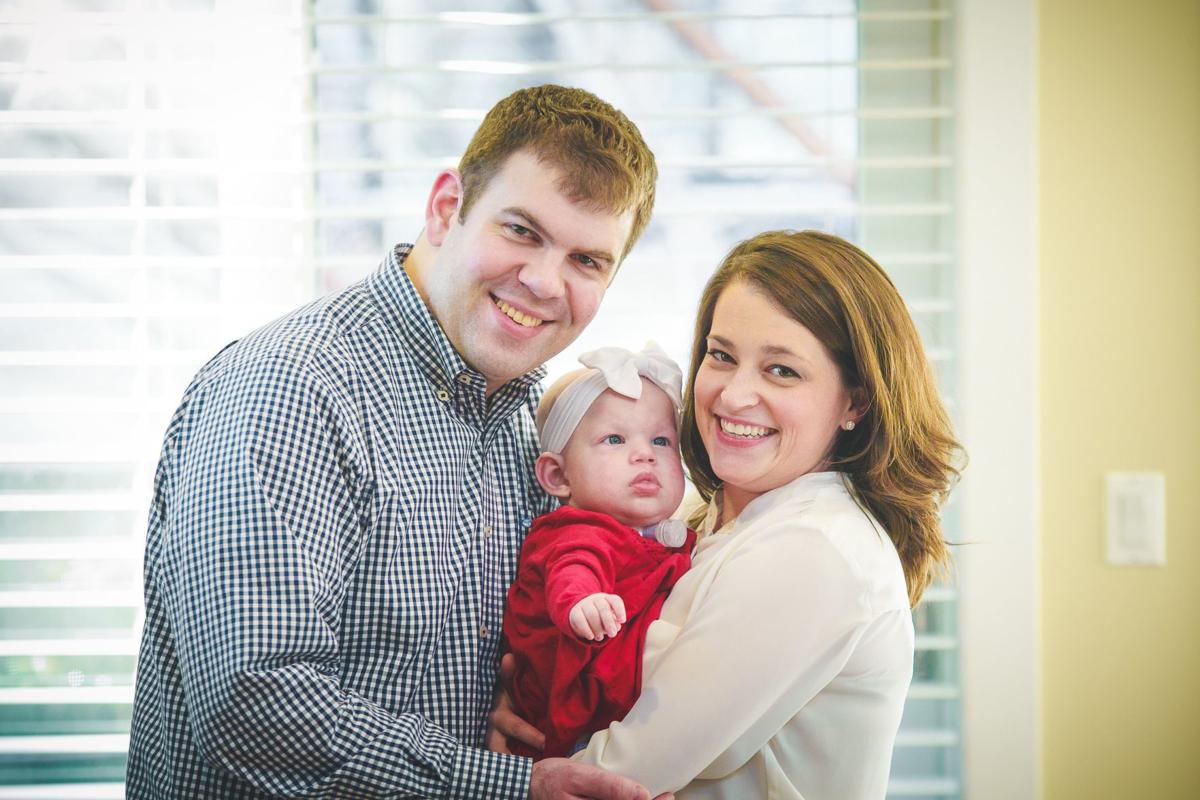 Cardinals, of course, claims Mom.
Cubs, no doubt, says Dad.
Yes, little Emma Finke would have made a hard decision one day.
Dad's beloved Cubs were her hometown team. But Mom's love of the Cardinals runs deep, back to a childhood spent here.
When the debate comes up, Kyle Finke cites one of his favorite photos of their daughter, the one where Emma sits in a crib wearing his Cubs hat and her defiant grin.
"He will always say, because of that, she was a Cubs fan at heart," Sadie Finke said.
And maybe, just maybe, a small part of Sadie has decided to let her husband win this debate — even if she would never let such news appear in a paper read by her old Nerinx Hall classmates.
So, the couple has compromised.
Emma's favorite player, both agree, would have been their favorite player: Cubs first baseman Anthony Rizzo.
I first heard about Emma in May of 2017, when my friend Chris Hrabe of KMOX asked if he could share something before a Cardinals-Cubs game at Busch Stadium.
When a radio man has a quiver in his voice, you figure it's important.
The broadcaster had approached Anthony Rizzo, not for an interview, but to say thanks. The All-Star had recently made a generous donation to Chicago's Lurie Children's Hospital, and Hrabe knew a brave little girl who was battling there.
Emma, the daughter of two dear friends of Hrabe, was not yet 4 months old when the Finke family's life turned upside down.
Emma had stopped holding down food. A bug? She had started tilting her head to one side. An ear infection? But Emma didn't get better.
It's the only word Kyle remembers hearing from the doctor that day.
"Everything after that was a whirlwind," he said.
Emma was diagnosed with a rare form of pediatric brain cancer called Atypical Teratoid Rhabdoid Tumor, or ATRT, in April of 2017. The "whirlwind" was 10 months that included three brain operations, a tracheostomy, rounds of chemotherapy, three stem cell transplants and countless sleepless nights.
Before she could say her first word, Emma had tubes up her nose and into her chest and belly. Chemicals were pumped into her veins and, for awhile, directly into her brain. Operations and treatments impacted everything from her hearing, to her vocal cords.
Nothing cracked her spirit.
"She was a spunky little lady," Sadie said.
In another photo, Sadie's favorite, Emma holds up a fist, striking an iconic pose she could not have known.
Emma the Riveter, going toe to toe with cancer.
The Finke family went through hell, but at Lurie Children's Hospital they found a home.
Stem cell transplants were treated like birthday parties. From the windows of the oncology floor, the Finkes introduced Emma to the views of Chicago. Plus, you never knew when Rizzo might appear.
Rizzo, who beat the Hodgkin's lymphoma diagnosis he received at 18, has become a fixture at the hospital. He has a reputation of arriving unannounced, and alone, to visit kids.
What Rizzo does truly matters, Hrabe told Rizzo that day at the ballpark.
Rizzo then turned a thank you into more heroics.
He asked Hrabe to record a video. He wanted to send a message to the Finkes.
Rizzo told the family to keep fighting. Told them he was in their corner. Told them the Cubs were going to beat the Cardinals. And on that night, they did. (Sorry, Sadie.)
"If I lifted their spirits for just a few seconds, that's an accomplishment, to get their mind off the reality of what they had to go through," Rizzo recalled this month.
"I was shaking," Sadie said.
This was a story that deserved to be told.
It's become more powerful since.
After sending the video, Hrabe was working the post-game broadcast from the KMOX booth beneath Busch when he heard a knock on the window.
It was Rizzo. And his mom. They wanted to make sure the Finkes got contact information for the Anthony Rizzo Foundation. Anything the family needed, just tell them to call.
Kyle was able to thank Rizzo in person when the two met later at the hospital. The offer for help never wavered. The problem was, there were no answers.
Emma's cancer kept coming back. She was 13 months old when she died on Feb. 2, 2018. A line of doctors and nurses lined up outside of her hospital room to say goodbye.
Kyle and Sadie faced a challenging question just moments after they lost Emma.
The hospital needed to know if they were interested in donating Emma's tumor.
Because she was so young, she never experienced radiation. Her tumor was rare for this reason. It could hold answers.
Kyle and Sadie didn't need to talk about it. Yes.
Doctors at Lurie along with the Pediatric Brain Tumor Foundation are among those who have relied on Emma's tumor for research that could save children in the future. That knowledge brings comfort. But research requires funding. A new challenge emerged. Some if its inspiration can be traced back to Rizzo.
During his walks around the hospital, Kyle would see the names of Rizzo and other donors. He and Sadie picked out a window seat they wanted to dedicate to their daughter. They started a fund at the hospital, named it Emma's Memory, and set out to raise $300,000 for Lurie's pediatric brain tumor program.
"We needed to make sure this didn't happen for other people," Sadie said.
On top of their day jobs, they now organize and host races, happy hours, silent auctions, raffles and other fundraising events across the country that invite guests for a fun experience with a serious message — a reminder that while cancer is the top disease killer of American children, less than 4 percent of the National Cancer Institute's budget funds research for kids.
The Finkes are hosting their first event in St. Louis on Friday night at Ballpark Village's Budweiser Brew House. Called Home Run for a Cure, the watch party for the Cardinals game against the Braves will be the first of what they hope to make an annual tradition. Their events have raised more than $82,000 so far.
"It's filling a hole in our hearts and a gap in our lives," Kyle said.
The Finkes are a team worth cheering.
Their favorite player has turned into their fan.
"What they had to go through, you don't want any parent to go through, ever," Rizzo said during his last trip to Busch. "But for them to keep going? To start a foundation? To donate? It's pretty neat."