Trevor Bauer is officially a free agent.
This is the stance the Cardinals should take on baseball's biggest pariah.
There's no need to come out and say it. Just show it.
No thanks. Nothing to see here. Moving on.
Yes, the Cardinals need more quality starting pitching, whether they want to admit it or not.
They should still trade for a proven arm after not paying up for difference-making free agents like Justin Verlander or Carlos Rodon.
What they should not do is pull from the gutter the player who moving forward will turn every trip to the mound into a debate about whether punching and choking should be considered consensual sex, or sexual assault.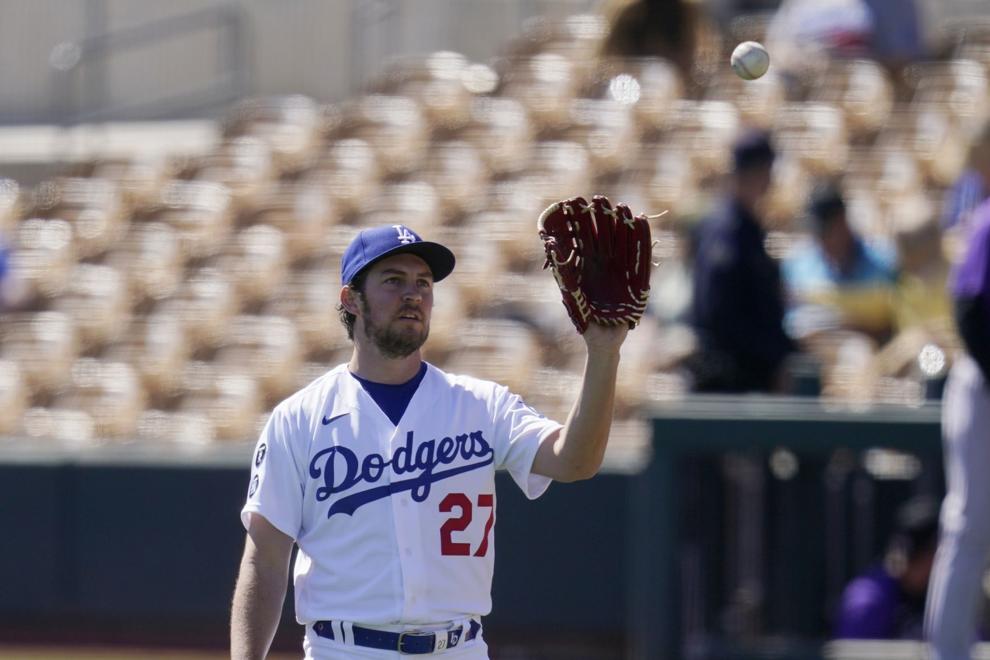 Sorry to be blunt, but this is the uncomfortable conversation Bauer represents as he attempts to return from his 194-game suspension for violations of Major League Baseball's sexual assault and domestic violence policy.
Bauer, who was never convicted of any crimes after sexual assault allegations were made against him by multiple women, will now get another chance to pitch, if a team decides to give him one. Whether he deserves it or not doesn't matter. Every time someone says, "No way that guy gets another chance," that someone usually becomes wrong — at least as long as "that guy" is maybe good enough to maybe help a team win.
Bauer has not pitched since late June 2021, but he is a 31-year-old former Cy Young Award winner (2020) and All-Star (2018), and he's now available for the discounted rate of the $720,000 league-minimum salary. I imagine there will eventually be a team that does its public relations department a disservice, divides its fans in half (for and against) and takes the plunge. That doesn't mean that team should wear the birds on the bat.
The Cardinals don't need Bauer's baggage, and those advocating for a buy-cheap gamble on a lightning rod are likely overlooking how heavy that baggage could become. Heavy enough to derail a season. Advocating for Bauer behind anonymous social media accounts or call-ins to radio shows is one thing. Putting your brand on his chest is another. For a telling example, see the team that just took a big financial hit to take his jersey away.
The National League powerhouse, World-Series-or-Bust Dodgers committed $22.5 million just to press eject on Bauer's regrettable three-year, $102 million contract after only 17 starts. Every team had a chance to trade for him before he reached free agency Thursday. They all passed. Some clubs rushed to publicly slam the door shut on the notion of adding Bauer. The Cardinals don't publicly discuss free agents. I wouldn't mistake their silence for interest. For a few reasons beyond the obvious.
Cardinals chairman Bill DeWitt Jr. and MLB commissioner Rob Manfred are close. Manfred's league did its best to get Bauer out of the game with an initial suspension of 324 games. That punishment was walked back after Bauer fought back. The final result, handed down from an arbitrator, became the 194-game suspension that will cost Bauer nearly $38 million in forfeited pay but offers full eligibility starting this upcoming season. Bringing on Bauer will be an owner's call and no one else's. DeWitt and Manfred tend to share opinions.
The Cardinals' clubhouse would not be universally pumped about the notion of adding Bauer. He was a polarizing presence even before this scandal. Some scoff at the idea of clubhouse chemistry. The Cardinals don't, and they care about current, prominent players' opinions on potential additions.
Making matters even more complicated for whatever team next gambles on getting more good than bad from Bauer is the fact the fallout from his scandal has not yet ended. Still ongoing are his multiple lawsuits against people and publications he alleged harmed him financially through the allegations made against him and the coverage of the scandal. The stomach-turning circus is not over. It will march straight into Bauer's new clubhouse.
New York Post baseball columnist Jon Heyman quoted a baseball insider saying Bauer's next team would have to reside "on another planet."
I doubt that, but thankfully the Cardinals don't seem interested. The Cardinals have a good team. It could be improved upon with improved starting pitching. But betting on Bauer to be better at pitching than he is at producing division and dysfunction is not a good bet, and the loser of it will cost their organization a lot more than the $720,000 league minimum.
No thanks. Nothing to see here. Moving on.