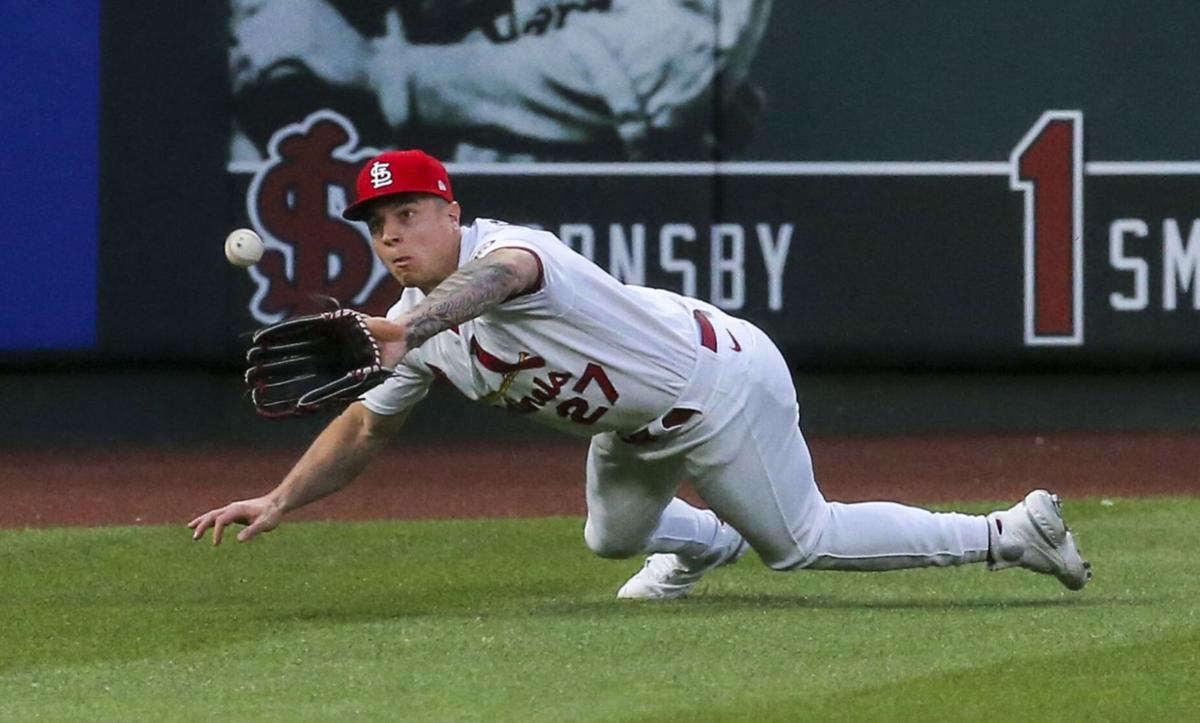 If I'm Cardinals pitching coach Mike Maddux, I'm calling the pitchers together before Saturday afternoon's game to revisit one moment from Friday night's first inning.
Flaherty found himself in a bit of trouble after securing a lineout from Raimel Tapia and a strikeout of Trevor Story for the first two outs of Friday night's 5-0 Cardinals win.
Ryan McMahon singled to left.
Charlie Blackmon singled to right.
Garrett Hampson singled to short, and that was the inning.
Yes, the Cardinals' defense turned Hampson's single into the inning-ending play.
Third baseman Nolan Arenado jumped headfirst to stop the barreled grounder and just missed.
Shortstop Paul DeJong nearly back-handed the ball clean on the lip of the outfield grass, but it bounced off his leather.
The action paused for just one moment — before second baseman Tommy Edman broke for second base to cut in behind Blackmon, who had rounded the bag a bit too casually, considering the opponent.
DeJong picked the ball up, faked as if he was going to throw home and fired the ball to Edman. Blackmon's headfirst slide back toward second was late. He was out by the length of his beard.
"Things could have gone sideways there," Flaherty said after he improved to 6-0 this season.
Instead his scariest inning had ended. On a hit.
This is a good time to mention the Cardinals have been walking too many batters. Especially for a pitching staff that has this kind of defense playing behind it.
Not the defense that was playing behind it when Tyler O'Neill and Harrison Bader were out because of injuries.
I'm talking about the defense playing behind it right now, and moving forward.
With O'Neill and Bader back in the outfield, and Edman back at second base, and Yadier Molina nearing his return behind the plate, and Gold Glove staples at third (Nolan Arenado) and first (Paul Goldschmidt), this defense is being wasted and weakened every time a hitter does nothing but watch four balls to earn a base. Make them earn it. There's a good chance, if the ball stays in the park, they won't.
Flaherty has figured this out. He's walked more than two just once in his seven starts this season.
"Nolan has talked about it," Flaherty said. "About how he has to stay engaged and keep himself engaged. I think that goes for everybody. The more we are able to fill the zone and attack guys, and get the ball put in play, and get some quick outs, I think the defense stays engaged. You see guys go out and make these great plays.
"You see guys ready to go, ready for action. And it makes us as pitchers feel good knowing that these guys are going to be back there and make these plays. We can allow them to put the ball in play, and try to create some soft contact. You don't have to strike everybody out. You don't have to nibble. You don't have to pitch around everybody. Put the ball in play. We've got some guys that are pretty good back there."
The Cardinals started this series against the Rockies tied for the most wins in the National League (18) and also tied for the most walks issued (132) in the majors. Those two extremes will be harder to balance by the game. If you take the league's top-five walk issuing teams from each of the past five seasons, only five of the 25 finished with winning records, only three reached the postseason, and just one made it past the wild-card round. The Cardinals are playing with fire, and somehow dodging serious burns. For now.
John Gant, whose grip on a rotation spot seems to be loosening as Miles Mikolas progresses with his rehab assignment, had issued 24 walks. Yet Gant somehow has maintained a 2.15 ERA.
Closer Alex Reyes' 12 free passes is a concerning number, but it has not stopped him from converting nine save opportunities in nine chances. It will at some point if it doesn't change. Just a matter of time.
A telling number for the Cardinals already has emerged: three.
The Cardinals now are 11-4 when limiting their walks to three or fewer. They have won 73% of those games. When they walk four or more, they're 8-10.
With this defense, four-plus walks per game should rarely happen. Just throw strikes. Keep these fielders on their toes, and be grateful for their help.
The heads-up play in Friday's first inning involving three locked-in infielders was just one example. It was not the only one. O'Neill ended the top half of the second inning with a sliding catch of a Dom Nunez line drive. Goldschmidt made a sprawling stop of a Ryan McMahon grounder to end the top half of the sixth. Arenado perfectly timed the big hop of a Fuentes grounder and unleashed a laser beam to Goldschmidt to secure Ryan Helsley's first out in the top of the eighth. Edman added another highlight for his growing Gold Glove case when he soared to snare a Story scorched liner for the first out of the ninth.
Flaherty pounded the strike zone 65 times in 103 pitches, issuing just one walk in seven innings. Relievers Helsley and Genesis Cabrera took it from there, each hanging scoreless frames without a walk. Another game with fewer than three combined walks from Cardinals pitchers. Another Cardinals win.
Former Cardinals reliever and current broadcaster Brad Thompson joins the Best Podcast in Baseball to talk about what he was thinking on the m…