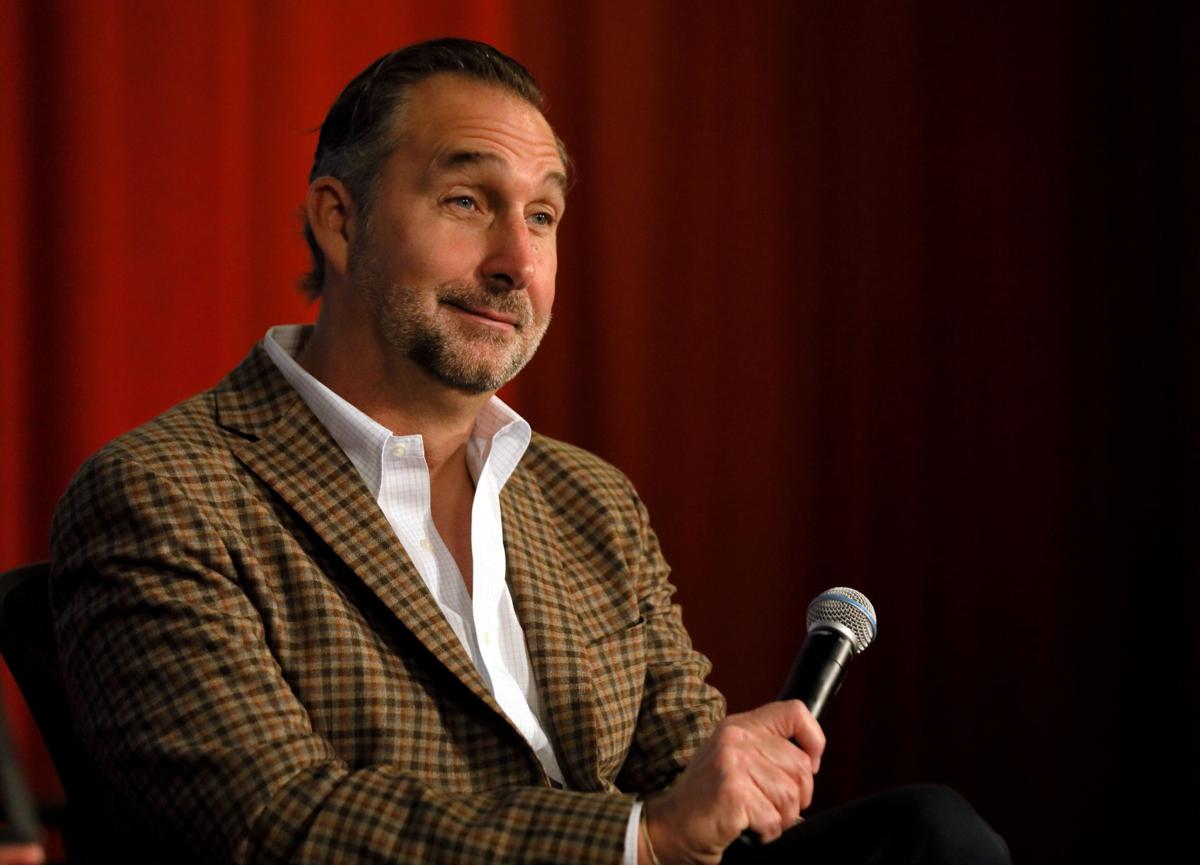 John Mozeliak's flowers arrived before Valentine's Day.
A bouquet of red roses and assorted daisies showed up at Busch Stadium last week. An ornamental cardinal peeked out from the greenery. A note addressed to the president of baseball operations was attached, signed only by the name of a Twitter account: @QuinnSTLCards.
"I said on Twitter that I would send you flowers if you got Arenado," read the card. "Thank you."
What a difference a blockbuster trade for baseball's best third baseman makes.
"I would imagine if you were to read through social media had this deal not happened, I might have to go into protection," Mozeliak joked by phone.
After testing fans' patience by slow-playing roster improvements during a slower-than-usual offseason filled with financial uncertainty due to the ongoing COVID-19 pandemic, Mozeliak and his front office teammates departed St. Louis on Saturday for the start of spring training having done both the expected and the improbable. They followed through on their desire to bring back beloved veterans Adam Wainwright and Yadier Molina. They completed a blockbuster trade for Rockies third baseman Nolan Arenado, a long-coveted superstar who carries what will become the biggest contract in club history if he decides against opting out for free agency. So much for fears that Cardinals chairman Bill DeWitt Jr. had called the punt team onto the field for 2021.
"Even though it was late in the offseason, and there might have been a sense of perhaps fans feeling the Cardinals were just being complacent, we crossed that hurdle," Mozeliak said. "There's a much different vibe."
It's no secret Mozeliak's Q Score had been declining due to recent events. Some significant free-agent additions had not worked out as planned, and that's putting it nicely. The trade of Randy Arozarena will sting as long as he stars in Tampa, or until Matthew Liberatore stars in St. Louis. And then there's the fact the Cardinals have not added to their National League leading 11 World Series championships since 2011. A decade without a parade would be a long time, for the Cardinals.
Mozeliak deleted the Twitter app from his cell phone a while ago. Too toxic. That meant he missed the social media line of demarcation that was promptly drawn when the Arenado trade went down. Memes of Mozeliak as a clown disappeared, replaced by memes of Mozeliak as defiant Michael Jordan, or an "Ocean's Eleven" cast member after an epic cinematic heist. Mozeliak tries to avoid them all, but he did appreciate the real-life flowers from a real-life follower of the Cardinals.
Quinn Mortimore, or @QuinnSTLCards on Twitter, might be the first Cardinals fan out there to wish Arenado would one day play for the Cardinals, and he's got the broken bat to prove it. The 21-year-old senior statistics major at Truman State grew up in Springfield. He used to attend Springfield Cardinals games and collect broken bats from players who didn't mind handing them over. One in his collection belonged to a Tulsa Drillers third baseman who looked like he was going places. Even before Arenado became the Gold Glove and Silver Slugger winning star of the Rockies, Mortimore was daydreaming about Arenado as a Cardinal.
That history made the Cardinals' pursuit of Arenado last season — an earnest attempt that did not get as close as an avalanche of rumors and speculation insisted — both exhilarating and exhausting for Mortimore. When those conversations fired up again this offseason, he wanted to offer some sort of support.
"If we actually get Arenado, I'm sending Mozeliak flowers," he posted to Twitter on Jan. 29.
When the deal was in fact completed, Mortimore did something incredibly rare. He proved words posted to Twitter can turn into something more than just hot air. He searched for flower delivery on Google. He picked the option that let the florist plan the arrangement, because he had never done something like this before. It was a good call, considering a Cardinals fan working at "From You Flowers" apparently tucked in the ornamental cardinal as their way of chipping in.
Mortimore wondered if the flowers would even arrive.
A Twitter response from the team's official account confirmed the eagle — err, cardinal — had landed.
"I thought it was nice," Mozeliak said. "I had them on my desk."
Mozeliak, 52, is entering his 26th season with the Cardinals, dating back to his arrival as a scouting operations assistant entering the 1996 season. This will be his 14th season as either the team's general manager or president of baseball operations. The big picture shows the Cardinals, during Mozeliak's run as GM and POBO, rank third in baseball and second in the National League in regular-season wins (1,106). They are tied for third in baseball and tied for second in the NL in postseason wins (36) during that time. They have five first-place NL Central finishes and zero losing seasons. They have won one World Series (2011) and lost another (2013). It's time for them to get back, and trading for two of the best players in the NL — Paul Goldschmidt and Arenado — in a little more than a two-year span means they have a significantly better shot, both now and later.
"This deal was not done simply for the short view," Mozeliak said. "We have Goldy for four more years. Now we have Arenado for potentially up to seven. It was about a unique opportunity to acquire one of the most elite players in the game, and then understanding where we can build around as well."
As for the flowers, Mozeliak decided to pass along the good vibes. He heard his longtime assistant Linda Brauer was planning to visit her mother, Susan. He figured Susan would get a kick out of the bouquet, and she did. Mortimore approved of that transaction, too.
"That's awesome," Mortimore said. "I'm definitely pretty happy with him (Mozeliak) right now. There have been some times when there have been some questionable moves I have not understood. But, for the most part, I think he's done a great job."
If there's one thing to remember on Valentine's Day, it's that sometimes even long, successful relationships can benefit from a pleasant surprise.