When discussing top Cardinals prospect Jordan Walker's rapid rise from 2020 first-round draft pick to the cusp of the majors at just 20 years old, teammates and executives during this edition of Cardinals Winter Warm-Up marveled at how the organization's co-minor league player of the year always seems ready for the next level ahead of schedule.
Seated behind Walker during his Monday morning autograph session with fans on the second level of Ballpark Village, wearing a Springfield Cardinals hat along with a proud smile, was one of the first to notice that trend.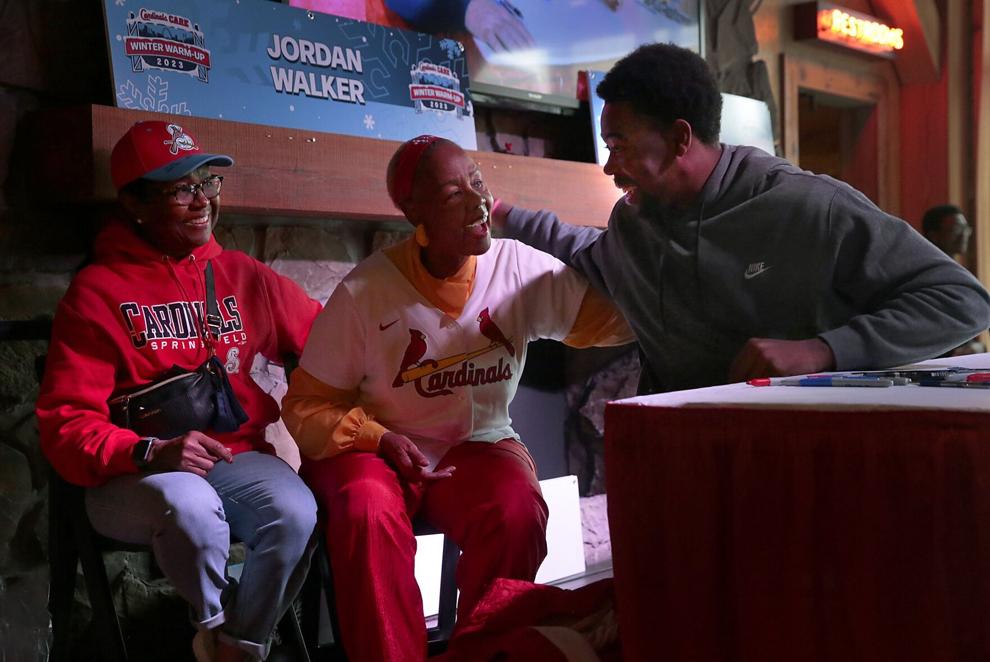 Deborah Wingfield is neither teammate nor team official. She is a Cardinals fan — well, after converting from the Braves along with the rest of the Walkers — but she has a much more important title than that. She's a grandmother, and you better believe she's proud of her grandson, as proud as she was the day Jordan Walker took his very first steps in her Georgia living room. Yes, that initial teetering walk came earlier than expected.
"He's always been ahead of himself," she said.
Especially when it comes to baseball.
Deborah's late second husband, Joseph L. Wingfield Sr., loved the game and coached it with a passion in addition to his work in law enforcement before his death due to COVID-19 a year ago. One of Jordan Walker's favorite memories with "Papa Joe" was when his grandfather introduced him to their favorite player, Braves legend Hank Aaron, a moment that produced a photo he will cherish forever. Papa Joe coached Derek Walker, Jordan's father. He coached Derek Walker Jr., Jordan's older brother, too, starting with T-ball at the age of 4. What was 2-year-old Jordan supposed to do back then? Sit and watch? No chance.
"He was smaller than the other team members because he wasn't even supposed to be on the team, but they allowed him out there," Deborah Wingfield said. "He became the mascot. He would sit in the dugout, and he would run the bases with them. His aura was like, he owned the team. Every team he was on, they ended up promoting him up because of his skills. He was too comfortable at that level. He needed some more challenges. Always."
That first T-ball team eventually got little Jordan his own jersey. Instead of a number on the back, it was a fraction: ½. He started sleeping with a bat or a glove in his bed. Older brother Derek Jr. made the Walker family trip to St. Louis for Warm-up. He is no longer the bigger brother. His playing days have ended. He said he first realized his brother's were going to continue for a long time when Jordan started carrying a tennis ball around school so he could bounce it off walls during moments of down time to practice his grabs. And then there was that family trip to Paris, back when Jordan was 12.
"As a kid, he could not go anywhere without his glove," Walker's father said Monday. "He needed to stop and take breaks so he could throw. This is a true story. We were at the Eiffel Tower. We had to take a break to go to the park across from the Eiffel Tower so we could throw the baseball with him."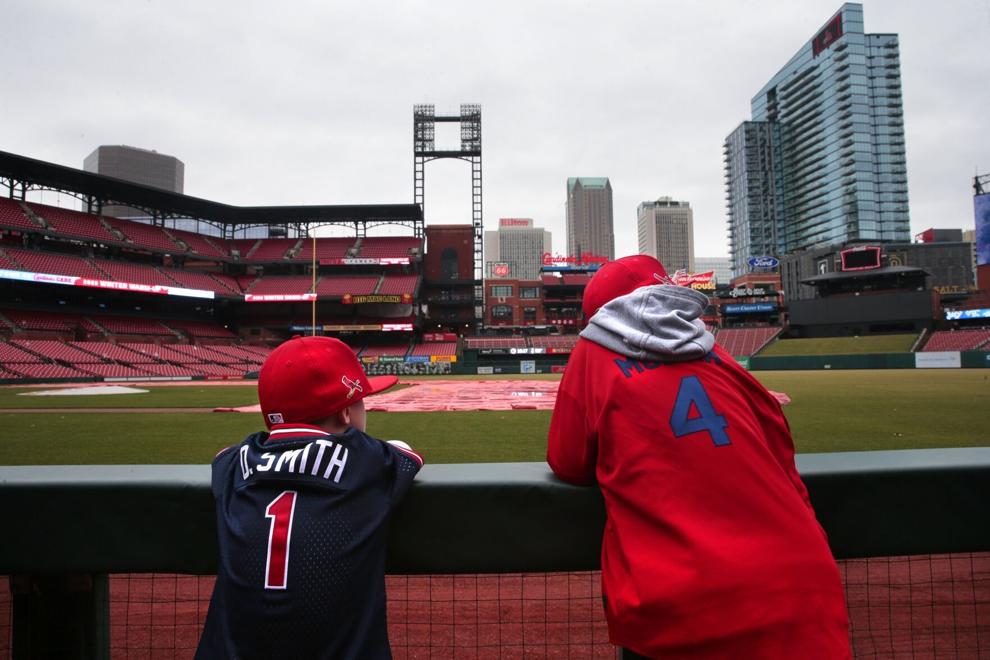 No one should be surprised if so.
Cardinals manager Oliver Marmol already refers to Walker on a first-name basis. Director of player development Gary LaRocque described running out of minor-league tests to throw Walker's way after he blitzed Class AA for an OPS of .898 and slugged .558 in the most recent Arizona Fall League. Catcher Willson Contreras, brand new to the Cardinals, named Walker as one of the players he's excited about.
Calling older players teammates became normal for Walker long ago, at least as long ago as anything can be for someone who turns 21 in May. Unlike his T-ball days, his size stands out in the opposite way now. He's 6-foot-5, around 250 pounds and entering spring training with a legitimate shot to make the big club as a corner outfielder, despite only transitioning from third base this past summer. He insists the position change isn't easy. Those watching him make it say it's looking that way. As the Cardinals considered what to do this offseason in terms of potential free-agent and trade additions, the future of six top-100 prospects were top of mind, none more so than Walker, who spent his first Warm-Up looking perfectly comfortable in an intensifying spotlight.
"He's really a great prospect, in every way," Cardinals chairman Bill DeWitt Jr. said. "I check in with those who have seen him and worked with him, and the first thing I say is, 'He looks like a pretty good player.' And they say, 'He's a great kid.' He checks all the boxes. He is admired by his teammates. He's a winner. Big talent. It's very exciting to have a player like that, at 20 years old, he's knocking on the door of the big leagues."
Walker has no problem making it clear he's coming to Camp Cardinal to win a big-league job. Multiple fans who gladly gave $30 to Cardinals Care to secure his autograph told them that is their hope, too. He made a special stop during Monday's obligations to share a quiet moment with the single place left on his list of spots to be promoted to ahead of schedule: Busch Stadium.
"I got a real long look at the field earlier today," Walker said. "It really is giving me another push. I'm ready to get going. I'm ready to try to make the team."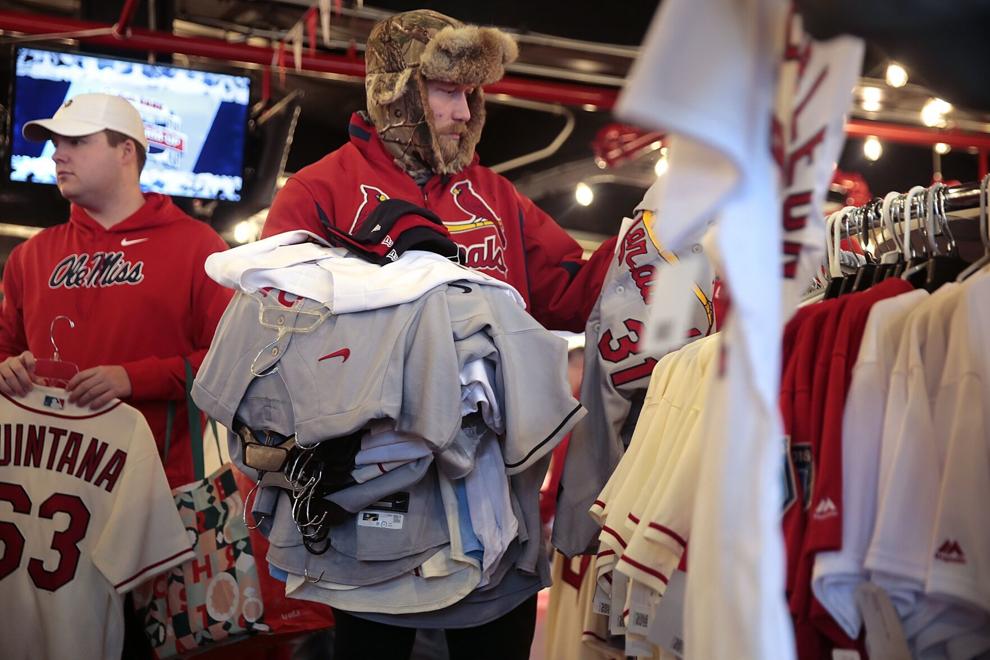 The way he carried himself during this trip to town, from Sunday night's acceptance of his organizational award at the St. Louis baseball writers' dinner, to Monday's interactions with fans, you would have thought the young man had done it all before. He's carrying some beyond-his-years wisdom. Of course, his grandmother noticed that before the rest of us, too.
"He is a gentle giant," Deborah Wingfield said. "He is quite wise and caring and thoughtful. He has a loving spirit. He still opens the door for me. He has an old soul. I feel so blessed. I'm just hoping he can have that humble spirit as he grows. And I believe he will."