The Cardinals should have consulted a cynic.
If so, it could have been suggested during the extensive planning leading up to this National League Wild Card that baking a few shreds of doubt into the postseason plans for All-Star closer Ryan Helsley would have been wise.
At least until the high-velocity right-hander proved in a game setting that the middle finger he jammed during a late regular-season stumble in Pittsburgh was not going to turn into a finger on the series scale in favor of the Phillies.
Instead, the Cardinals, citing solid feedback from medical officials and encouraging reports from Helsley after a no-problem throwing test, moved forward in this best-of-three series as if the recent injury would have as little influence on this postseason as the meaningless game on Tuesday in Pittsburgh that caused it.
The Cardinals beat the Pirates in extra innings that night.
Their hopes of advancing are now on the ropes because of the lingering damage done during it.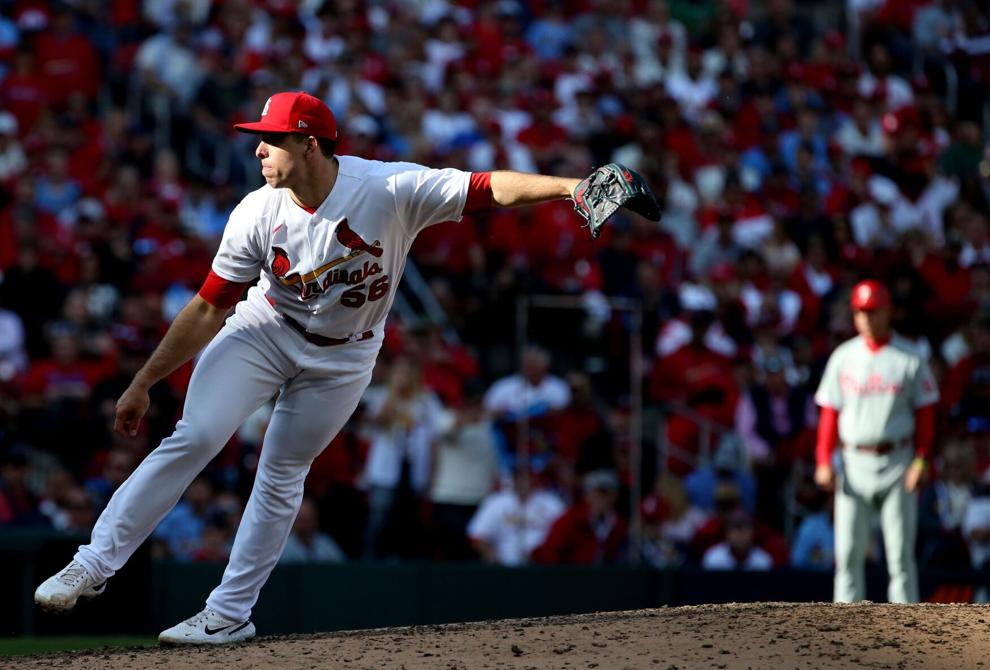 This 6-3 Game 1 loss to the Phillies could wind up in the section of postseason records reserved for pain. A two-run lead in the ninth disappeared. This season, which felt so magical so often, is now one loss away from ending.
The Cardinals had no reason to refrain from turning to Helsley on Friday. He seemed to recover well from his spill in Pittsburgh. Doctors and trainers signed off. His testing of the waters went well. He's a critical part of this club, and he has been candid with the team's medical and training staff all season about when he does and does not feel good. So, you trust the guy. That it did not go well does not mean Helsley did not tell the truth about what he was feeling, or that the team screwed up his diagnosis. The only clear mistake made Friday was not properly planning for what could go wrong. You can't replicate postseason games and their physical effect. You can prepare accordingly.
The Cardinals had days to figure out how to minimize the damage that could be done if Helsely's finger did not respond well to live action, and instead of limiting it as best they could with how they used him and preparing a safety net in case he wound up needing one, manager Oli Marmol handed Helsley a full plate and didn't rush to the rescue until that plate had shattered across the floor.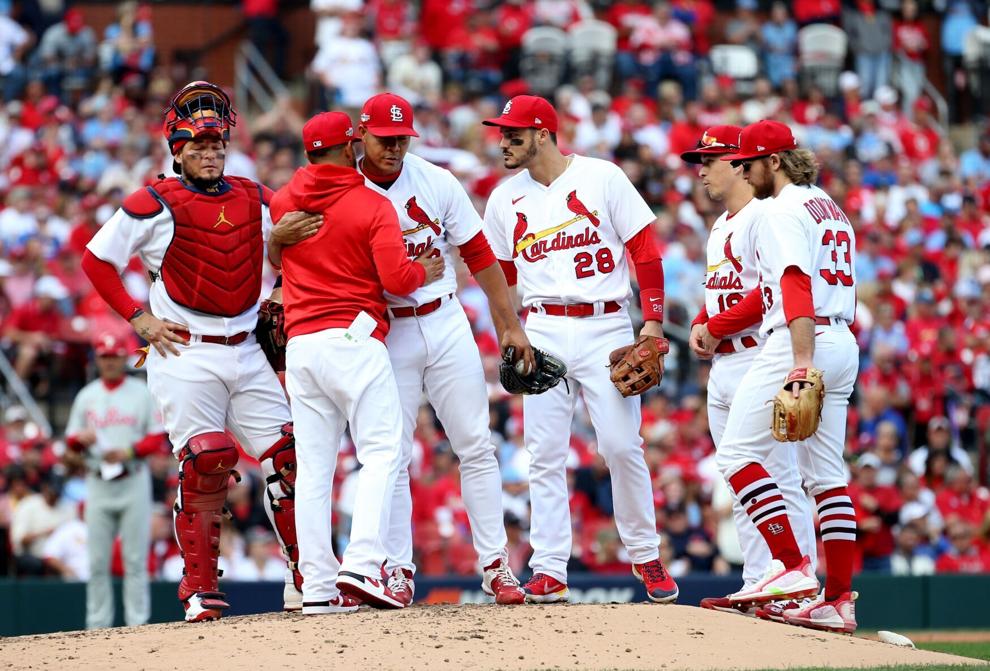 Let's go through the mess piece by piece.
First off, asking Helsley to convert a multiple-inning save was risky. Instead of letting starter Jose Quintana, who was excellent, pitch a little deeper into his start to shorten the game; or letting Giovanny Gallegos try to bounce back after a bad eighth-inning walk to Bryson Stott instead of replacing him with Helsley; or letting Jack Flaherty pitch at all; or some other option not mentioned here; the Cardinals turned to Helsley to get the final two outs of the eighth as well as handle the ninth.
By the time Helsley let go of his 33rd pitch, his troublesome finger was developing numbness that was affecting his ninth-inning control. Ten of those pitches had come in the eighth. He felt fine after it ended, per Marmol. Helsley himself was whisked off for more medical tests after the game before reporters entered the clubhouse. Still an uncomfortable question looms: If the Cardinals would have handled the eighth inning differently and only asked Helsley to take care of the ninth, would they be one win away from reaching the National League Division Series?
Eighteen times in 54 regular-season appearances, Helsley handled multiple innings. But he had done it just once since the start of September. And that was before the shape of a pitch-shaping finger was uncertain. The Cardinals entered this postseason with gobs of healthy pitching and promises to flex that strength, then they asked the one with questionable health to do something he had done just once since the start of last month.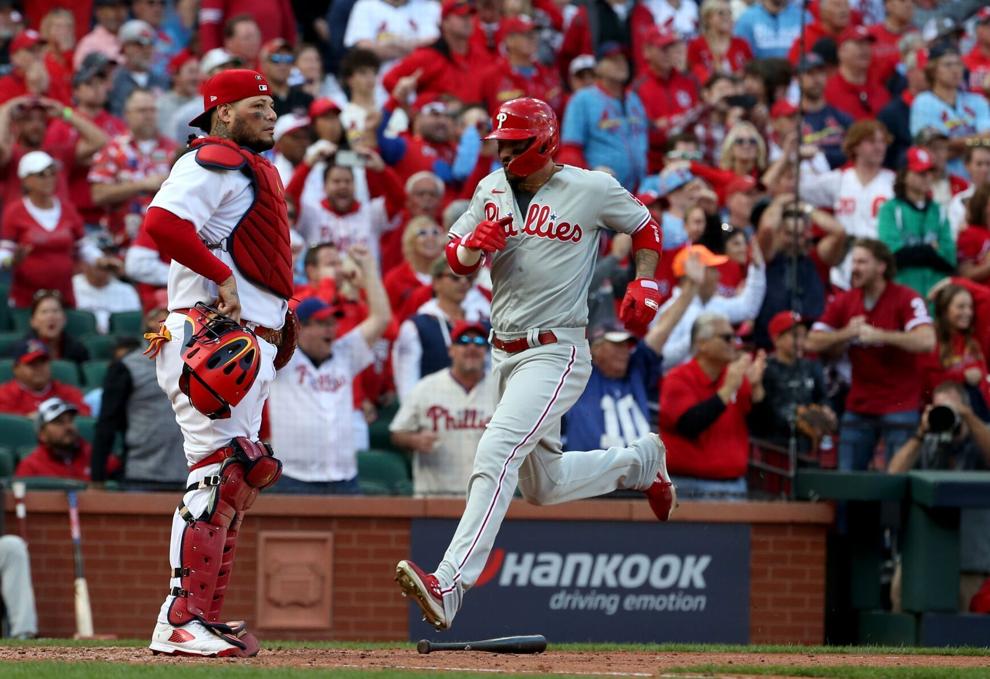 Second, Marmol did not pivot soon enough.
Signs of trouble that were nowhere to be found in the eighth inning showed up faster than a Helsley fastball in the ninth.
After a strikeout of Rhys Hoskins and a single surrendered to J.T. Realmuto, Helsley walked Bryce Harper after leading 1-2 in the count. Odd.
Then Nick Castellanos walked, too, and suddenly the bases were juiced. Helsley did not throw a slider or a fastball for a strike to Castellanos and walked him on five pitches, the first of which hit the dirt. Yikes.
Then Helsley spiked a slider to Alec Bohm and hit him with a 101 mph fastball on the third pitch. The Phillies were on the board. Finally, Marmol came to get Helsley, inserting Andre Pallante.
Busch Stadium, which had become a night club during a day game when Juan Yepez hopped off the bench and blasted a two-out, two-run pinch-hit homer in the seventh inning, was dead silent. Doom had arrived at the doorstep, and it rushed the field when Jean Segura's grounder bounced into right field, just out of what could have been an inning-ending double play. The Phillies were ahead, the wheels were off and the normally composed Cardinals were melting down.
It can be debated that Marmol should have gone to Flaherty instead of Pallante after Helsley, but the bigger problem was neither Flaherty nor Pallante could be found firing practice pitches from the bullpen rubber until Helsley, his command slipping with each pitch, had loaded the bases.
Helsley earlier this season pulled off an immaculate inning.
If the Cardinals can't recover from this with or without him and discover a better way to finish games on the fly, this postseason will be remembered for one disastrous inning.