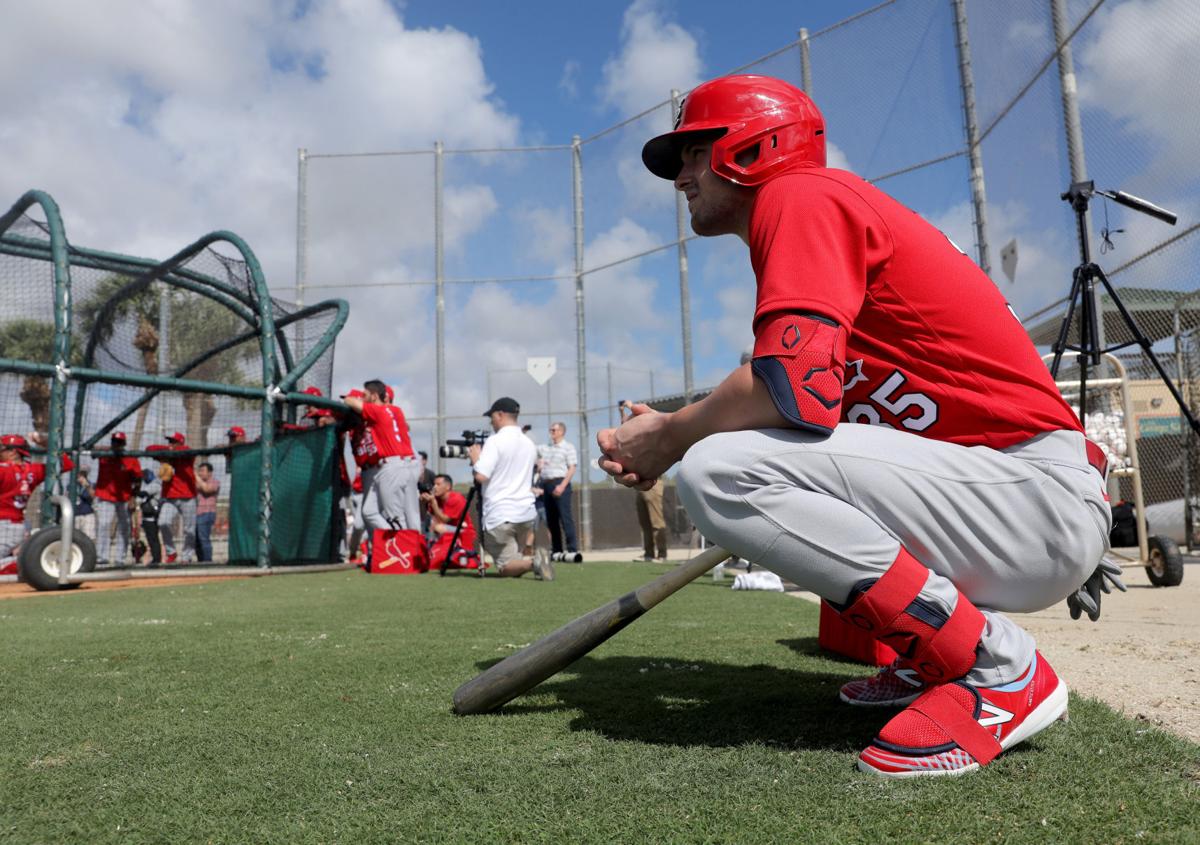 Lane Thomas had a few minutes to chat during a recent supply run.
Every offseason, the Cardinals outfielder swaps baseball for renovation, helping his sister with her successful cabinet company in their hometown of Knoxville, Tenn.
This week's project was a major overhaul.
Thomas, on his way to grab some materials, explained through the phone a situation that is true in both baseball and home improvement.
You're in trouble if your foundation is out of whack.
After Cardinals president of baseball operations John Mozeliak confirmed Thomas was an example of a player who was impacted by his clash with COVID-19 more than anyone, including the Cardinals, realized, I asked Thomas if he could fill in the gaps.
He agreed, and the more he talked, the more it became obvious that reading too much into the partial season the 25-year-old played in a pandemic-shortened 2020 could be a good way to misread what Thomas might be able to do for the Cardinals.
Thomas, drafted by the Blue Jays in 2014 and acquired by the Cardinals in a 2017 trade, entered the 2020 season without a starting spot guaranteed. But he was in position to secure one if he outplayed starting left fielder Tyler O'Neill, or someone else.
While O'Neill improved his strikeout and walk rates and won a Gold Glove, his on-base plus slugging percentage dropped considerably for the third consecutive season, opening the door for Thomas.
But Thomas was not able to take advantage of the opportunities offered up by O'Neill, center fielder Harrison Bader, veteran Dexter Fowler or anyone else.
That's because Thomas was one of 15 Cardinals players and eight staff members who tested positive for COVID during the season. He spent 16 days on the COVID injured list and went 33 days without major league at-bats between his diagnosis after the Milwaukee breakout and his return in Cincinnati on the final day of August. Upon further review, his performance after that return should be analyzed with caution.
"I did not feel like myself coming back," Thomas said.
Thomas insisted he felt good enough to play. That's not the same as feeling good while playing, though. He explained the long list of things he had to do before he could rejoin the team, like passing heart examinations and stress tests. He described wrestling with knowing if an oddity he was experiencing after he returned was worth calling attention to or playing through. He wanted to attempt to salvage his season, after all. He wanted to help his team win.
Thomas' comments echo something shared by other high-level athletes who are on their way back from a COVID diagnosis. For some, like National League MVP Freddie Freeman, the return to normalcy seems quick and easy. For others, like Thomas, there can be a very real COVID hangover.
In addition to a COVID-related cough that followed him weeks after he regained the sense of taste and smell he temporarily lost, Thomas described a range of complications that were tough to shake.
There were breathing issues that required antibiotics and an inhaler.
There were dizzy spells that lasted as long as 15 seconds.
There were moments his bat, the same one he always used, suddenly felt heavy, perhaps because he dropped more than 10 pounds from his frame despite attempts to gain it back.
There were games he entered full of energy before feeling zapped moments later.
How to factor in COVID complications into 2020 conclusions is something the Cardinals are wrestling with during their offseason analysis of where the club must improve.
The outfield, and its lack of offense, is high on the list of problem areas.
The 2020 season was supposed to answer the question of how much help Thomas, the Cardinals' No. 9 prospect entering the season according to Baseball America, might be able to provide. Through no fault of his own, Thomas was robbed of a chance to prove he can be an every-day answer. For the second consecutive season.
A broken wrist due to an inside pitch limited Thomas to 38 at-bats in 2019. His COVID diagnosis held him to 36 at-bats in 2020. And those were questionable at-bats, considering 33 of the at-bats came as Thomas was working his way through various virus-related issues.
Thomas in 2020 went just four-for-36 with 13 strikeouts, four walks and three extra-base hits. Compare that to the encouraging 12-for-38 tease he built in 2019 before his wrist injury, a surge that included four homers and 12 RBIs.
"I've done that (a four-for-36 slump) probably 50 times in my career," Thomas said, pointing to the small 2020 sample size we were discussing. "And the next 30 at-bats would have been a lot better. That's my mindset. I could have gotten hot for three days, and we would not be having this conversation about struggling."
Thomas getting some more distance from the virus helped him realize how it had held him down earlier at the plate and in the outfield, where the usually strong-armed and defensively sound player looked out of sorts a couple times in September. It was that observation that led Mozeliak to confirm after the season that Thomas' battle with COVID informed both the player and the team about how each case can be different.
Thomas has been back in the gym since the season ended, trying to build back the strength and weight he lost. He's meeting with a physical therapist twice a week. He says he knows the kind of player he can be, and that he's hoping he gets the chance to prove it.
The Cardinals know their outfield must improve. They have more than 900 major league at-bats from Bader now, and more than 400 from O'Neill. Thomas has 74 major league at-bats total, and 45 percent of those were darkened by COVID's cloud.