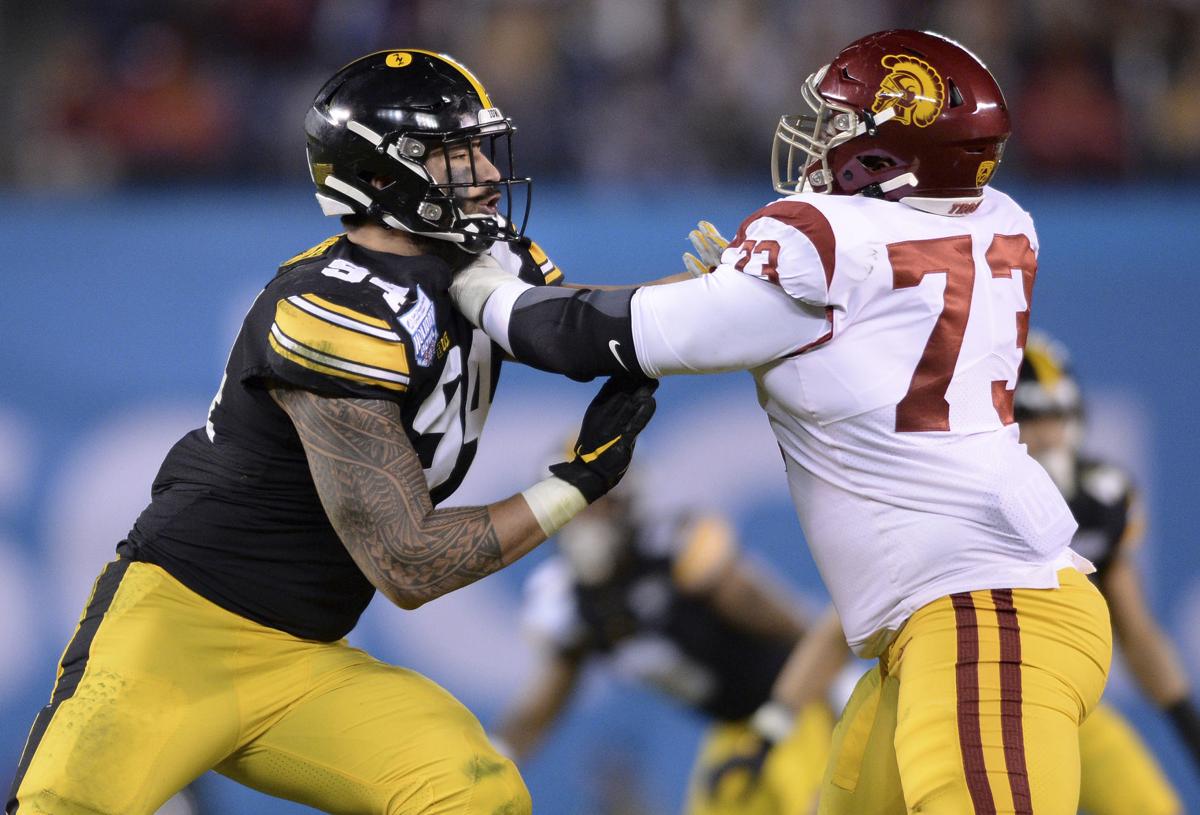 Patience rarely tops the list of strengths held by great defensive ends.
Pass rushers are trained to get where they want, when they want.
They rip and wiggle. They swim and stunt. They use speed and strength to impose their will.
There is a reason the most trusted move to reach a quarterback is called, "the bull rush."
A.J. Epenesa has become as accomplished at moving large men out of his way as any college defensive end in the country. The former Edwardsville High star and Post-Dispatch All-Metro selection has NFL teams eagerly waiting to find out if the 21-year-old will declare for the draft or return to Iowa for his senior season.
But Epenesa's most impressive trait, considering his stellar talent and the current state of our what-have-you-done-for-me-lately world of college sports, might be his willingness to not rush.
"I have a lot of love for this program," Epenesa said last week from Iowa City. "I have a lot of love for the people who helped me get here."
The latest check on college football's transfer portal shows hundreds of players have transferred or announced their plan to since the start of the 2019 season. Transferring has become the popular fast lane for those seeking more playing time, less competition or a brighter spotlight. The grass tends to seem greener on that other team's field.
There's nothing wrong with transferring. There is a more rewarding alternative. It's called staying put and breaking through.
Long is the list of programs that longed for Epenesa before he decided to follow in the footsteps of his father, former Iowa walk-on Eppy Epenesa. Just as long, and maybe longer, is the list of programs that would have loved to secure Epenesa's services after the highly-touted prospect spent his first two seasons playing behind established veterans.
Epenesa did not start as a freshman in 2017. He did not start as a sophomore in 2018. He didn't even get the nod from longtime Iowa coach Kirk Ferentz to represent the Hawkeyes at this year's Big Ten media day.
Epenesa took it in stride. All of it. He gradually grew into a crucial role on a team that won eight games his freshman season, nine games his sophomore season and 10 games his junior season.
Epenesa debuted as a pass-rush specialist as a freshman. He had 15 tackles, 5½ tackles for loss and 4½ sacks.
He expanded that pass-rush presence as a sophomore, becoming the most disruptive member of Iowa's rotation of defensive linemen despite his primary role of third-down specialist. That season he earned first-team All-Big Ten honors after appearing in every game. He led the Hawkeyes in tackles for loss (16½) and led the Big Ten in sacks (10½). He finished with 37 tackles, four pass break-ups, eight quarterback pressures, four forced fumbles, one recovered fumble and a blocked punt. Three times, he won or shared the conference's defensive player of the week award.
"There were some times where I thought I should be in," Epenesa told The Des Moines Register entering his junior season. "But I knew my time would come. And it's here."
The 6-foot-6, 280-pound Epenesa just totaled career-highs in tackles (49) and sacks (11½) as he helped propel No. 16 Iowa to its first 10-win season since 2015. Epenesa played the most snaps of any Iowa defensive lineman, significantly increasing his time on the field as he learned how to combat constant double teams.
Iowa allowed college football's 15th-fewest rushing yards per game. No opponent scored more than 24 points against the Hawkeyes. It had a lot to do with No. 94.
Those who wondered if the increased reps dulled Epenesa's pass-rushing edge got their answer when it mattered most. He surged through the end of the season, totaling 11 of his 14½ tackles for loss and eight of his 11½ sacks through the final five games.
In a win against Minnesota, he split double teams and worked stunts to create 2½ sacks. In a win against Nebraska, Epenesa punished the Huskers for not double-teaming him, totaling an absurd 14 tackles, 4½ of them for loss and two sacks.
Then Epenesa earned defensive MVP honors in Iowa's 49-24 win against Southern Californian in the Holiday Bowl. He finished with four tackles, 2½ sacks and 1½ tackles for loss. His blindside sack of Kedon Slovis knocked the passer from the game and pulled the plug on the Trojans' chances.
Epenesa became the first Hawkeye since St. Louis native and Webster Groves star Adrian Clayborn (2009) to have 11½ sacks in a season. He again made the All-Big Ten first team. Multiple media outlets named him a second-team All-American. Perhaps most importantly, he shared team MVP honors with quarterback Nate Stanley.
When a recent conversation with Epenesa touched on the transfer wave affecting his sport, he did not say his wait was worth it. He said his wait is part of the reason he's here, weighing a promising NFL future against what would be one special senior season.
"I was really lucky to be able to play underneath Parker Hesse and Anthony Nelson, Matt Nelson, Sam Brincks, all those guys that were seniors when I was younger," Epenesa said. "They helped me become the player that I am. They showed me the right way to go about my business.
"They embraced me with open arms and helped me grow as a player and a person. I wasn't ever really upset about the first couple years. Those guys were good people. They made me feel welcomed even though I wasn't starting. The expectations were not any lower from the starters to me and the other defensive linemen. That pushed me to continue to grow."
Sometimes, the grass gets greener beneath your feet.