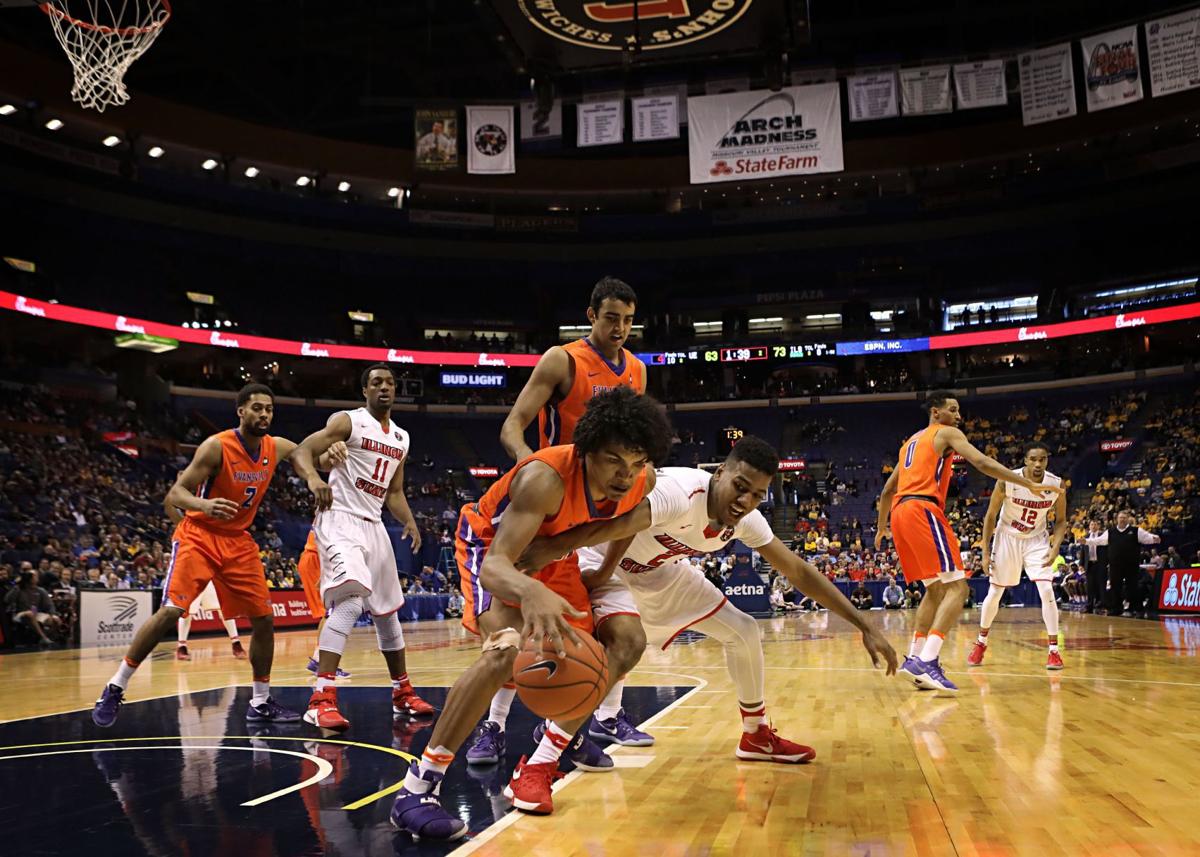 It sounds like the Missouri men's basketball team might be without its best player this season.
We're not talking about Jontay Porter's season-ending knee injury, either.
On Friday, Mizzou announced Illinois transfer Mark Smith received an NCAA waiver that granted him immediate eligibility.
Those in the know suggest the silence surrounding another transfer named Smith spoke volumes.
There is grumbling behind closed doors.
Evansville transfer Dru Smith might be the best college basketball player on the Tigers' roster at the moment. Not the best NBA prospect. And not the best in terms of potential as a college player. But the best college player right now. And it looks like the guard who averaged 13.7 points and 4.6 assists last season is going to have to sit this season.
Yes, a season on the bench for Dru Smith would be in accordance with the NCAA's archaic rules. Let's make that clear up front. But these rules are shifting before our eyes. And Dru Smith's argument for wanting to play immediately at Mizzou seems to be a convincing one, considering the NCAA's newfound leniency when it comes to transfers.
Dru Smith changed schools after Evansville changed coaches. Other college basketball players who have made that decision have received waivers. Yet Dru Smith's initial request was denied. Why?
Don't blame the NCAA for this one.
The answer is Evansville.
The NCAA denied Mizzou's initial attempt to secure a waiver for Dru Smith. A source close to the player confirmed Monday that Evansville did not cooperate with the waiver request. An Evansville spokesman declined to comment on the program's stance. It was unclear Monday if Mizzou can challenge the NCCA ruling.
There is a lot of he-said, he-said going on between Mizzou and Evansville. That's common in these situations. But the big picture seems clear. Evansville changed coaches because it wanted a fresh start, but it does not think Dru Smith deserves the same. The Purple Aces have planted a petty flag.
Increasingly, the NCAA is scaling back transfer restrictions. An area of emphasis should be establishing immediate eligibility for players who want to go elsewhere after the coach they agreed to play for leaves. Coaches jump jobs for more money. Teams fire coaches at will. Why should the players be punished?
Evansville did not lose Evansville native Dru Smith because he wanted to jump levels. This is not an example of a growing fish seeking a bigger pond. Evansville lost Dru Smith because it fired Marty Simmons and failed to persuade Dru Smith to play for Walter McCarty, the new Evansville coach Dru Smith had no say in hiring.
Please spare me the argument about not getting to pick your own boss. It will apply when student athletes become paid employees.
Simmons rebounded as a Clemson special assistant. McCarty is ready to roll. Dru Smith has to sit for a season at Mizzou. Isn't something wrong with this picture?
The softening of the NCAA's stance on transfers suggests so. Just look around — starting with a recent headline on the NCAA's own website that proclaimed the "Top 15 transfers to watch this college basketball season."
Siena transfer Jordan Horn will play immediately at North Dakota State. He transferred after Siena coach Jimmy Patsos resigned.
Washington transfer Carlos Johnson will play immediately at Grand Canyon. He went to Washington to play for former UW coach Lorenzo Romar but did not leave for Grand Canyon until his playing time decreased under new UW coach Mike Hopkins. Grand Canyon coach Dan Majerle sounded legitimately surprised Johnson's waiver request was granted. "No idea," Majerle told The Arizona Republic when asked what reasons were given. "We just filed."
Alabama transfer Braxton Key will play immediately at Virginia. Auburn transfer Mustapha Heron will play immediately at St John's. Providence transfer Dajour Dickens got the green light at Old Dominion. None of these three players could cite losing a coach as a reason to relocate. None was blocked by his former school.
Examples that should put pressure on Evansville are piling up. Here are two more telling ones:
Let's start with Mark Smith. The former Mr. Basketball from Edwardsville clashed with Illini coach Brad Underwood's system last year. He flashed early, then floundered — in part because he was sick for parts of the season. For reasons known only to Illinois, Smith and Mizzou, all parties agreed it was best for Smith to move on without the punishment of a sit-out season. Mizzou athletics director Jim Sterk has publicly praised the Illinois athletics department, specifically AD Josh Whitman, for working with Mizzou during Mark Smith's waiver process.
I wonder what Sterk would say about Evansville athletics director Mark Spencer.
There are always unknown details in these dramas, but from the outside looking in, it seems that Illinois went out of its way to do what was best for a student athlete. That's a good look.
Mizzou can say it does the same.
The Tigers cooperated with N.C. State's request to secure immediate eligibility for former Mizzou guard Blake Harris, who was cleared to play for the Wolfpack this season. Like Mark Smith, Harris could not cite a coaching change as a reason for changing teams. He just wasn't happy at Mizzou. The Tigers moved on. They helped Harris do the same.
It's not hard for teams to do the right thing.
Why is Evansville doing the opposite?
The Purple Aces should reconsider their stance, if it's not too late.
---
Quick Hits: Matter on Mizzou sports
DOES DREW LOCK HAVE BRIGHTER NFL FUTURE?
QUESTION: In you opinion is there a chance Drew Lock is a better NFL QB than what he has shown at the collegiate level?
MATTER: Yes, absolutely. We see it happen all the time. What did Tom Brady win in college? Aaron Rodgers didn't do much in college. Patrick Mahomes put up big numbers at Texas Tech. His final year there he beat Stephen F Austin, Baylor, TCU, Louisiana Tech and Kansas. That's it.
As much as people think each game Lock plays is somehow going to greatly impact his NFL future, his stock will be determined by his raw skills, his combine and workout performances, his interviews, etc. Wyoming's Josh Allen was the 7th-rated passer in the Mountain West last year and threw just 16 touchdowns - but was a top 10 pick. Why? Because he's big and can throw the ball a mile. Lock's draft stock will be just fine. If he lands with the right coach and cast of playmakers, he has the goods to have a solid NFL career. He's smart, talented and tough. Key ingredients.
WHO MAKES UP JONTAY'S LOST OFFENSE?
QUESTION: How do you think the loss of Jontay Porter for the season changes Coach Martin's offense this year? Who will take up the slack for Porter?
MATTER: There is no one player who can reproduce everything Porter brings to the team: inside scoring, outside scoring, rebounding, passing, ball-handling, shot-blocking. It puts more pressure on the young guards to be impact scorers. It puts more pressure on Jeremiah Tilmon to stay on the floor and be a machine on the glass. It puts more on Keivn Puryear to be a better scorer and presence inside. It puts more on backup forwards like Mitchell Smith to enhance their role. Everybody's going to have to elevate their game. It's a major blow, much bigger than last year's team losing Michael Porter Jr. This team might have to play smaller at times, but do we know if they have the shooting to do excel offensively with a smaller lineup? Can a smaller lineup thrive defensively in the SEC? So many unknowns with this team now.
ABOUT THE BIG DANCE...
QUESTION: With Jontay Porter out, what do you see the chances are of actually making the NCAA tourney? Do you see Mizzou being in the bottom half of the SEC this year?
MATTER: I had picked Mizzou seventh in the SEC with Jontay, so yes, I would venture to say they're definitely a bottom-half team without him. There's just a lot of unknowns with this team now. To say they're an NCAA team is putting blind faith in a lot of players doing things we have no idea if they're capable of doing this year. This looks like an NIT team to me, maybe 10th or 11th in a very deep league. At this point, I'd put Vandy and Alabama ahead of Missouri. Maybe even South Carolina. Jontay might not have been the best scorer or most talented player in the league, but you could have made the case he was the most valuable. I don't see this team completely falling off and winning only eight or nine games. But .500 is more likely now.
IS JALEN KNOX THE BEST FROSH RECEIVER?
QUESTION: How did Jalen Knox slip through the cracks in recruiting? He may be the best true frosh receiver in the nation.
MATTER: I'm not sure I'd say he's the best in the nation. Purdue's Rondale Moore and Alabama's Jaylen Waddle come to mind. Either way, Knox wasn't exactly off the radar. He had offers from Wisconsin, Baylor, Nebraska. He's the exact kind of player out of Texas that Missouri can land and can build their roster around. Three stars but not a priority target for the Longhorns or Aggies. Also, he played multiple positions in high school, so some schools might not have known for sure how he'd fit into their offense. But their loss is Missouri's gain. He has the looks of being a special player for years to come.
WILL GEIST BE ON THE MOVE FROM POINT GUARD?
QUESTION: If Dru Smith is eligible this year do you see Jordan Geist bumping over to more of the shooting guard position? People have said Geist is thought to be more of a combo guard, and Dru Smith is a point guard. But Martin seems to love Geist, Geist now knows his system, and Martin likes to have his point guard defend the other team's point guard the length of the floor which suits Geist well given his scrappiness.
MATTER: Actually, they see Smith as more of the combo guard. He's a really good shooter, the best from 3-point range in the Missouri Valley last year. He shot nearly 58 percent from the floor and 48 percent from 3. If anything, he's the guy you want taking more shots. Geist is the point guard, though Smith might be the better defender on the ball. It will all depend on matchups. If either of the Smiths become eligible they'll get to handle the ball some, too, but Martin isn't going to move Geist off the ball exclusively. Dru Smith can play all three perimeter positions. I'm really interested to see what kind of impact he has in a high major conference, whether that's this year or next.
STOPPING SNELL?
QUESTION:  On several running plays, the Memphis backs were several yards down the field before a Mizzou defender made contact. What's the concern level that Snell channels his inner Tony Sands and runs wild?
 MATTER: The big difference between Memphis and Kentucky is that Memphis has a potent passing game - and Mizzou's defense had to be wary of those downfield threats and Brady White's arm. Against Kentucky, you can stack the box more often because there's not that same threat in the passing game. Either way, that was one of Memphis' worst offensive performances in three years under Mike Norvell in terms of yards per play. Mizzou's defense wasn't great but good enough to win.
WHAT WOULD LOSS TO KENTUCKY SAY ABOUT PROGRAM?
QUESTION: This may be one of the biggest games of the Barry Odom era. A chance to beat a ranked team at home, coming off an offensive explosion with a somewhat rejuvenated fan base in attendance. I realize Kentucky is good, especially defensively, but what does a win/loss say about the status of the MU program?
MATTER: I'm not sure I follow your part about the rejuvenated fan base. There were 52,000 here for the Memphis game - about six thousand fewer than were here for the Georgia game, which means the Mizzou portion of the crowd was about the same. UGA bought its entire allotment of tickets plus clearly more from the secondary market. There weren't nearly as many Memphis fans at the game. I found this surprising: This is Kentucky's best team in more than a decade yet UK used less than 1,000 of its allotted tickets from MU at last check.
That said, yes, huge game for Mizzou. Winning this game helps chip away at the perception that Odom and Lock can't beat quality teams. It gets them one win closer to bowl eligibility and one win closer to surpassing last year's win total. Another loss and it's going to be really difficult to shed the label that Odom and Lock can't beat quality competition. After this week, there's only one team left on the schedule that would fall under that category.
CAN MISSOURI CONTROL LINE OF SCRIMMAGE?
QUESTION: Will our secondary be ready to make to make a statement on Saturday? The longest pass Terry Wilson of Kentucky threw against Vanderbilt last week was for 17 yards. Not exactly a threat. Also, any chance we see their other quarterback Gunner Hoak?
MATTER: Mark Stoops has said he plans to play multiple quarterbacks. Clearly their confidence in Terry Wilson is shaken some. He's been accurate but not terribly efficient or explosive. Kentucky's the kind of team that doesn't want to throw much unless it has to throw. This game is more about Missouri's front seven on defense than its secondary. If Missouri can control the line of scrimmage and hold Benny Snell to an average day or less-than-average day, you force UK to do what it's less comfortable doing, putting the ball in the air. Missouri's defense should have some favorable matchups.
WHAT'S RIPPLE EFFECT OF LOSING JONTAY?
QUESTION: With Jontay being injured, do you think he'll be playing next year at Mizzou? If so, does that impact Jeremiah Tilmon's decision to stay through his Junior, or even Senior year?
 MATTER: First, players really don't make stay-or-go decisions based on what their teammates are doing. It's about their future, their draft stock, their bank account - not what someone else is doing. Two, I think we've seen the last of Jontay in a Mizzou uniform. He already cost himself a lot of money by coming back to school once. He'll have time to recover and prepare for the 2019 draft. I can't imagine he'll be 100 percent by next June, but if that means he has to be a second-round pick, there could be less risk in that than returning for school another year, delaying the start of your pro career and leaving yourself vulnerable to further injury while playing for free. If you haven't noticed yet, the Porters have injury history, especially when it comes to knees. It might be in his best interest to start earning a paycheck as soon as possible.
ARE MORE CONFERENCE CHANGES COMING?
QUESTION: Do you think the SEC will ever move toward 16 member schools? I remember there being some movement on it a few years back but conference realignment has seemed to die down. What do you think the mechanism would be to trigger the next round of conference musical chairs?
MATTER: The conference TV contracts come up in a few years and if anything launches another round of musical chairs it would be those negotiations. Right now, things seem pretty stable. You don't really hear much buzz about leagues looking to expand or teams looking to leave. UCF is the school I wonder about. Their enrollment is huge. They've developed a strong football program and a rising hoops program. I could see them adding some value to the SEC or ACC in terms of pure football growth if either wants to expand. But here's the hang-up: Adding UCF or other AAC team like Houston or Memphis wouldn't add more TV markets, because you've already got those markets covered. The two Oklahoma schools would be attractive for the SEC, but for those programs, they're safer in the Big 12.
NFL-BOUND PLAYERS FROM MIZZOU?
QUESTION: Does Albert Okwuegbunam leave after this year for the NFL? I'm thinking he does but feel another year will do him good. Besides Lock, any other players on this years team can make an NFL team?
MATTER: Albert has got a big decision to make. When he's at his best, he looks like a prototypical NFL tight end prospect. He was shaky the first month of the season. Drops, fumbles, penalties. When he plays like he did against Memphis, he looks like a guy who should be a first- or second-round pick in 2019. That speed is elite for a 270-pound tight end. I think he'd benefit from another year in a pro-style offense that requires him to actually run the kind of routes he'll have to run in the NFL, but if he gets first-round feedback, he should go get paid.
Yes, I expect a handful of MU seniors to get drafted. Lock, wideout Emanuel Hall, tight end Kendall Blanton, tackle Paul Adams, D-tackle Terry Beckner, Jr., linebacker Terez Hall. Maybe guard Kevin Pendleton and linebacker Brandon Lee. Not sure about the rest.