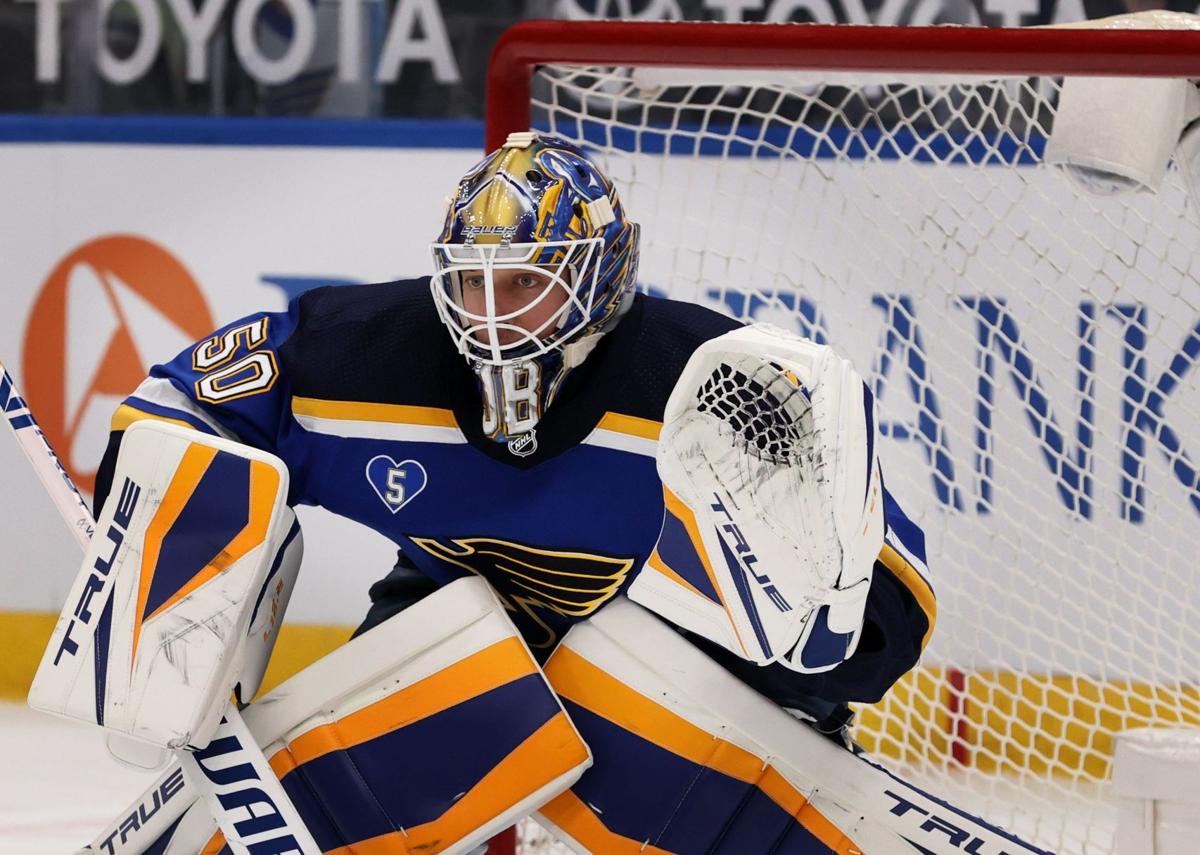 No chance. It's over. Just a matter of time.
So goes the prevailing and nearly unanimous message from the hockey experts regarding the Blues' playoff hopes this time around.
Colorado, winner of the Presidents' Trophy, will flood Craig Berube's team with goals in the first round.
Avalanche star Nathan MacKinnon won't be stopped.
And here I was thinking this Blues-Avalanche matchup isn't so bad for the Blues.
USA Today's NHL playoff power rankings have the Avalanche as the most likely team to win the Stanley Cup, with Vegas checking in third. You can find the Blues all the way down at No. 15. It's a 16-team field.
The Athletic's survey of an anonymous executive, coach and scout came to a consensus. Each one believed Colorado will dismiss the Blues. Each one said it will only take six games.
NHL.com polled 16 of its writers. Nine picked the Avalanche to win the championship. Five picked the Golden Knights to win the championship. You know how many picked to the Blues to upset the Avalanche in round one? Just one.
The last time we saw the Blues dismissed so universally, they went on to beat the heavily favored Bruins to win their first ever championship in 2019. But hey, there's been a whole pandemic since then, so perhaps memories have grown short. (To be fair, I can't remember what anyone's face looks like without a mask.)
That team's old captain now plays for Vegas. That team's old hometown hero now plays for Tampa. The Blues laid an egg in last season's postseason bubble. They're back to getting no love again. Jordan Binnington could change that. Again.
Goalies are the ultimate X-factor in the playoffs. In this postseason field, finding ones who have been tested at the highest level and passed is hard. Only five goalies in the bracket have been a part of championship winning teams. Montreal's Jake Allen was Binnington's backup during the Blues' championship in 2019. Colorado's Philipp Grubauer was Braden Holtby's backup during Washington's championship in 2018. That leaves the list of proven championship-caliber starting goalies at three: Tampa's Andrei Vasilevskiy, Vegas' Marc-Andre Fleury and the Blues' Binnington.
The Blues have had two postseasons now with their 27-year-old, $36 million goalie. One was excellent beyond imagination and ended with an unforgettable parade. Another was last season's bubble blowout, where Binnington's disappointing play set the tone for a quick exit. Act three starts Monday in Denver. Is Binnington going to be a one-hit wonder, or something bigger and better? Time to find out. His team needs him to set a resilient tone.
On paper, Blues vs. Avalanche looks like an uphill battle for the Blues. They went 3-5 against the division champion this season. Binnington went 3-4 as a starter in the regular-season series. Let's dig in a little deeper, paying special attention to No. 50. There are some factors the experts might be overlooking.
• An obvious key to the series will be the Blues limiting Colorado's power-play chances. Colorado blistered the Blues for 13 power-play goals on 38 chances this season. That's a success rate of 34.2 percent. Colorado's season average was less than 23 percent. No other team allowed the Avalanche more than 30 power-play chances and eight power-play goals. If the Blues give the Avalanche power play after power play, Binnington probably won't have much of a chance. Keep things even, and he will. The best news? The Avs can't put themselves on the power play.
• When kept at even-strength, Colorado scored only 13 goals against the Blues this season. No other team held the Avalanche to fewer even-strength goals. The Blues outscored the Avalanche 15-13 when playing at even-strength. They also had a 14-12 advantage in five-on-five play. The mighty Avalanche are 6-12 when held to two goals or fewer. The Blues have figured out how to do that three times this season, more than any other team but Vegas. It's impossible to eliminate penalties against a team as fast as Colorado. Preventing the preventable ones is a must.
• The Blues did get better at stopping Colorado's power play as the season progressed. After being embarrassed in an 8-0 road loss on Jan. 15 that included five Avalanche power-play goals in seven chances — it also included Binnington getting pulled for Ville Husso after the fourth of eight Colorado goals went in — the Blues held Colorado to seven power-play goals on 27 chances (25.9 percent) the rest of the regular season. They went 2-4 in those games, but the only loss that was decided by more than one goal included a Colorado empty-netter.
• In his last four games against the Blues, all of which were Binnington starts, MacKinnon was limited to two goals with a plus-minus of minus-2. Both of those goals for MacKinnon were power-play goals, like four of his six against the Blues this season. See what I mean about limiting the power play? MacKinnon missed four of Colorado's last five games with an undisclosed injury. He might be playing hurt.
• The Blues won their final two regular-season games against an injury-thinned Avalanche team that was missing three of its top five goal scorers due to a combination of injuries and COVID issues, most of which should be cleared up by the start of Monday's series. Binnington started both games and stopped 59 of Colorado's 63 shots. Maybe it meant nothing, considering how thinned Colorado was. But Binnington was trending in the right direction long before that. His 15 starts since the start of April have produced a goals-against average of 2.44 and a save percentage of .921. Both rank in the top three in the league among goalies with as many or more starts. Former NHL goalie Stephen Valiquette, now the CEO of Clear Sight Analytics, believes the Blues have one of the hottest goalies entering the playoffs. Valiquette's brand of goalie analytics breaks down goals allowed in great detail. He sorts them by degree of difficulty and examines the context. He believes goalies that stop the bulk of low and mid-danger shots give their teams a significantly better chance to win in the playoffs. Binnington has been doing that.
"Binnington has been the best goalie in the NHL over the last month and a half." Valiquette recently gushed to ESPN hockey writer Greg Wyshynski. "Mentally, he's the toughest goalie in the NHL right now. He's peaking right now, for sure."
Binnington at his best means nothing is impossible for the Blues.
You don't have to be an expert to know that.