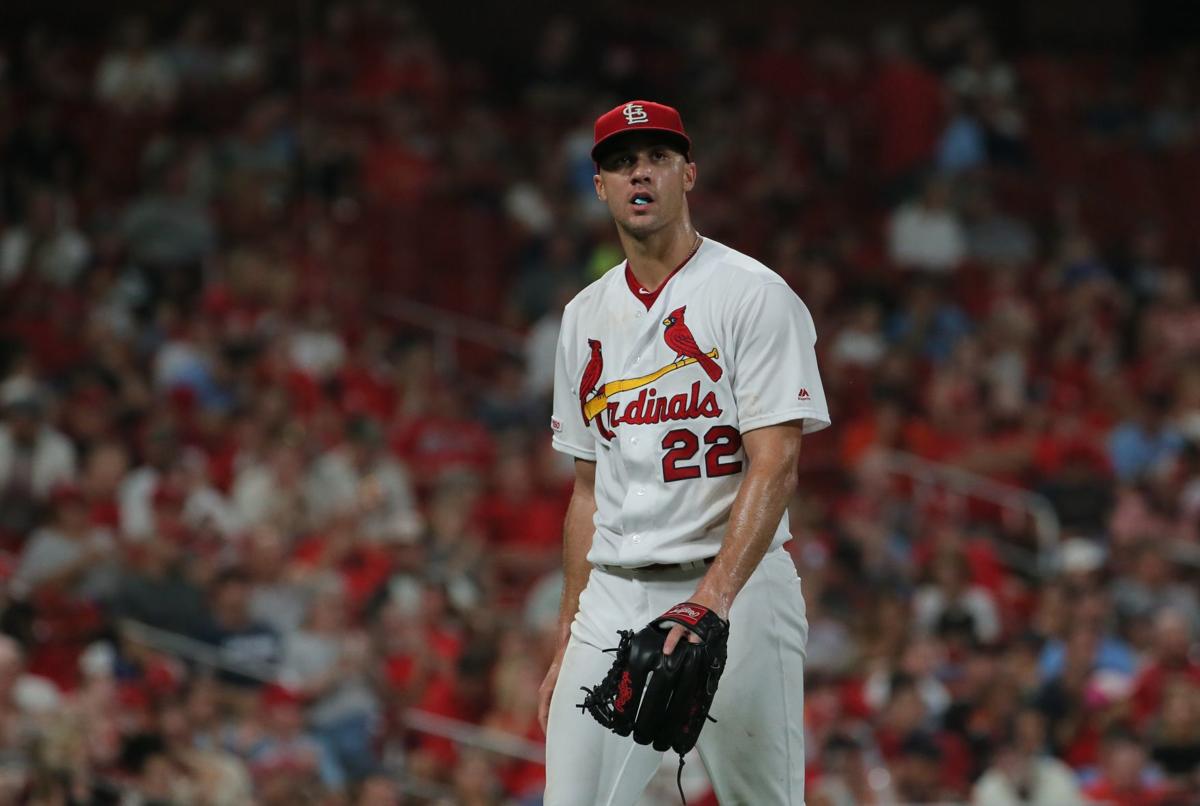 Before his career-high 29th start Sunday afternoon in Pittsburgh, baseball's most dominant starter since the All-Star break will reach down to the mound and draw a reminder in the dirt.
Tyler Skaggs is with Jack Flaherty.
From the initials marked on the back of Flaherty's cleats, to the letters he draws into the dirt before he releases his first slider, Flaherty is making a point to keep the friend he lost front and center.
"Trying to honor him the best way I can," Flaherty recently said. "Trying to carry on his legacy."
It has been nearly 10 weeks since Skaggs, a 27-year-old starter for the Los Angeles Angels and a close friend of Flaherty's, was found dead in a Texas hotel room hours before a game was supposed to be played against the Rangers.
A story that was shocking and so stunningly sad in the moment has become even more difficult to comprehend since. An autopsy showed Skaggs had fentanyl, oxycodone and alcohol in his system.
A statement from the Skaggs family seemed to suggest it thinks an Angels employee played a role in the pitcher receiving the opioids involved in his overdose death, the beginning of what could become a long and divisive legal case.
Major League Baseball and its players' union since have made plans to revisit their agreed-upon drug testing policy, which does not currently search for opioid use among major league players.
The ripple effect is ongoing.
Meanwhile, Flaherty just misses his buddy.
Like anyone who has unexpectedly lost a loved one, he wishes things could have been different.
Like anyone who has unexpectedly lost a loved one to something dark few if any saw coming, he wishes he could have done something, anything.
"Ty was one of the happiest individuals I've ever been around," Flaherty said. "We don't know what was going on with him."
Flaherty, 23, and Skaggs first met in the fall of 2014. The California ballplayers hit it off during an offseason workout program in their home state. For three to four hours a day, five days a week, a bond strengthened over the years. Their final meeting came when the Angels made a rare trip to play the Cardinals at Busch Stadium in late June.
"Seemed happy," Flaherty said about that last talk. "Seemed awesome."
As the baseball world navigates the complicated fallout of Skaggs' death, Flaherty's task is even more challenging.
He's a young man who is trying to wrap his arms around how to grieve, how to find a way to not let Skaggs be defined by the nature of his death, and how to do all of these things while maintaining a dominant stretch of pitching that becomes more impressive by the start.
"I respect Jack on a lot of levels," Cardinals manager Mike Shildt said before his club traveled to Pittsburgh. "His heart is one of them. He's a very caring person. He cares about people. Losing a friend at any time of your life is hard. Especially young."
"He carries it well. He's handled it well. I applaud the fact that he's open about his genuine affection for the loss of a dear friend."
Flaherty has decided to make his starts a celebration of Skaggs' life, and what a job he has done.
He surrendered four earned runs in 4 2/3 innings in a 5-4 loss to the Mariners the day after Skaggs died. It was a start the Cardinals were prepared to reschedule until Flaherty made his opinion clear. He wanted the ball.
In nearly every start after that one, Flaherty has been close to perfect. He owns a 0.90 ERA, a .141 opponent average and nine quality starts in 11 attempts that have combined for a team-high 70 1/3 innings since July 7.
For context, no pitcher other than Flaherty had an ERA below Sonny Gray's 1.61 over the last two months. No pitcher other than Flaherty had an opponent average below Justin Verlander's .162.
And Flaherty has been even better since the start of August, shrinking his ERA and opponent average to an MLB-best 0.59 and .128, respectively. Twice in the last month, he's left the mound after surrendering just one hit.
He's now flirting with a no-hitter every time he goes up there. He's now paying tribute to a life that ended far too soon every time he goes up there.
Flaherty honored Skaggs with his Players' Weekend uniform. Every pair of shoes in his locker has "TS" markered onto them. After his last shot at the no-hitter, an eight-inning domination of the Giants on Wednesday, Flaherty directed the attention he was receiving on social media to a video of NBA player Kevin Love discussing mental health and the stigma that keeps some from seeking help.
"Athletes, guys like him (Love), are kind of viewed as . . . maybe invincible is not the right word. But kind of like that. Untouchable," Flaherty said. "But everybody has somebody that cares about them and wants them to be happy and healthy. Everybody has to know that they have someone there who is willing to listen, even if they feel like their issues aren't that important."
Skaggs was on Flaherty's mind at the time.