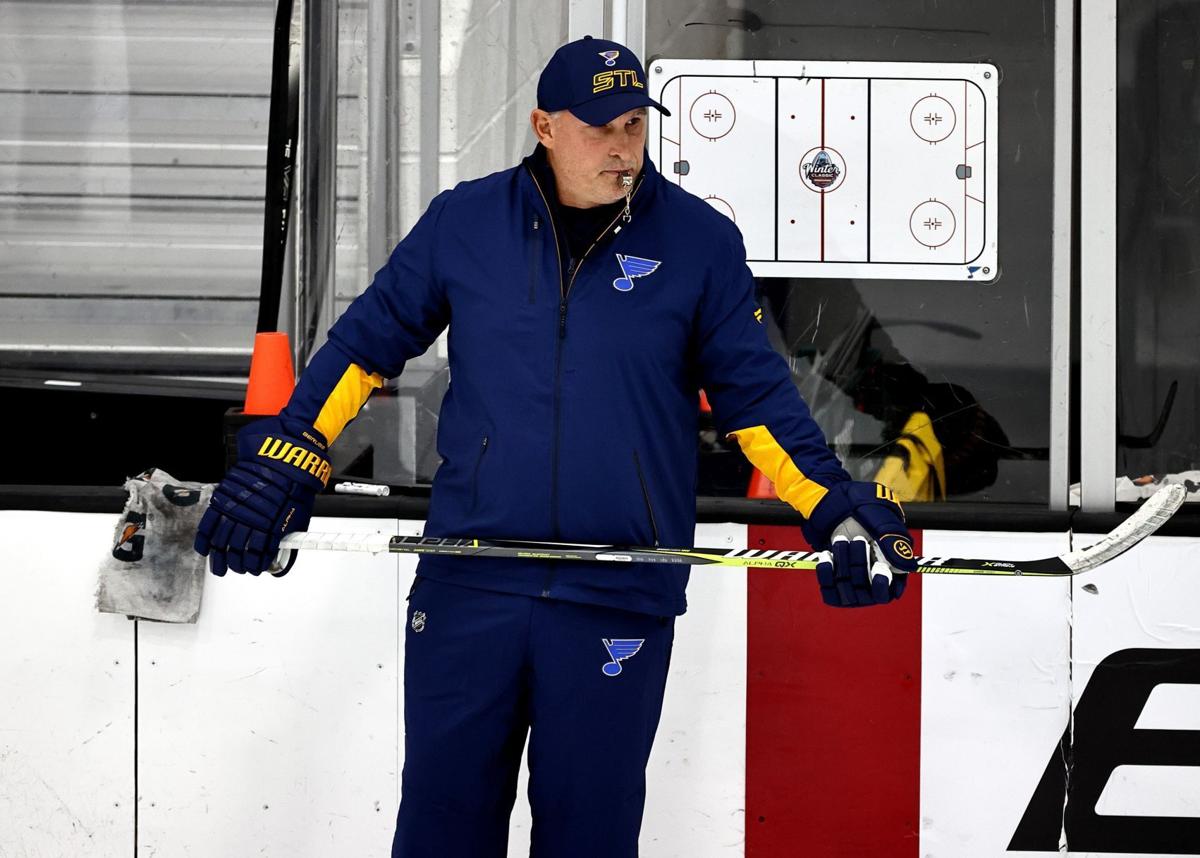 This news may surprise you.
Craig Berube is a lame-duck coach.
All of a sudden, Chief is entering the one and only year left on his current contract, the last of the three-year extension he earned after going from fill-in to the Blues' first championship coach.
Time flies, somehow even during a global pandemic.
Few teams had a wrench thrown into their spokes by COVID-19 like the Blues.
The defending Stanley Cup champs were churning and burning before the first big shutdown. They have not looked the same since. And now Berube is in the final year of his deal.
Not every lame-duck coach is on the proverbial hot seat. Then again, which NHL coach isn't on a warm chair? This is a league where the head coach is the most often jettisoned puzzle piece when a team isn't fitting together like it should.
Having a contract isn't even a guarantee to hold an NHL head coaching gig. Just ask Mike Yeo. He had a full season left on his deal when Blues general manager Doug Armstrong turned the page and gave Berube a shot.
But what about the future?
When Armstrong's five-year extension arrived this offseason and a new deal for Berube did not immediately follow, it became safe to assume this season will have a big say in what comes next for Berube and the Blues. Team owner Tom Stillman believes the championship window remains open. Translation: Pressure's on, Chief.
For the idea of Berube and the Blues to be synonymous for years to come, and the hope here is that is what ultimately comes to pass, Berube has to nail the right mix of keeping and restoring elements of the grinding, physical style that can pay off so well in the postseason while also being able to keep up with the league's fastest-flying teams. If one description fits the Blues post-pandemic, it's lost somewhere in the middle. This season's team must find a better groove.
A healthy back for Colton Parakyo would help. So would a locked-in Jordan Binnington. The goalie has not been as sharp since the pandemic started. Neither have the Blues.
Between Berube's promotion in late November of 2018 and the pandemic-caused stoppage of the regular season in 2020, the Blues posted the third-best winning percentage (.650) in the NHL between both regular and postseason games.
Between the Blues basically no-showing their bubble hockey appearance when play resumed that August and now, the Blues' .493 winning percentage in regular and postseason games ranks 19th. The Blues' postseason record during that span is 2-11. They have not escaped the first round.
Hey, who didn't let themselves go a little bit during the pandemic? But now it's time to lock back in. We have to shelve the sweatpants and get back to fitting into our blue jeans. The Blues have to get back to playing Berube-style Blues hockey, back to their blue-collar genes.
If they can't, it could become fair to wonder if it's time to play another coach's brand of hockey.
Berube is beloved for his role in the championship run. He's as tough as $2 steak and can ask his players to put their bodies on the line because that's how he played. He has their trust and respect. He knows when to challenge and when to put an arm around a shoulder. He knows how to pepper in a little fun.
For example, see his recent joke about cutting David Perron's ice time after the veteran made a tape outline of Berube following the coach's wipeout during practice.
Berube and Armstrong are on the same page. Trust is strong. Vibes are good. So good it would not have been a surprise if Berube received an extension before the season. But one didn't come. That says something.
Shared respect is not always enough for an NHL coach to keep his job. Ask Ken Hitchcock. He's back with the Blues, in part to help out Berube, after his old pal Armstrong decided he had to let him go to promote Yeo.
The business is the business, and it's a fickle one. If Berube is going to be an outlier with the Blues, this season will have a big say. Already some key coaching challenges have become obvious.
The Vladimir Tarasenko Situation could be a disaster. Or maybe it leads to a heat-seeking rocket of a performance from a healthy and motivated No. 91. Berube's handling of the disgruntled former star will either help, or hurt. For now Berube is taking the arm-around-the-shoulder approach, suggesting Tarasenko's offseason of trade requests can be forgotten. Don't underestimate the complexity of keeping the volume turned down on the drama Tarasenko created. It will take touch.
Some important new faces need to fit in fast. Pavel Buchnevich and Brandon Saad have been praised as sharp pick-ups by Armstrong, but they will need to avoid the one-year settling-in process that seemed to affect both Justin Faulk and Torey Krug. A lot of that hinges on how they are used and with whom. Berube decides these things.
Some young players need to thrive. Berube has to strike the right balance between coaching youthful mistakes out of guys and overlooking a few when the upside is worth the learning curve. This would be a really great season for the Berube-is-too-hard-on-young-players narrative to bite the dust.
If Berube can navigate these challenges and steer his team back toward playing with the toughness and togetherness that made him a St. Louis legend, the NHL's tiresome coaching carousel can spin on elsewhere.
Berube and the Blues really do seem to belong together, but his lame-duck season needs to confirm it.