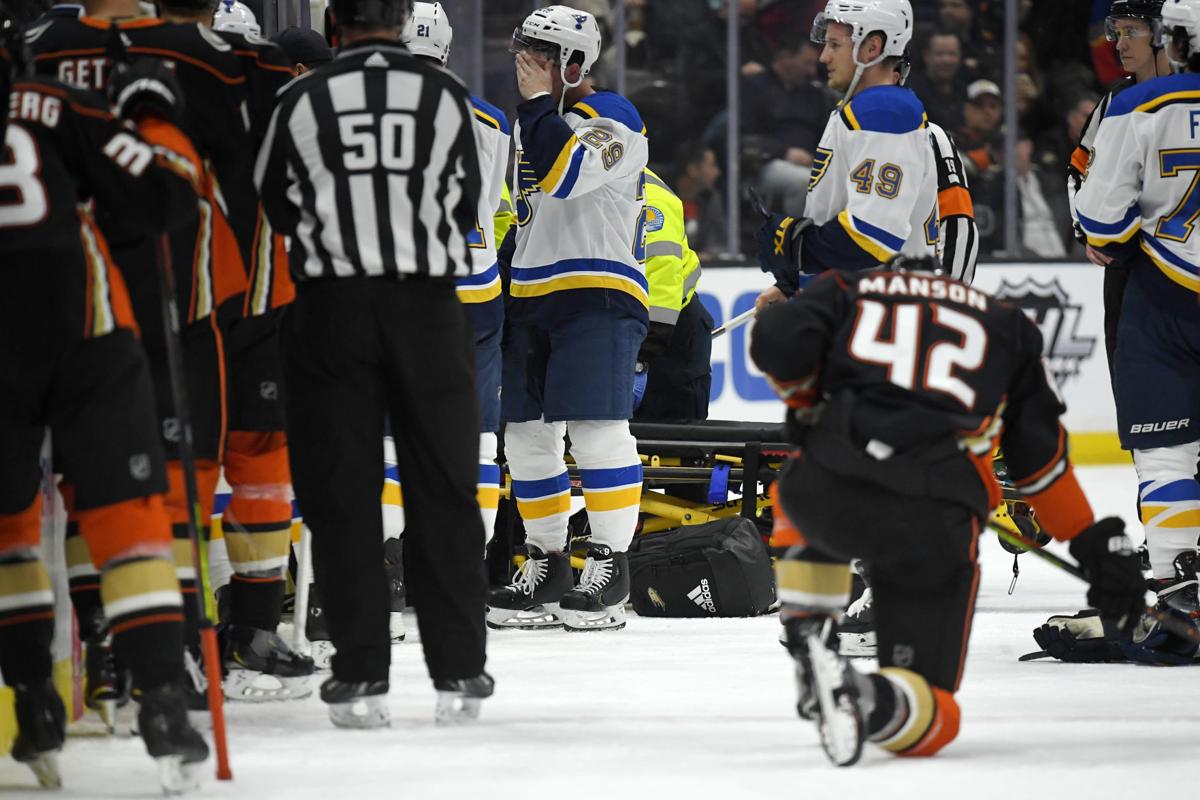 Leave it to Jay Bouwmeester's signature combination of wit (quick) and sense of humor (dry) to lift a terrified team.
A few horrible hours after the Blues veteran collapsed face-first on the bench during Tuesday night's road game against Anaheim, a shaken team was allowed a quick FaceTime call with the hospitalized defenseman.
Blues broadcaster Darren Pang shared the story during a recent KMOX interview. Bouwmeester provided the punch line.
"I got 41 texts," Bouwmeester joked to his teammates, per Pang. "I never get this many texts."
For the first time since that terrible Tuesday, it feels safe to exhale.
The Blues say Bouwmeester is doing as well as can be expected for someone who just suffered an emergency cardiac event.
We can only wonder about the state of his teammates, who attempted to process a near-tragedy in time to play in Thursday night's 6-5 overtime loss to the Golden Knights in Las Vegas.
We must give thanks that Bouwmeester felt good enough to barb his teammates so soon after the incident. We must give thanks that players, trainers and doctors, no matter which logo they were wearing, came together to save a life. We must give thanks that the Blues had their dads on this trip, so fathers could comfort terrified sons. We must give thanks that the information made available is optimistic, all things considered.
We can't yet know why it happened. We can't yet know if or when Bouwmeester will play again. We can't yet know a lot of things, including what it was like for the Blues to resume play.
A team that has handled every bit of adversity thrown at it during its rise under coach Craig Berube has encountered its biggest obstacle yet.
Climbing back from the edge of elimination last season to win the Stanley Cup was historically resilient.
Refusing to be satisfied with or derailed by a championship celebration more than five decades in the making showed some serious mettle.
Keeping a grip on the Central's steering wheel despite playing without star forward Vladimir Tarasenko for 46 games and counting scored some credible character points.
Those things cannot be compared to this. Injuries and losses happen. What the Blues feared, for a few terrifying moments, was a teammate lost for good.
Postponing Tuesday's game was the right call. Expecting the waves of emotion that have washed over the Blues since then to subside by Thursday was impossible.
Berube's team has no choice but to work through this. Earth keeps spinning even after something reminds us how short our time on it could be. Games have to be played. One foot in front of the other. Skate, boys, skate.
On understandably shaky legs, the Blues returned to a slump. What was an 11-point lead over the second-place team in the Central one month ago has been gobbled up by the Avalanche. Entering Thursday's game, the Blues were 2-5-2 since a four-game winning streak ended in an overtime loss to the Flyers on Jan. 15. They had been outscored 35-25 during that time, and had allowed four or more goals six times in those nine games. Compared to the 48 games they played before their most recent nine, they had averaged a half-goal less per game while allowing an average of one more goal per game. And this was before the Anaheim nightmare.
Bouwmeester had been one of eight Blues to appear in every game this season. He has been a plus-6 defenseman, trailing only captain Alex Pietrangelo in ice time. His 68 blocked shots rank third on the team. He is a key cog in one of the league's top-10 defenses.
More importantly, Bouwmeester is a 17-year veteran who can turn to his internal hockey Rolodex for any situation the Blues encounter on or off the ice. His steadiness might be his biggest strength. His 1,240 games played rank sixth among active players, a body of work that included 737 consecutive regular-season games during an ironman run that ended in 2014.
The 36-year-old is inspiration on ice. So many aspects of his life — his carefully monitored diet, his personalized and lengthy pregame preparation, his rigorous and notorious offseason bike rides — revolve around his determination to keep up in a league that has grown younger and faster since he entered it as a 19-year-old in 2002. If that had not been properly appreciated before, it sure was last season, when Bouwmeester returned from a hip injury and pushed through a rocky patch of play to find his groove during the Blues' championship surge.
It's still too early to know if Bouwmeester can push his way back from this. This is not a matter of will or desire. This is about what is best for a father, a husband and a son.
The Blues' challenge now? Play through the pain. Do it for Bouwmeester. Draw inspiration from the mending ironman, whether he is on the ice, on the bench, or cracking jokes from a hospital bed.
This is the hardest challenge Berube's Blues have faced.
Even the toughest hockey players have hearts.
The latest STL Blues hockey news, NHL headlines, scores, standings and rosters.