The boys once told her no.
Now she will coach and coach against the best male basketball players in the world.
The St. Louis sports hero has done it since a little girl defied her brothers' basketball teasing.
"Too small," they jeered years ago. "Too slow."
"I always looked up to playing my brothers," Ivey recently said by phone. "That's where my passion for the game originated."
Look at where it's led her.
Ivey lifted her Cor Jesu team to a Missouri state high school championship in 1995. In college, she helped Notre Dame win its first national championship under Hall of Fame coach Muffet McGraw. That was in 2001. She went on to play five seasons in the WNBA. Since returning to her college alma mater to coach in 2007, Ivey became McGraw's top assistant as Notre Dame made seven Final Four appearances, six of which turned into title games. One became another championship victory, in 2018. Many believe Ivey will be the future head coach at Notre Dame. And maybe that happens.
But Ivey, 41, recently made history again when she became the first woman on the coaching staff of the NBA's Memphis Grizzlies. As their new assistant coach, Ivey is just the ninth woman ever on an NBA coaching staff. Her strong background in player development and the youth movement on Memphis head coach Taylor Jenkins' team made Ivey a perfect fit. It also helped that the Grizzlies selected Murray State point guard Ja Morant with the No. 2 pick in this year's draft. Ivey knows a thing or two about that position.
The Post-Dispatch recently caught up with Ivey. The following Q&A has been edited for space and clarity. If you're reading this, she hopes you make the trip to see her on the Memphis sideline this season.
P-D: Congratulations, Coach. Was this jump from the women's game to men's something you always had in mind?
Ivey: "I just wanted to get out of my comfort zone, to be honest. I've had the opportunity to learn from a Hall of Fame coach for 12 years, and I feel like this was an opportunity for me to even grow more. Coach McGraw is always learning, always growing. And when this opportunity presented itself, she was the first person I told. This was a great opportunity for me to learn. And then it comes with the whole, you will be a trailblazer, and all of that stuff. But initially, just learning from a different level. Being in one place for a long time, I've always wondered how so-and-so runs their program, or how they implement their offense. I can't wait to absorb so much information. When you surround yourself with greatness, it can only rub off."
P-D: You have said you can offer a unique perspective to the NBA thanks to your time coaching the women's game. Some would argue that basketball is basketball. What's the difference, and why can it be a strength for the Grizzlies?
Ivey: "Where I learned, fundamentals were really, really important. I learned to perfect things in a very detailed manner from the women's game, because we didn't play above the rim, you know? Everything had to be detail-oriented. Our fundamentals had to be solid. The way we set screens. Passing. Angles. Ball handling. Shooting. All of those things, very, very fundamentally sound. We didn't have athletes that you could just throw a lob to. We have to have talent and athleticism, but we didn't have that (kind). So, my perspective is a little bit different."
P-D: Speaking of player development, your son, Jaden, is a basketball player who has committed to Purdue. How did raising and coaching him help prepare you for this new job?
Ivey: "When I wasn't coaching with Notre Dame, I'm in the gym with him. Watching his practices, watching his AAU practices, watching how his coaches interact with him. Being there, being a voice of reason for him when he was struggling with things, or figuring out how he sees the game. I've had opportunities to observe and watch USA Basketball. I've had five or six days just sitting in the gym watching really great individual skill work, individual talent. That's definitely something that made me more comfortable."
P-D: Can you describe the reaction you have received since the news of your hiring in Memphis?
Ivey: "It's been such a positive response. My phone is still blowing up. It speaks volumes to the basketball community, men or women. Memphis completely embraced me. I've had such great feedback from fans, family and friends in St. Louis, people who have followed my career. There are a lot of new Memphis Grizzlies fans. It's brought positive attention. For me, that's awesome. I knew the magnitude of it, because I talked to Coach McGraw about it. It's really awesome to feel that I'm inspiring young girls, young women, a lot of people. That is what it's all about. It's something I'm going to embrace. It's a door that was opened for a reason. I want to make everyone proud, and do a really good job."
P-D: There is some symbolism in your story, right? The little girl whose big brothers used to try (and fail) to keep off the court is now coaching in the NBA.
Ivey: She laughed, and agreed.
"We were playing in Fairground Park in north St. Louis. When I was younger, I would tag along and watch them. That's where it originated from. Then, when my brothers were at Chaminade, I would be the little girl on the floor, trying to shoot at halftime. The student body would cheer me on. It's so funny that it's all come full circle."
---
Quick Hits from BenFred
BYE-BYE, 'BUDDHA'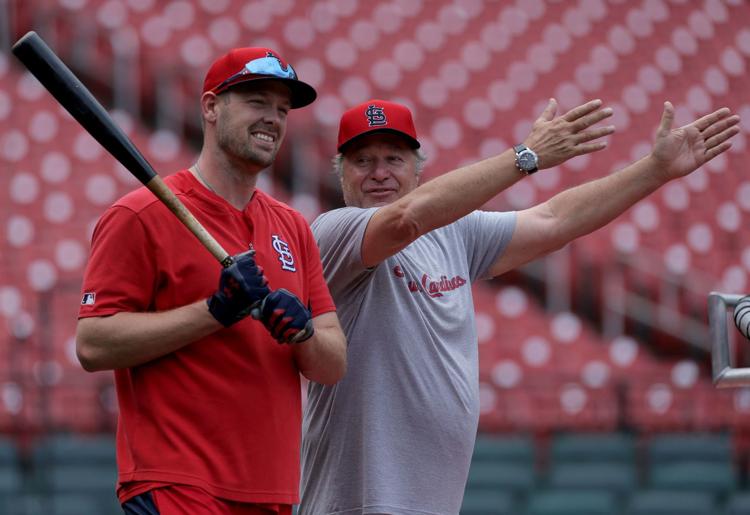 QUESTION: Doesn't the timing of assistant hitting coach Mark Budaska's firing seem a bit weird?
BENFRED: You think? Also kind of weird that the stated reason was that the hitting coach and the assistant hitting coach were not meshing on philosophies. You would think that would have been figured out before there were fewer than 50 games left in the regular season.
When hitting coach Jeff Albert was hired, there were questions about how his modern, video-heavy, big-picture approach would mix with Mark Budaska's more old-school, simplified ways. The hope was that it would become a yin and yang for hitters. More like oil and water, it appears.
There was some foreshadowing. Some of the comments about Harrison Bader's struggles at the plate this season were attributed by at least one coach to "a lot of voices in his ear." If those voices were giving him different advice, you can see how that could scramble a young hitter.
The Cardinals and Mike Shildt made it clear which path they're taking. Albert's way is their way now.
JUDGING JEFF ALBERT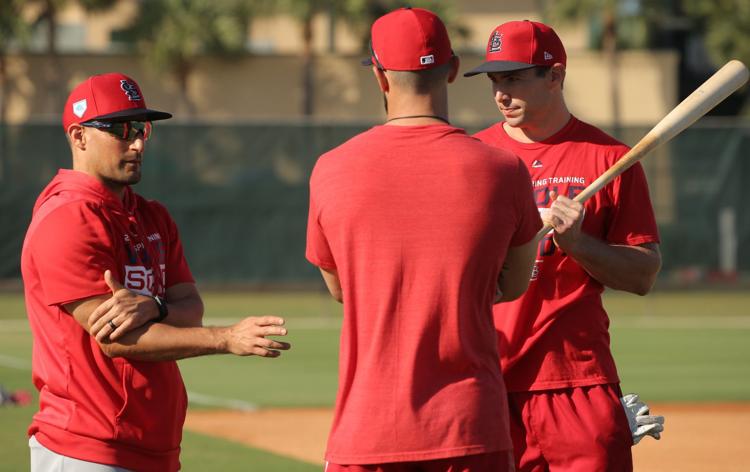 QUESTION: Isn't Jeff Albert going to be judged on the whole organization hitting philosophy thing? His position really isn't going to be evaluated based on major league results in his first year, right?
BENFRED: How is it supposed to be evaluated, then? Jeff Albert is in St. Louis, in the Cardinals' dugout, every game. He is the head hitting coach. If it's not right to judge the results the Cardinals' lineup produces, what should be judged?
I would understand this argument if Albert was hired for a roving job that spent its time building things from the minor leagues,up. But that's not how the Cardinals constructed this role. I'm not saying Albert's fate hinges on this season. Clearly, the Cardinals are confident in his direction, based off the firing of Budaska.
But if the Cardinals continue to scrape the bottom of the NL in all hitting categories, I don't think it will be that long before Albert finds himself on the hot seat.
MUSICAL CHAIRS IN THE OUTFIELD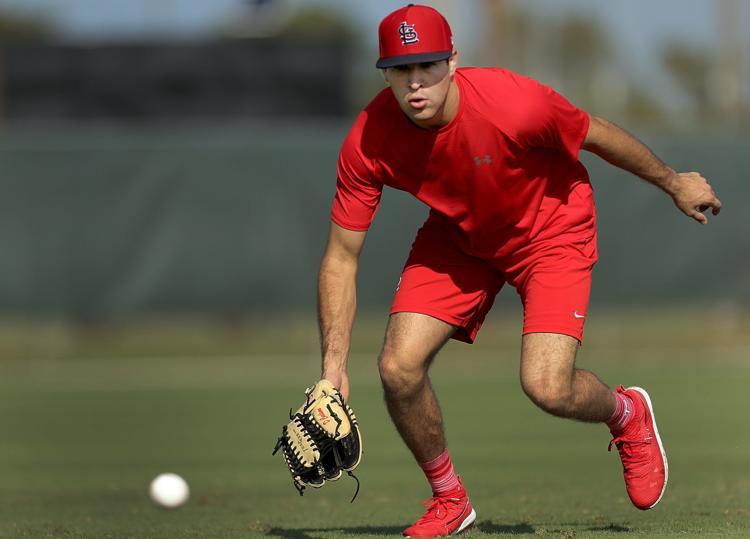 QUESTION: The future of the outfield seems cloudier than ever. Is there one player on the current 40-man roster that is a lock to be a starting outfielder next year? Two players?
BENFRED: This question, or a version of it, has been asked a lot in the chat, but the truth is it's a moving target. We are finding out in real time. Randy Arozarena is up. Lane Thomas is finally getting some action. Don't we want to see how these guys look before deciding anything about 2020?
The Cardinals would like to. The Cardinals are trying to decide which outfield to start today.
I don't get the sense the Cardinals have dismissed the notion of Bader as their starting center fielder in the future. Fowler might be more move-able now that he's hitting better, but he has the full no-trade clause and a contract few teams will be rushing to add, unless the Cardinals pay a portion.
Ozuna is likely gone via free agency unless the Cardinals show some sign of wanting to re-sign him; we haven't seen any signs of that yet. Arozarena, Tyler O'Neill, Dylan Carlson (above), Thomas are all going to want a spot. The logjam is real.
COULD OZUNA BE REPLACED? CARDS SEEM TO THINK SO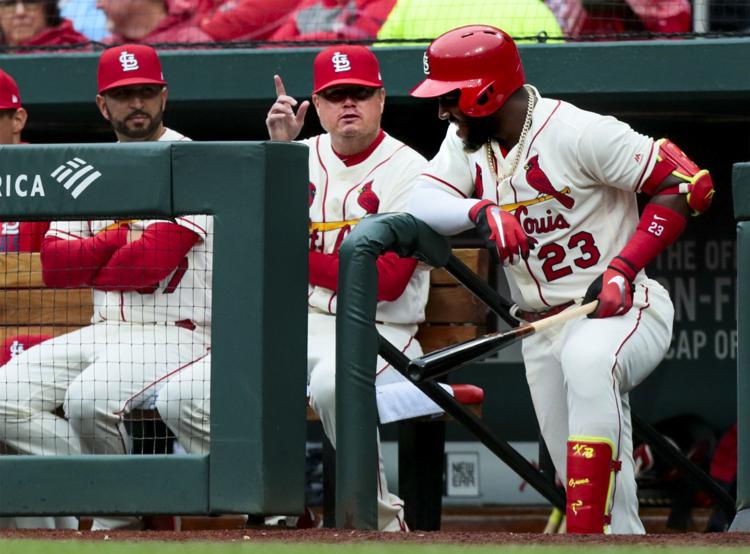 QUESTION: How is it possible the Cardinals could let Marcell Ozuna walk after this season? He's their best outfielder surrounded by a bunch of question marks.
BENFRED: Here's how: By handing him a qualifying offer and telling him they would love to have him back in that capacity if he chooses to return.
I see the case for pursuing Ozuna beyond this season. Certainly. (But) I don't think it's something that next season hinges upon.
More important than what any of us think is that the Cardinals haven't shown much public interest in recruiting Ozuna beyond this season. He's made it clear he would love that. What signs have been sent back his way? Compare the handling of his contract season to, say, Goldschmidt's. The Cardinals were openly recruiting Goldschmidt since day one.
Entering Tuesday's game, all but 13 of Ozuna's 888 at-bats have come at cleanup since he joined the team in 2018. During that time (2018-19) the Cardinals have ranked 18th in MLB in OPS from the cleanup spot (.804). That's ninth in the National League. OK. Not world-changing.
Ozuna is leading the team in RBIs this season. But when you look at the context of his two seasons, the questionable handling of his shoulder issue last season and the obvious tension between Ozuna and the team regarding how he handles training and treatment this offseason, I don't think the Cardinals believe Ozuna is a player who can't possibly be replaced if they need to replace him, either from within or outside.
WHY NOT WONG LEADING OFF?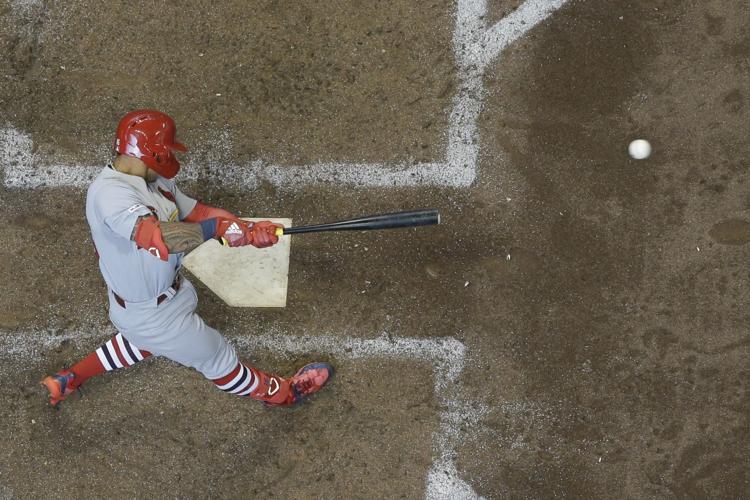 QUESTION: Why do the Cardinals refuse to give Kolten Wong a meaningful shot at leadoff, since he's been on fire since the start of June?
BENFRED: A few reasons Shildt has explained multiple times, though you don't have to agree, and he gets that:
He likes the switch-hitting aspect Fowler (and Edman) bring to that spot. He likes Wong down in the order to lengthen the lineup. He agrees Wong has the numbers that suggest he deserves a chance.
And then there's the thing no one will say, but let's discuss it.
With Wong, there is a sense that maybe it's best to let him alone when he's playing well, like he is now. Change his spot drastically, and he might feel the need to change, even if he doesn't try to.
Personally, I'd like to see what Wong could do up there. Wong knows his numbers are prime for that spot, but he's not going to campaign for it, like he probably would have done in the past.
It's puzzling to me that the Cardinals have limped through a season with one of the league's worst leadoff production percentages and not given many chances to the guy whose production (and speed) has screamed for a chance.
DOES COMPLAINING ABOUT CALLS HURT CARP?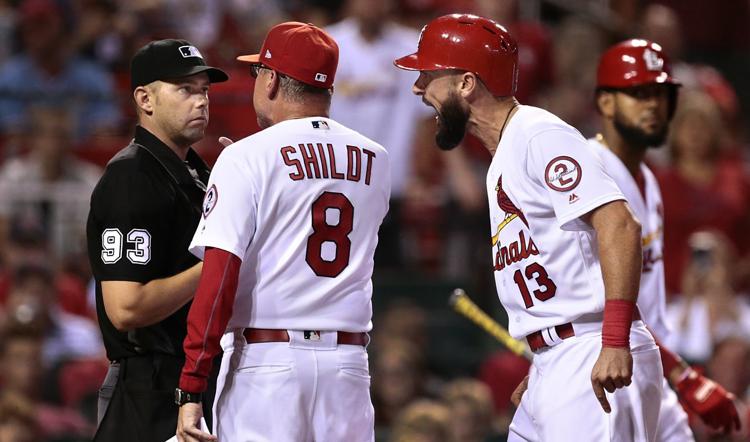 QUESTION: Carpenter whines a lot about ball/strike calls. Do you think some umpires, maybe intentionally, hold that against him and make most close calls go against him?
BENFRED: There's a human element to the umpire-hitter relationship, right? Guys who don't complain much tend to make more of a statement when they do. Guys who complain on every pitch they don't like tend to get ignored.
But do they get umpired against? That would be unprofessional, but we have lots of instances of umpires not being as professional as they should be.
I have no proof that it hurts him because he argues, but there have been stats in the past that show Carpenter has received more strikes called on pitches outside of the zone than many of his peers. Put it this way: The complaining -- especially when the ball is actually a strike -- probably doesn't help him much.
There are times when Carpenter can work a count deep, take a called third strike, then return to the dugout, watch the replay and see that the third strike should have been a ball. It's not like he gets to then jog out to first base. Being right is not as good as being on base.
---
Follow-up: Carpenter does great against AL teams, especially the Royals. Why not trade him to a team in need of a DH?
BENFRED: Perhaps. Although those AL teams are also aware of how Carpenter has hit since last September. Over his last 400-plus at-bats since last season's surge, he has slashed .206/.320/.339. In more than 50 at-bats against AL teams during that span, he's slashed .192/.259/.327. Those numbers don't scream DH to me, especially not for $18.5 million per year through the 2021 season.
CARDINALS LAGGING IN TALENT EVALUATION?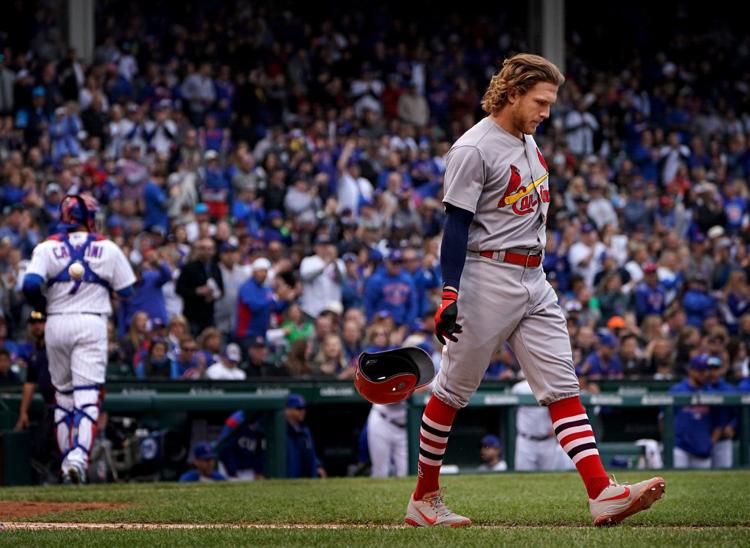 QUESTION: Should Cardinals fans be concerned with the organization's talent evaluation? The Astros, Braves, Dodgers and Yankees seem to keep churning out star players. Where are the Cardinals' home-grown studs?
BENFRED: Is it misfires in talent evaluation, or misfires in talent development that has slowed down the Cardinals? Perhaps some of both, right? I agree that these are questions the organization needs to answer.
The Cardinals' model is one of development. Fill from within. Give young talent a chance before seeking help outside. That has worked for a long time, so much so that other teams have modeled themselves after the Cardinals.
But when you have a flurry of young players who pop at the major league level, then fall back, it's fair to ask why. It's smart to ask why. Randal Grichuk, Aledmys Diaz, Tyler O'Neill, Harrison Bader are examples of some young players who looked ready, then regressed.
Growth at the MLB level is not always linear. It's almost always hard. But the Cardinals should be concerned -- and they are -- about why some of their players reach the majors but then struggle to stay there. Paul DeJong has done it. It can be done.
Another thing: When comparing how the Cardinals' prospects pan out against other teams', you also have to look at where the Cardinals drafted compared to those other teams. That's not an excuse. It's a legitimate difference.
Teams that tanked, like the Astros, have been rewarded with prime draft picks. Teams that attempt to compete annually, like the Cardinals, are punished by the current draft system.
WHY THE CARDS WON'T GO HARD AFTER FREE AGENTS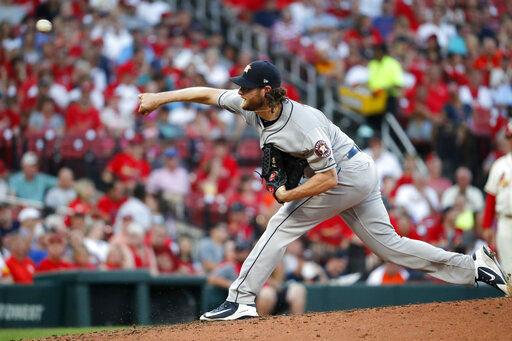 QUESTION: How can the Cardinals improve the club for next year without going hard at free agency? They can't return without a rotation upgrade and definitely can't move forward with a terrible offense that could be minus one of their best run producers in Ozuna. The farm is also weak. Am I missing something?
BENFRED: You are missing the Cardinals' proven self-imposed limitations when it comes to free agency. They are against the long-term contracts that the top free agents tend to demand. That limits the pool to smaller splashes.
---
Follow-up: If the Cardinals don't wade deep into free agency, how then do they improve this club for 2020? Your answer tells me you don't think they do improve unless the veterans miraculously play better, or unless they make a series of small splashes.
BENFRED: I'm simply pointing out the assumption that the Cardinals are going to fish (successfully) in the deep end of free agency is one that seems to be made every offseason, only to leave those who believed it disappointed. The Cardinals have a hard time justifying the lengths of deals the best free agents often get, so they tend to be less competitive than the teams who are most desperate to sign those free agents.
So, no, I don't think it's realistic to expect the Cardinals to go out and beat the rest of MLB for Gerrit Cole, for example.
The Cardinals will try to improve. They might pay some guys to go away, which is rare for them. They could free up opportunities for young players they feel are ready to make a difference. They could make trades using their outfield excess. They won't ignore free agency, but I don't expect them to flood that market with cash and years of commitment either.
Another thing: Some of these answers are going to be sorted out through the rest of the season, and if the Cardinals miss the postseason again, there could be a chance some of the decisions about the 2022 roster are being made by different people.
The Cardinals have made it a a trend to refresh leadership positions after missed postseasons, and I don't know why it would stop after four consecutive misses.
EDMONDS IN THE DUGOUT?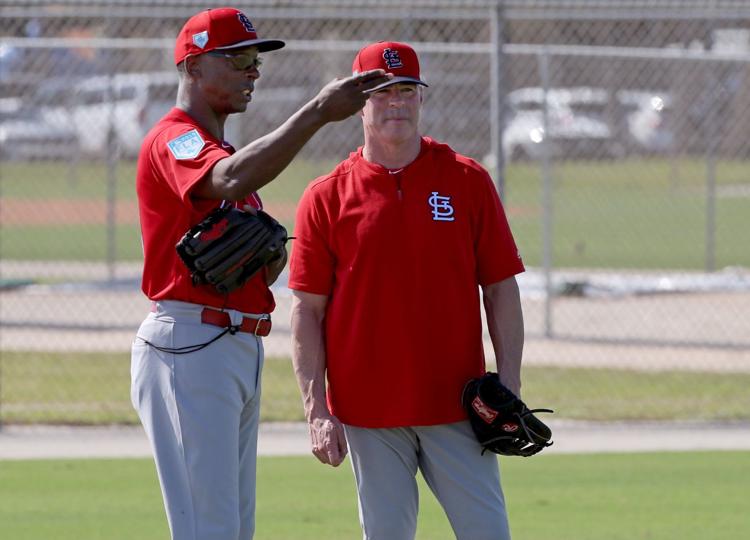 QUESTION: Does Jim Edmonds have a desire to work in the dugout? The players clearly respect him and seek his advice.
BENFRED: When I asked him that this spring, his reservation -- beyond his emphasized respect for the current coaching staff already in place -- was the time requirement. Clearly, he loves being around the guys and has help he can offer.
Being back at spring training in his front office role was a real joy for him. I could see him becoming a hitting coach eventually, but that's not something you show up for once in a while, and he knows that. It's a grind.
He loves the game and knows the game more than most will ever hope to. With the change in hitting coaches, his name is going to be discussed in these chats a lot. But unless he wants to make that full-time commitment, I'm not sure there's much to discuss.
BARBASHEV AND BLUES: HOW FAR APART ARE THEY?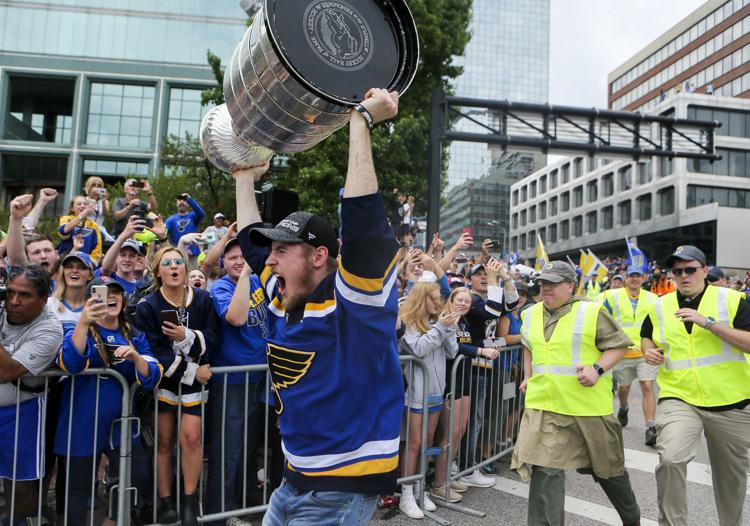 QUESTION: How long does Ivan Barbashev have to accept the Blues' offer? When can the Blues walk away from their offer to Barbie and sign another player?
BENFRED: A player in Barbashev's situation has until Dec. 1 to return or be blocked from playing during the season. Armstrong told me it's a "one phone call away" issue and that the sides are not far apart.
But when he started comparing Barbashev to Vladimir Sobotka, and mentioning the potential of Barbashev spending his season elsewhere (KHL), it didn't sound exactly like one-phone-call-away stuff.
WHAT WILL CARDS DO WITH WACHA AND REYES?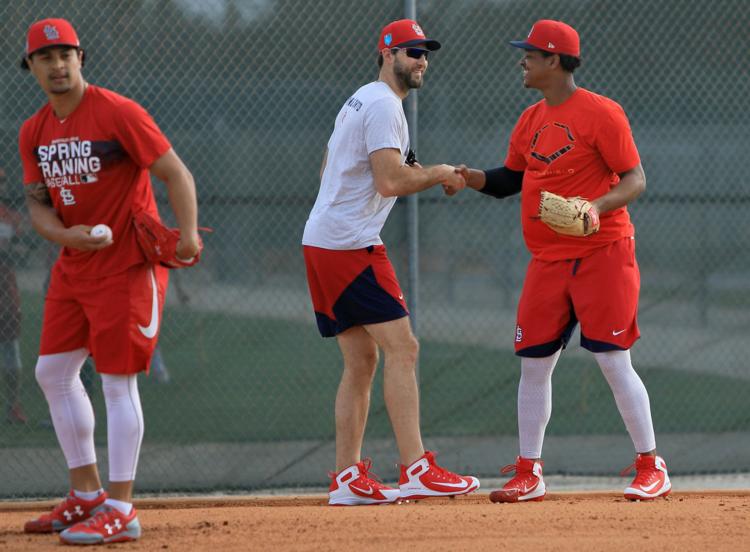 QUESTION: Wacha has to be happy that the Cards didn't get anyone. He gets another opportunity going into his FA. His price cannot be high. Any reason to bring him back?
BENFRED: I think it's time for the Cardinals to turn the Wacha page. Good teammate. Good man. But if the affordability is the strongest selling point, move on.
---
QUESTION: What will the Cards do with Reyes? Always hurt. Lost years.
BENFRED: It's tough. His body continues to betray him, and this season his control issues really subtracted from his performance when he was healthy.
He's not going to cost much to keep around, and his potential is still sky high. Some are ready to give up on him, cut ties. I think you try again. It would be a killer to see him finally break through somewhere else, after all that was invested. He's still just 24 years old.
WHY DID CARDS PASS ON BADER/O'NEILL FOR WHEELER?
QUESTION: If the Cards have so many promising young outfielders (Thomas, Arozarena, Carlson) coming up, why did they not trade Bader or O'Neill for Wheeler? They would have had a chance to extend him.
BENFRED: That potential deal was not just a one-for-one. It was not Bader for Wheeler, or O'Neill for Wheeler. Per P-D colleague Derrick Goold's reporting, it was O'Neill (and prospects) for Wheeler, or Bader (and prospects) for Wheeler. What the additional prospects were, we don't know. That makes a difference. If they were minor names, and they probably were due to the headliner of the potential package being Bader or O'Neill, then some will argue they should have made the move anyway.
Personally, I thought the Cardinals should have aimed bigger than Wheeler. He had not been all that good before the trade deadline, and he had not been healthy, either. And he was a rental, headed for free agency unless the team that traded for him convinced him to sign an extension. Now that Wheeler has not given up a run in back-to-back starts, my opinion on Wheeler looks a bit low, doesn't it?
The Cardinals clearly thought he could help, enough so that they found out what it would take to get him. But they balked on the cost of the rental. This is the box the Cardinals have placed themselves in. They wanted to help their team at the trade deadline, but not enough to make a trade that had risk for the present and hurt for the future.
Hard to make trades that way, especially when you add in the lack of interest in trading top prospects and the lack of interest in trading from the major league roster. Not many moves to make.
MAJOR LEAGUE SECRECY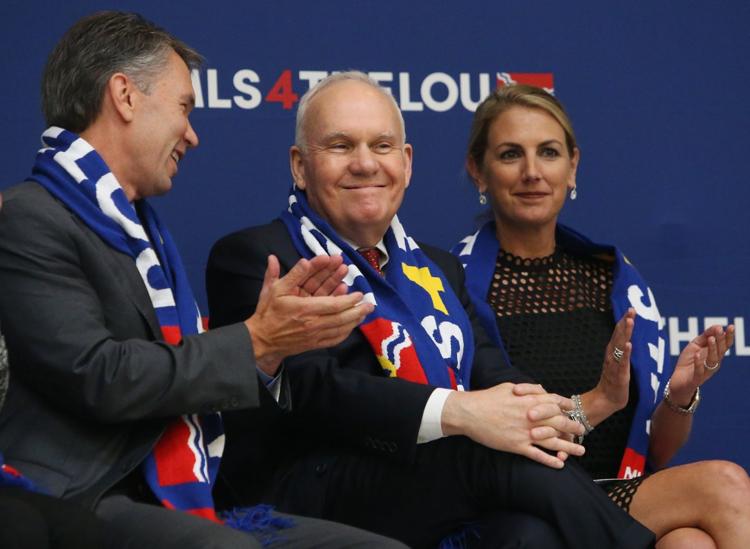 QUESTION: How about some MLS info? Is progress being made? Any idea when announcement may come?
BENFRED: Great questions. No answers at the moment.
There has been speculation something could happen this week, but let's be honest, there has been speculation something could happen this week, for weeks. I don't have anything new other than the usual -- the people close to it are confident it will happen, and the people one step removed from it but closer than most are confident saying it will get done. Stay tuned.
ONE WAY FOR THE XFL TO GET NOTICED
QUESTION: Should the XFL try to lure a top college player like Trevor Lawrence to its league to take advantage of the NFL blocking younger players? Would it work?
BENFRED: The XFL should absolutely try. But the XFL better be dropping a life-changing amount of money on a guy to convince Clemson's starting QB to hitch his development to the XFL instead of one of the top two college programs in the country.
This is fun to talk about. Chances of it actually happening? I'd say 0.01 percent.
Check out what Kyler Murray is making. Unless the XFL can compete with that, and overpay for the risk of taking a non-traditional route, this will be a non-starter when it comes to premier college players.
Be the first to know
Get local news delivered to your inbox!