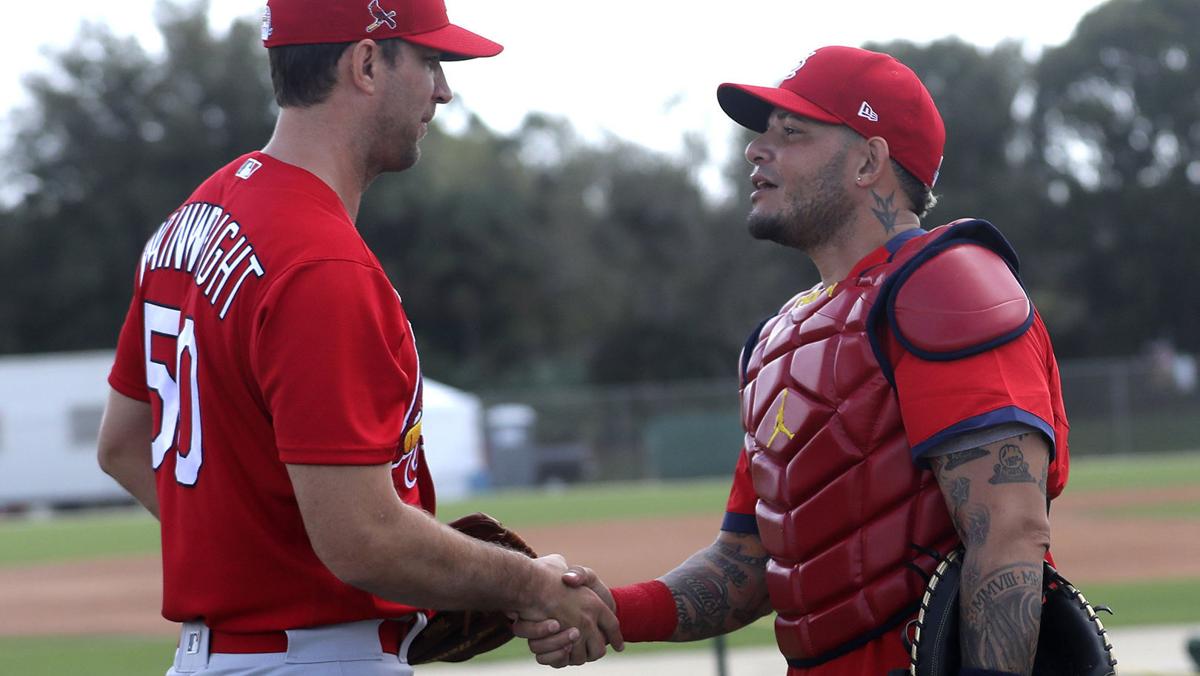 Even during a pandemic, Christmas spirit can't be stopped.
I like to think of myself as a shining example.
For the first time in my life, I got my shopping done early.
I even wrapped one of the presents myself. It looks like an unmade bed of wrapping paper, sure, but it's the thought that counts, right?
If you thought COVID was going to derail our annual Post-Dispatch tradition of passing out gifts to members of the St. Louis sports scene, think again.
I dropped these presents in the mail last week. Hopefully they showed up on time.
The City of St. Louis, St. Louis County, and the St. Louis Regional Convention and Sports Complex Authority: A win in the courtroom against the Rams and the NFL in the ongoing relocation drama, or a staggering settlement amount that starts with the letter b, as in billions.
Cardinals chairman Bill Dewitt Jr.: A countdown clock for the Cardinals' next World Series championship. The wait will reach 10 years if the Cardinals don't win a ring in 2021. Does anyone else hear that ticking, or is it just me? That sculpture outside of the stadium doesn't count, either.
Cardinals president of baseball operations John Mozeliak: Extensions with Adam Wainwright and Yadier Molina. Payroll approval from DeWitt to add a meaningful bat. A "yes" verdict on the designated hitter in the National League, because that's what this lineup needs. A thrilling major league debut from pitching prospect Matthew Liberatore, to ease the Randy Arozarena trade angst. Plus some AirPods for Mo's Zoom calls.
Cardinals legends Adam Wainwright and Yadier Molina: Another season — or two — in St. Louis.
My baby godson, Waylon: An apology for the Molina onesie I got him for Christmas if Molina signs elsewhere.
The New York Yankees: Any free agent but Molina or Wainwright.
Yankees slugger Luke Voit: Another MLB home run title for our hometown hero.
Cardinals manager Mike Shildt: A designated hitter who inspires more fear in opposing pitchers than Brad Miller.
Cardinals hitting coach Jeff Albert: An overdue breakthrough.
Cardinals infielder Matt Carpenter: A miracle.
Cardinals outfielder Dylan Carlson: Patient fans and plentiful playing time.
Cardinals outfielder Lane Thomas: A fully healthy season and a fair shot.
Cardinals pitcher Carlos Martinez: The latest "La Perversa" album.
Free agent second baseman Kolten Wong: A third consecutive Gold Glove Award, no matter where he winds up.
Former Cardinal Keith Hernandez: An overdue acceptance into the Cardinals Hall of Fame.
MLB players and owners: An adult in the room.
Vegas Golden Knights defenseman Alex Pietrangelo: Some new rides for his 16-car garage in the desert.
New Blues captain Ryan O'Reilly: A new fake tooth with a "C" engraved in it.
New Blues defenseman Torey Krug: A clean, hard hit on Pietrangelo the first time the Blues play Vegas this season. Krug can bring it. Ask Robert Thomas.
Retired Blues forward Alexander Steen: A future free of microphones in his face.
Blues forward Vladimir Tarasenko: A future free of orthopedic surgeons looking at his shoulder.
Blues general manager Doug Armstrong: An emotional bone for his body. Kidding. He makes better moves without one.
Blues broadcaster Chris Kerber: A pallet of 5-hour energy shots for those late-night starts on the left coast.
St. Louis City SC CEO Carolyn Kindle Betz: A title sponsor for the soccer team's stadium and uniforms. (Jack Dorsey, you there?)
St. Louis City SC sporting director Lutz Pfannenstiel: Unlimited access to Penguin and Puffin Coast at the St. Louis Zoo.
St. Louis County Executive Sam Page: A year out of the sports spotlight.
Former Cardinal Jim Edmonds: A year out of the tabloids.
St. Louis Sports Commission president Frank Viverito: A sports calendar packed with events in the not-so-distant future.
Mizzou football coach Eli Drinkwitz: A Diet Coke intervention. Seriously, that can't be good for him.
SLU basketball coach Travis Ford and Mizzou basketball coach Cuonzo Martin: An agreement on a series that puts the Tigers and the Billikens on the court so we can finally settle this debate.
Tigers center Jeremiah Tilmon: A framed photo of his game-winning free-throw against Bradley.
Billikens forward Hasahn French: A Granny-style free-throw approach. I'm dead serious.
Kentucky forward Cam'Ron Fletcher: A coach not named John Calipari. (Ford? Martin?)
Wizards star Bradley Beal: An All-Star season.
Celtics star Jayson Tatum: An NBA championship.
Broncos quarterback Drew Lock: A better third season than his second one.
Post-Dispatch metro columnist and Broncos fanatic Tony Messenger: See above.
KTRS radio host and cursed Jets fan McGraw Milhaven: A Trevor Lawrence Jaguars jersey.
Chiefs fans in St. Louis: Another Super Bowl celebration — if that suspect offensive line doesn't get Patrick Mahomes killed.
Illinois football coach Bret Bielema: A better relationship with Illinois high school coaches than his predecessor.
Illinois basketball coach Brad Underwood: A mask that stays on more than 5 percent of the time.
Cardinals broadcaster Dan McLaughlin: Something to eat other than a salad, and more room for his Emmy Awards.
The loyal chatters of my Tuesday sports chat at STLToday.com: Sincere apologies for my many typos.