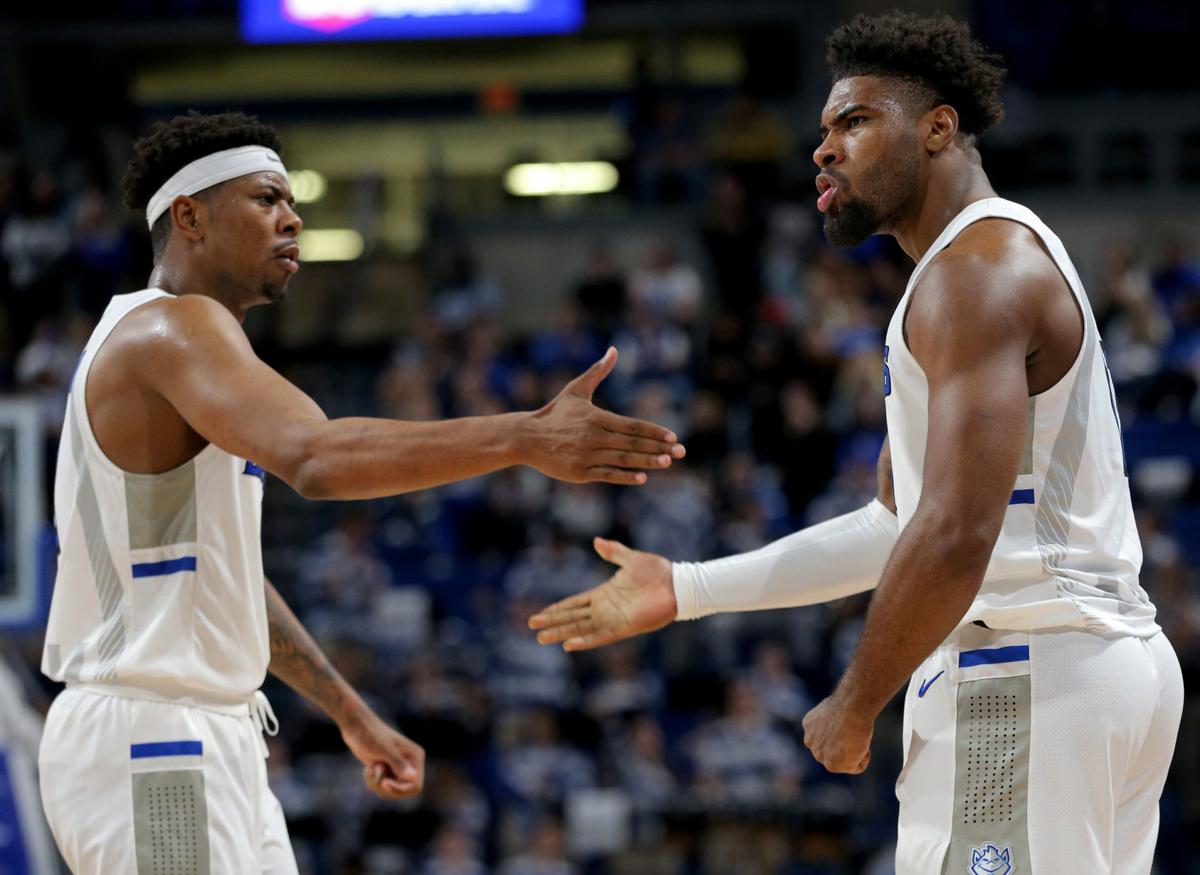 Saturday night belonged to Jordan Goodwin, and there was nothing the Valparaiso senior and his teammates could do about it.
Kiser could not even bounce a ball off of him.
It happened during the first-half blitz, when Goodwin was backing down Crusaders like Shaq in his prime. He was climbing Valparaiso forwards like trees, snatching the ball from them before they blinked. He was greedy on defense and charitable with his passes. Before our eyes, he turned a game that was tied into a game that should have been — but wasn't — over by intermission.
Poor John Kiser was on the wrong end of it more than anyone.
This play won't show up in the highlights, but it said everything about the all-around impact St. Louis University's star junior guard can have on a game when he finds one of his zones.
It happened on a loose ball beneath the Crusaders' basket. Poor John Kiser grabbed it, but he was in the air and headed out of bounds. A light bulb went off above his head. He would just bounce the ball of Goodwin's shin. This almost always works. But Goodwin just grabbed the ball and went the other way, like someone shared the secret.
Poor John Kiser laughed and shook his head.
"It was him just riding his passion for the game," Billikens coach Travis Ford said about Goodwin. "His leadership, he took it upon himself. He can get in those modes, and you just need to feed him."
Those who know SLU best believe the Billikens could be special next season, when the tag-team of guard Goodwin and forward Hasahn French become seniors.
But Goodwin and French are playing like seniors now, and Ford has added some pieces who can shoot from deep, something this bunch struggled to do last season.
If the Billikens mix these components with the trademark tough defense and figure out how to not fall asleep in second halves, this team, off to a 2-0 start, could be going places.
The score was locked at 23-23 with a little more than nine minutes left in the first half when Goodwin requested to set up in French's paint. He made a strong post move against a smaller defender and scored. Why not do it again?
Crusaders crashed in on Goodwin's next attempt down there. No worries. Goodwin corralled his own miss and went right back up to put it in. The Billikens were up by four.
Over time, freshman guard Yuri Collins will learn that when Goodwin has scored back-to-back baskets, you find a way to get him the ball. But Collins, while promising, is still green, so he steamrolled to the basket on the next Billikens' possession and tossed a rushed shot toward the rim. Goodwin, because he was everywhere, grabbed it and put it up and in despite being fouled in the process. He made the free throw that followed. SLU led by seven.
It became 32-23 SLU when Goodwin kept a fast break alive with a beautiful behind-the-back dribble and perfectly placed runner that rolled around and around and around the rim before falling in.
Down on the other end, a cratering Crusaders possession ended when poor John Kiser's great idea became a Goodwin steal.
Just like that, SLU led 32-23 with 7:16 left in the first. Goodwin had scored nine points in less than two minutes. He wasn't done, and that was a good thing, because the Crusaders weren't either.
"We are not playing very smart!" Ford screamed at his players during a second-half collapse.
Valparaiso chiseled the Billikens' 11-point lead at intermission into the danger zone more than once. Javon Freeman-Liberty (19 points) and Daniel Sackey (22) were doing damage. SLU's fouls were piling up. Goodwin, who committed five turnovers, had made some careless decisions.
Ford has been challenging Goodwin to lead when it's not easy. The former Althoff star told his teammates during a second-half huddle that they needed this kind of test. He answered his coach's challenge. He helped his teammates ace the test.
Moments after being called for a charge on a hard drive, Goodwin shrugged off any sense of hesitation and attacked again, dropping in a layup that stopped a 7-2 Valparaiso run and inched the Billikens ahead 68-65 with 6:24 to go.
Playing with four fouls, Goodwin clamped down on Valparaiso forward Donovan Clay to help force a key turnover minutes later.
And it was Goodwin who turned a broken play that could have dissolved on French's near travel into a baseline floater with two seconds on the shot clock that sent SLU ahead 74-68 with 2:45 to go.
Goodwin had 13 points on six-of-eight shooting, three rebounds, three assists a block and a steal by the time he committed his first foul in his 15th minute on the court.
He finished with 22 points on 10-of-19 shooting, nine rebounds, six assists, a block and three steals in 38 minutes..
And that's just the stuff that showed up in the box score.
Goodwin chased an errant Valparaiso pass to the last possible second, only pulling up before he ran into his own bench. He was the first to help pull teammates from the floor. His basketball IQ made it possible for Ford to call a play with a nod, leading Goodwin to clear the lane of teammates before he punched the gas, hit the clutch for a one-second pause, then revved again, leaving poor John Kiser in the dust on the way toward another bucket.
You could only shake your head and laugh.