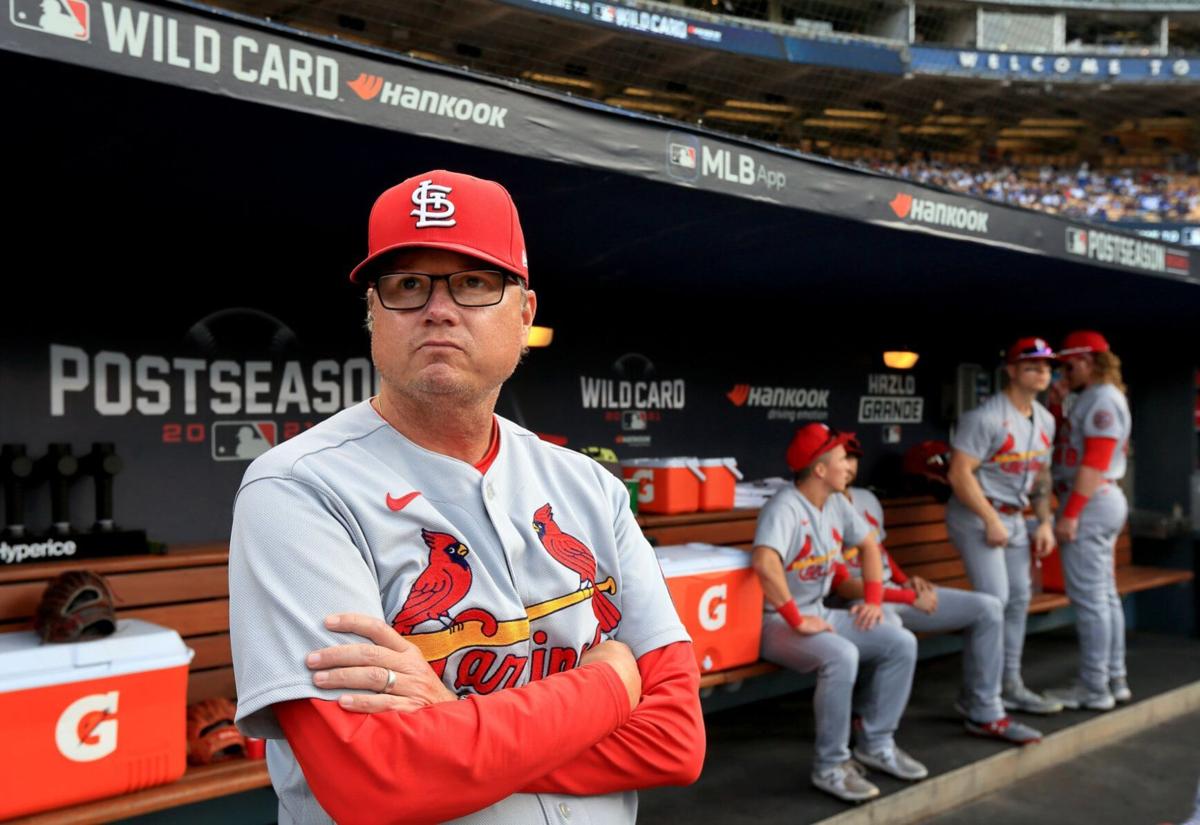 The 2021 Cardinals turned a maddening spinout into a September to remember. They reached 90 wins. They secured a puncher's chance at the 106-win defending champions in a coin-flip wild-card game, took their swing and missed.
The future should be better.
With an outfield solidified, bad money coming off the books, encouraging signs from some up-and-comers and one of baseball's most respected batteries coming back for another go, things are looking up for 2022 and beyond.
Great seasons could be within reach, and the urgency to secure them should be obvious this offseason.
Because as miserable as this June was, and as special as this September was, the 2021 Cardinals continued the team's recent habit of fading fast in October.
Ten years without a World Series championship is a long time for a club with 11 championships. No ring since 2011. No National League Championship Series wins since 2014.
Good season. Great waits, and it's tapping its foot.
Until then, let's hand out some 2021 team awards.
Some are serious. Some are silly. Let's have some fun . . .
Team MVP: Adam Wainwright. And it's not close. With all due respect to Paul Goldschmidt and Tyler O'Neill, who are more likely to get National League MVP consideration, this one goes to the veteran righthander. Wainwright stopped losing streaks. He carried the pitching when injuries to other arms nearly derailed everything. He helped Jon Lester find his groove. He gave the Cardinals their most innings (206.1) by a whopping 100. He gave the Cardinals their most quality starts (22) by 13. He gave the Cardinals a gutsy start in the wild-card loss, giving them a chance to win like he has so many times in a career that, thankfully, has at least one more season left before it ends.
Best Newcomer: Nolan Arenado. More than 30 home runs and more than 100 RBIs. The defense? As spectacular as advertised. That'll work, and he's coming back for more. He likes you, St. Louis. He really, really likes you.
Best Big Move: Arenado trade. Easy. It's still mind-numbing the Rockies agreed to it.
Best Little Moves: The pitching rebuild. Wade LeBlanc, Luis Garcia, T.J. McFarland, J.A. Happ and Lester were all acquired in signings and trades that did not cost the Cardinals much. That's not something to bemoan. That's great. It wasn't that long ago we were wondering if the Cardinals had lost their ability to make those shrewd, successful moves. Faith restored.
Worst Move: Waiting too long to find starting pitching help. It cost the Cardinals a chance to win the division. Miles Mikolas went down. Kwang Hyun Kim had started flashing red lights. And then Jack Flaherty got hurt. It was the last day of May and the Cardinals were a half-game out of first place. They were four games back when Wade LeBlanc was signed on June 17. They were 9.5 games back when Lester and Happ arrived at the trade deadline.
Best Magic Trick: Carlos Martinez. He straight up disappeared. Once he got hurt, he vanished even before his final season under contract expired. By the time the team traveled to Los Angeles for the wild-card game, Martinez was busy posting pictures on Instagram from exotic locations. Happy trails, Tsunami.
Best Offseason Question To Answer Right Now: Matt Carpenter might play next season but it can't be with the Cardinals. The extension was regrettable, and that's putting it nicely, but it's over. Time to turn the page. Carpenter missed a great chance to celebrate his retirement during the last homestand.
Most Underrated: Giovanny Gallegos. The barely discussed minor league piece in the deal that sent Luke Voit to the Yankees for reliever Chasen Shreve back in 2018 has turned into one of the best relievers in baseball. Of the 25 relievers to total more than 150 innings since 2019, Gallegos' 2.76 ERA ranks third, between Josh Hader (2.23) and Mark Melancon (2.91). Enough said.
Best Rebound: Tommy Edman. He battled the dreaded sophomore slump and won. Edman led the Cardinals in at-bats (641), doubles (41) and steals (30). He was by far the best Cardinal on the field in the wild-card loss.
Biggest Mystery: Jeff Albert. Did the Cardinals' season-saving surge happen because the embattled hitting coach finally broke through, or because of the late June intervention from manager Mike Shildt that demanded better situational hitting? Was it a combination of both? We should get a better read once we see what changes, if any, are made this offseason.
Most Apologies Earned: Lester. Fans went from cursing the former rival's addition to hoping he comes back for another round. Runner up is Shildt, who caught blame from some for the front office letting the team's pitching reach rock bottom before help was acquired. Shildt is 252-199 since he was promoted to replace former manager Mike Matheny. That .559 winning percentage is fourth-best among active managers and third-best among active managers with more than three years under their belt. He doesn't lack fire. His positivity — the trait that annoyed some in his post-game Zoom conferences during this COVID era — is not a weakness. Want a real potential problem area to pick at? Go for his postseason record. It's 4-9.
Grass Is Greener Award: Lane Thomas. He couldn't make the most of his chances to grab a starting spot in the Cardinals' outfield, but he's surged with the Nationals since he was included in the Lester deal. Thomas hit .270 with a .364 on-base percentage and a .489 slugging percentage in his 178 at-bats with the Nats, grabbing the leadoff spot after they traded Trea Turner. Good for him.
Best Rumor: Mike Shannon. Word on the street is …
Most Pleasant Surprise: Tyler O'Neill. I was a doubter. Now? I'm a broliever. He stayed healthy, for the most part. Still struck out a lot, but that can be stomached when you are playing defense worthy of a second consecutive Gold Glove, running the bases like a running back and, most importantly, cranking 34 homers. O'Neill's move to the No. 3 spot in the lineup changed everything. He should stay there for a while. Runner up is Edmundo Sosa. The shortstop ran through the door Paul DeJong's struggles opened up and did not look back, doing everything in his power to prove he deserves a shot at a full season as a starter, whether he will get it or not.
Best Play: That would be the phone-number double play (3-2-5-4-2-8-6) the Cardinals pulled off against the Cubs during win No. 15 of their historic 17-game winning streak. From start to finish, this team's defense was special.
A season that drifted toward forgettable due to injuries and offense awoke with September's 17-game winning streak, yet left Cardinals 10 years without a title. 
Take a look back at 10 moments to remember from the Cardinals' magical 2021 season.