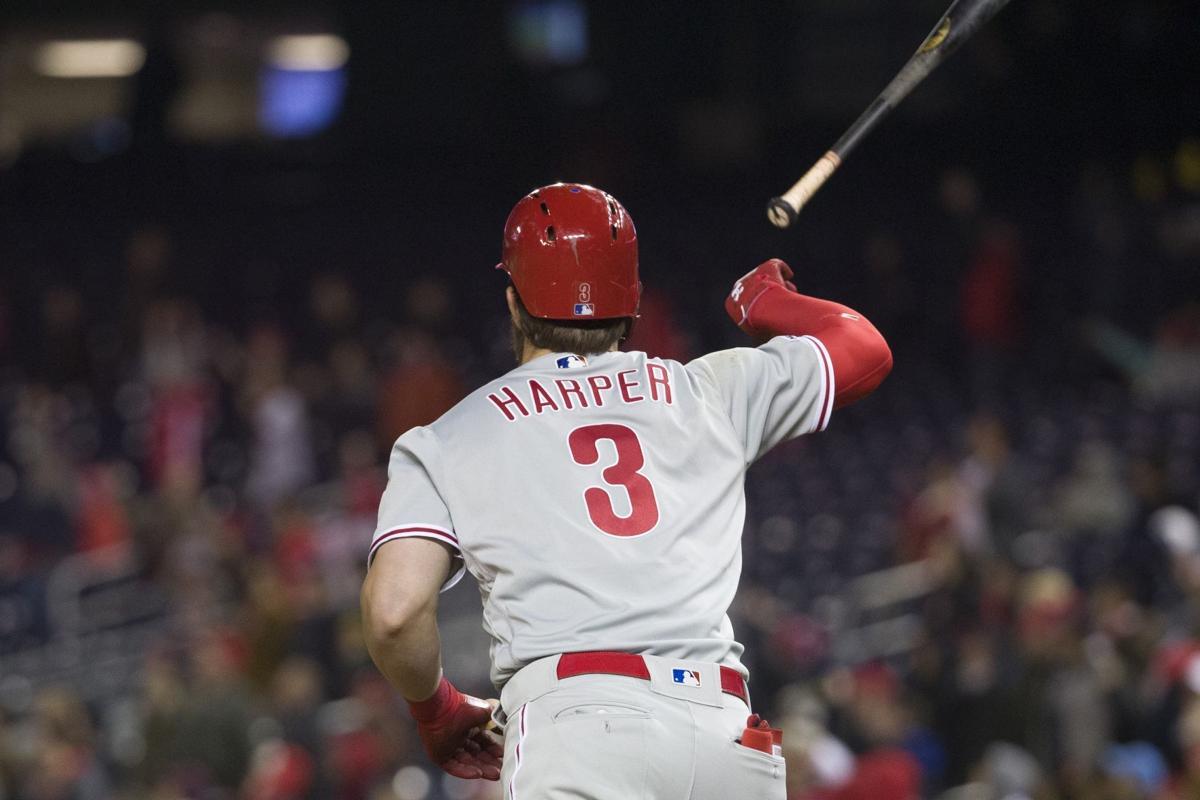 An impressive display of sportsmanship that played out right here in our own backyard could have faded like the scratch on Bryce Harper's cheek.
Thanks to the St. Louis Sports Commission, it won't.
Harper, the Phillies' star right fielder, played well enough this season to be in the mix for his second National League MVP award. Whether he wins it or not, he already is guaranteed another impressive honor, one earned by the grace and compassion he showed after a misplaced fastball came within inches of threatening his career.
Chances are you remember Cardinals reliever Genesis Cabrera's 97 mph fastball colliding with Harper's nose during a 5-3 Phillies win on April 28 at Busch Stadium.
Sports Commission vice president Marc Schreiber and his teammates hope you also remember what happened next. Harper forever will be connected with Cardinals legend Stan Musial because of it.
Harper didn't simply turn the other cheek. As soon as doctors checked him out and told him he was — miraculously — mostly unscathed, his thoughts turned toward Cabrera.
Even through blurred vision, Harper could see Cabrera's pitch was misplaced and not intentional. He learned how things snowballed after he was rushed from the stadium to a hospital. Because of the three-batter minimum rule, Cardinals manager Mike Shildt could not lift a shaken Cabrera from the game. He hit the next batter in the ribs before he could be removed.
A public apology from Cabrera did little to stop the backlash. The Phillies were hot, understandably. One national media member took to Twitter to demand the reliever be sent to the minors for lacking control. Harper knew he was going to be all right. He wanted to make sure Cabrera was, too.
When Harper received a text message from Shildt the morning after the game, he inquired about getting a message to the 25-year-old reliever.
"Just making sure he was OK," Harper described in an interview recorded for the Musial Awards. "Just making sure he wasn't worried about it, at all. You never know the psyche of a young guy, hitting somebody like that. I was making sure he was OK so he could come back, be strong."
Cabrera went on to have a 3.77 ERA the rest of the season. He turned in 49 scoreless appearances in the 60 that came after the incident. Maybe Harper had something to do with that. Maybe not. One thing is certain. Without Shildt, word would not have gotten out.
"Whoever's a fan of Bryce Harper, whoever has children that are fans of Bryce Harper, support that guy," Shildt said after Harper checked on Cabrera. "Because what he sent over in a message today was a completely class act."
Over at Sports Commission headquarters less than two miles from Busch Stadium, there is a big three-ring binder made for stories like this. They're called Musial Moments, and they are collected annually by members of the commission, whether they arrive via Internet searching, social media suggestions, snail mail or anonymous tip. The binder holds all possible Musial Award recipients. If you do something that would make The Man proud, you can get in the mix.
"This one," Schreiber remembers thinking, "goes near the top of the binder."
If you ever feel bad about the world of sports, and that certainly can happen depending on the headlines getting the most attention these days, remind yourself that every year there are truly amazing stories in the Musial Awards binder that wind up on the cutting room floor. There are just too many great moments. That is great news.
This year's show, to be held Nov. 20 at Stifel Theatre and telecast nationally on Christmas Day on CBS, will celebrate Wayne and Janet Gretzky, spelling bee winner Zaila Avant-garde, Buffalo Bills fans who spearheaded a donation drive for Ravens quarterback Lamar Jackson's charity after he was injured in a game against the Bills, an Iowa high school football player who helped an injured opponent, and other makers of uplifting moments.
Sharing the lineup will be one of the most prominent faces in baseball, one who showed his true colors after his face was bruised.
"This was a situation where, potentially, it could have blown up," Schreiber said. "Instead, Harper diffused what could have been a very volatile situation. Give Shildt credit. He reached out in a text. But Harper could have blown that off. He could have held a lot of ill will for what happened. Instead, he did something that was tremendously admirable, to reach out and care about the mindset and state of mind Cabrera was in. After being plunked in the face, to then show concern for your opponent, that is sportsmanship for you."
Harper's reputation in the game has been as discussed as much as his play since he took the majors by storm as the Nationals' 19-year-old rookie of the year and All-Star in 2012. He arrived without any minor-league seasoning but no shortage of confidence. He challenged his critics, clashed with opponents and rubbed many the wrong way.
But over the course of a decade-long career now on its second team, the six-time All-Star has matured and outgrown a perception that no longer fits.
He cares deeply about baseball's history and the greats who came before him, which is why the news he was getting a Musial Award moved him.
A teammate's wedding will keep him from attending next month's ceremony, but he already has sat for an interview that will play during the show and the national broadcast .
"To be in the picture with Musial, somebody that was incredible on and off the field," Harper said during that interview. "The stories I have heard about the way he was, just to be in that light with him, I'm definitely humbled."