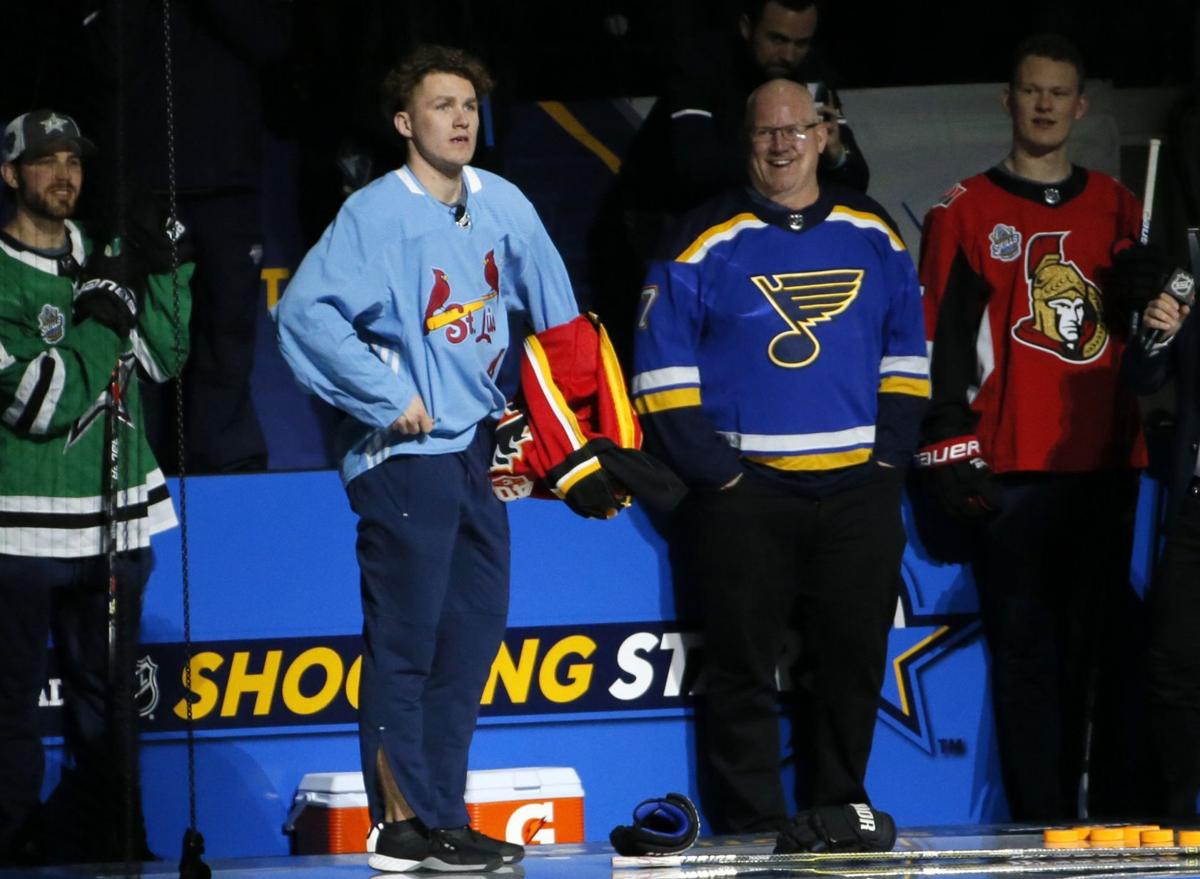 If accused of spending far too much time thinking about the 2020 NHL All-Star Game, I would have no defense. Guilty.
The swarm of hockey enthusiasm that descended upon downtown St. Louis during late January 2020, as the defending Stanley Cup champion Blues played host at a renovated Enterprise Center, was a truly unforgettable week that made it seem like nothing was going to stop the so-called heartland of hockey's emergence as an undeniable force for years to come.
The Blues had five All-Stars. including coach Craig Berube. They had the Stanley Cup on display.
And they had the platform to show the world how the region's talent-producing conveyer belt was churning out stars of the present and the future, the most obvious example being the two brothers raised on Blues hockey who became the first siblings to compete in an All-Star weekend in nearly a decade.
The Blues were on top of the world. Matthew and Brady Tkachuk, sons of beloved former Blues forward Keith Tkachuk, were the spearhead of an army of St. Louis-produced talent that was beginning to put its fingerprints on the league. What could go wrong?
Then came the COVID-19 pandemic.
The after picture shows two first-round playoff exits for the Blues, one following a flop during a postseason that was salvaged from the pandemic and another that was undercut by injuries and a deviation from the all-in, hard-nosed style Berube successfully introduced to the team during its championship run.
Part of me can't help but wonder what might have been next for the Blues if the pandemic had not so rudely interrupted an ascent.
Part of me can't help but wonder if bringing Matthew Tkachuk home to play for the Blues might help reignite what has cooled.
Remember the roar at Enterprise when he swapped his Flames sweater for a Cardinals one with catcher Yadier Molina's number? Imagine if he was introduced wearing the Note.
Now, keep reading. Matthew, depending on which hockey insider you believe, could be moved. The Flames missed the playoffs and have not been past the first round since before the 23-year-old forward made his NHL debut. Calgary is at a crossroads.
If the Flames are eyeing a longer-term rebuilding period and want to maximize their return, Tkachuk could draw an impressive package. Could be a non-starter if the Flames view Tkachuk as part of wherever it is their future is going, as they probably should. Could be a good way to expedite a big overhaul if the Flames fear their chances of keeping Tkachuk long-term are not good. He has one season left on his current deal at $7 million before becoming a restricted free agent.
"With 10 goals and 30 points in 45 games, he hasn't provided what he's paid to give Calgary," wrote Ottawa Sun columnist Don Brennan about the former No. 6 draft pick as the Flames' season derailed. "As a leader on a team that's 22nd and falling, he seems to be coming up short there, too. Trading Tkachuk shouldn't be at the top of the to-do list but if somebody is putting a package on the table for the 23-year-old, the Flames shouldn't hesitate to look inside. It's not like he should be viewed as the 'untouchable' his kid brother Brady is."
Let's hope Calgary management is reading and agreeing with that hot take, for the Blues' sake.
Let's hope Blues general manager Doug Armstrong quietly is preparing a package aimed at poaching a perfect-fit addition.
Yes, even if it would mean selling short on Jordan Kyrou's scoring potential, or dealing the Blues' No. 16 draft pick, or finding salary-cap space to keep Tkachuk long term.
Such sacrifices might be worth that.
Unlike some, I don't think the Blues need to massively rebuild this offseason. What they do need, though, is a decision on their direction. If the Berube-preferred style is the right direction, and the Blues have a ring that suggests it should be, the team needs to start prioritizing players who can and will play that way, every game, no matter what.
Speed and finesse are great, but they can't be valued over the intangibles Berube preaches. Too often this season the Blues looked stranded in between, too trimmed down and hesitant to go toe to toe with the big, bad Vegas Golden Knights and too flat-footed for the speedy Colorado Avalanche. Remind me again which team won the recent postseason series between those two? That's right. Vegas.
A trade for Tkachuk would be a statement that the Blues are prioritizing hard noses, fiery bellies and all-around play.
Tkachuk's 110 goals since his NHL debut in 2016-17 trail the coveted Jack Eichel by five. His 168 assists during that span lead the coveted Gabriel Landeskog by 20. Only two players with at least as many career points (278) as Tkachuk has since his NHL debut have handed out more hits than his 503. When the lefthanded Tkachuk is at his best, he can score in ways that drop jaws, then hit you in the jaw.
And then there is the narrative element. Forgive me, I'm a fan of a good story.
If Matthew ever had a cavity, it probably was caused by the gum he and his little brother used to lift from the Blues' dressing room during Dad's playing days. The stories of their boyhood fights in that place are legendary, ones of broken fingers and at least one head wound that required medical attention. Robert Thomas housed with the Tkachuk family during his early time with the Blues. Brady attended the Blues' Stanley Cup parade. The fit, for both brothers, always has been painfully obvious. But now one might really be within reach, offering a set of skills the Blues lack.
If Calgary truly is crazy enough to shop Matthew Tkachuk, the Blues should risk getting a little crazy in figuring out how to get him.