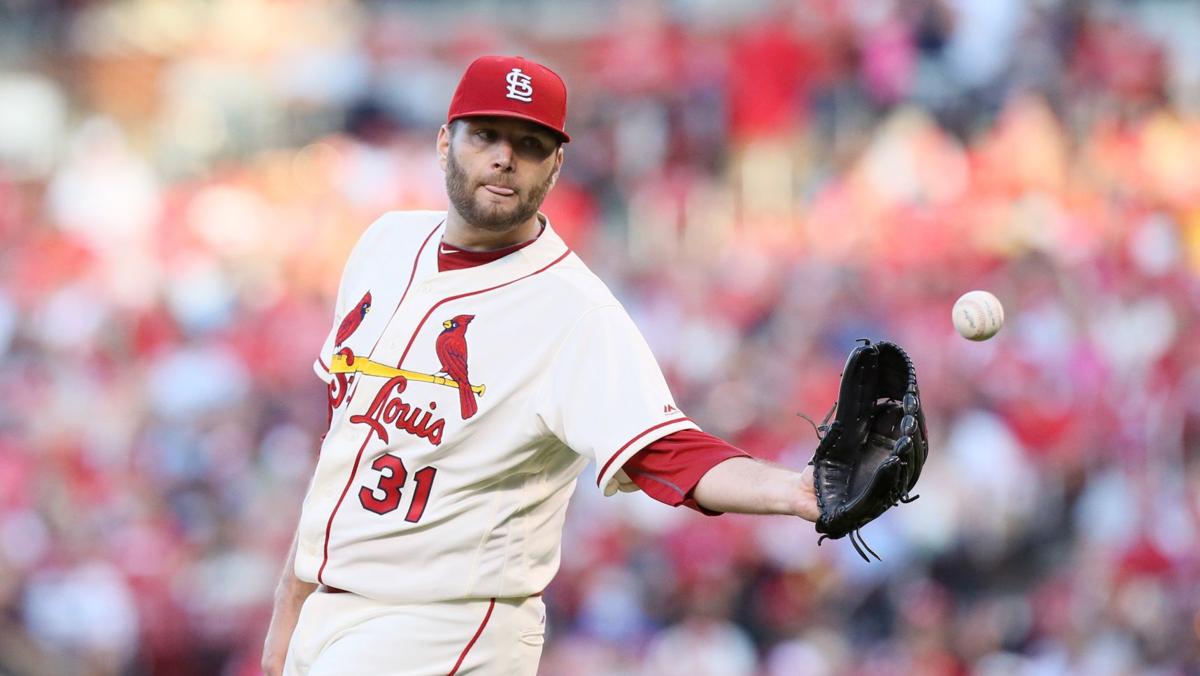 Looking back on the disappointment that was the 2017 season, Lance Lynn's sendoff, or lack thereof, had to be one of the low points.
The Cardinals starter was an All-Star during one of his six seasons here. He went 72-47 with a 3.38 ERA. And in his first season back from Tommy John surgery, the 30-year-old righthander led the Cardinals in starts made (33) and finished second in quality starts (18) and innings pitched (186.1).
From the Post-Dispatch Podcast Studios in downtown St. Louis, host Derrick Goold and columnist Ben Frederickson discuss on the Cardinals and o…
Lynn deserved a proper salute. Instead he was pulled for a pinch-hitter in the Cardinals' last loss to the Cubs and never got the chance to receive a final round of applause from the Busch Stadium crowd.
Am I the only one wishing there was a better ending available?
Does anyone else get the sense that the ongoing free-agent freeze might ultimately result in some team adding Lynn on a deal that, at last season's end, would have been considered a steal?
Could the Cardinals be that team?
Doubtful, considering the Redbirds have seemed to show little interest in (a) further fortifying a question-filled rotation; and (b) bringing back Lynn.
I just wish these things would change.
This offseason's ongoing standoff between free agents and the teams that are unwilling to pay them has reached the point that it might be wise for the job-seeking players to come up with some sort of spring-training camp to keep their skills sharp.
Eric Hosmer, J.D. Martinez and Mike Moustakas could throw batting practice to one another.
Closer Greg Holland could run reliever drills.
But the starters meetings would hold the star power.
Enough so that the names of three free-agent starters -- Yu Darvish, Jake Arrieta, Alex Cobb -- keep popping up before Lynn's on the list of starting pitches who are currently standing in the unemployment line.
The longer that line stands, the less certain Lynn has to feel.
He rejected the Cardinals' qualifying offer, as did every other player across the league who was offered the one-year deal worth $17.4 million.
Lynn thought he could do much better. Chances are he still will, even if it's taken him longer than he would have liked to find out. But the logjam of superior or comparable pitchers ahead of him -- and more importantly the reason that logjam has not broken free -- suggests it is unlikely Lynn will receive the kind of deal that made the notion of an extension between Lynn and the Cardinals fizzle.
In October, we were wondering if Lynn could land a five-year, $110 million deal.
For perspective, that's a more meager deal than new Cubs starter Tyler Chatwood received.
Time will tell if Lynn's market has really cratered to that point, but at some point time is no longer on his side.
If he indeed falls, the Cardinals should have plenty of reasons to catch him.
First, they would not lose a draft pick. And they would not have to factor a lost draft pick into Lynn's acquisition cost. That could mean a more competitive salary for Lynn, considering teams now look at draft picks like lost limbs and will look to save some money when giving one up.
Anyone aware of the Cardinals rotation as it stands knows it is heavy on hope. Hope that Carlos Martinez, who is dealing with an unpleasant offseason development, takes the final step toward becoming a true ace. Hope that Adam Wainwright rebounds and rediscovers the velocity that went missing last year. Hope that Miles Mikolas' success translate from Japan, that Michael Wacha's shoulder holds, that Luke Weaver is ready for the long haul. Hope that Jack Flaherty and the prospect parade will fill any cracks.
What the Cardinals could use is a shot of certainty, or as close to it as they can get. That would be Lynn returning to the only place he's ever pitched, on a relatively short contract that doesn't block the up-and-coming arms for a half-decade or more. Lynn takes the ball every fifth day. He's a better mentor to young pitchers than he gets credit for. While some are concerned about Lynn's peripherals -- his home run (3.48 percent) and walk rate (10.1 percent) hit career-highs last season while his strikeout rate dipped to a career-low (19.7 percent) -- others remind that his control should be sharper in his second season with the surgically repaired elbow.
Lynn seemed to pitch himself out of the Cardinals' market last season. The Cardinals look wise now for letting him go at that rate. Since then, baseball's bizarre offseason and the rumblings of bitter feelings between ownership and players have completely altered the ecosystem.
Of the free-agent starters available, Lynn might wind up being the perfect fit in terms of need, cost and potential contract length. He would have to be willing to return, of course. And the Cardinals would have to be willing to look up and realize the Cubs and Brewers are both still in the hunt for a significant upgrade to their rotations.
Yes, bringing Lynn back would send six Cardinals starters to spring training to compete for five spots. But how many times has a starter gone down with an injury during spring? And when did a legitimate competition to crack the rotation turn into such a bad thing?
If only Lynn's lackluster sendoff didn't have to be a goodbye after all.