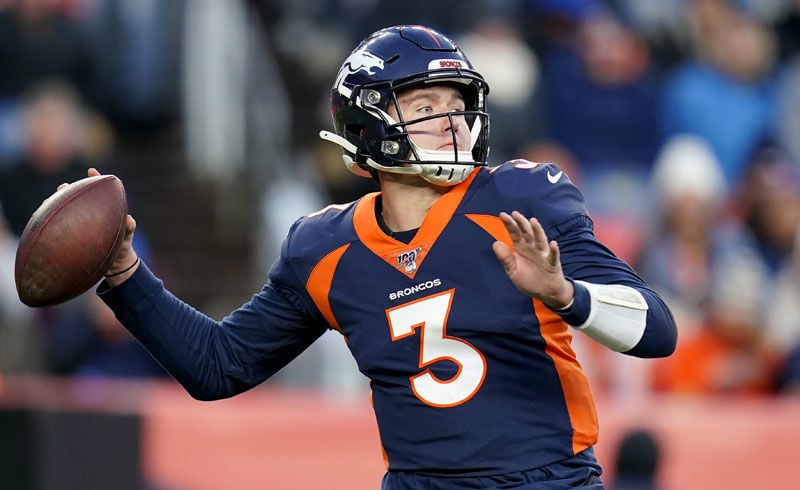 The Denver Broncos have four wins in 12 games. They have a grand total of two since mid-October. The latest came Sunday, when a rookie quarterback made the first start of his NFL career.
Mizzou product Drew Lock completed 18 of 28 passes for 134 yards in Denver's 23-20 win against the Chargers. He tossed two touchdowns and one bad interception. Then he led a game-winning drive that set up a 53-yard field goal. That drive hinged on a defensive pass-interference call created by Lock's throw to receiver Courtland Sutton, who had grabbed Lock's two touchdown passes earlier in the game.
All things considered, not a bad debut, right Broncos coach Vic Fangio?
"I think it was a good start for him,'' Fangio told the Mile-High media. "Was it, uh, did we light up the scoreboard? No. Did we get a ton of first downs? No. I think we only had 11 first downs ... but I think there's promise there, I'm just not ready to put him in Canton yet ... it's something he can build upon."
Don't gush too much, Coach.
But hey, even a lukewarm public comment about Lock is an improvement for Fangio.
This, some will remember, is the same coach who embarrassed his team's draft pick in July.
"His college offense really had no carryover to pro offenses," Fangio told reporters during Denver's training camp. "He was under duress a lot in college, so a lot of his plays he was running around."
(Fact check: Before the 2019 collapse of Mizzou's offensive line, that unit was actually pretty strong. Lock was sacked just 37 times in 38 games between his sophomore and senior seasons. This Fangio take never really made sense. If he would have said the Tigers' offense often prioritized quick passes and less-complex reads, that would have been more accurate. It was just odd.)
But that wasn't the worst part of that July leveling of Lock.
"I don't think he's far along as far as being as NFL-ready a quarterback as he could've been," Vangio added back then. "That's what I mean when I say he's got to get ready. He's not a quarterback yet. He's a hard-throwing pitcher that doesn't know how to pitch yet. The faster he gets that, the better off he'll be and we'll be."
This was back when Fangio was trying to pump up preferred Broncos starter Joe Flacco. It came after Lock dropped all the way to the 42nd pick in the 2019 NFL draft. And then Lock hurt his thumb. Rough start. People wondered if Lock would make it. People read into Fangio's comments.
But Flacco under-performed and then got injured. Then the Broncos turned to Brandon Allen, who did not deliver. Lock and his healed thumb finally got a chance in Week 13.
The cold, hardy gathering wasn't booing the Broncos. The people were shouting "Drew ... Drew ... Drew'' after he overruled the coaching staff with 4½ minutes left in the first quarter and said to Sutton in the huddle. "Run a fade.'' It wasn't the designed route for one of the league's premier catchers. Fade Courtland did for 26 yards, and he made an implausible reach-around, one-armed, ground-grabbing reception. He is becoming known far and wide for these terrific things in his second season. Lock acknowledged that he rejected the call in his earpiece and changed the play.
It's almost as if a four-year college starter who finished his career at Mizzou ranked second in the SEC in career passing yards (12,193) and third in touchdown passes (99) knew a thing or two about playing the position. It's almost hard to believe Lock "learned how to pitch" entirely from his short time under Fangio. Almost.
Lock thanked his teammates for their support after the win. They are raving about his swagger, something Mizzou fans know well. And then there was this quote from the QB: "Hopefully (Broncos coach Vice Fangio) doesn't have to talk about the starting quarterback for a long time here."
I would bet on Lock remembering those Fangio comments from July, no matter how much the coach sweetens them moving forward.