Everything's great until it isn't.
As a previously suggested and apparently quite fluid deadline came and went, Major League Soccer commissioner Don Garber downplayed the significance of a delay in announcing St. Louis as one of the league's expansion cities.
Garber still can't (or won't) say if and when St. Louis will get a team, but he sure has plenty of nice things to say about the ownership group from St. Louis.
Garber told reporters covering this week's MLS All-Star game in Orlando that the league is "in very advanced discussions" that occur "almost on a daily basis" with the St. Louis ownership group, which presented to the league's expansion committee in mid-July and sent leaders Carolyn Kindle Betz, Jim Kavanaugh and Andy Taylor to meet with league officials during a board of governors meeting at the All-Star game.
That meeting Wednesday marked another step toward landing a team, as the St. Louis ownership group presented to the entire board of MLS owners, a much larger group than the expansion committee. That's significant. No other ownership group in Orlando did that. Yes, there were other groups in Orlando. A bunch.​
Representatives from eight potential MLS expansion cities attended the event, a 3-0 defeat of the MLS All-Stars by Atletico Madrid. A report from Sports Illustrated citing Garber and anonymous sources said St. Louis is now ahead of Sacramento and all other expansion hopefuls in terms of being officially announced as an expansion team recipient. Sounds optimistic. That meshes with the guarded enthusiasm ownership group members have had for some time now.
"We are in very advanced discussions in St. Louis, and we really appreciated the details that they provided," Garber told Sports Illustrated. "We look forward to continuing those discussions in the weeks and months ahead."
"When we say advanced, we are running fast," Garber added in an interview with Fox Sports. "We just want to get it right. That's important."
"Their project is amazing," Garber gushed to Fox. "It's a massive downtown stadium project. The Taylor family really is St. Louis."
Whether Garber's word means much is still to be determined.
The commissioner once said he hoped the league would have its decision made regarding teams No. 28 and No. 29 by Wednesday's All-Star game. That didn't happen.
Garber also revealed a different stance on St. Louis and Sacramento being blocked off from outside competition. After telling the Post-Dispatch in April that the league had entered "exclusive, formal discussions" with St. Louis and Sacramento for expansion spots No. 28 and No. 29 as the league widened its expansion plans to 30 teams, Garber now says no such restriction exists.
"We are in advanced talks with both of them," Garber said to Sports Illustrated about St. Louis and Sacramento. "They are not exclusive talks. Exclusive means we're not talking to anybody else. It doesn't mean anybody's leapfrogging anybody else. We are in discussions with Charlotte, but we are also in discussions with Sacramento and St. Louis."
On expansion, Garber often sounds part politician, part teenager explaining the rules of dating in 2019.
Everything was great for Sacramento, until everything became great for Charlotte.
Everything's still great for St. Louis, right?
Seems like it at the moment. Charlotte is coming on strong. St. Louis is ahead of Sacramento. That should mean more trouble for Sacramento than St. Louis.
Garber is telling St. Louis and Sacramento to refrain from sweating, though it seems like Sacramento should be sweating more than St. Louis. No one should wipe their brow until MLS plants its flag. The sooner, the better.
"It just means that the investment stake required to come into MLS, that process of finalizing deals is getting more and more complicated," Garber told ESPN. "In both of those cases (St. Louis and Sacramento), you're looking at between $550 million and $650 million in investment. When you're making an investment like that, they take a while to close. That's the process that we're going through now, and it's not remotely alarming to me or anybody else."
The St. Louis ownership group, unlike the Sacramento ownership group, returned home with good vibes intact.
Onward to the launch of a team in 2022.
---
St. Louis ownership group lands MLS expansion slot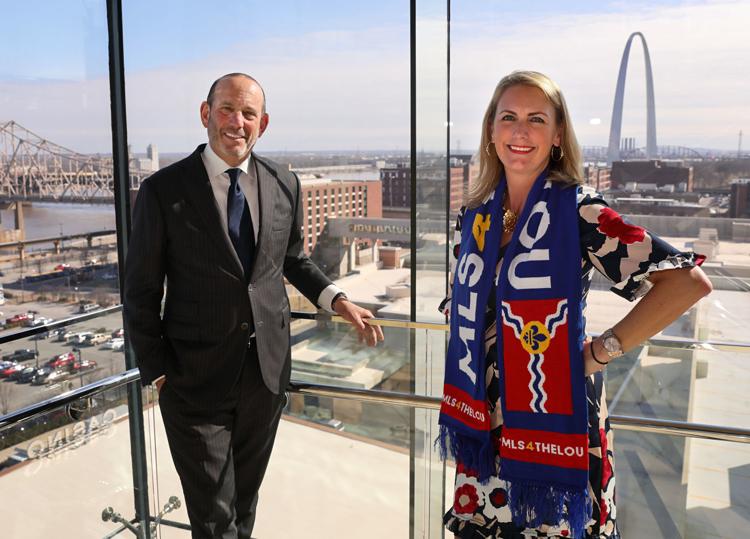 The bid to land a Major League Soccer team for St. Louis began publicly in October 2018. Members of the Taylor family and of the Kavanaugh family joined forces to prepare a formal bid for an expansion team. 
Carolyn Kindle Betz (pictured with Major League Soccer commissioner Don Garber) joined with Jim Kavanaugh, Andy Taylor, Jo Ann Taylor Kindle, Christine B. Taylor, Alison Kindle Hogan, Kelly C. Taylor, Patricia A. Taylor and Barbara Taylor. The team will be the first in the league majority-owned by women. 
The group has deep pockets, with ties to Enterprise Holdings and World Wide Technology.
A formal announcement that St. Louis will get a team will be held Tuesday, Aug. 20, 2019.
Five St. Louis players were on team that defeated England in 1950 World Cup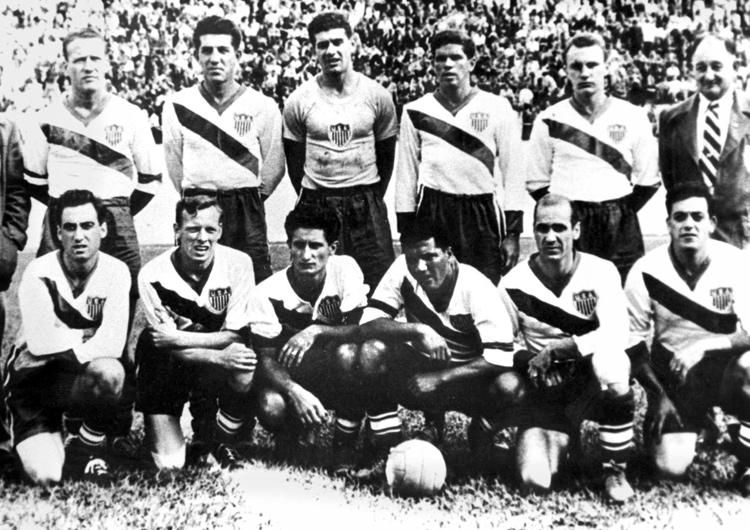 A St. Louisan was the keeper for the 1950 match against England in Brazil, holding a blank slate against the side considered to be the best in the world. 
Frank Borghi, who died in 2015, was one of five St. Louisans on the team that beat England 1-0.
He made a key save in the second half on a header, knocking it wide of the net. "I was lucky to jump in the air and deflect it with my right hand," he said in a 2009 interview.
Brazil's fans, ecstatic to see their main rival lose, carried Borghi off the field on their shoulders. 
"I didn't know what they were doing at first," he said later. "I was kind of nervous. They picked me up and carried me 110 yards to the dugout. It was kind of exciting."
In addition to Borghi, Harry Keough, Gino Pariani, Frank (Peewee) Wallace and Charley Colombo were the St. Louisans on the field for that historic win over England. (Also on the team from St. Louis were Bob Annis, a reserve who didn't play, and assistant coach William "Chubby" Lyons.) Keough died in 2012, Pariani in 2007, Colombo in 1986 and Wallace in 1979.
Pictures from the 1950 World Cup
In 1995, a local team won a professional soccer title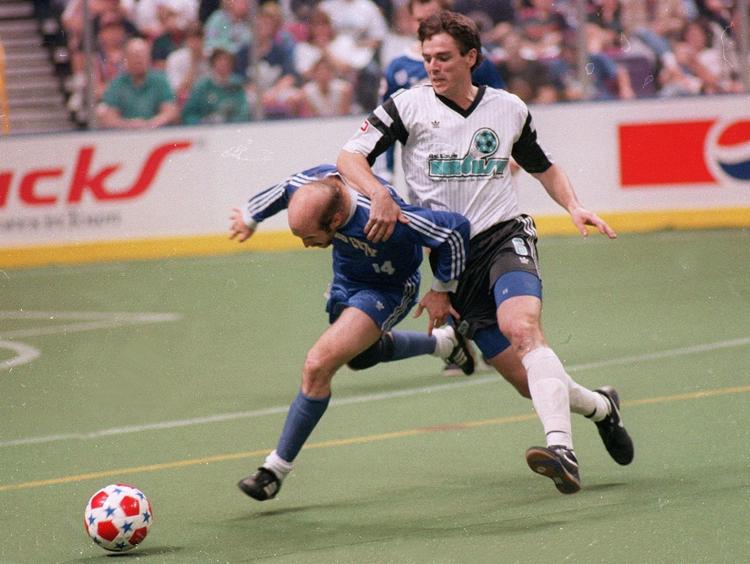 On April 25, 1995, the Ambush staged a comeback to sweep the Harrisburg Heat in four games to become the only team in St. Louis professional soccer to win a title.
The title was won three years after Dr. Abraham Hawatmeh brought the Tulsa Ambush to St. Louis. 
With the NHL locked out in 1994, the Ambush had the honor of playing the first regular-season game at the new Kiel Center (now the Enterprise Center).
The team would lead the league in attendance that season, averaging 7,881 a game.
The Ambush folded in 2000; a team with the same name now plays in the Major Arena Soccer League. The area has a men's team, St. Louis FC, in the USL Championship, a league one step below the top professional level, Major League Soccer. 
A team in the failed Women's Professional Soccer league, St. Louis Athletica, didn't win a championship in its short-lived tenure. 
Other now-defunct professional soccer teams include: Steamers (Major Indoor Soccer League), Storm (MISL), and Steamers (World Indoor Soccer League/MISL).
The last top-level men's professional soccer team was the Stars
The St. Louis Stars were a team in the North American Soccer League, which was the top-level pro league from 1968 to 1984. 
The Stars played from the start of the league until 1977, when the team moved to California. 
Well-known national players were on the team, including Al Trost. (He taught at McCluer North High during the offseason.) Other well-known players included Pat McBride and English goalie Peter Bonetti.
The team wanted a better home field than Washington University's Francis Field (which had a 10,000-person capacity), and had trouble getting Busch Stadium for more than a few games during their season.
For the 1977 season, the team drew an average of 9,111 fans, but that included a crowd of more than 32,000 at Busch Stadium (the game featured Pelé).
Robert R. Hermann was one of the owners of the team. 
Several local teams were once best in the nation
Several St. Louis teams have won the National Challenge Cup, now known as the U.S. Open Cup. 
The tournament matches soccer teams from various levels, including Major League Soccer teams, in a single-elimination tournament to decide the best soccer team in the country. 
In May 1920, in what the St. Louis Star described as "the greatest soccer game ever witnessed on any American field," the Ben Millers, a St. Louis team, beat a Massachusetts team to win the title.
More than 10,000 people watched the game at Federal League Park, a stadium near the current St. Louis University campus. The St. Louis team was the first outside the East coast to win the title.
Many of the teams in the early decades were owned by companies, hence the familiar names.
Other St. Louis teams went on to play, and win, the Challenge Cup, including:
• Scullin Steel: 1922 (The team went to the finals again in 1923, but had to forfeit a replay after a tie.)
• Stix, Baer and Fuller: 1933, 1934
• Central Breweries: 1935
• Simpkins-Ford: 1948, 1950
• Kutis: 1957, 1986 
• Busch: 1988
Pictures from the Cup game
European clubs used to come here to play against local teams
From the 1930s through '70s, St. Louis was a regular stop for foreign clubs making American tours. There were no professional American leagues, so teams played top amateur clubs.
Over the years, clubs came from: Canada, Mexico, England, Chile, Germany, Brazil, Czechoslovakia, Sweden, Scotland, France and Turkey, among others. Manchester United came twice, in 1950 and 1960, playing matches at old Public Schools Stadium. The St. Louis teams almost always lost, though there was a 1-1 tie with Liverpool in 1964.
The games may have been regular events, but that didn't mean they weren't special.
"It was fun playing against (those teams)," said Bob Kehoe, a defender who took part in several of them in his long career. "They were almost always better than we were. We're fledglings, newcomers to the game and they've been playing for hundreds of years. We were rarely, if ever, successful. But we'd learn from them, pick up nuances, say, 'I never saw a team do that before.' It was enjoyable, even if you got embarrassed."
Manchester City played a team of CYC All-Stars in St. Louis in 1958, in front of about 4,000 people. The teams played at the Public Schools Stadium. 
"As expected, the all-professional English League team won the match, by a score of 6-2," read the Post-Dispatch article. "The St. Louis players, all amateurs, were delighted to have held the First Division team to a 1-1 score at half time and to have escaped with only six goals charged against them, one of those a penalty kick."
Pelé has played here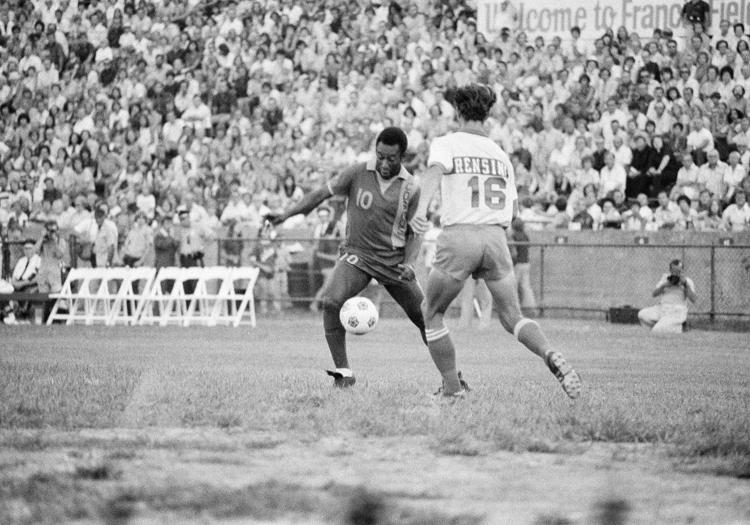 The greatest soccer player of all time had scored 1,268 goals over his illustrious career when the New York Cosmos faced the St. Louis Stars on June 23, 1977. But with tenacious marking from Bob O'Leary and Roger Verdi and acrobatic goaltending by John Jackson, the Stars kept the incomparable Pelé and the rest of the Cosmos off the scoreboard in a 2-0 victory. Among his three shots, Pelé sent a header over the net and fired wide on a free kick. His frustration showed with 5 minutes to play when he literally tackled the Stars' Al Trost from behind.
"He should have had a caution for that but I guess because it was Pele' the referee decided to let it go," Trost said.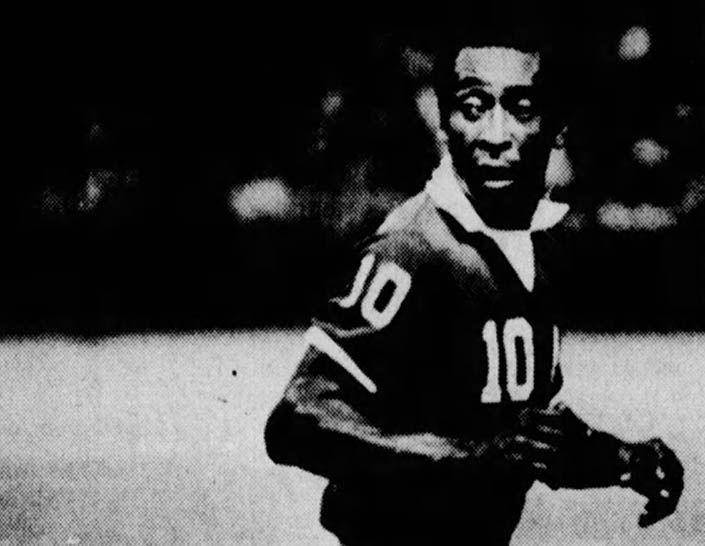 After the game, Pelé raced over to Jackson and shook his hand. Pelé, then 37, retired at the end of the '77 season with his Cosmos winning the NASL title. The crowd of 32,605 at Busch Stadium was the largest to see a professional soccer game in St. Louis.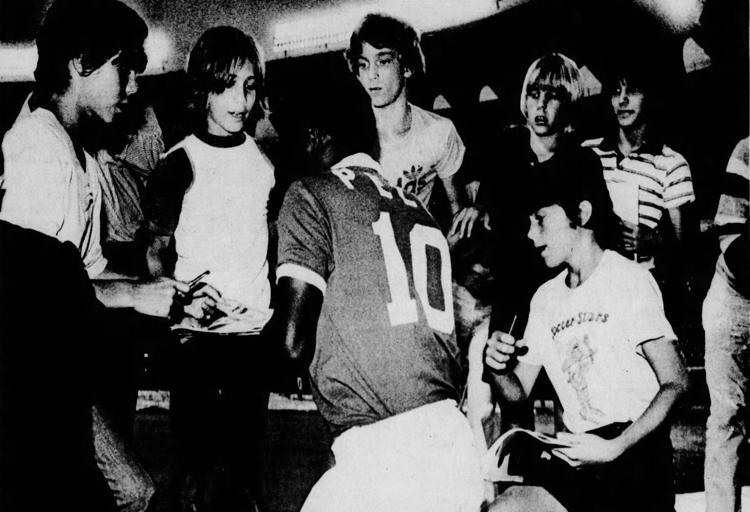 Billikens' 10 NCAA soccer championships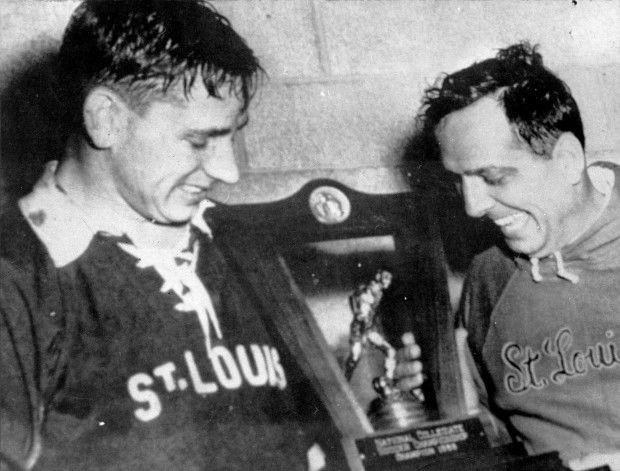 The Billikens men's soccer team won 10 NCAA soccer championships from 1959 to 1973.
Bob Guelker coached the team through 1966, then the team was coached by Harry Keough, a defender who played on the 1950 U.S. World Cup team. 
SLU played against Southern Illinois University Edwardsville 27 times from 1971-1998 in the "Bronze Boot" matches. The rivalry was resurrected in 2018. The 1980 match holds the record as the largest soccer crowd at an NCAA men's game (22,512).
Guelker coached at both colleges. 
U.S. Soccer has played several World Cup-qualifying matches here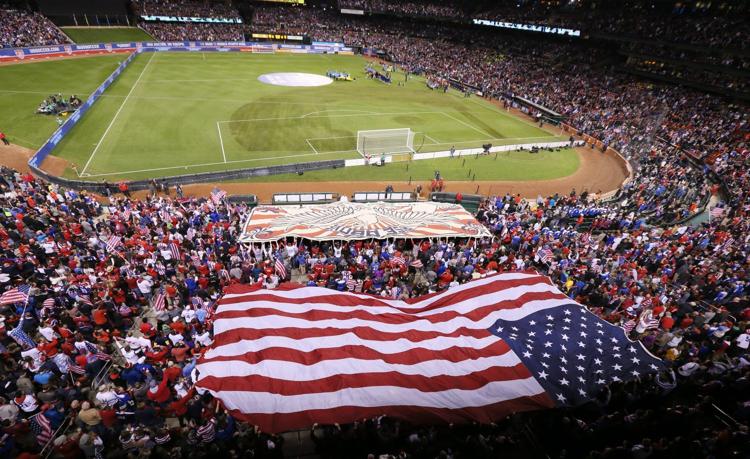 In November 2015, the U.S. Soccer men's team defeated St. Vincent and the Grenadines in Busch Stadium.
Before that, the national team played a qualifier in November 1989, against El Salvador at the Soccer Park in Fenton.
The 2015 game drew 45,000 people; the 1989 game had a sellout crowd of 8,500.
The team had played two previous matches in St. Louis in the run-up to the November game. The Americans had come to St. Louis twice before in qualifying for the 1990 World Cup. The first was in the preliminary round, when it beat Jamaica to advance into the final round of qualifying. In their second match in that round, the Americans beat Costa Rica.
The November 1989 match ended in a tie, but the U.S. team later qualified for the 1990 World Cup in Italy, losing all three matches. It was the first time the American team made the World Cup since 1950.
The women's team has played at least two friendly matches in town, with one in May 2019.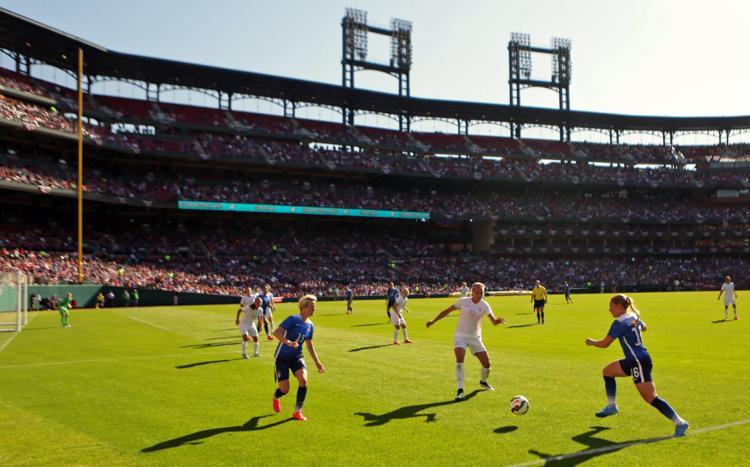 Hermann Trophy is annually awarded here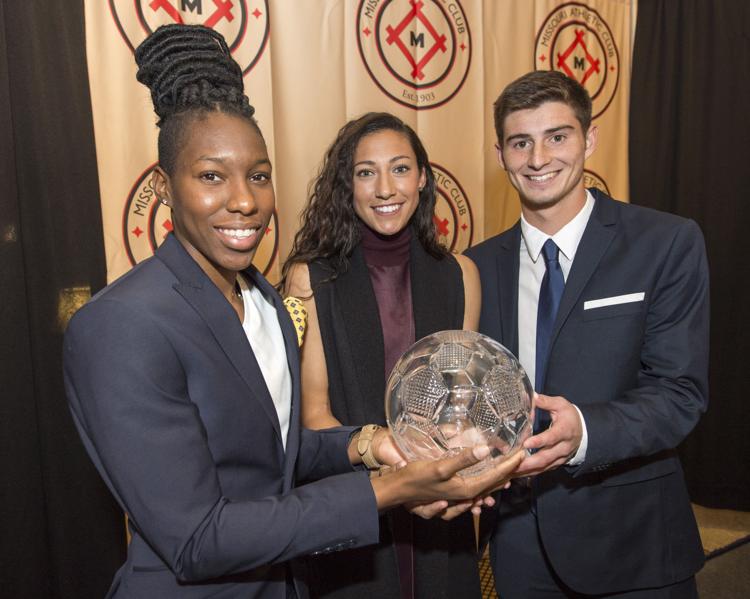 Soccer's version of the Heisman Trophy, the Hermann Trophy, is awarded through the Missouri Athletic Club, and presented at the club in St. Louis every year.
The top NCAA Division I women's and men's soccer player receives the trophy. Previous awardees include players who went on to be on the national roster, including Americans Christen Press, Mia Hamm, Kristine Lilly, Michelle Akers and Tisha Venturini; and Canadian Christine Sinclair; men who went on to the national team include Alexi Lalas and Al Trost.
The award is the result of a merge of previous awards for soccer players given by Robert R. Hermann and the club. 
Youth and high school soccer thrive here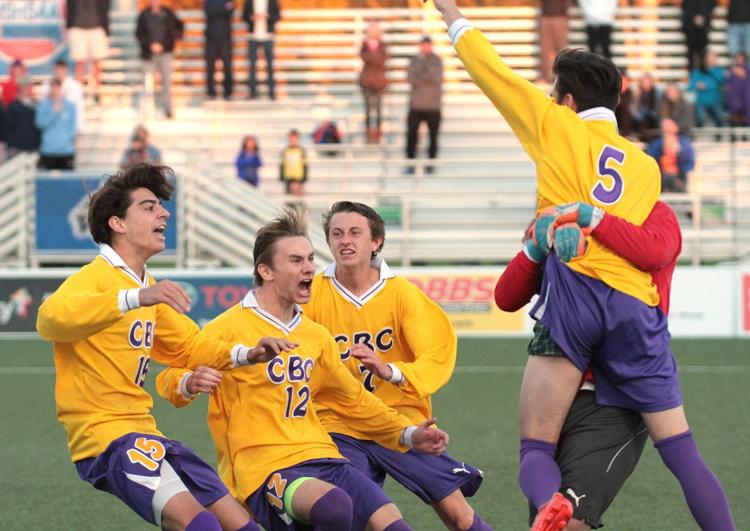 From the soccer program at Christian Brothers College High School, which was inducted into the Missouri sports Hall of Fame this year, to the myriad youth clubs, hundreds of children and teens play soccer in St. Louis.
Some of those players grow up to play for the U.S. national teams, including Ruth Harker, a goalkeeper for the University of Missouri-St. Louis. She was named to the first-ever U.S. Women's National Team in 1985, a team that played one game in Italy. 
Other players include: Lori Chalupny (Nerinx Hall), Kevin Grimes (Rosary), Chris Klein (De Smet), Pat Noonan (De Smet), Steve Ralston (Oakville), Tim Ream (St. Dominic), Josh Sargent (St. Dominic), Becky Sauerbrunn (Ladue Horton Watkins) and Taylor Twellman (SLUH).