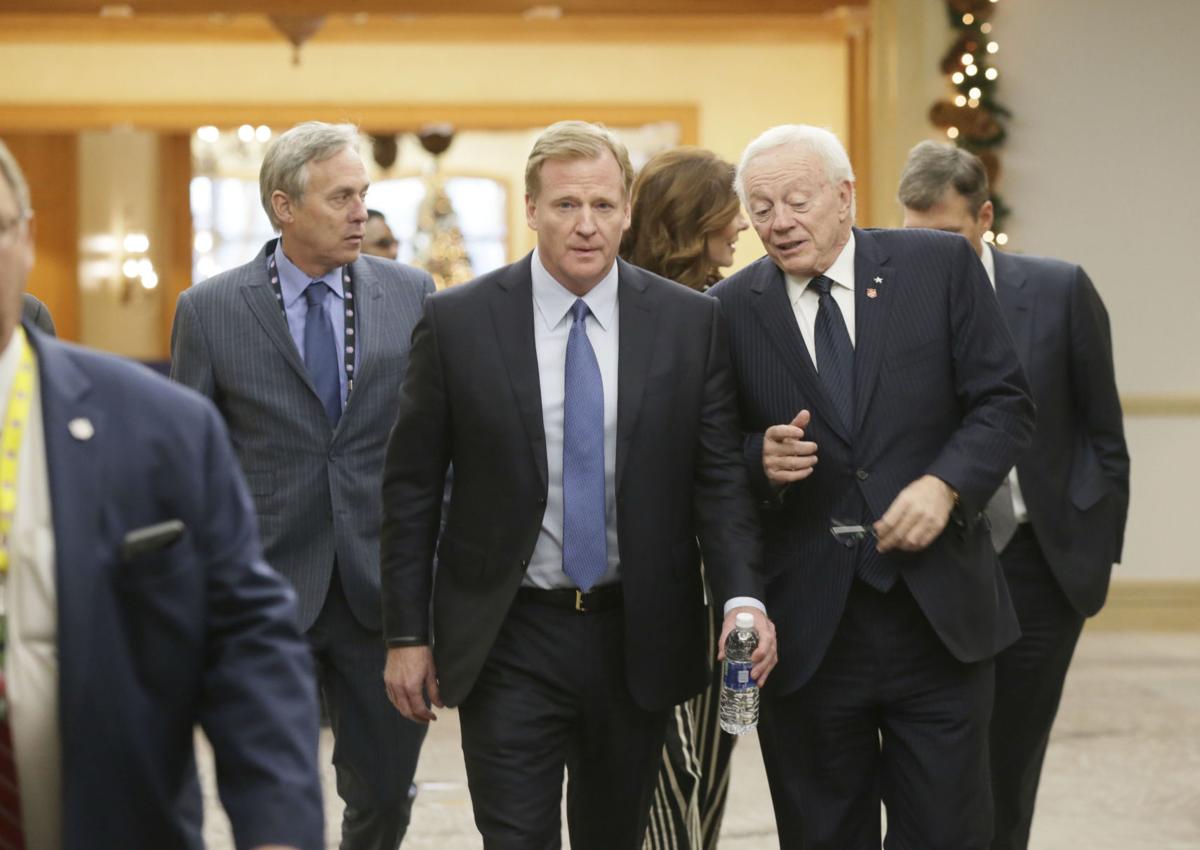 Those consumed by the at-best premature and, more importantly, probably pointless NFL expansion speculation missed a great show in real life Wednesday.
A fresh legal chapter of the Rams relocation saga featured one fed-up judge and a team of league lawyers who felt his wrath.
Tired of the constant delays and not-so-subtle signs of disrespect toward his authority, Circuit Court Judge Christopher McGraugh sent the NFL's legal team out of the proverbial principal's office with tails tucked between their legs, carrying bad news for their billionaire clients.
Unlike Rams owner Stan Kroenke, who finally forked over the financial documents approved by Judge McGraugh for Team STL's pursuit of potential punitive damages in the years-long civil suit that is headed to trial in January, four other owners influential in the Rams' departure had failed once more to meet the court's demands.
Giants owner John Mara, according to Team STL lawyer James Bennett, failed to provide his net worth. Chiefs owner Clark Hunt provided a net worth that was suspiciously low. Cowboys owner Jerry Jones and Patriots owner Robert Kraft provided their net worth, but what were supposed to be full listings of their business assets did not mesh with their included tax returns. The documents, impartial at best, all showed up late.
"We should be working on the witness list," Bennett told Judge McGraugh. "We should be working on the trial prep. We should have all of this in the can."
Judge McGraugh agreed with Team STL, smacking each of the four owners who once guided the league's committee on Los Angeles opportunities with a combined fine of $24,000 for their dragging of feet in addition to a $25,000 chunk of Team STL's legal fees. If the proper paperwork is not produced, Judge McGraugh has threatened to hold the four owners in contempt of court for disregarding his order and grant default judgment for Team STL. That could make objecting to significant punitive damages difficult later, considering these owners failed to participate in the process used to determine their finances.
Judge McGraugh's decision came despite the pleas of NFL lawyer Benjamin Razi, who on Wednesday continued his pattern of making NFL owners sound like men who should be above the law.
"This is the most sensitive, confidential stuff these people have," Razi said. "They don't want it just spread around, willy-nilly."
There is a protective order in this case specifically designed to keep information from leaking out.
"I don't think there is any purpose in sanctioning people for being a little bit late," Razi said.
Judge McGraugh first approved Team STL to receive these documents in July. After swinging and missing on every attempt during an exhaustive appeal process, the last deadline for the NFL owners to provide the documents came and went. Most of the incomplete documents did not start arriving until days after that.
"I understand that the court is upset people didn't move more quickly," Razi said while suggesting that the case should be, "tried on its merits."
As if that was not how it was currently being handled?
"Let's be practical," Razi said.
Judge McGraugh had heard enough.
"That's exactly what I want to be," Judge McGraugh told Razi. "I want to be practical. And when I say I want to be practical, I want your clients to know I mean business. I want them to know that there are ramifications for not complying with these orders. And I'm not going to prevent this to go on. With all your good intentions, Mr. Razi, I don't think your clients are acting with good intentions."
Is it sinking in, St. Louis?
The NFL believes it is bigger and better than its challengers. Bigger and better than St. Louis and its legal team working on this lawsuit. Bigger and better than Judge McGraugh. Bigger and better than the law in the state of Missouri. Bigger and better than you, and me.
So once again I ask, why in the world would St. Louis — if a hypothetical longshot was to somehow become a reality — want to get back into business with this league?
Are the recently exposed pathetic emails of Jeff Pash, Jon Gruden and Adam Schefter not enough? Is the protection of despicable Daniel Snyder not enough? Look at the shakedown happening in Buffalo for a new stadium. Is that not enough?
Finally, thanks to this years-long civil suit aiming to hold Kroenke and the NFL accountable for running roughshod over the league's relocation guidelines in the 2016 departure of the Rams to Los Angeles, the wrong that was done to St. Louis is beginning to climb the list of the league's many problems. People are actually paying attention now. Owners are sweating. And already some here are hoping the end result is another NFL team?
Respectfully, no. No thanks. No way. No.
Here's what I know. There have been no substantial talks about a settlement of any kind, monetary or team-related, up to this point. Vague reports about "league circles" suggesting an expansion team could be in play for St. Louis can be found, but they are not coming from the St. Louis side of things. Trust the league if you like. I won't.
Here's what I think. Even if, and that's a whopper of an if, the league offered up an expansion team, the region's decision-makers should reject the idea. This isn't about hating football; I love football. It's about realizing good relationships are impossible with a toxic partner. It's about learning from past mistakes, about refusing to let a morally bankrupt league dangle a mirage of an invitation as a carrot on a stick designed to lead you toward distraction and division. There is a big difference between being able to support an NFL team and wanting to support an NFL team. St. Louis did and could again. That doesn't mean it should.
All of this unrealistic, speculative talk of an iron-clad lease and a league-funded stadium and a local mystery owner emerging as a football savior is fun for some, but none of it is real.
Reality is playing out in a downtown courtroom, where a once-ignored lawsuit will pursue billion-dollar damages come January unless a very big settlement emerges.
Get the money. Spend it on helping the region. Improve schools. Build playgrounds. Help the physically sick, the mentally ill, the people who need it most. Fix a pothole or two. Something. Anything but an expansion team.
You don't have to be very confident in the ability of city and county leaders to spend money wisely to trust them to find something better to do with it than pouring it back into the NFL.