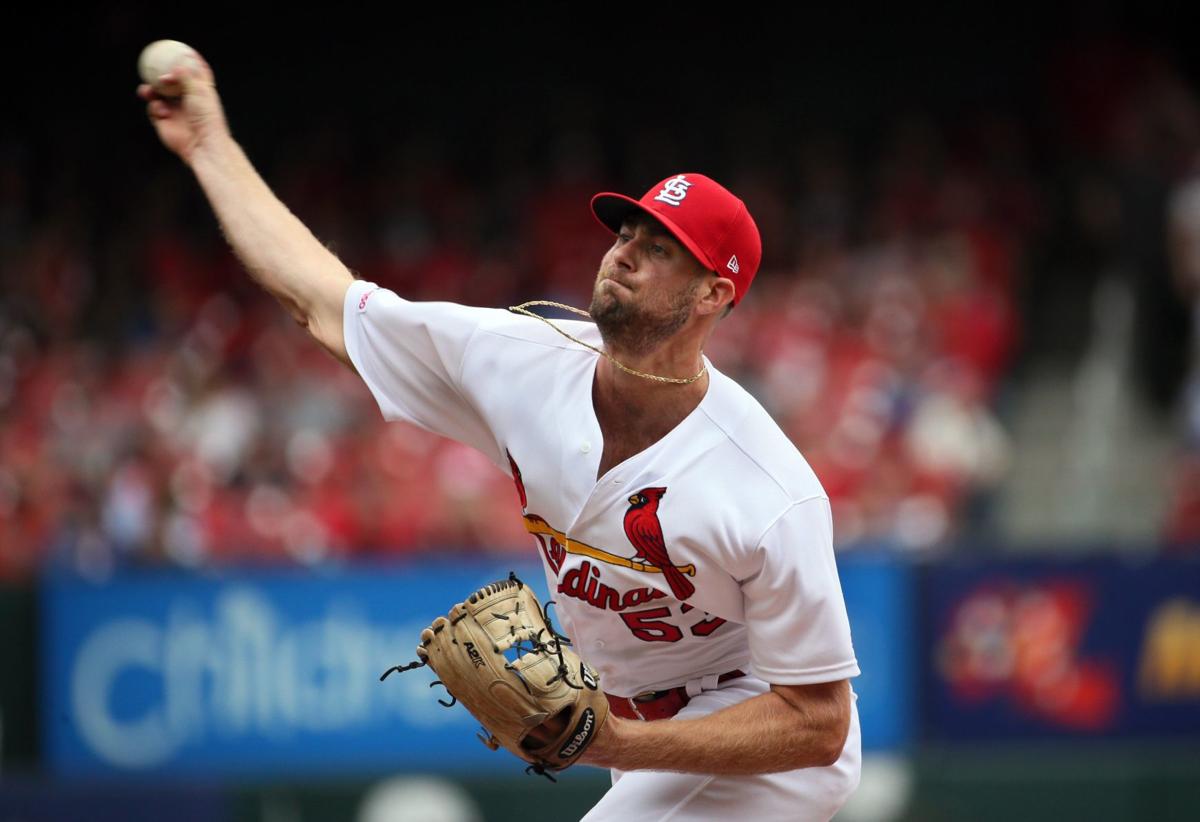 The Cardinals felt they had five No. 1 starters in mid-January.
Then they had visions of a Super Bullpen in mid-March.
Things look a lot different in late June.
Monday's announcement of a torn ulnar collateral ligament in the right elbow of Jordan Hicks is a significant setback for a club that woke up Monday morning two games and two teams behind on its plan to reclaim the National League Central.
The 22-year-old Hicks was the hardest-throwing pitcher in baseball, and much more importantly, he occupied a key role on his team. The closer's 93.3 save percentage was tied for sixth-best among National League relievers. His opponent on-base plus slugging percentage (.510) was also the sixth-best in the NL. His average of walks plus hits per inning pitched (WHIP) read 0.94, and ranked 24th not in the NL, but among all major league relievers this season.
And now Hicks could be out for the rest of the season. The Cardinals' news release lacked even a tentative timeline for his return, and perhaps that's best, considering the team's first comments on Hicks' departure from Saturday's game were interpreted as not much to worry about. Of bigger concern now — in addition to doing what is best for Hicks' long-term recovery — is what the Cardinals do to make up for the absence of a key reliever. Recent history suggests meager expectations.
Simply review what has happened to what was supposed to be a loaded pitching staff.
Carlos Martinez, the starter, got hurt (right shoulder) and returned as Carlos Martinez, the reliever.
Alex Reyes, the reliever the Cardinals hoped would grow into a starter, lost his command, lost his place, lost his cool, hurt himself unnecessarily by punching a wall, and might be injured once more (pectoral discomfort) after he was pulled from his last minor-league appearance.
Michael Wacha got hurt (left knee tendinitis), returned, moved to the bullpen, moved out of the bullpen and is now earning starts by the start, trying to prove he belongs instead of Daniel Ponce de Leon, who was supposed to be just one of many options putting pressure on the MLB rotation before the depth began to dissolve.
Austin Gomber got hurt (biceps/shoulder) and has not pitched in a minor league game since May 13.
The Cardinals moved on from under-performing relievers Luke Gregerson and Chasen Shreve.
Reliever Ryan Helsley (shoulder) has not pitched in an MLB game since June 12. Reliever Dominic Leone, now at Class AAA, has not pitched in an MLB game since mid-May. Reliever Mike Mayers (right shoulder lat strain) has not pitched in an MLB game since mid-April. Injured infielder Jedd Gyorko has thrown more pitches in an MLB game this season than Brett Cecil (carpal tunnel).
The Cardinals have had some pleasant surprises. Starter Dakota Hudson is on a roll. John Gant, once an option to start, has flourished as an All-Star caliber reliever. Giovanny Gallegos is a strikeout machine few seem to notice. But at some point, internal options are not enough. That point is now.
Every time a Cardinals pitcher who was counted upon this season has encountered a setback, the Cardinals have reshuffled their cards instead of adding to their deck. They passed on a chance to add a sure-thing starter before the regular season began. They refrained from becoming significant players for late-arriving free agents Dallas Keuchel and Craig Kimbrel. They slow-played their need for pitching help, and now that need is screaming.
Now is no time for slow-playing. If the Cardinals put more on the plate of Gant, who fills in for him? If it's Gallegos, who fills in for him? Adding at or near the top of the pitching staff would be a more competitive move. Lose a closer? Add a starter. A dang good one. Then slide everyone beneath him down, strengthening the entire staff. Using the trickle-down effect would make sense for a contender. Trades are not easy to make before the trade deadline. but teams can be enticed.
The Cardinals' rotation on Monday ranked sixth in the National League with an ERA (4.19) that trailed division foes Cincinnati (3.76) and Chicago (3.88). The staff's 34 quality starts were tied for seventh in the NL. Its opponent OPS (.767) ranked 10th.
The Cardinals' bullpen ranked fifth in the National League with an ERA (4.08) that trails division foes Cincinnati (3.38) and Chicago (3.97). Its opponent OPS (.731) ranked second, behind the Reds. Four NL teams, including two from the division (Brewers and Pirates), have more strikeouts by relievers than the Cardinals.
The Cardinals do not have five No. 1 starters in their rotation.
The Cardinals did have a bullpen that was beginning to look robust, but now it is without a valued piece.
Continuing to turn to internal depth becomes a riskier bet when that depth has been chipped away by under-performance and injury.
With Hicks out, the Cardinals need to add the best starting pitcher they can pry away from another team.