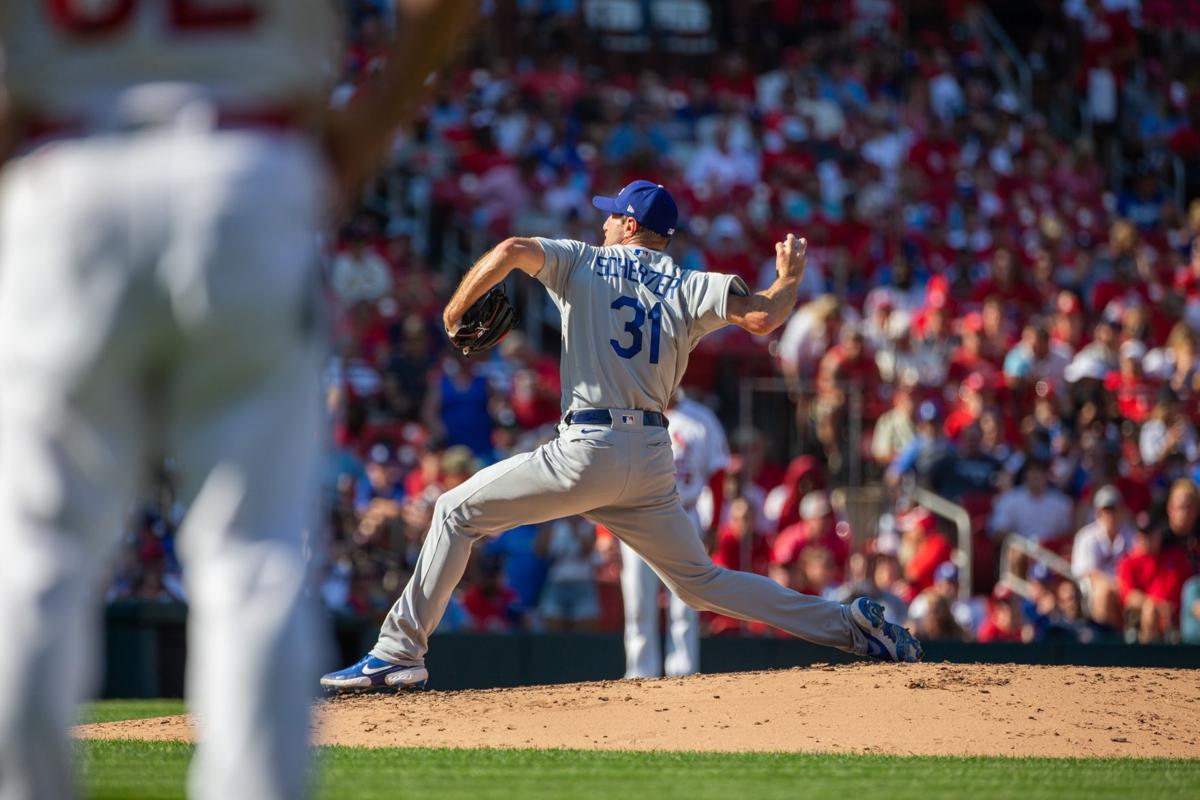 Pitching, pitching, pitching.
So goes the Cardinals' offseason theme at the moment.
Cool it on connecting the dots between the Cardinals' question mark at shortstop and a round of free agency dominated by the position, suggested president of baseball operations John Mozeliak from the recent general managers meetings.
Keep the focus on the mound.
Tough break, Cardinal Nation.
The offseason of the shortstop seems to be coinciding with an offseason of the Cardinals, at least for now, sounding disinterested in shortstop shopping.
Let's see if that tune changes depending on how a likely work stoppage affects the market.
If the tune doesn't change, the Cardinals need to develop better talking points than pretending a fan base has unfairly turned on Paul DeJong.
Proving an allocation of resources that could have gone toward shortstop improvement was instead used to bolster pitching would be a better message.
Specifically, one pitcher.
If the Cardinals are going to remove themselves from the shortstop conversation, can they please sign Max Scherzer? Pretty please?
Bring home the Chesterfield comet. Sign the Mizzou Hall of Famer bound for Cooperstown. Finally right the story of the Cardinals draft pick (43rd round in 2003) who got away not once but twice in a career that now includes nearly 200 wins, more than 3,000 strikeouts, eight All-Star appearances, a World Series championship, three Cy Young awards and a lifetime ERA (3.16) that is oh so close to the area code of baseball-crazed St. Louis, home of a club in need of rotational fortitude.
I've long been banging the Scherzer drum. He looked like an obvious trade fit for the Cardinals exiting last spring training. Pitching warning lights were flashing for the Cardinals as they departed Jupiter. The Nationals looked like potential sellers if turbulence arrived. The Nationals did their part, but the Cardinals' mismanagement of pitching — too much trust, too many injuries, too little urgency — put the team in a spot where it was unrealistic to trade the farm for Scherzer at the trade deadline. The Dodgers did, and benefited for it. At least until they convinced themselves Scherzer should pitch out of the bullpen in the postseason. Whoops. You can't have enough pitching, the Cardinals say they realize now. Scherzer looks like a fit, again.
Two Mad Max stories came to mind this week.
The first is from 2021 spring training, when the Nationals ace was in the process of ripping through the Cardinals during his third exhibition start against them. In an era where baseball is borrowing a page from the football playbook, growing as paranoid as possible about giving away any potential advantage, it was noteworthy that Scherzer was making so many spring training starts against the Cardinals, a National League opponent that was set to play two regular-season series against the Nationals before the end of April. The familiarity of opponents during the pandemic-affected spring schedule had encouraged some teams to send starters out for back-field starts against minor league hitters, so they could work on their stuff without so many reps against opponents' regulars.
Scherzer pretty much scoffed at the idea when asked about it. Why would he change his plans based on an opponent? He struck out seven in four scoreless innings that fine spring day, and then struck out nine in six scoreless innings against the Cardinals in a 1-0 win when regular-season paths first crossed. Hitters don't get used to Scherzer. They may get lucky, and he may make a mistake, but if he's healthy, good luck. The Cardinals need some of that. Right now the Brewers have more of it.
The second Scherzer memory is from 2018, when Cardinals president Bill DeWitt III, to his credit, admitted the mistake the organization made nearly seven years ago. The Nationals signed Scherzer to a seven-year, $210 million contract entering the 2015 season. The Cardinals were not major players. Scherzer remembers. The Cardinals would like to forget.
"In retrospect, you'd have to say yes, because he's outperformed his contract," DeWitt III told the Post-Dispatch's Derrick Goold. "I would admit that. How do you know who is going to miss and who is going to hit? Looking back, it's pretty easy with 20/20 hindsight. The free-agent pool usually has great players, but everybody wants them. So they're fully valued in the marketplace. It's sort of buyer beware in some cases."
Scherzer has some buyer-beware to him now. No argument there. He's 37. His splendid run with the Nationals that turned into a splendid run with the Dodgers ended with concerns about a tired right arm, in part because of the Dodgers' overthinking. But he's still Max Scherzer, and everybody knows it, from the voters who made him a Cy Young finalist, to the hitters who will have to face him following an offseason of rest. He doesn't miss seasons. He doesn't miss starts. He has a 2.44 ERA against National League Central opponents in 41 starts against them since 2015. He has a 1.82 ERA in five starts at pitcher-friendly Busch Stadium during that span. Busch is where proven pitchers turn back time. Ask Adam Wainwright. Ask Yadier Molina.
Projections suggest Scherzer could be in line for a short-term deal with a whopping average annual value. Would three years for $100 million get it done? Would two years for $70 million?
If Scherzer continues to be Scherzer, or something remotely close to it, that kind of contract would be worth a lot more here in St. Louis, where Scherzer should have been long ago. He would help sell tickets. He would help fill a need. He might even calm the chatter about shortstops.