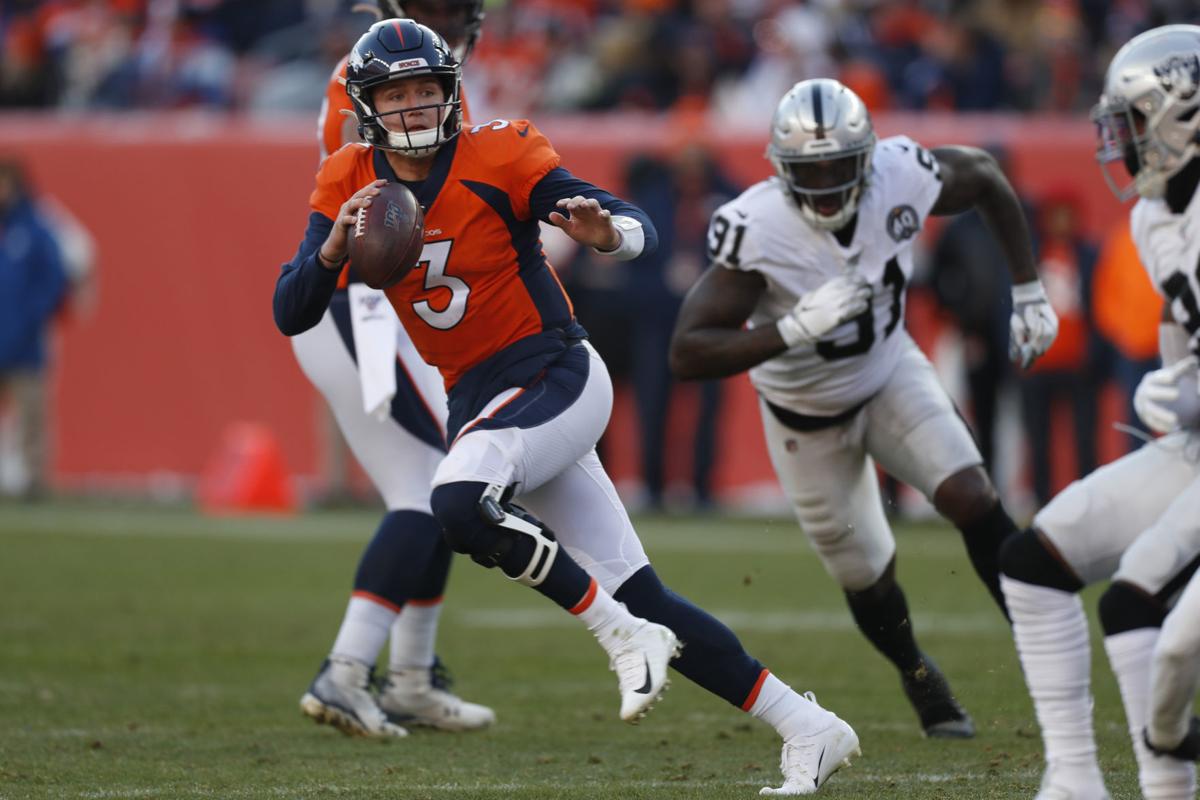 Andy Lock snapped the candid photo while his son closely monitored the family TV.
"I think he's more nervous tonight than last year?" read the caption of the Twitter post sent from the former Mizzou quarterback's father on the first night of last month's NFL draft.
What a difference one full NFL calendar year was about to make.
Drew Lock's tumble from the 2019 draft's first round was a big story that year. He fell until Denver Broncos quarterback legend turned general manager John Elway selected him with the 42nd overall pick. The fit made a lot of sense, considering an attentive Elway had tracked Lock's every move from the Faurot Field press box during Lock's final SEC start, but Lock's opportunity in Denver and his timeline to seize it looked complicated at best.
Practically every move Elway made this offseason has been about increasing the likelihood of Lock joining Elway and Peyton Manning on the list of great Broncos quarterbacks.
The Broncos added Alabama's first-team All-SEC receiver Jerry Jeudy with the 15th overall pick. Then came lightning fast Penn State receiver KJ Hamler with the 46th overall pick. Never before had the Broncos used their first two draft picks on receivers. Lock was then reunited with former Tigers teammate and tight end Albert Okwuegbunam, who caught 17 of his 23 career touchdowns while Lock was at Mizzou. Another SEC receiver, Florida's Tyrie Cleveland, was selected in the seventh round.
The Broncos drafted first-team All-SEC center Lloyd Cushenberry out of LSU, who had just finished snapping to first overall draft pick Joe Burrow during LSU's national championship season.
These picks came after the Broncos used free agency to add two-time Pro Bowl running back Melvin Gordon and guard Graham Glasgow, one of the best offensive linemen on the open market.
The new additions will join a roster that features Pro Bowl running back Phillip Lindsay, Pro Bowl wide receiver Courtland Sutton and tight end Noah Fant, a first-round selection in 2019.
Did I mention Lock got a new offensive coordinator, too?
Veteran quarterback whisperer Pat Shurmur was hired in January to turn all of Denver's pieces into a scoring machine that can keep pace with the defending Super Bowl champion Kansas City Chiefs.
Here's how ESPN football writer Bill Barnwell described the Mile High overhaul: "While Denver held out some hope for luring Tom Brady, it didn't make a move for any of the other quarterbacks when Brady decided to stay east. The Broncos didn't even bring in a significant backup — the depth chart behind Lock consists of Jeff Driskel, Brett Rypien and Riley Neal. This is Lock's team. On top of that vote of confidence from general manager John Elway, no quarterback gained more weapons this offseason than the Missouri product."
Lock secured Elway's trust by recovering from a preseason thumb injury in time to push competitors Joe Flacco and Brandon Allen to the background. He led a 3-8 Broncos team to a 4-1 finish in the five starts he earned at the season's end, a span in which a lackluster offense improved its scoring by nearly a touchdown per game. That was enough for Elway, who cut Flacco, named Lock his starter and pledged to dedicate an offseason to an offensive revolution.
The Broncos' selection of Okwuegbunam told folks everything they need to know about Elway's belief in Lock. The GM told reporters he called Lock before drafting the physically gifted but often flaky tight end. Elway wanted to know why Albert O. played better with Lock than without him. Lock's pitch secured the pick.
If the coronavirus pandemic does not interfere with the upcoming NFL season, Lock will enter it with a better chance than any recent Broncos quarterback flop – Trevor Siemian, Case Keenum, Brock Osweiler and Paxton Lynch – to secure Denver's first return to the playoffs since Manning's team won Super Bowl 50.
That means Lock is also set to become the proud new owner of the best chance a former Mizzou quarterback has ever had at NFL greatness. Think about it. Lock was just the sixth Tigers quarterback drafted, not including Brad Smith, who was selected as a wide receiver. None of his predecessors were given an opportunity or an offense like this one. Undrafted quarterback Chase Daniel has made a handsome career that has lacked a legitimate shot as a starter. Blaine Gabbert, the 10th overall pick in 2011, was doomed by Jacksonville's ineptitude. At a time when Mizzou's brand has faded a bit due to a dip in draft picks, Lock is poised to emerge as a key ambassador for the black and gold.
That's fitting, considering how this whole thing started.
Watching Elway watch his future quarterback from the press box during Mizzou's 38-0 thumping of Arkansas during a monsoon in November 2018 is a memory that stands out more now that the magnitude of Lock's chance is so obvious.
It was the day after Thanksgiving. It was pouring on the field. The game was as lopsided as it was wet.
But Elway sat there with binoculars focused on Lock's every move as Lock did his best Elway impression. He ran for two touchdowns. He passed for two more, including a 67-yard missile to Emanuel Hall, the kind of play that shows what Lock's arm can do when paired with a receiver with wheels. Elway studied Lock's reaction to every play, good and bad. He watched how Lock celebrated scores and cheered on his defense from the sideline
He was, it turned out, convincing himself to hitch his legacy to another confident quarterback's for years to come.
---
Dave Matter brings you the latest updates from the Mizzou sports scene.