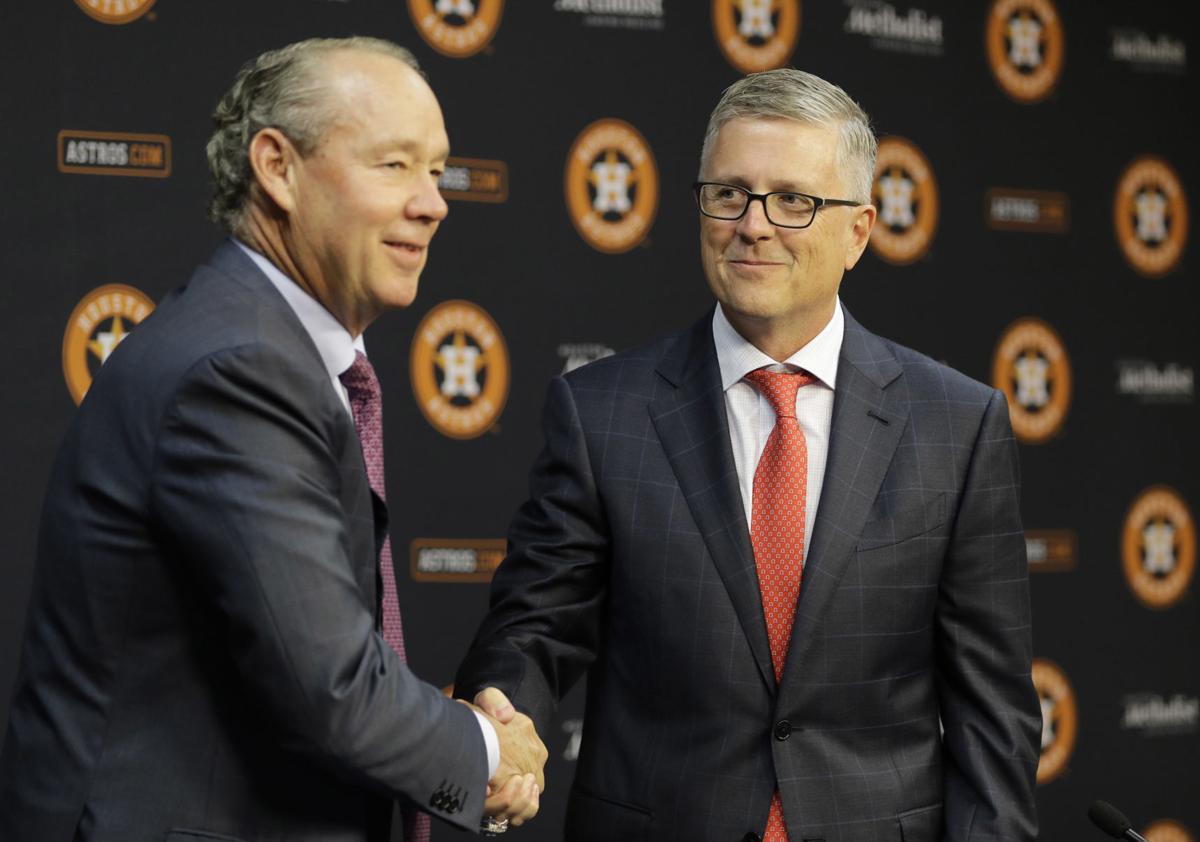 No more sneering. No more preening. No more pretending this was no big deal.
Major League Baseball's punishment of the Astros arrived Monday, and the so-called tin-foil-hat wearers turned out to be right.
Commissioner Rob Manfred's hammer fell hard. It had to. Manfred had to make a statement.
The commissioner needed to do everything in his power to make it known that decisions that erode the integrity of the game — especially when these decisions are made after pointed warnings about potential ramifications — are going to be punished severely, with the heaviest of blows reserved for leaders who either should have known better, or should have known more.
The NCAA could learn a thing or two from Manfred.
Imagine if the NFL treated the video-taping Patriots this way.
Manfred's months-long investigation into Houston's alleged electronic sign stealing during the 2017 season and beyond concluded with the most damaging punishment handed from a baseball commissioner to a team.
One season-long suspension for manager A.J. Hinch, who was fired after the ruling came down.
One season-long suspension for general manager Jeff Luhnow, who was fired after the ruling came down.
One $5 million dollar fine, the highest allowed by the Major League constitution.
One docked draft pick in each of the first and second rounds in both upcoming drafts, totaling four stripped picks altogether.
One glaring and damning indictment of St. Louis native and Astros owner Jim Crane's baseball operation, which was sharply criticized by Manfred not just for its broken ethical compass when it came to on-field competition, but for an ugly win-at-all costs culture in general.
Former Astros bench coach turned Red Sox manager Alex Cora, protected (for now) by the league's still-active investigation into sign-stealing allegations about the 2018 Red Sox, is mentioned prominently in the Houston report as a key player in the camera-based sign-stealing. The Red Sox should go ahead and fire him now. Why wait?
Give Crane credit for that, at least. He correctly fired Hinch and Luhnow as soon as the commissioners report was released.
"Neither one of them started this, but neither one of them did anything about it," Crane said during his press conference in Houston.
Luhnow had been told by Crane to locate and eliminate any wrongdoing after Manfred's September 2017 warning to teams about the significant punishments that would await those caught violating the league's sign-stealing policies. On top of that, the former Cardinals executive was largely responsible for a toxic culture that produced leaders like Brandon Taubman, the assistant general manager who was fired during the 2019 World Series after he berated a group of female journalists after the American Championship League Series. Manfred went out of his way to take down an Astros approach that had turned off anyone who got close enough to smell the stench, calling Houston's culture things like, "very problematic" and "insular" and "one that valued and rewarded results over other considerations."
It was this win-at-all-costs culture that helped lead to the existing rift between the Astros and the Cardinals, Luhnow's former team. The belief that Luhnow, a former Cardinals vice president of scouting and player development, and the Cardinals employees he took with him to Houston took proprietary information from the Cardinals in the process was the launching point of the hacking scandal that landed former Cardinals scouting director Chris Correa in federal prison.
Correa was wrong to pillage the Astros database. Duh. Anyone who argues otherwise is out of line. What was mostly ignored, though, was what evidence Correa said he found during his foolish and illegal operation. He claimed then he found proof the Astros sought an unethical edge off the field. We now know Luhnow's teams created one on it. Correa's comments don't sound as crazy as they once seemed.
Hinch's credibility has been shot. While he did not come up with the sign-stealing system, he did not stop it. And he certainly enjoyed the results. You will hear about how he twice damaged a monitor that players were using to cheat as an attempt to stop the sign-stealing. But don't forget what he said about sign stealing as rumors of sign stealing stirred.
"In reality, it's a joke," Hinch once said about the alleged sign-stealing.
"It made me laugh, because it's ridiculous," was another of Hinch's memorable lines.
And then there was this gem.
"The problem that I have is when other people take shots at us outside this competition," Hinch once said. "When you guys ask me this question, my face, my name is by my quotes. My opinions, my reaction, is all for you guys to tweet out and put on the broadcast. But when we have people that are unnamed — or you guys have sources that are giving you information — I suggest they put their name by it, if they are so passionate about it to comment about my team or my players. There is nothing going on — other than the competition on the field."
Former Astros pitcher Mike Fiers did put his name by it in November, when he went on record with The Athletic about how the Astros were using and abusing technology to steal signs and relay them to hitters by banging on a trash can.
Finally, what had been whispered about the Astros for seasons was out in the open, for all to read.
"The allegations in the article created significant concern among many of our fans and other MLB clubs regarding the adherence to our rules by those participating in our games, and the principles of sportsmanship and fair competition," wrote Manfred. "As I have previously stated, I treat these allegations with the utmost seriousness, and I instructed our Department of Investigations to conduct a thorough investigation. I believe transparency with our fans and our clubs regarding what occurred is extremely important, and this report is my attempt to achieve that objective."
Crane mostly said the right things Monday, but his attempt to defend his team's 2017 World Series championship was laughable.
The biggest, brightest star on Crane's baseball résumé has become an asterisk.
Baseball's rules have been bent and broken since the invention of the game. That won't change. But Manfred's hammering of Houston reinforces the risk cheaters take. The arrogant Astros have become a humbled and hard-to-forget example.