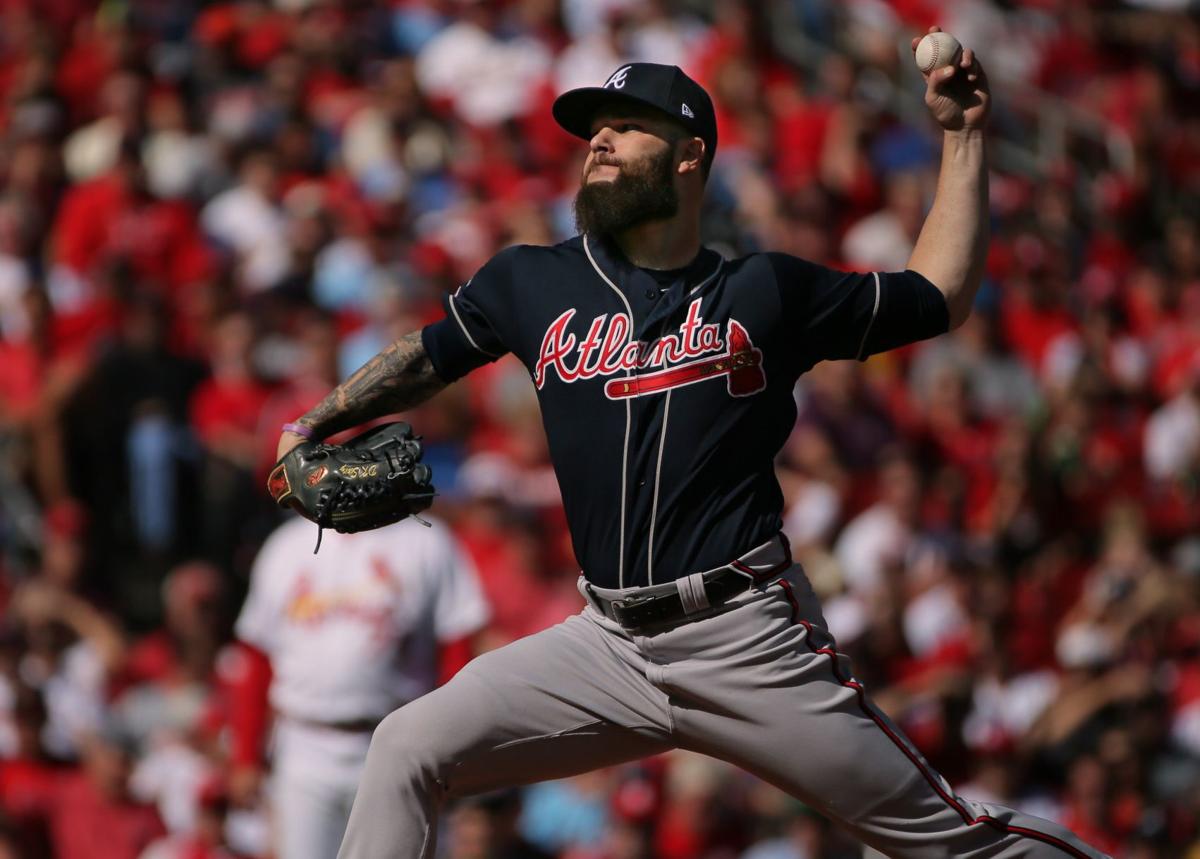 SAN DIEGO — The "hottest" rumor about the Cardinals on the final day of the Winter Meetings said everything you needed to know.
Depending on which report you preferred, Cardinals decision-makers either did or did not discuss free agents with superagent Scott Boras and his camp.
Try to contain your excitement.
As expected, this round of baseball's annual shopping spree included only browsing from the Redbirds.
While Boras steered his premier clients to historic riches, the Cardinals considered, reconsidered, then left for home.
The Cardinals have said their payroll is not going to climb much. They have said they can bump it up for the right move.
The Cardinals have said it will be hard to trade their young, righthanded-hitting outfielders because they need major league playing time to determine a pecking order. They have said they could trade young, righthanded-hitting outfielders.
The Cardinals have said they expect their lineup to improve from within. They have said there is some interest in adding an everyday outfielder.
The Cardinals have said they see as many as 12 pitchers competing for five rotation spots when spring training starts. They have said they are interested in adding a starter.
The Cardinals have said lefthanded hitters and pitchers are intriguing to a righthanded-dominant lineup and staff. They have said handedness isn't that big of a deal.
Desperate, the Cardinals are not. Clearly. But a topic of conversation that led the discussion at the start of Winter Meetings was still at or near the top of the list at the end. Starting pitching.
Asked Thursday to pick between "need" and "insurance" to describe the nature of the ongoing pitching perusal, general manager Michael Girsch selected the latter. It remains unknown whether the Cardinals are determined to get a lefthanded starter, a righthanded starter with sharp reverse splits or a hybrid starter/reliever who can shift to the bullpen if Carlos Martinez secures a job in the rotation. The Cardinals say they can't yet answer. Girsch said the front office is studying the whole spectrum. Through both free agency and trade. "Productive discussions," he said.
The how and why should be of more interest than the when. Bolstering the rotation with a clear upgrade made sense at last season's trade deadline, and it makes even more sense now. Hope seems to be the theme for the lineup, whether that lefthanded bat arrives or not. That means rock-solid pitching is a must, and the rotation is moving forward without Michael Wacha, and with question marks above the heads of Martinez, Austin Gomber and everyone else who did not lock in a starting spot last season.
Thursday's chatter about Boras, beyond being silly, was somewhat interesting because he represents multiple free agents who could give the Cardinals something they lack — a proven lefthanded starter. Not since Jaime Garcia's 30 starts in 2016 has a lefthanded Cardinals starter made more than two starts in a single season. The Cardinals have become a league outlier in their lack of left.
The hole has not caused the rotation to topple. Not even close. Last season's starting staff's 3.78 ERA ranked third in the National League, and those pitchers performed better than the NL average against lefthanded hitters, who tend to hit better against righthanded pitchers.
Still, dropping a strong southpaw into the mix would give the Cardinals the benefit of a more dynamic presentation to opponents during a series, especially in the division, where lefthanded mashers loom.
Boras represents Dallas Keuchel and Hyun-Jin Ryu, who along with Madison Bumgarner have climbed the list of desirable free-agent starters now that Gerrit Cole, Stephen Strasburg and Zack Wheeler have contracts.
Ryu's 2.21 ERA and 6.46 strikeout-to-walk ratio through 44 starts and 265 innings since 2018 leads the two-year track records of Bumgarner (3.66 ERA, 3.63 SO/BB) and Keuchel (3.74 ERA and 2.62 SO/BB). All three have more than 30 quality starts since 2018.
A left arm like Gio Gonzalez's awaits in a cheaper aisle. The 34-year-old free agent posted a 3.50 ERA in 17 starts (87.1 innings) for the Brewers last season, limiting NL Central hitters to a 3.16 ERA and a .187 average.
Trade winds blowing out of Boston as the Red Sox contemplate ways to slash payroll have raised questions about David Price. It's hard to imagine any team would be willing to take on the full weight of the $96 million Price is owed through 2022 without some help from the Sox. His time in Boston has been no tea party, but when the 33-year-old has not been injured, he's had a 3.84 ERA. His injury history is scary, though. Tendinitis. Elbow inflammation and strains. Carpal tunnel. A cyst on the wrist.
If that is too much of a risk, just turn the page. Lefties abound.
Just the other day here at Winter Meetings, Detroit Tigers general manager Al Avila was discussing what it would take to trade Matthew Boyd, the 28-year-old who struck out 238 hitters last season. The Tigers could use a young but major-league-ready corner outfielder with upside. If only a match was out there.
Potential routes the Cardinals could take to sharpening their strength are easy to find.
Their determination to find one remains opaque.