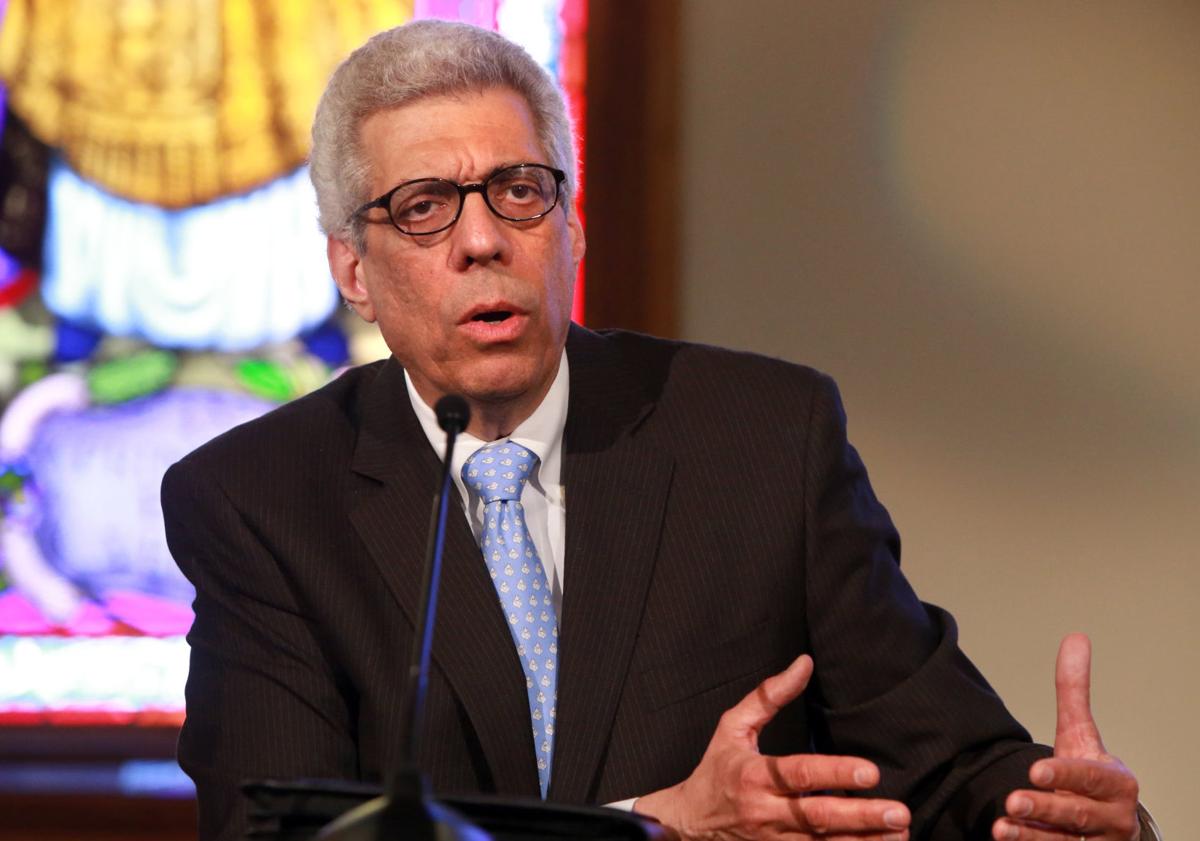 St. Louis University leaders better hope they played this right.
And if they are confident they did, it's time to silence claims that could cripple their most forward-facing team.
SLU President Fred Pestello, that means you. And athletics director Chris May. Along with anyone and everyone else involved in the handling of a critical decision one outraged attorney just tried to destroy.
These were just a few of the bombs Scott Rosenblum dropped Friday afternoon from his law office in Clayton.
SLU, always citing protocol and always hiding behind its private-school shield, had hoped for silence as it navigated its way through a Title IX investigation that was supposed to determine what exactly happened in an on-campus apartment on a September night that concluded with three women telling police that they were sexually assaulted by four members of the men's basketball team.
But that silence was shattered Friday afternoon, when the lawyer for three of the four players shared details about the investigation, then revealed the investigation's conclusion, then explained why he believes SLU not only made itself vulnerable to legal action from his clients, but perhaps pulled the plug on a what was supposed to be a basketball renaissance under second-year coach Travis Ford.
Rosenblum is a bit biased, you might have noticed.
He's also the only one talking.
And on Friday he spent 20 minutes accusing SLU of an investigation that was, for lack of a better word, rigged.
"Often times, you want to justify the outcome you had preconceived in your own mind. That's what I think happened here," he said. "These boys didn't do anything wrong. They just didn't. At the end of the day, (how) I would characterize this case is that three girls talked about getting together with multiple partners, knew about it before, discussed it before, engaged consensually in sexual activity, realized that there were pictures being taken, left, and had buyer's remorse."
Rosenblum was just getting warmed up.
"I don't know how they couldn't know pictures were being taken," he said when asked about the presence of images from the incident. "It wasn't a huge space, OK? Nobody was hiding anything. Everything was out in the open. Everything was in front of everybody else. Two of the girls, one definitely didn't want to participate (in the investigation). One, we don't believe continued to participate (in the investigation). The one that continued to participate (in the investigation) has made statements that would indicate that everything was completely consensual."
Rosenblum painted, too vividly at times, the scene of an unfortunate evening. But he scoffed at the notion that a crime was committed that night. Same for the idea that the players deserved further punishment. His clients received suspensions ranging from 18 months to two years. He said a fourth player, whom he does not represent, was expelled.
"At the end of the day, on every college campus, unfortunately, both genders make decisions that after they walk away from that decision, they regret," Rosenblum concluded. "They think, this maybe wasn't the best decision. But it wasn't a crime. And it wasn't actionable."
Rosenblum's clients will not go quietly. They are considering an appeal. Or they could transfer to a program that does not enforce their suspensions. Or they could take their shot at pro ball.
His clients feel confident enough in their version of the story that they are considering legal action against SLU.
Rosenblum's big-picture complaints about the Title IX process will be ignored. His disclosure of details from the case will be criticized. Move beyond that, and he raises some legitimate questions.
Why was one of the players allowed to play while the other three were held out?
If suspensions of this length were justified, why were three of the held-out players allowed to practice and travel with the team?
Why was outside counsel necessary for the investigation?
Why were the players told to move off campus, then welcomed back, then moved off campus once again?
Why were the suspensions handed out weeks into this semester instead of during the break in between semesters, when it would have been easier to relocate?
If the players fight this and win, what might it mean for SLU?
"Certainly I think it will have a ripple effect as to their ability to recruit top-flight athletes in the future," Rosenblum said. "This case, in my view, has been overly prosecuted with an agenda from the beginning."
If that sounds outlandish, consider this quote from Billikens signee Carte'Are Gordon, the prized signee in Ford's highly anticipated 2018 signing class.
"I'll definitely have to take things into consideration," Gordon told Post-Dispatch SLU beat writer Stu Durando when asked for his reaction to Friday's news.
Rosenblum was pushed for more information Friday. He rejected questions about which players he represented, and what role the presences of photos and or video played in the investigation.
"I'm not going to help you fill in the blanks," he began to repeat as his firepower fizzled.
He was done dropping bombs, for now. But alarms were going off in Midtown.
Time for university leaders to come out from their bunkers and explain why they made the right call.
Because right now, fans get the sense the sky is falling on their basketball team.
Be the first to know
Get local news delivered to your inbox!